Clean, Cleanup-Free Cooking: Our Favorite Foil and Parchment Packet Recipes
Hate doing the dishes? Thanks to foil and parchment paper, you don't have to! We've rounded up our favorite dinners and dessert perfectly prepared in packets.
Heading out the door? Read this article on the new Outside+ app available now on iOS devices for members! Download the app.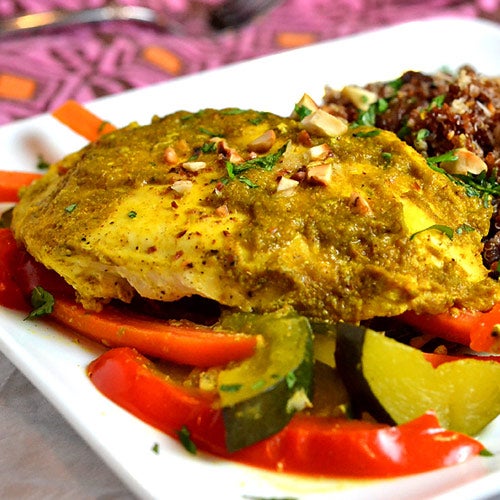 Banana Curry Chicken Foil Packets
Brimming with bright, nutritious veggies and seasonings such as turmeric, cinnamon, cayenne, ginger, curry and coconut, these foil pockets offer a quick and easy taste of the Islands.
Get the recipe.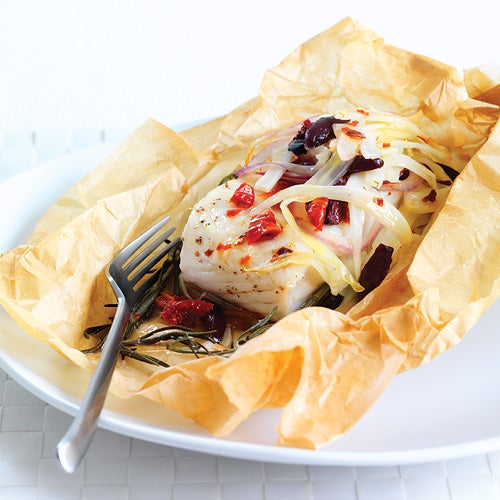 Parchment-Baked Halibut with Fennel, Red Onions & Olives
Baking in parchment produces a practically effortless, succulent, spicy, and salty fish fancy enough for a dinner party and easy enough for a laid back meal.
Get the recipe.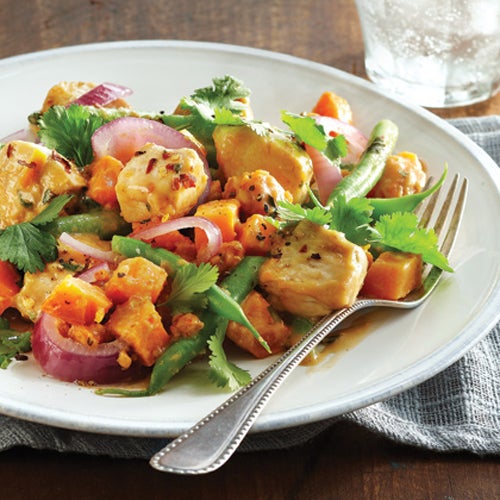 Chicken with Peanut Sauce & Sweet Potatoes
Not only do they eliminate cleanup, foil packets also let the sweet and tangy peanut sauce infuse into the chicken and veggies while they cook.
Get the recipe.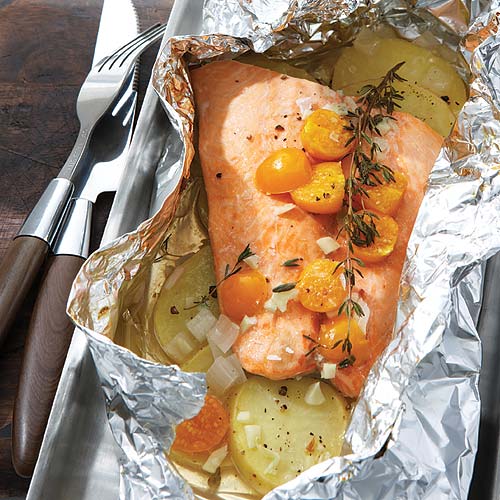 Trout with Gooseberry Relish
Our trout with gooseberry relish is a gorgeous combination of tartly sweet fruit and flaky fresh trout, baked in foil to save on time – and cleanup!
Get the recipe.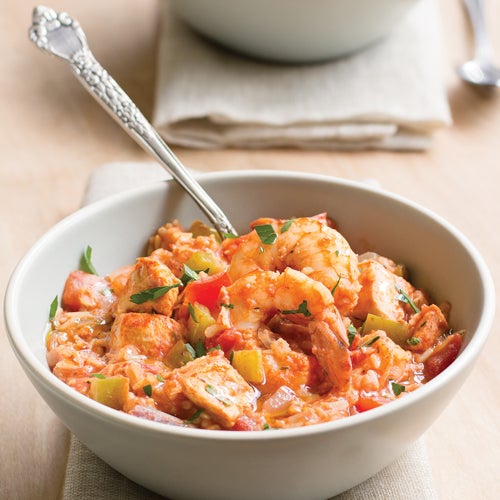 Cajun Jambalaya
Mess-free foil packets are a preferred cooking method for good reason: cleanup is a breeze (crumple and toss foil!) and you're guaranteed a tender, flavorful Cajun Jambalaya!
Get the recipe.
Bouillabaisse Packets
Inspired by France's celebrated seafood stew, these foil packets are packed with clams, mussels, shrimp, tomatoes, fennel, onions and a saffron wine broth. You can also grill your Bouillabaise in a covered saucepan over a double layer of foil.
Get the recipe.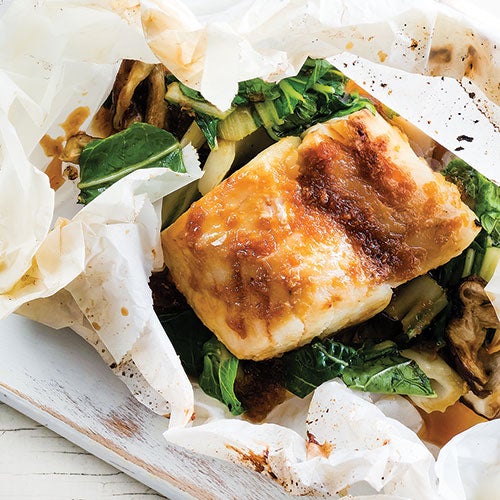 Ginger Soy Cod en Papillote with Shiitakes & Green Onions
En papillote is French for "in parchment." This classic technique holds in moisture and cooks food by the steam created inside the packet, perfect for ensuring that this sweet and salty cod is done to perfection.
Get the recipe.
Mediterranean Salmon Baked in Foil
Not only do these salmon packets only take 10 minutes to prepare, they involve no cleanup. Just lots of veggies, salty feta, and aromatic basil.
Get the recipe.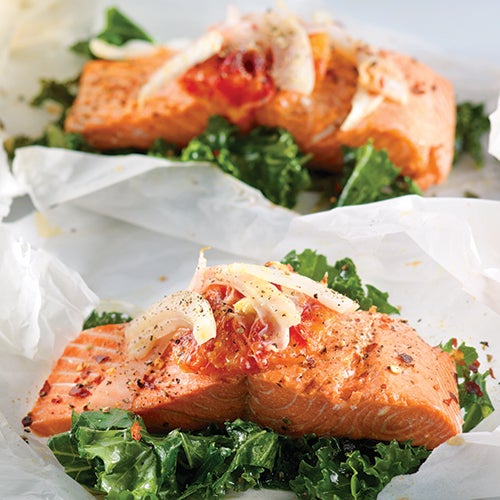 Salmon, Orange & Fennel Baked in Parchment
Even though these salmon fillets are cooked in the oven, because they're wrapped in parchment with other moist ingredients such as kale and orange, they basically steam, which keeps them tender and juicy.
Get the recipe.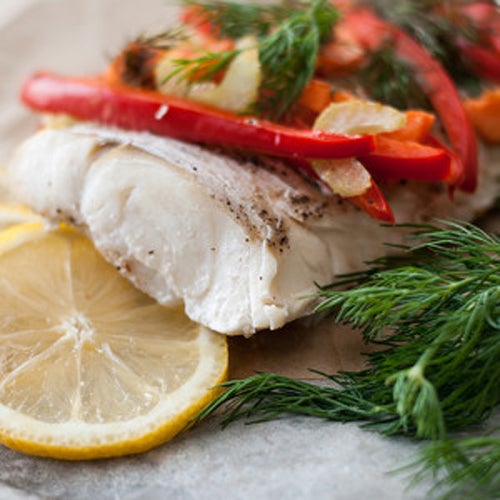 Simple Cod In Parchment
This fish dish is as easy as they come, ready in just 25 minutes and mild enough for your pickiest eaters. Bonus: use up whatever veggies you have in our fridge!
Get the recipe.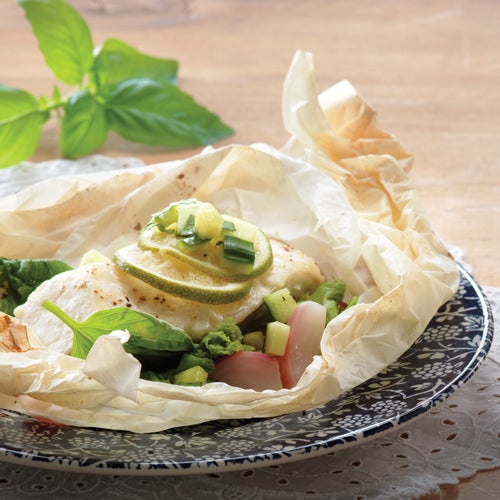 Halibut Pouches with Basil Cucumber Salsa
The basil in this halibut dish is packed with flavonoids that protect chromosomes from environmental damage. Plus, it's ready in a half hour!
Get the recipe.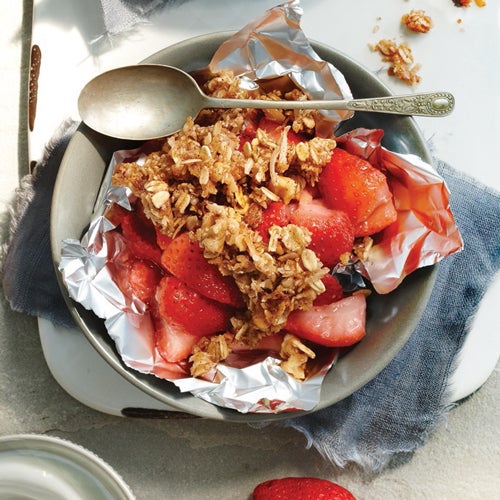 Strawberry Coconut Crisp
Don't forget about dessert! Yes, you can actually make this decadent fruity crisp in foil.
Get the recipe.
Want more healthy, delicious recipes with minimal cleanup? See One Skillet Suppers.