CE's All-Time Favorite Sandwich Recipes
The sandwich is incredibly versatile — it can be simple or savory, hot or cold, big or small, and the variations are endless so you'll never get bored. Sandwiches don't take long to prepare, they're practical to eat. Here are 28 of our faves.
Heading out the door? Read this article on the new Outside+ app available now on iOS devices for members! Download the app.
A Better Monte Cristo Sandwich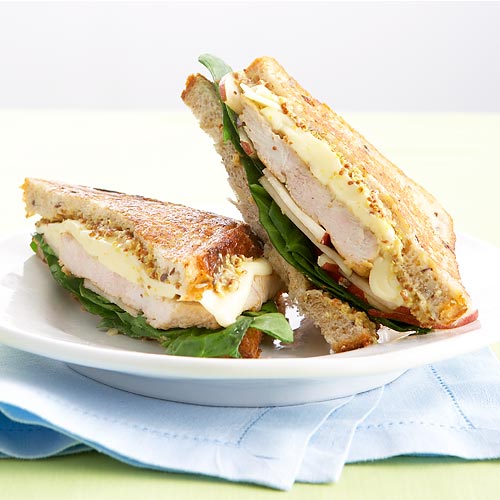 Ditch the traditional butter-fried Monte Cristo for a healthier, tastier take. Sautéed turkey, pear, baby spinach and low-fat Swiss spare the fat but not the flavor.
Find the recipe here.
Grilled Fontina & Blackberry Sandwiches
Creamy, mild-tasting fontina cheese allows juicy blackberries to shine in this clean twist on a grilled cheese sandwich. Be careful when smashing the blackberries – they tend to squirt and can stain!
Find the recipe here.
Mini Grilled Cheese Sandwiches with Chicken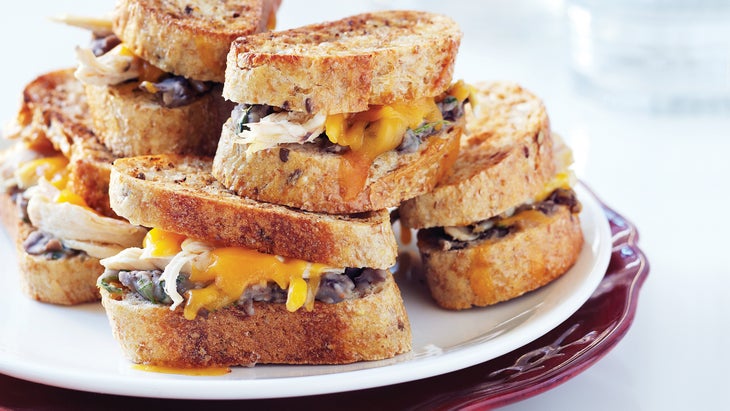 Instead of simply slapping some cheese between two slices of bread (as usual!) why not add black beans and shredded chicken to the mix for a little Mexican infusion?
Find the recipe here.
Clean Reuben Sandwich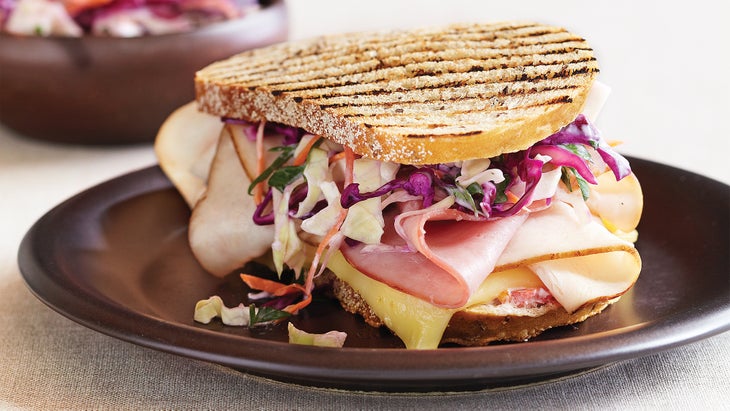 With its creamy Thousand Island dressing, stacked corned beef or pastrami and Swiss cheese, the traditional reuben is a high-calorie affair. Our version uses a homemade tomato dressing, Jarlsberg cheese, ham and turkey for a full-flavor version under 300 calories.
Find the recipe here.
Updated Grilled Pimiento Cheese Sandwiches with Cauliflower "Bread"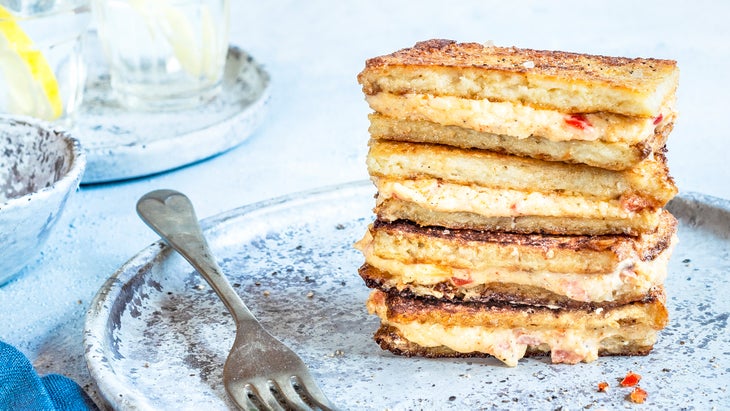 The low-carb bread holding together these gooey grilled cheeses is a grain-free combination of cauliflower rice and almond flour. This recipe comes without excess carbs – helping to keep insulin levels in check. Plus, cauliflower is rich in dietary fiber that helps keep your body's fullness signals on point.
Find the recipe here.
Veggie Pita Sandwich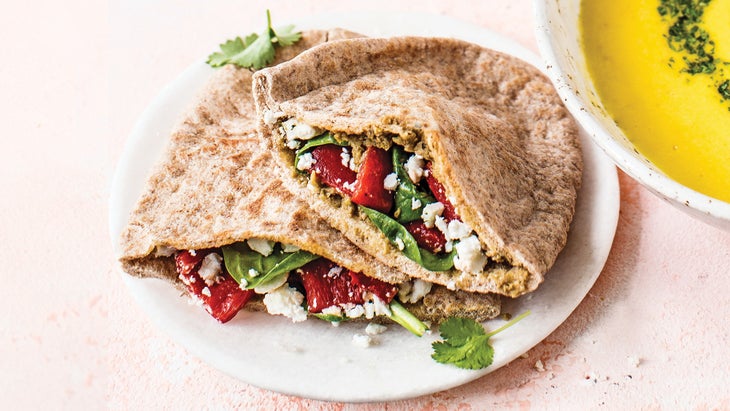 This vegetarian pita sandwich is a healthy and nutrient-packed meal that will liven up your lunch box.
Find the recipe here.
Spiced Egg Salad Sandwich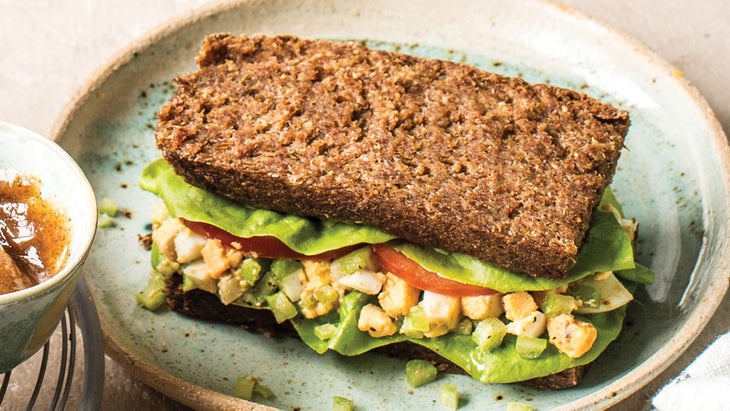 Perfectly simple with a sprinkle of spice, this mayo-free egg salad sandwich is perfect for lunch or dinner.
Find the recipe here.
Grilled Pear & Blue Cheese Sandwich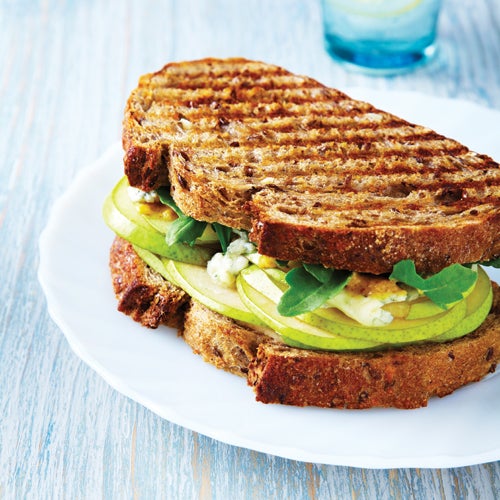 Throw the pear, blue cheese and arugula you're used to seeing in a salad between two slices of country bread with a schmear of Dijon, and you've got a grilled sandwich you won't soon forget!
Find the recipe here.
Moroccan Chicken Salad Sandwich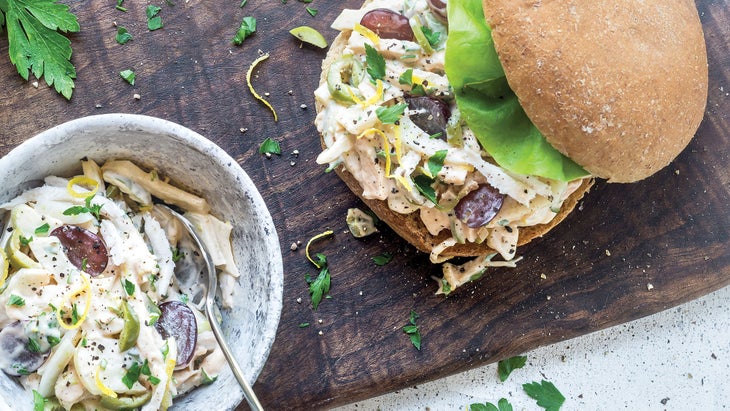 Salty olives, sweet grapes and fresh herbs give ordinary chicken salad a tantalizing twist. Harissa paste gives it a Moroccan flair, but if you can't find it, you can use a pinch of curry powder or skip it entirely.
Find the recipe here.
Shrimp Salad Sandwich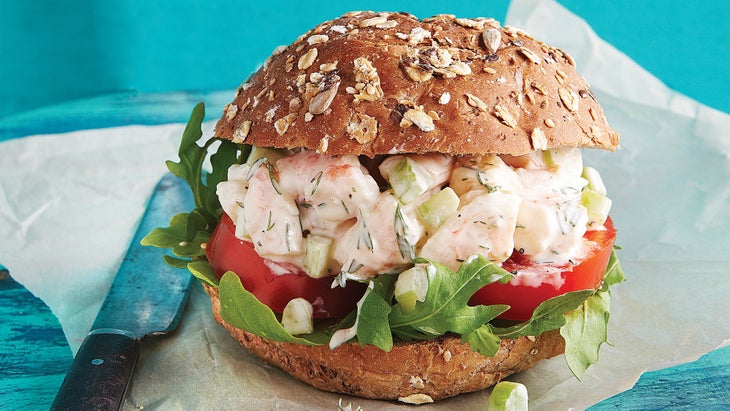 We've taken your classic shrimp salad sandwich and amped up the flavor even more with fresh dill, crunchy celery and Dijon. In our version, Greek yogurt stands in for mayonnaise, providing creamy texture without the fat.
Find the recipe here.
"Fried" Chicken & Slaw Sandwich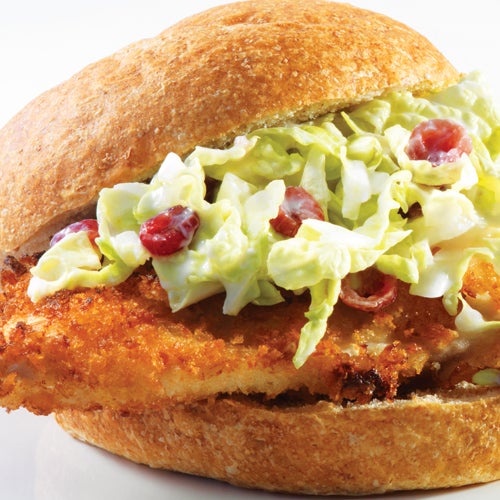 Ditch the deep fryer – these thin, crisp chicken fillets made in the skillet taste even better than the fried variety. Topped with a creamy slaw made with cabbage, cranberries, and yogurt, this makes for a full meal in a sandwich.
Find the recipe here.
Grilled Cuban Sandwich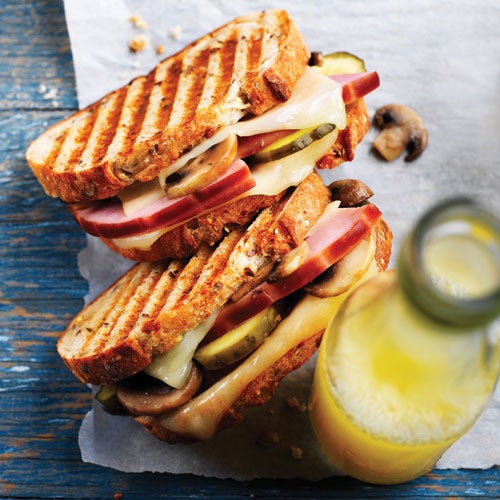 Our Cuban sandwich has the requisite fillings (ham, cheese, pickle) with a fraction of the calories – just 231 per sandwich. All you need is 8 minutes and a hearty appetite!
Find the recipe here.
Edamame Pâté Sandwiches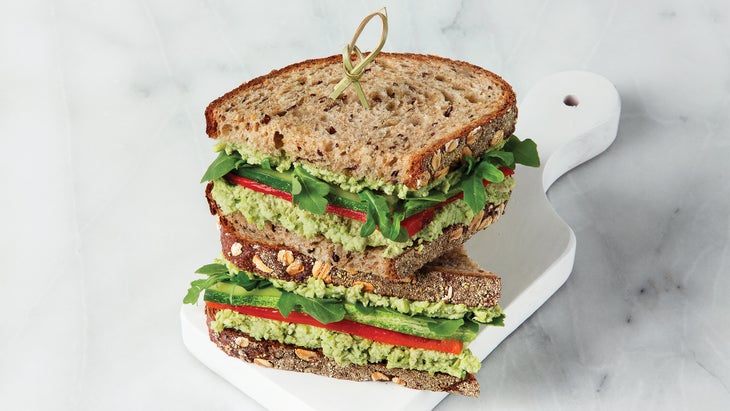 This versatile spread can be used on crackers, or you can add water to the pâté and use it as a dip.
Find the recipe here.
Cuban Mojo Sandwiches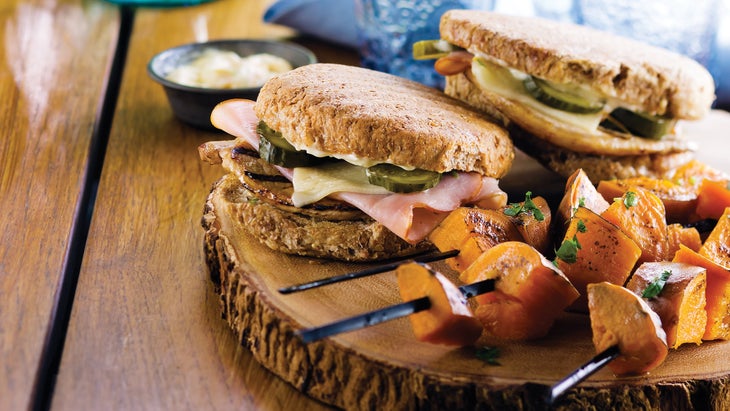 Here's a healthier version of a Cubano sandwich – ham, thinly sliced pork, cheese and pickles piled onto a roll and grilled. It gets its mojo-like flavor thanks to citrus zest in the mayo. Serve a slew at your next party or tailgater. You can prepare the sandwiches in advance, then simply finish them on the grill.
Find the recipe here.
Chicken Salad Pesto Sandwiches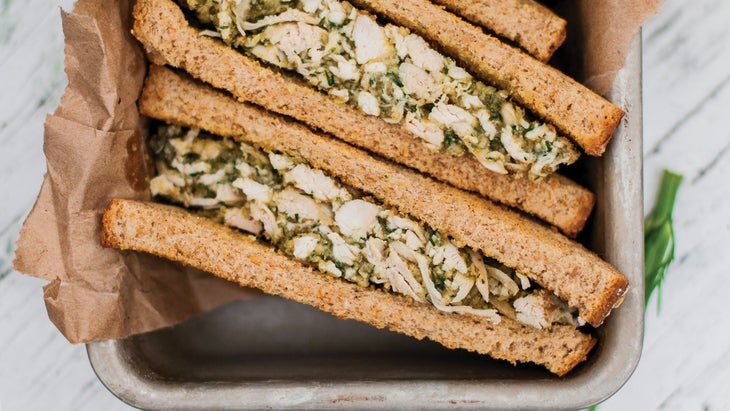 Basil is high in vitamin K, which is known for its anti-inflammatory effects; adding a sweet flavor and crunch to these chicken salad pesto sandwiches.
Find the recipe here.
Chicken Banh Mi Sandwich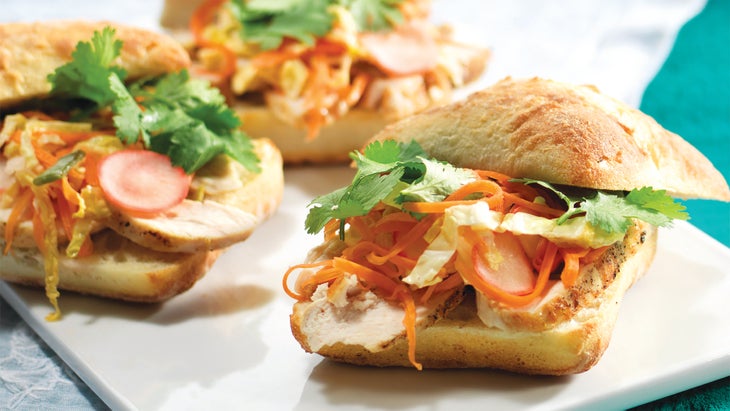 This Vietnamese-inspired sandwich layers savory chicken, quick-pickled vegetables and fragrant cilantro.
Find the recipe here.
Sausage, Egg & Cheddar Breakfast Sandwiches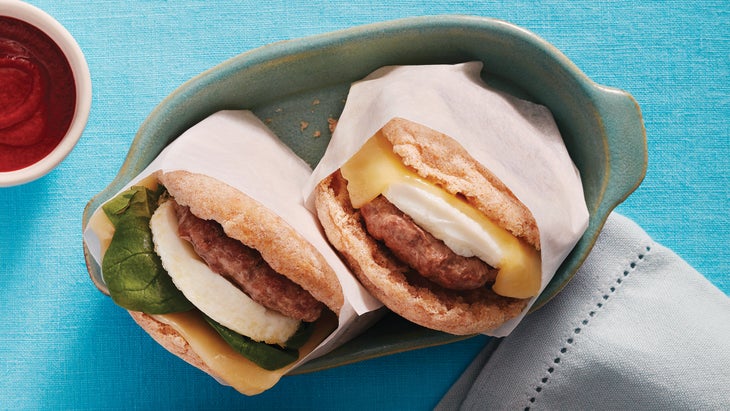 This cleaned-up version of the fast-food favorite is made with lean ground turkey and served in whole-grain English muffins. The best part is they freeze well, so make a batch and store in your freezer for a grab-and-go breakfast. Feel free to add baby spinach or tomato slices to the sandwich – but add it just before or after reheating. Serve with your favorite hot sauce.
Find the recipe here.
Shiitake "BLT" Sandwich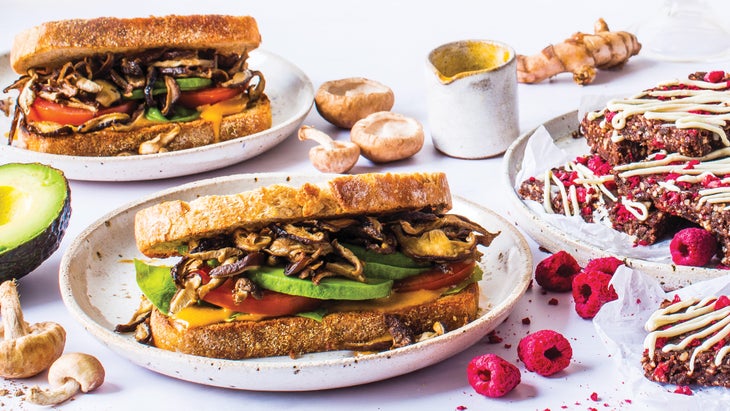 These powerful fungi can boost your immunity, control blood sugar levels and reduce inflammation within the body. And they have a rich, buttery and meaty flavor, which means you won't even miss the bacon in this hearty "BLT" sandwich.
Find the recipe here.
Slow-Cooker Roast Beef & Leek Sandwiches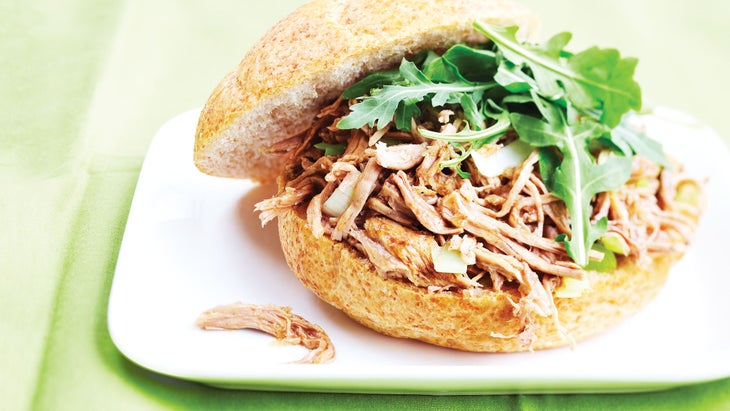 Ditch high-sodium beef dips – they can be labor intensive and replete with artificial flavor enhancers. With just five ingredients, our all-natural sandwiches keep sodium in check, offering 32 grams of protein and letting your slow cooker do most of the work!
Find the recipe here.
Open-Faced Lobster Thermidor Sandwiches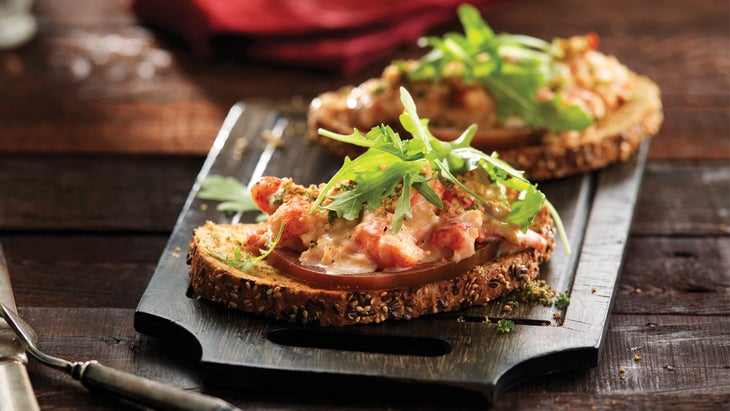 Lobster Thermidor is a creamy cooked lobster mixture that is typically stuffed into the lobster shell for serving – here the mixture tops whole-grain bread slices for a quicker twist on this classic dish.
Find the recipe here.
Hummus Sammy
Prep this easy plant-based sandwich in the morning and it will be delicious at lunch time. Pack ¼ cup of the hummus and the carrots sticks as a side.
Find the recipe here.
Egg Sandwiches with Red Peppers and Tahini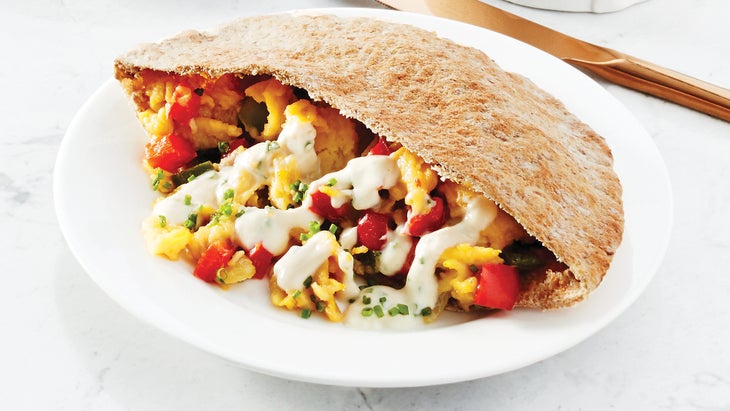 Make your microbiome happy first thing in the morning – these sandwiches are brimming with probiotics from kefir and prebiotics from yellow onion and chives. If making them in advance, keep the eggs, sauce and pita separate and assemble before eating.
Find the recipe here.
Slow-Cooker Pulled Pork Sandwiches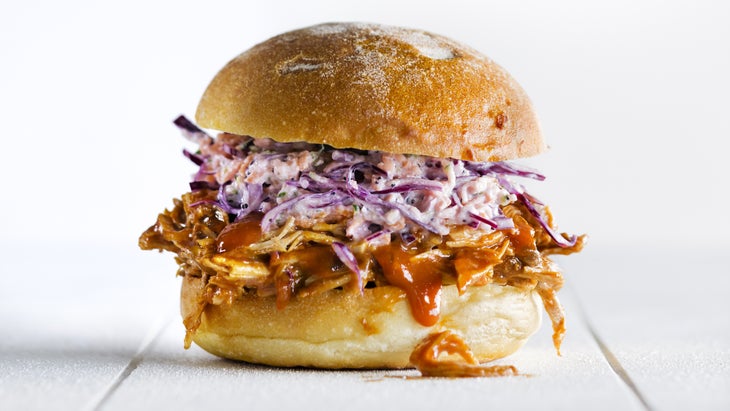 Luscious pork shoulder and tangy barbecue sauce can be part of your clean eats plan – if you follow our easy slow-cooker method, that is.
Find the recipe here.
Goat Cheese & Kalamata Paninis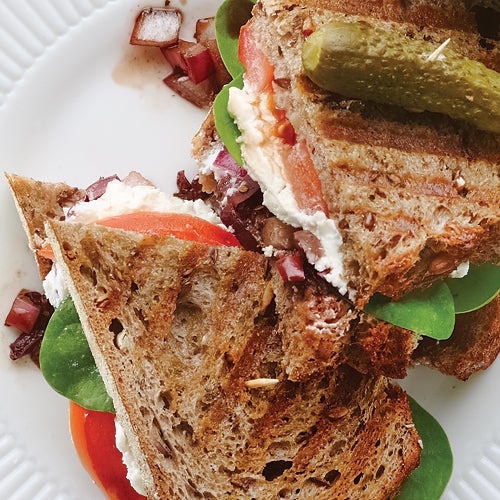 The term "panini" (pronounced pah-nee-nee) is Italian for roll or biscuit. Originally filled with layers of tomato, mozzarella and basil, the Mediterranean sandwich's popularity has transformed it into a meal of endless ingredient possibilities.
Find the recipe here.
Slow-Cooker Pulled Chicken Sandwiches with Salsa Verde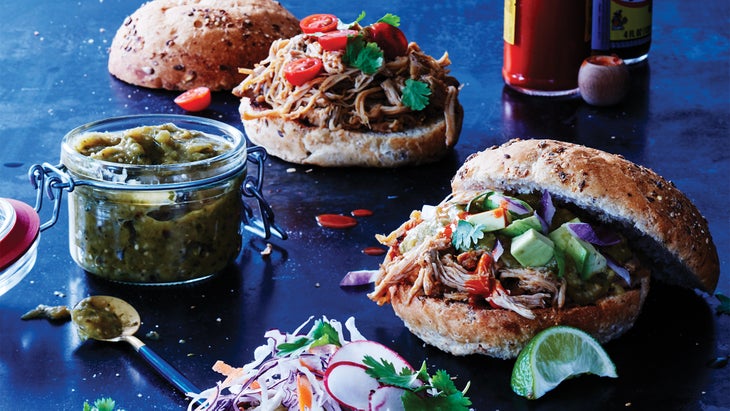 Pile these slow cooker pulled chicken sandwiches sky-high with coleslaw, radishes, tomatoes, sour cream or hot sauce – we love eating them open-faced with a knife and fork, but you can also serve them as a regular sandwich.
Find the recipe here.
Roast Pork & Nectarine Panini with Tomato Jam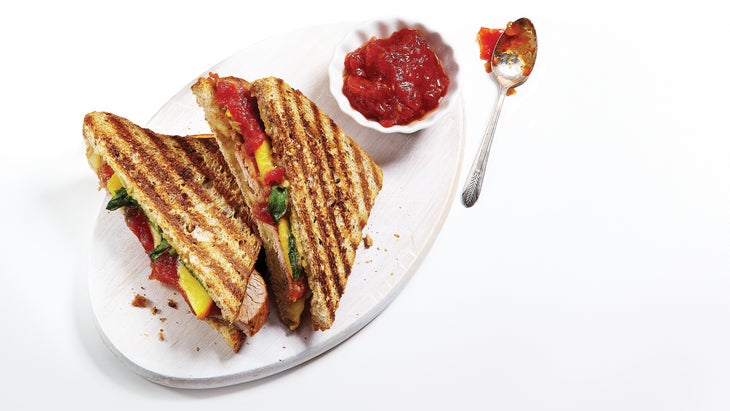 Our tangy tomato jam, sweet nectarines, savory roast pork and buttery swiss cheese make for a sunny-season grilled sandwich that hits all the right notes.
Find the recipe here.
French Grand Slam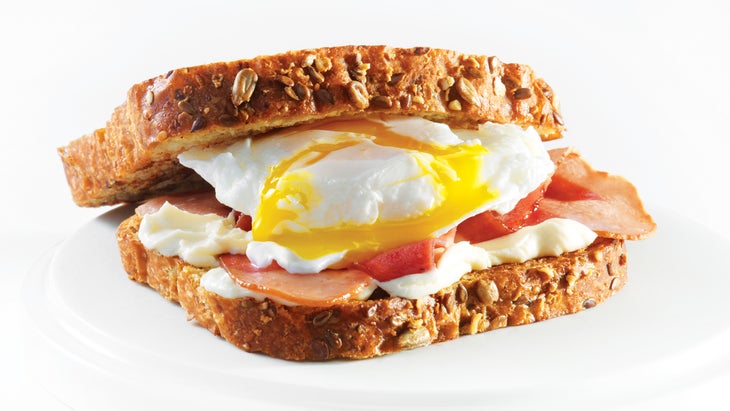 If you're a French toast lover, this is the sandwich for you. Sweet and velvety maple cream cheese spread, poached egg and crisp turkey bacon are sandwiched between 2 slices of savory French toast. This is the ultimate meal for any time of day.
Find the recipe here.
Connecticut-Style Lobster Rolls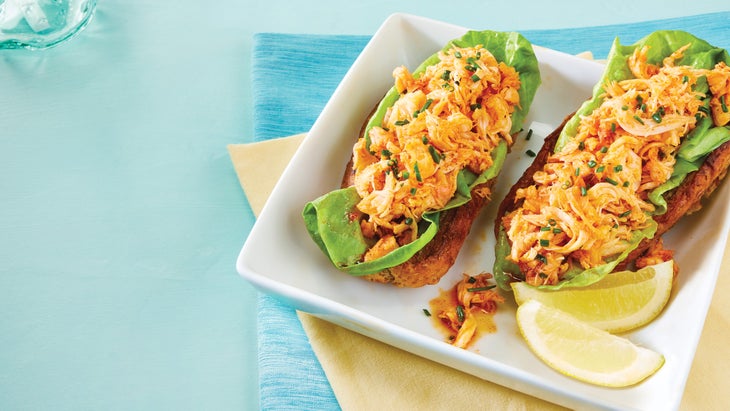 Rich, fragrant butter is what sets a Connecticut-style lobster roll apart from its counterpart, the Maine variety, which uses mayo. While a Connecticut-style roll is typically served warm, here we keep it at room temperature to avoid the stove – but heat it up if you prefer.
Find the recipe here.