Baked Mac & "Cheese" with Creamy Cashew Sauce
We were excited to sit down down with Joy McCarthy, a Mother's Day aficionada, to find out what she does with her family every year on this special day.
Heading out the door? Read this article on the new Outside+ app available now on iOS devices for members! Download the app.
You might recognize Joy as the face of Joyous Health, a healthy-living blog with a positive, upbeat approach to nutrition. As the best-selling author of both Joyous Health (Penguin Random House, 2014) and Joyous Detox (Penguin Random House, 2016), Joy has been featured in hundreds of print and online publications. If you've seen her blog, then you know Joy is all about family – we love reading about her mother, "Ma" McCarthy, and her daughter, Vienna. Here, Joy shares her healthified take on her mom's mac and cheese, using gluten-free pasta and a cashew sauce instead of the cheese sauce for a twist on a comfort food classic.
Clean Eating: Why is this recipe meaningful to you?
Joy McCarthy: My mom made a homemade version of mac and cheese that my brother and I loved. She always cooked from scratch with quality ingredients. It was fun to adapt her recipe into this dairy-free, plant-based version.
CE: How has it been modified from the original?
JM: My mom's version was delicious, but it had chunks of ham and lots of cheese. Cheese doesn't always agree with me and I'm not a fan of ham, so this is the joyous version! Sometimes I swap the macaroni for a head of cauliflower, which is equally delicious!
CE: What was your mother's (or grandmother's) best advice in the kitchen?
JM: My mom was incredibly dedicated to putting a homemade meal on the dinner table despite working long hours in a stressful job she didn't love. Even though she didn't give me straight up advice about how to cook, she taught me many life lessons just by watching her. She always cooked with whole foods and pretty much everything we ate was made from scratch. It was important to her that we always ate together as a family. I am so glad she taught me this because we always sit down to a meal in my home now and I don't know if that would have been as important to me if I didn't have it growing up.
CE: What does a typical Mother's Day look like for you?
JM: I don't think I've missed a Mother's Day celebration since I was born! It's really important for me to spend time with my parents and see them often, so Mother's Day is just another great excuse to show my mom some love! My hubs and I usually make a big brunch or we take my parents out for dinner. I've only officially been a mother for 2 years now, so I feel like it's more important to celebrate my mom who's been doing it for 40 years!
CE: If you weren't cooking, where would you and your mom be eating out?
JM: My mom loves Vesuvio, an Italian family restaurant that's been in Toronto since the 1950s. She always gets the same thing – Chicken Marsala. It's her fave. For a special-occasion brunch, we go to Cluny in the Distillery District.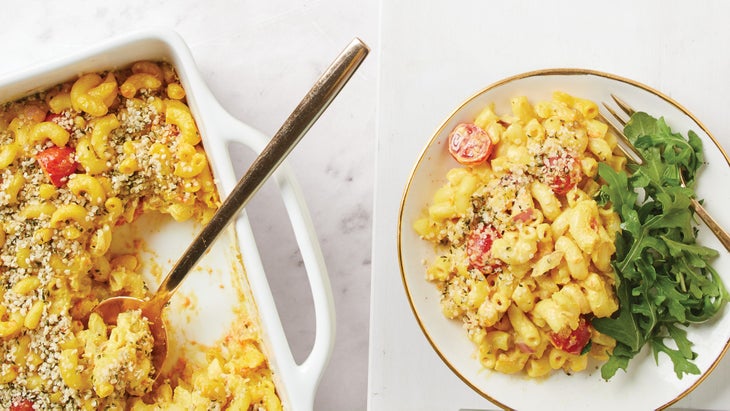 Baked Mac & "Cheese" with Creamy Cashew Sauce
Serves 4. 
Hands-on Time: 20 Minutes. Total Time: 35 Minutes.
1 cup raw unsalted cashews
½ cup grated carrot
¼ cup nutritional yeast
2 tbsp Dijon mustard (grainy or smooth)
1 tsp apple cider vinegar
1 clove garlic, minced
sea salt and ground black pepper, to taste
2 cups gluten-free macaroni noodles (brown rice or quinoa pasta)
½ red onion, finely chopped
1½ cups halved cherry or grape tomatoes
¼ cup shelled hemp seeds
1. Soak cashews in enough water to cover for 4 hours. Drain.
2. Preheat oven to 350ºF.
3. Prepare cheese sauce: In a blender or food processor, combine cashews, carrot and 1 cup boiling water. Blend until smooth. Add nutritional yeast, mustard, vinegar, garlic, salt and pepper. Purée until smooth. Set aside.
4. Bring a large pot of water to a boil. Add macaroni and cook al dente according to package instructions. Drain and return hot pasta pot along with onion, tomatoes and cheese sauce and combine well. Spread mixture evenly in an 8-inch square baking dish. Bake for 15 minutes or until top is golden brown. Sprinkle with seeds.
PER SERVING (1/4 of recipe): Calories: 492, Total Fat: 19 g, Sat. Fat: 3 g, Monounsaturated Fat: 7 g, Polyunsaturated Fat: 6 g, Carbs: 67 g, Fiber: 8.5 g, Sugars: 5.5 g, Protein: 19 g, Sodium: 255 mg, Cholesterol: 0 mg