Summer's Best Sides
The gang's all here! From clean, creative takes on potatoes to all kinds of salads and crispy counterparts, you're sure to find a summer's worth of sides in this collection. Plus, get two bonus desserts!
Heading out the door? Read this article on the new Outside+ app available now on iOS devices for members! Download the app.
Seven Layer Salad with Blue Cheese Dressing
This recipe yields a generous amount of dressing – either toss the desired amount of dressing to coat the salad lightly right before serving, or serve the dressing alongside so your guests can dress it themselves. Or, you can go the route that many traditionalists take in the Midwest – they pour on enough dressing to lightly coat the salad (we suggest using about half of the dressing) and set it in the fridge to allow the dressing to trickle down and coat the veggies.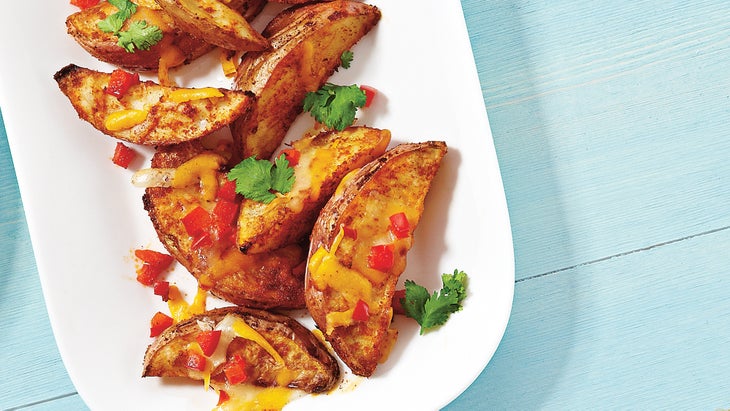 Southwestern Cheddar Steak Fries
If you're tossing steaks or chops on the barbecue, pair them with these chunky, lightened-up steak fries. We promise you won't end up in a steak house-style food coma!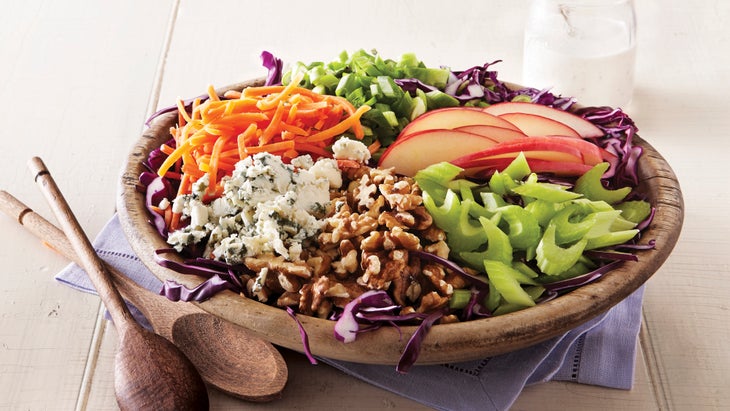 Blue Cheese Apple Slaw with Tangy Garlic Dressing
Sweet apple, crunchy celery and pungent blue cheese make for the perfect combination in this 25-minute slaw.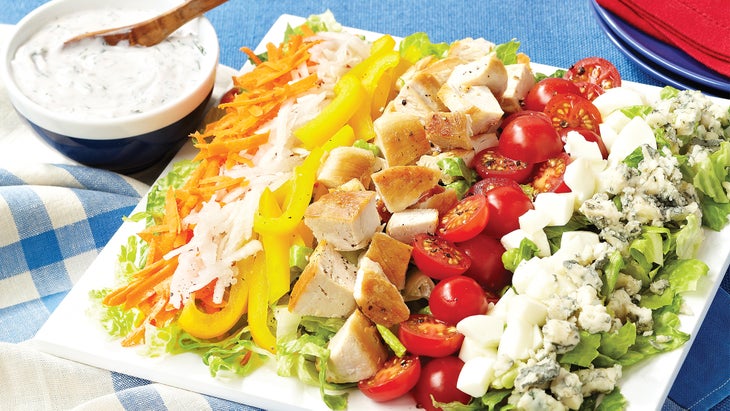 Red, White & Blue Cheese Cobb Salad
Cobb salad is an American favorite, but clean eaters usually steer clear of its heavy, fatty dressing. Our version has all the same great taste of a traditional chopped salad, but with a lightened-up dressing that won't disappoint!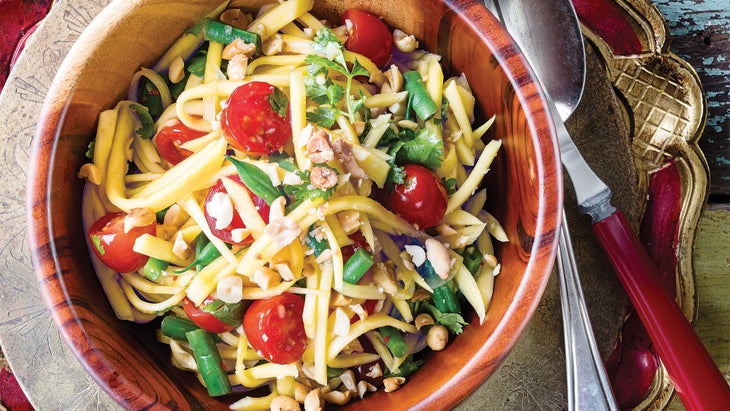 Shredded Papaya Salad
All over Thailand, you'll see cooks in makeshift sidewalk food carts working huge mortars and pestles, pounding together the ingredients for this spicy, refreshing salad. If you don't have a mortar and pestle, chop and smash the chiles and garlic with the side of a chef's knife before mixing them with the remaining dressing ingredients.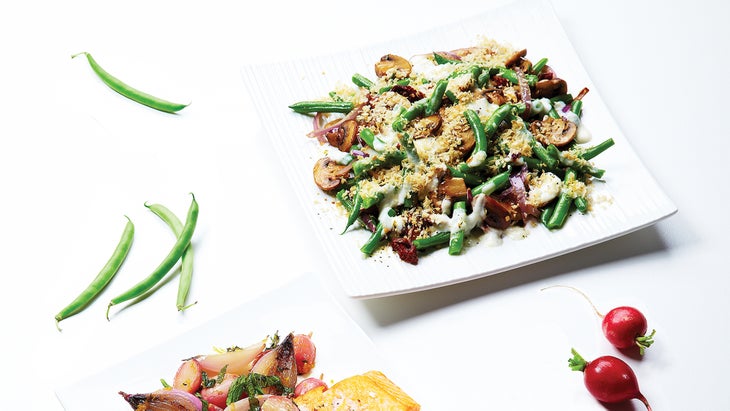 Summery Green Bean Casserole
Why not let a winter favorite soak up some summer sun? We've got the beans, the mushroom sauce and the crunchy bits, and a few extra additions to boot!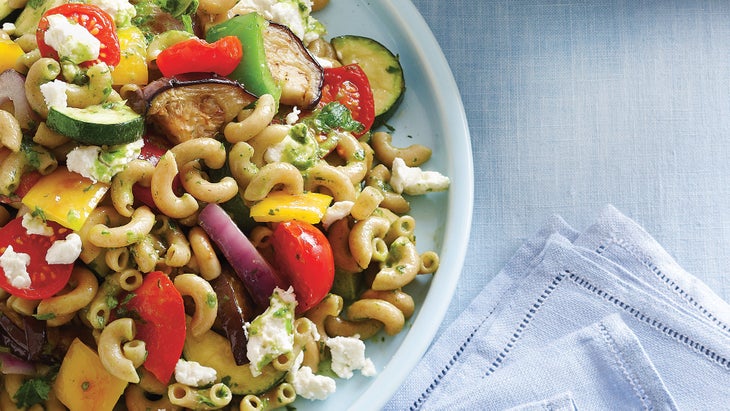 Roasted Vegetables & Goat Cheese Pasta Salad
While this cheesy, veggie-laden pasta salad can be a meal all on its own, we suggest pairing it with grilled tofu or chicken (and keeping leftovers for lunch the next day!).
TIP: Use whatever vegetables are lying around in your fridge!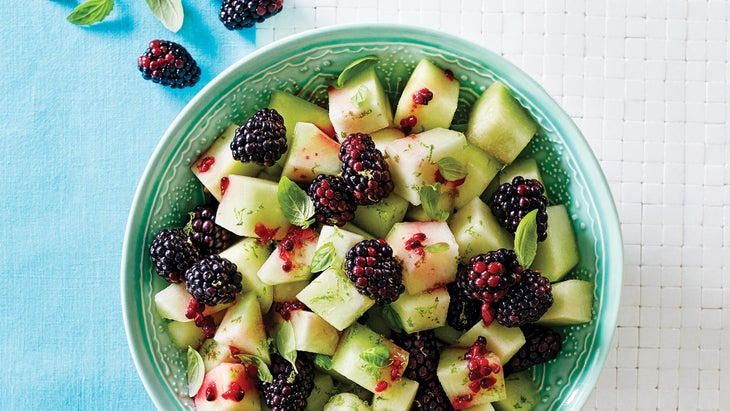 Honeydew and Blackberry Bowl with Basil Lime Drizzle
The herbal taste of basil with lime juice and a touch of salt and pepper make the fruits in this bowl taste even sweeter. Mix and match with your favorite melons and berries.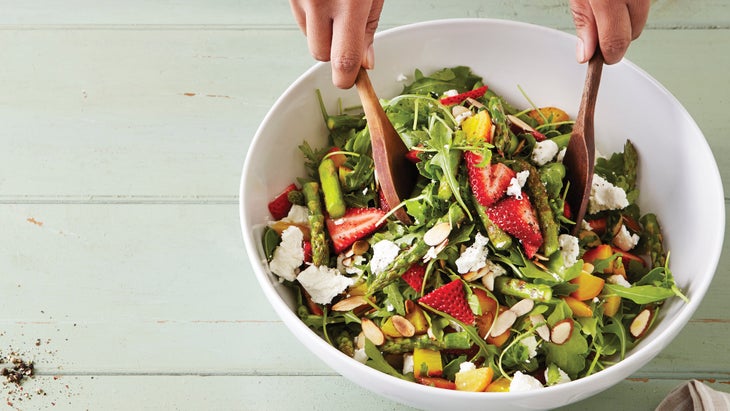 The Laguna Green with Asparagus, Strawberries & Orange Tarragon Vinaigrette
Peak-season asparagus is lightly grilled then tossed with arugula, roasted beets and strawberries in this colorful, warm-weather salad.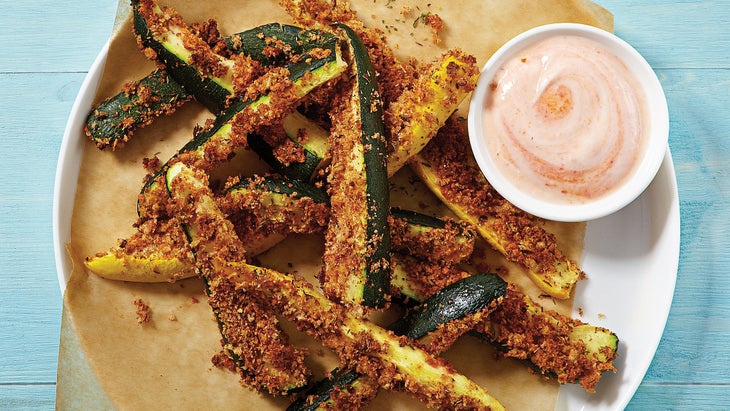 Oven-Fried Squash Spears
While your oven gets to work crisping up these 80-calorie, bread crumb-coated spears of zucchini and summer squash, you can whip up a garlicky dip and work the barbecue!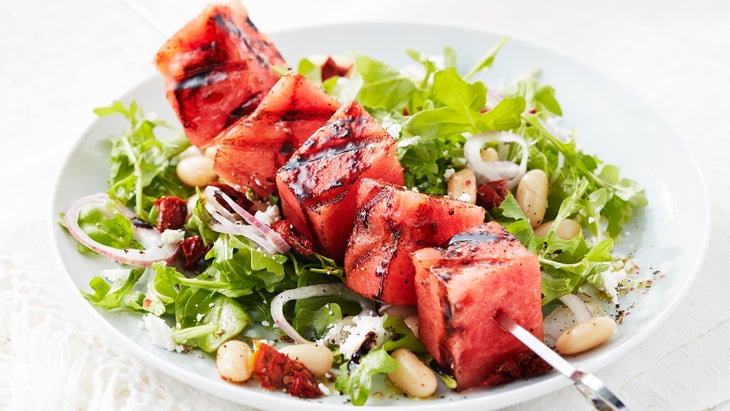 Grilled Watermelon Skewers with Feta and White Bean Salad
Smoky flavor of fresh watermelon over tasty greens, feta cheese and white beans makes an antioxidant powerhouse of a salad.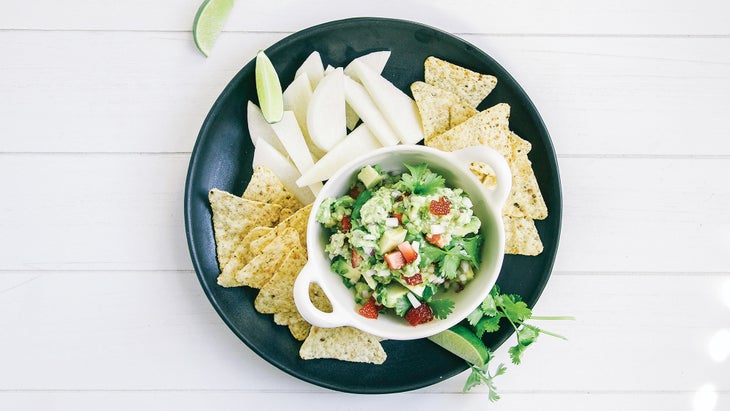 Jicama Guacamole
Jicama gives this guacamole a unique and refreshing crunch – everyone will be trying to guess your secret ingredient!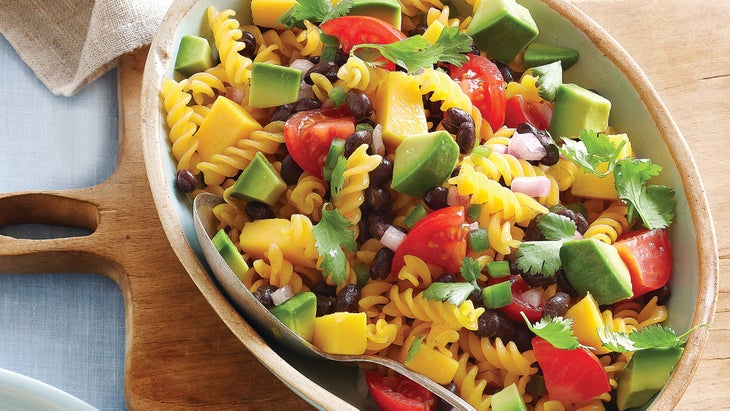 Salsa-Style Corn Fusilli Salad
Fresh and sweet-tart, this Mexican inspired salad with its light, tropical and citrus flavors pairs beautifully with delicate grilled shrimp or other mild seafood. This recipe doubles as an amazing burger topper – simply omit the pasta!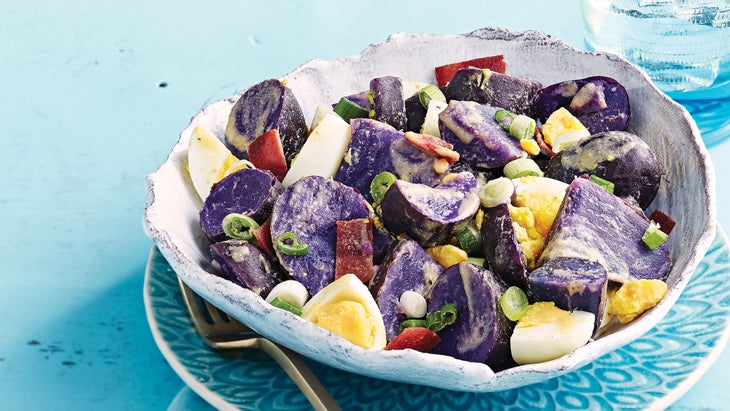 Purple Potato Egg Salad
This purple potato salad is given a protein boost with hard-boiled eggs and all-natural turkey bacon to give you 12 grams of protein per serving. Protein combined with slow-burning carbs like purple potatoes can provide you with sustained energy throughout the day.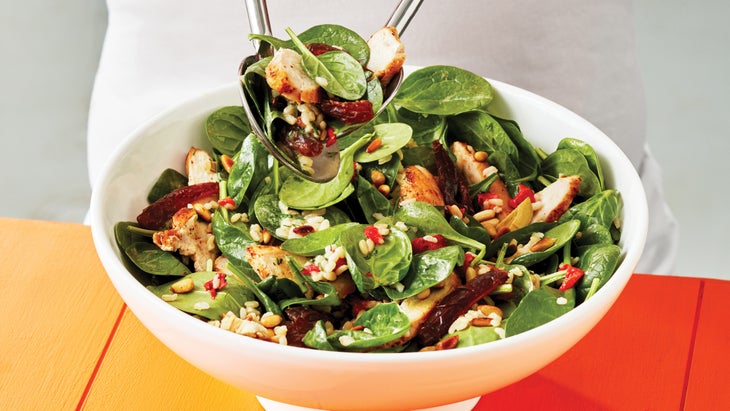 Middle Eastern Chicken and Rice Salad with Tahini Dill Dressing
A key ingredient in many Middle Eastern salads, mint gives this recipe a wonderful freshness. Simply seasoned chicken bumps up the protein content, making this a filling main dish. Using leftover cooked rice speeds up dinner prep — just make extra the night before.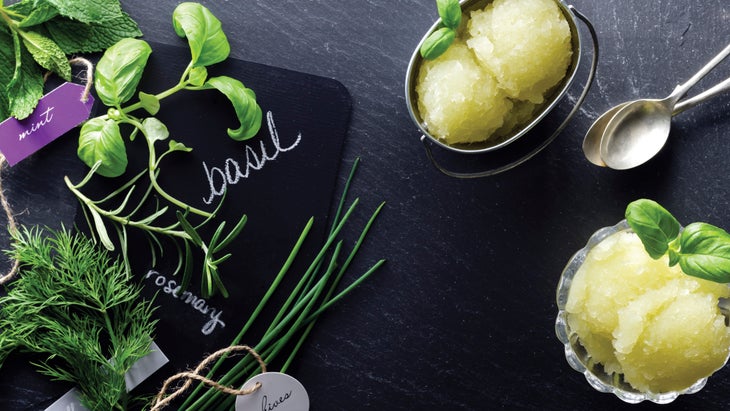 BONUS: Basil Lime Sorbet
We don't typically think of them in desserts, but herbs go really well with all kinds of fruit flavors. Here, basil complements lime for a sweet-tart treat.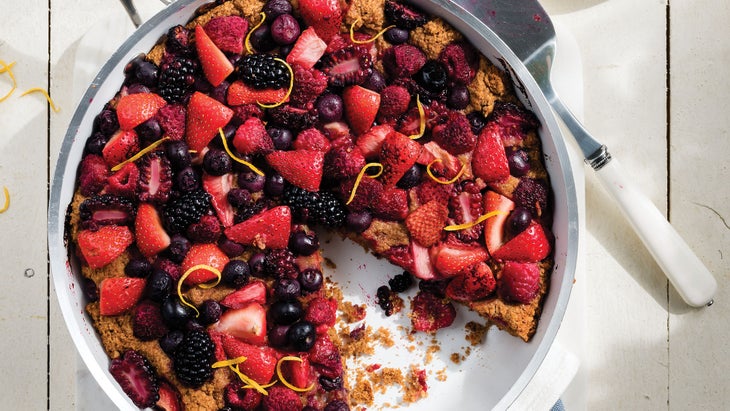 BONUS: Grilled Berry Cobbler
If you're lucky enough to grow fresh berries in your backyard, this super-simple recipe is sure to become your go-to summer dessert! Sprinkle with additional lemon zest and serve with a generous dollop of yogurt and a drizzle of sweet honey.
To enable screen reader support, press ⌘+Option+Z To learn about keyboard shortcuts, press ⌘slash