17 Recipes That Start With a Bag of Rice
Most likely you have a bag of rice in your pantry right now. Here are 17 delicious recipes you can make with this versatile staple,
Heading out the door? Read this article on the new Outside+ app available now on iOS devices for members! Download the app.
Cherry Breakfast Rice Bowls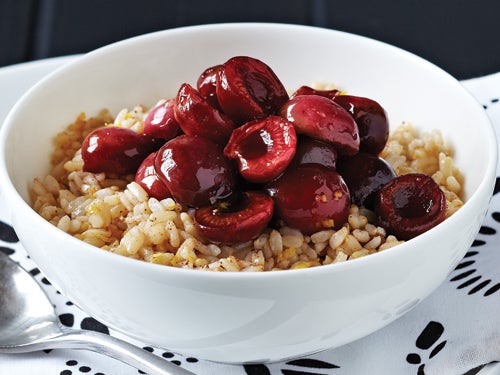 Infused with sweet maple syrup and aromatic cinnamon, this bowl is packed with wholesome ingredients and is a cinch to make.
Get the recipe here.
Chicken Fried Rice with Pineapple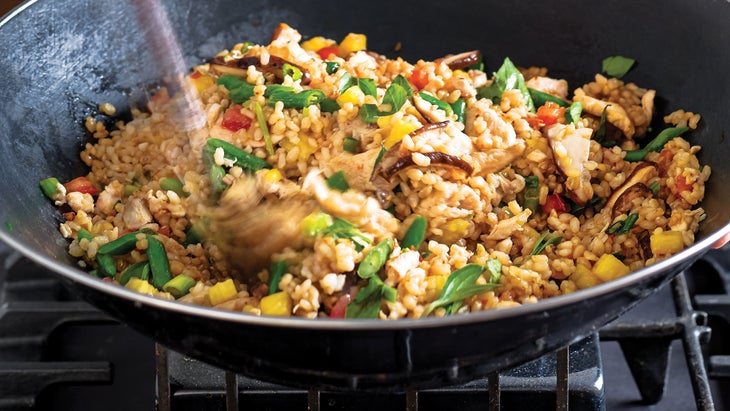 The combination of sweet, fresh pineapple, salty fish sauce and spicy chile sauce is typical of Thai dishes.
Get the recipe here.
Ginger-Wasabi Brown Rice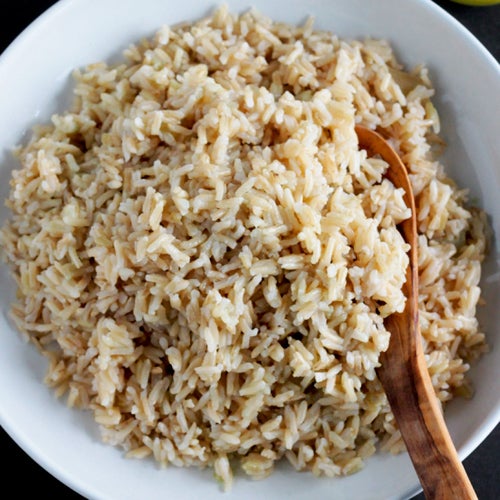 Take your basic brown rice to the next level with a Japanese kick of flavor, thanks to wasabi, ginger, rice vinegar and honey! It'll only cost you three grams of fat per serving.
Get the recipe here.
Almond Butter Brown Rice Crispy Treats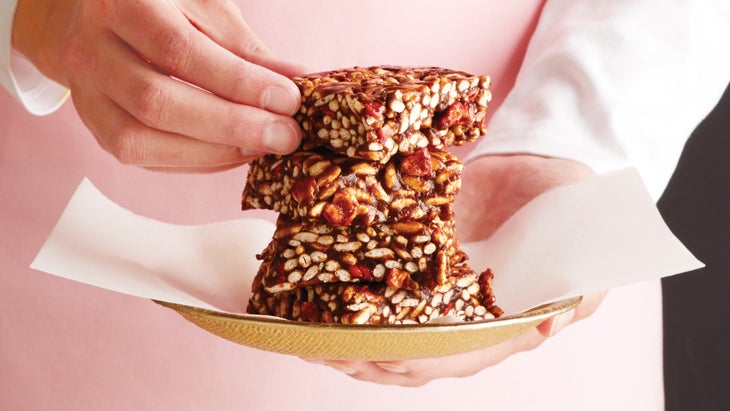 Almond butter is used to bind these clean, crispy and chewy treats.
Get the recipe here.
Cinnamon & Raisin Brown Rice Pudding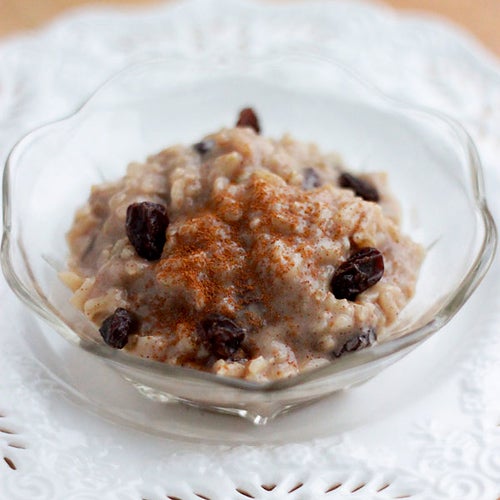 This make-ahead brown rice pudding tastes best the next day, after the flavors have had time to meld in the fridge. Whether you serve it for breakfast, a snack or dessert, it's a definite crowd-pleaser and a great dish to make on a Sunday afternoon to have for the week!
Get the recipe here.
Poblano Rice with Shrimp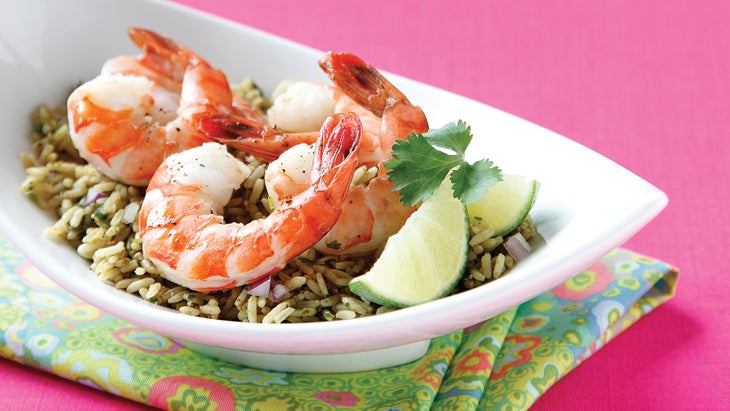 Chef and cookbook author Allison Fishman is all about simple, home-cooked dishes that let fresh, healthy ingredients shine. This Cajun-inspired recipe is a prime example!
Get the recipe here.
Orange-Sesame Shrimp with Rice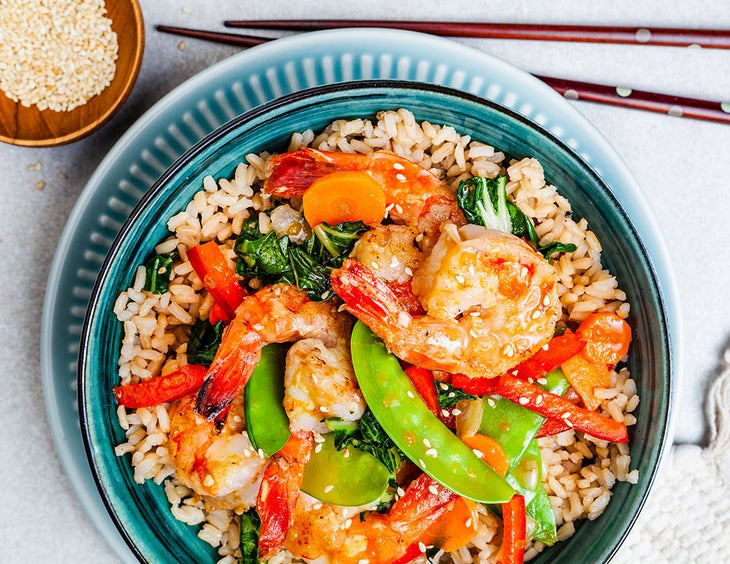 This citrus-flavored sesame shrimp with crunchy veggies is even better than the classic Chinese takeout dish. It's quick and easy to make for a healthy weeknight meal.
Get the recipe here.
Yellow Rice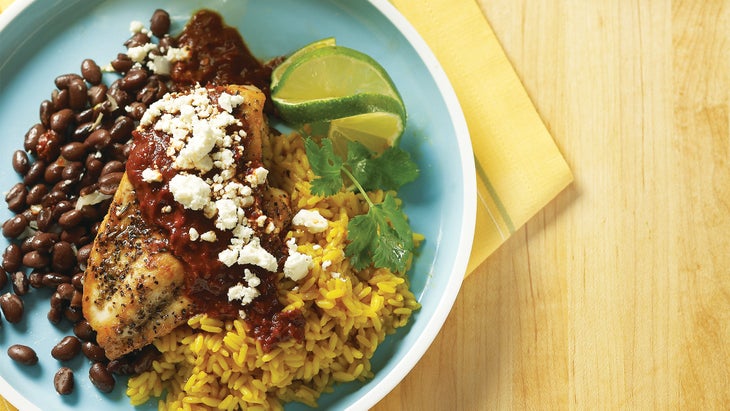 Ground turmeric adds flavor and a bright yellow color to this rice, while also imparting hefty anti-inflammatory benefits.
Get the recipe here.
Kimchi Fried Rice with Tempeh
Our veggie-packed, Asian-style fried rice tastes just as good and can be ready in 25 minutes.
Get the recipe here.
Skillet Spanish Chicken & Rice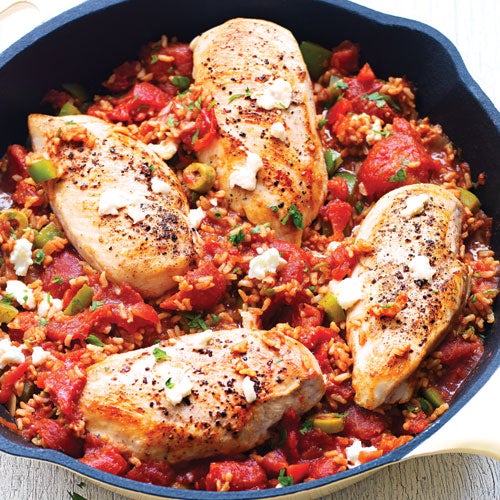 Use your own canned tomatoes (or your favorite boxed variety) to make this bone-warming Spanish chicken and rice skillet, a breeze at just 20 minutes of prep!
Get the recipe here.
Cuban-Style Rice & Beans with Turkey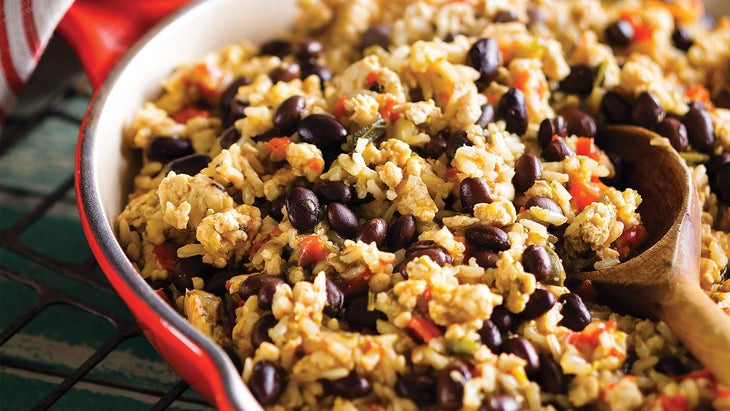 White rice is swapped out for brown in our healthier version of this classic Latin American dish. Protein-rich ground turkey turns it into a complete meal.
Get the recipe here.
Thai Black Rice Salad with Wild Salmon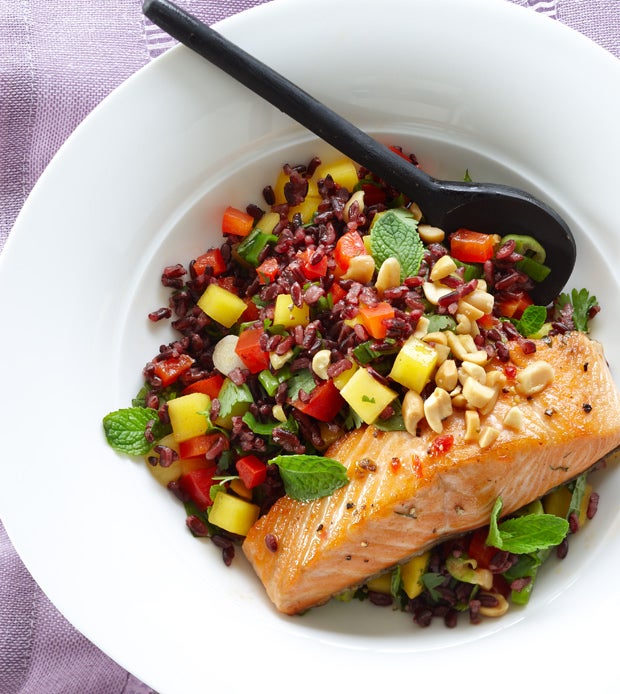 Black Forbidden rice gets its name from ancient China, where the dark-hued grain was banned from commoners and reserved strictly for royalty and nobility. Today, it can be found in local markets and ethnic grocery stores, and is commonly used in Thai cooking and is perfect in this black rice salad!
Get the recipe here.
Ginger Peanut Rice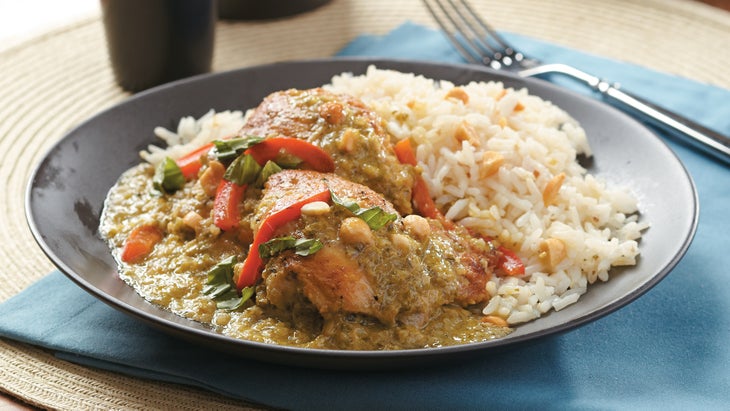 This mild rice dish perfectly offsets the heat found in the Slow-Cooker Thai Green Curry Chicken.
Get the recipe here.
One-Pot Mediterranean Lemon Chicken & Rice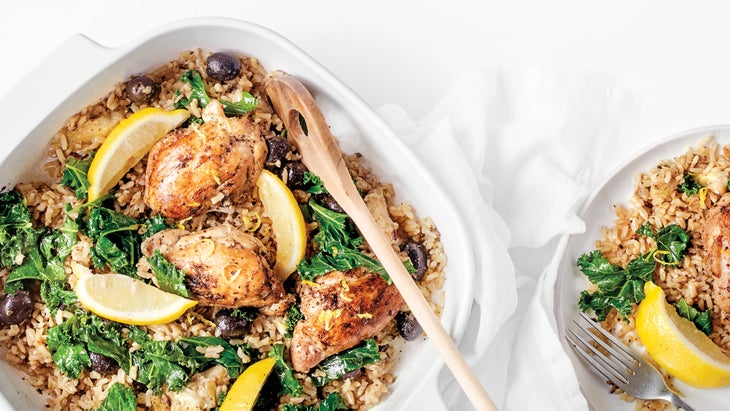 Not only is clean-up minimal with this one-pot chicken dish, but you can freeze it and simply reheat and eat so you spend less time in the kitchen and more time doing the things you love.
Get the recipe here.
Pineapple Pork Stir-Fry with Coconut Rice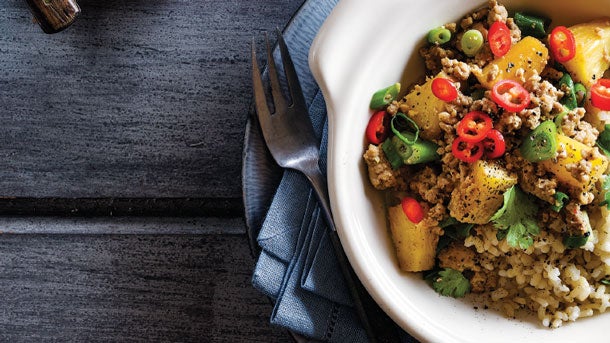 Pineapple chunks add a light sweetness to offset the salty and spicy notes in this flavor-loaded stir-fry. Coconut milk–simmered brown rice adds depth
Get the recipe here.
Sweet Miso Cod with Yams, Rice & Beans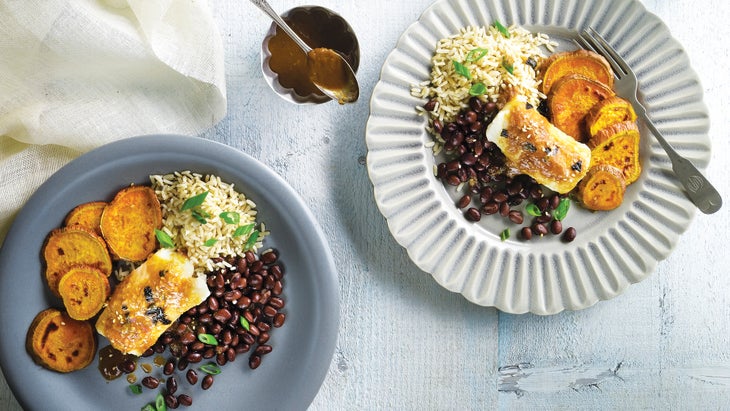 Miso-brushed cod is served over brown rice, beans and easy roasted yams for a complete meal. Customize it by adding sliced avocado or shredded carrot, or by substituting another protein such as chicken or shrimp.
Get the recipe here.
Herbed Quinoa & Wild Rice Stuffing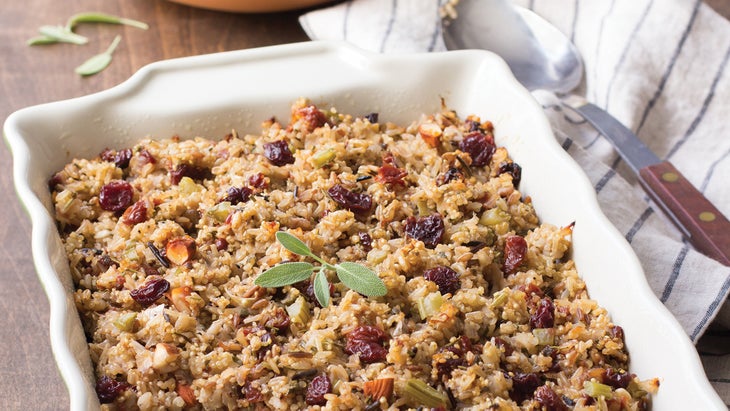 Quinoa and wild rice are loaded with protein to keep you full and fiber to keep your digestive tract running smooth.
Get the recipe here.