Cooking With Blackberries
Blackberries are not only great in desserts. These recipes feature blackberries paired with meats and other surprising ingredients for a spectacular dinner.
Heading out the door? Read this article on the new Outside+ app available now on iOS devices for members! Download the app.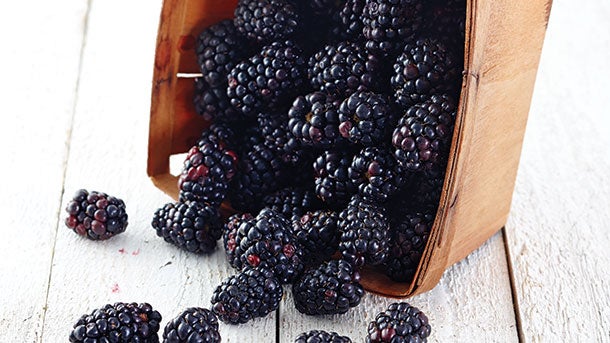 This plump, shiny fruit is often described as winelike. This is probably due to their high levels of tannins, the polyphenolic compounds also found in grapes. While its raspberry relatives are hollow, the juicy individual sections, or drupelets, of the blackberry attach to a firm inner stem.
Peak Season: June to August
How to select: Look for rich, deep color (some may be two-toned; this does not mean they are underripe). Berries should not be packed too tightly or appear wet or shriveled.
Price range: $2 to $4 per pound
Keep it fresh: Place in a shallow container, cover loosely and refrigerate for 3 to 6 days. Wash just before using.
Pairs well with: Blueberries, raspberries, strawberries, peaches, nectarines, citrus, mint, basil, thyme
Creative uses: Simmer with lemon juice, raw honey and thyme until very soft and use as a topping for whole-grain pancakes.

Nutrition highlights: The antioxidant polyphenols in blackberries may improve short-term memory and motor skills, which can decline as you age. They also deliver compounds that attack oral bacteria, helping to keep your mouth healthy.
Blackberry Recipes