Recovery Days: Your 1-Week Meal Plan
The mantra that food is fuel is gold, but food as refuel is equally valuable.
Heading out the door? Read this article on the new Outside+ app available now on iOS devices for members! Download the app.
Alexandra Weissner had been running for years before she considered herself a runner.
"I was always an athlete and running was part of my cross-training, but I never would have called myself a 'runner,' " she explains. Weissner only adopted the label after moving to New York, NY where all she could afford for exercise was a pair of sneakers. She began signing up for races and now, 13 years later at home in Denver, Colorado, she regularly tracks 25 to 30 miles a week and recently completed the Barcelona Marathon.
Weissner isn't in it for speed, though. Sure, she has her own goals, like a sub two-hour half-marathon this season, but she puts one foot in front of the other for the greater goal of mental and physical health. In order to feel her best, she also fuels herself as the athlete she is. "We expect a lot from our bodies and we expect them to perform a certain way," she says. "We're often not taking care of ourselves from the inside out. To make gains in anything, it all starts with what you put into the body."
Now a run coach and trainer (and also a marketing consultant), Weissner discusses all things wellness—nutrition, recovery, sleep and overall well-being—on her podcast "Behind the Sweat," which is in its third season. Weissner is also the co-founder of bRUNch Running, a fitness community that helps others fall in love with running via group runs, online programs and organized events.
And so, when we were looking for someone to test this meal plan, one that specifically addresses recovery, Weissner immediately leapt to mind. We wanted someone who had athletic goals but who wasn't a professional athlete with a team of experts overseeing their every move. Weissner looked the plan over, noted that it closely mimics how she already eats, and agreed to give it a try.
It turns out that Weissner has started her day with chai and collagen for years. "I'm not good at eating before 6:00 a.m. so that's my pre-workout," she explains. After her morning run, she'd refuel with a couple chocolate-zucchini muffins. "They were easy to grab and delicious," she says. She's already planning on making them again—next time to help use up the massive amounts of zucchini her garden produces.
Her favorite of the dishes were the sweet potato halves. "It was a good reminder to make eggs for lunch," she says. "They're super healthy and super easy, especially when working from home."
After eating from the plan for a week, Weissner had this to say: "From a macro standpoint, [the plan] had everything you need for post-workout. And it had everything you need from a protein perspective to rebuild, as long as you're not marathon training," she explains. "All the dishes had really good flavor and all were easy to make."
Key nutrients for recovery
Protein
Optimum protein consumption is key to stimulating muscle protein synthesis and facilitating repair. To promote greater recovery, aim to consume approximately 0.8-1 gram of protein per pound of body weight per day. The branched chain amino acid, leucine, is vital for muscle repair. High-leucine foods (per 3.5 ounce) include those like beef, shrimp, herring, trout, chicken, lentils, salmon, quinoa, Swiss cheese and cashews.
Omega-3 fatty acids
Omega-3 fats aid in recovery by reducing inflammation. EPA and DHA are the most anti-inflammatory types of omega-3s and are found in wild-caught cold-water fish, including Alaskan salmon, Pacific halibut, herring, sardines and mackerel. Plant-based omega-3 fats come in the form of ALA and although they are poorly converted to EPA and DHA, they have many other health-promoting qualities. Walnuts, freshly ground flax seeds, chia seeds, pumpkin seeds and organic, non-GMO soybeans are all good sources of ALA. Aim to consume at least one omega-3-rich food per day.
Vitamin C and zinc
Vitamin C is needed to make collagen as well as for repairing tendons, ligaments and healing surgical wounds. Good sources include citrus fruits, strawberries, kiwi, broccoli and bell peppers. Zinc is a mineral found in higher amounts in animal foods. Oysters contain more zinc per serving than any other food, but other good sources include beef, poultry, beans, whole grains, dairy products, crab and lobster. It's best to get zinc from food, as high-dose zinc supplements can cause nausea and vomiting and can inhibit copper absorption.
Turmeric
Turmeric is a root that has been used for centuries in Ayurvedic medicine for its anti-inflammatory and healing properties. The active compounds in turmeric, known as curcuminoids, need to be consumed with black pepper and fat to enhance absorption. Adding turmeric to soups and stews, stir-fries and even smoothies is an easy way to get in your daily dose.
Monounsaturated fatty acids (MUFAS)
Monounsaturated fatty acids are a type of healthy fat that reduce inflammation and promote healing. Best food sources include avocado, olives, extra-virgin olive oil, almonds, pistachios and macadamia nuts.
Hydration and electrolytes
Losing just 1 to 2 percent of body fluid puts you in a dehydrated state, making recovery much more difficult. Water is critical, but for the super active, drinking only water will not keep you adequately hydrated. Consuming extra electrolytes—essential minerals like sodium, calcium and potassium—is the key to keeping your cells functioning properly. Electrolytes are vital for proper nerve and muscle function. They help our cells, tissues and fluids communicate and allow our bodies to function properly.
The meal plan
Section divider
The recipes
Chocolate-Zucchini Muffins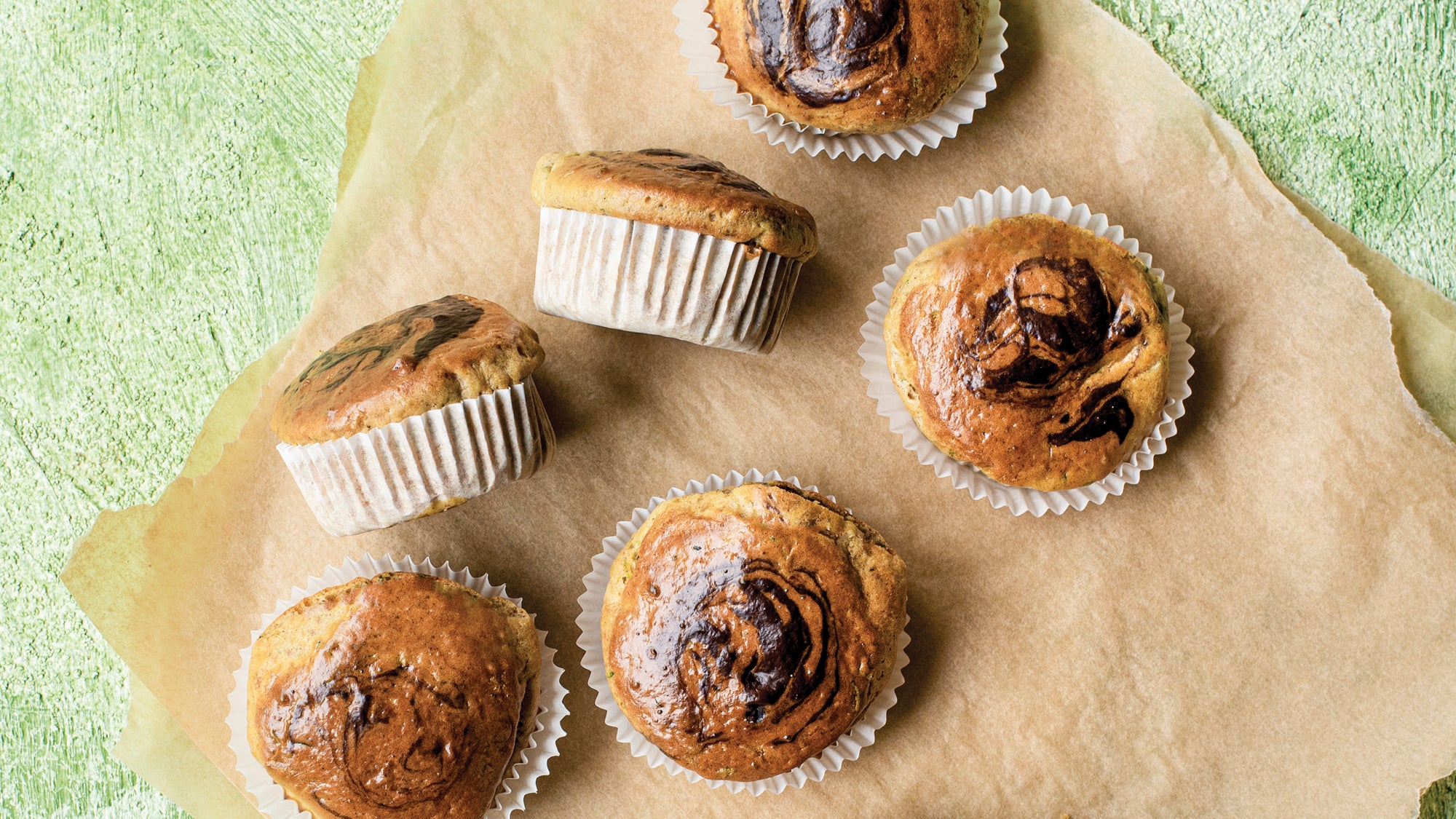 Chai Latte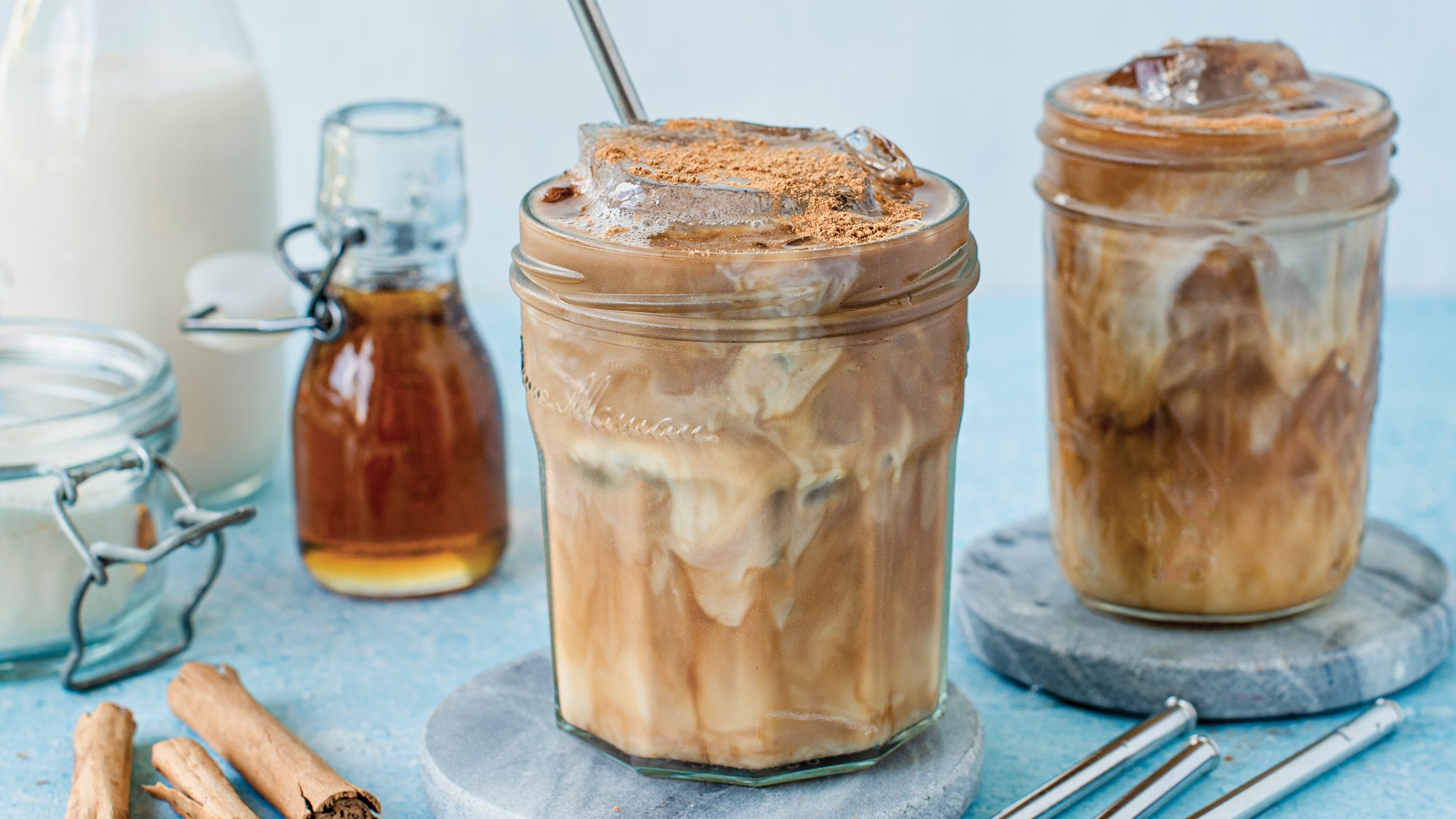 Sweet Potato Halves with Over-Easy Eggs and Za'atar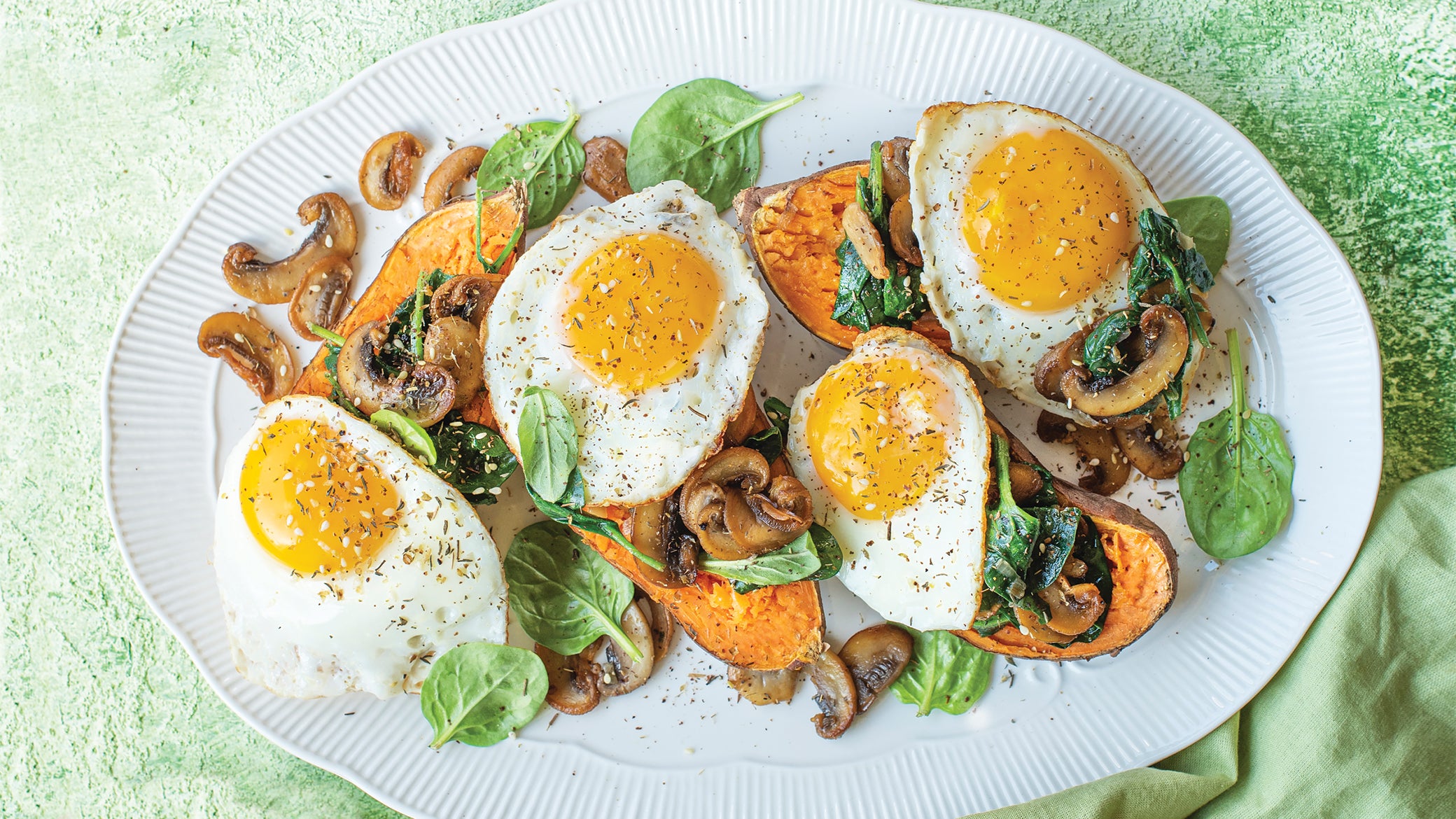 Buffalo Drumettes with Blue Cheese Cauliflower Mash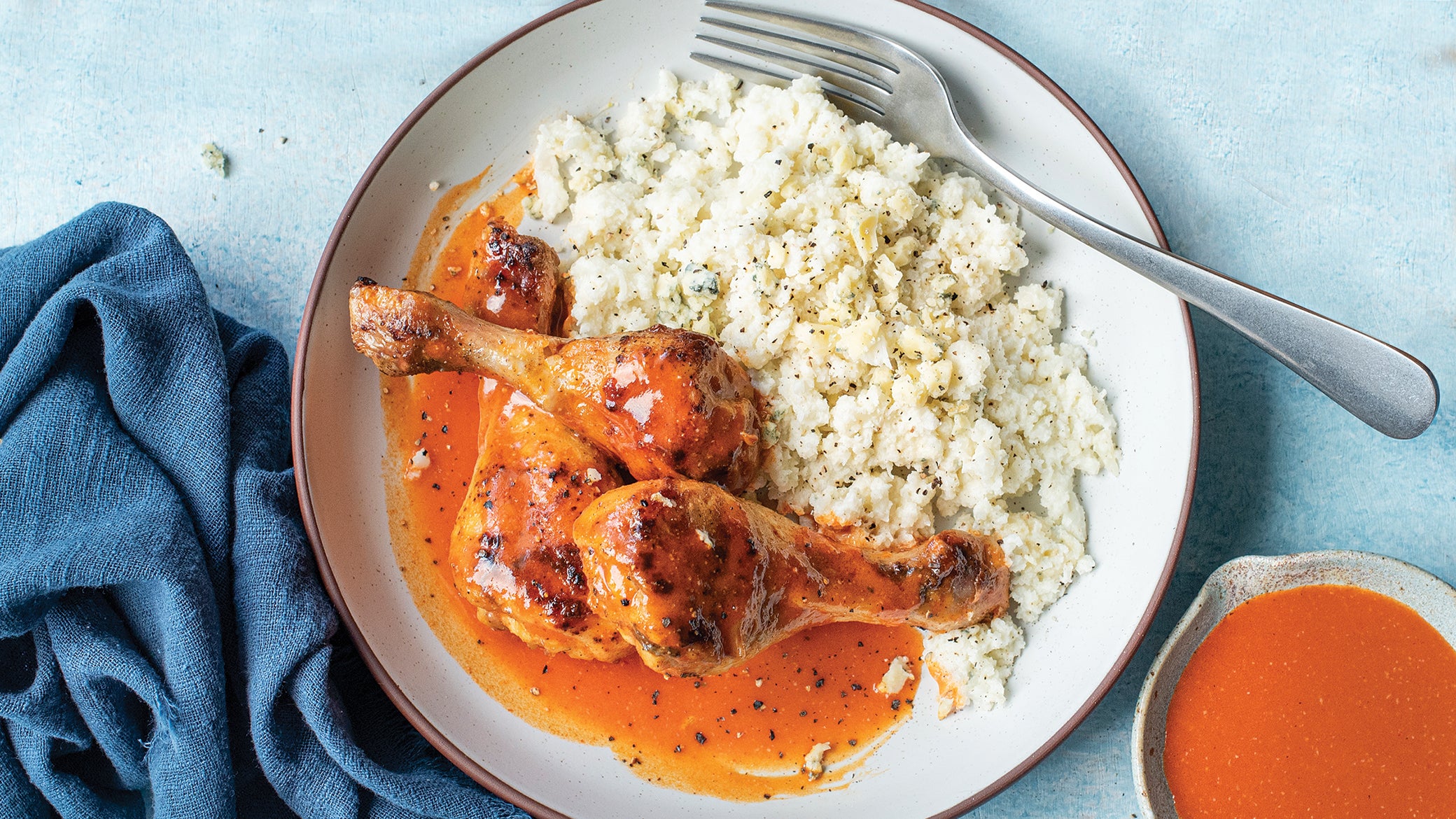 Slow Cooker Chicken Chili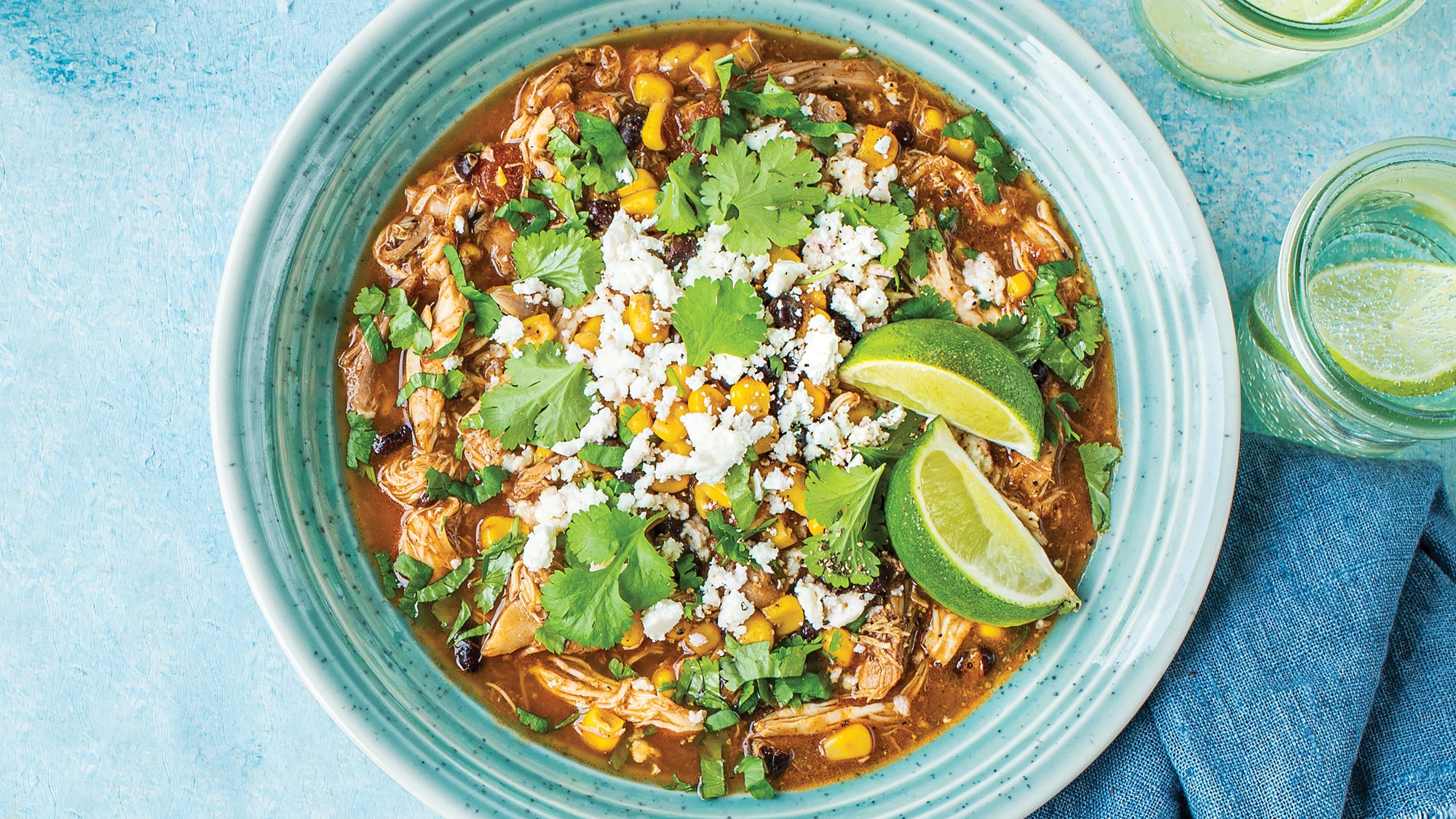 Matcha Smoothie Bowl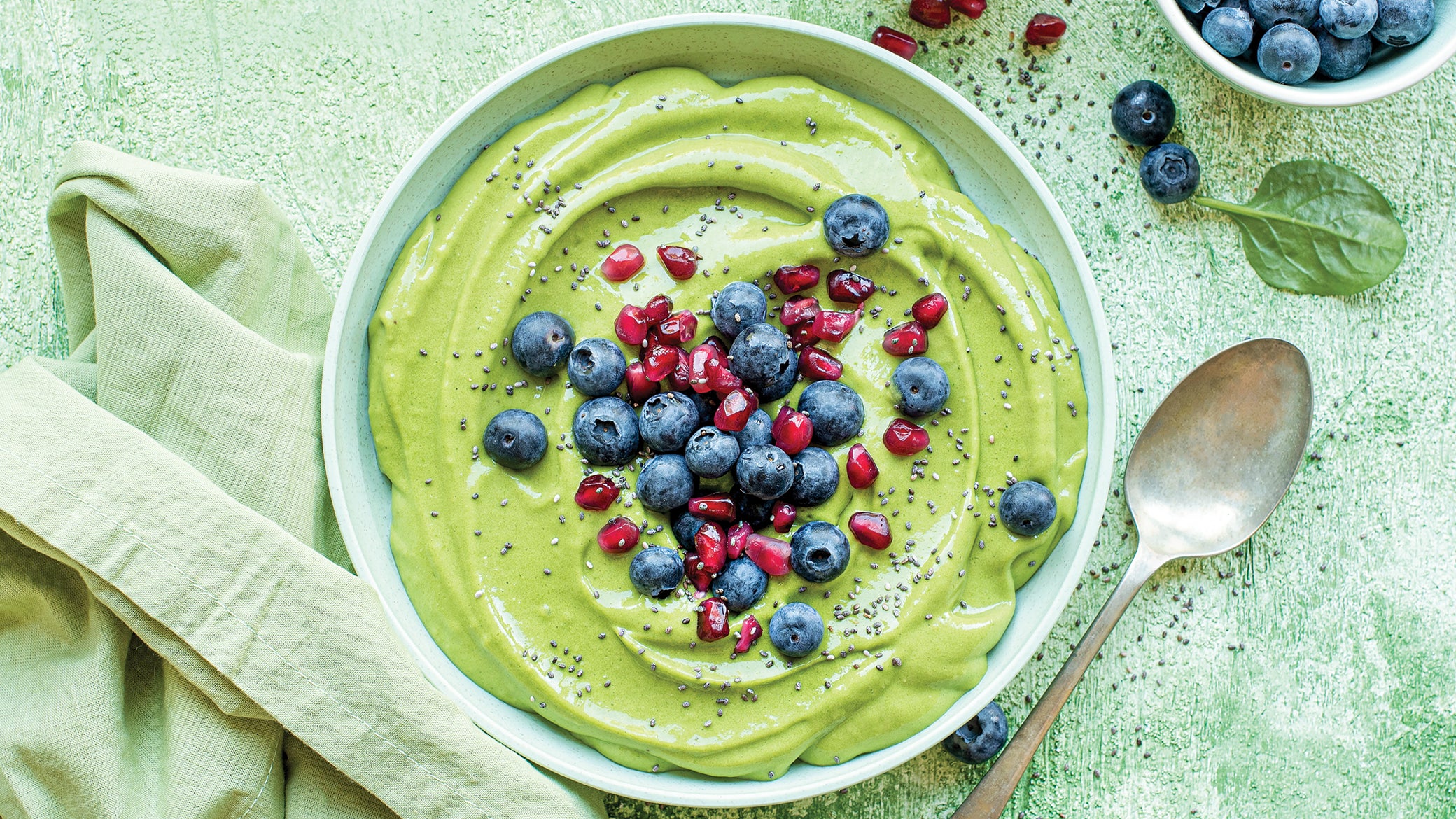 Salmon with Black Rice, Beets and Oranges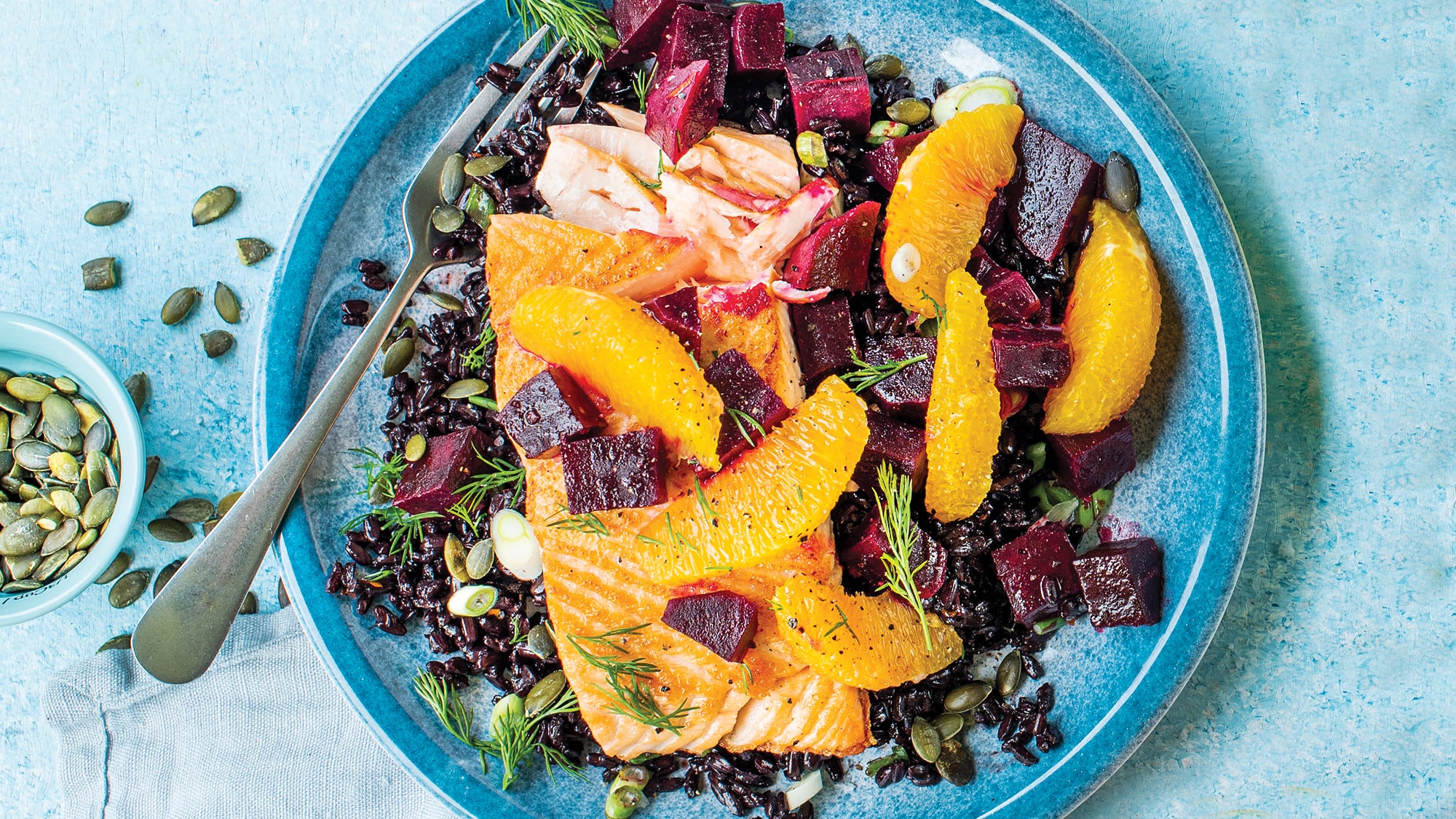 Section divider
Your 1-week meal plan
Section divider
Shopping list
Proteins & dairy
7 eggs
1 carton unsweetened
almond milk
1 carton unsweetened
vanilla almond milk
1 jar ghee
1 lb butter
8 chicken drumsticks
1 small container
sour cream
1 small wedge blue cheese
6 boneless, skinless
chicken thighs
1 can black beans
1 wedge Cotija cheese
4 6-oz salmon fillets
Veggies & fruits
1 small zucchini
2 sweet potatoes
4 mushrooms
1 shallot
1 head of garlic
1 container baby spinach
1 head cauliflower
1 banana
1 bag frozen mango
1 pomegranate or
1 small container
pomegranate arils
1 pint blueberries
1 bag frozen organic corn
1 lime
1 bunch cilantro
4 medium beets
2 oranges
1 bunch green onions
1 bunch dill
Nuts, seeds & oils
1 bag chia seeds
1 bottle extra-virgin olive oil
1 container pepitas
Pantry staples
1 bag black rice
1 bag almond fl our
1 box baking soda
1 jar pink Himalyan salt
1 jar cinnamon
1 jar ground ginger
1 jar ground cardamom
1 jar ground nutmeg
1 jar ground cloves
1 jar black peppercorns
1 jar za'atar
1 jar garlic powder
1 jar cumin
1 jar chile powder
1 container collagen peptides
1 bottle pure vanilla extract
1 bottle maple syrup
1 bag cacao powder
1 bottle Frank's RedHot
1 box English Breakfast tea
1 small bag matcha
1 bottle apple cider vinegar
1 jar fi re-roasted salsa
1 box chicken broth
1 jar Dijon mustard
1 bottle honey