Slow-Cooker Beans: The Master Recipe
Forget everything you thought you knew about cooking dry beans. Our easy trick lets you skip the long soaking step and make them — start to finish — in your slow cooker. Plus, we have three creative ways to use them.
Heading out the door? Read this article on the new Outside+ app available now on iOS devices for members! Download the app.
Effortlessly whip up a large batch of your favorite beans to have on hand for a variety of quick and easy fiber-rich meals. You can add onion and garlic to the beans for extra flavor, but it's not necessary if you're pressed for time. Start checking the beans at the early end of the suggested cook time – they should be plump with a creamy texture and have no chalkiness when you bite into them.
Perfect Beans Every Time
This genius method works for pretty much any type of dry bean, but some need longer in your slow cooker than others. Follow this handy chart and prepare as directed.
| Type of Dry Beans (3 cups) | Cook Time (Low Setting) | Makes (Cooked) |
| --- | --- | --- |
| Black Beans | 8 to 9 hours | 8 cups |
| Black-Eyed Peas | 5 to 6 hours | 8 cups |
| Chickpeas (aka Garbanzo Beans) | 6 to 8 hours | 7 cups |
| Cranberry or Pinto Beans | 7 to 8 hours | 7 cups |
| Great Northern Beans | 6 to 7 hours | 8 cups |
| Kidney or Cannellini Beans* | 10 to 15 minutes on stovetop, then 6 to 7 hours | 7 cups |
*Safety Note: Kidney beans contain high concentrations of a natural toxin that, when not heated to a boil, can cause illness (cannellini beans have the same toxin in a lesser concentration). Slow cookers don't reach the temperature needed to kill the toxin, so you need to cook them in a saucepan of boiling water for 10 to 15 minutes first, then drain, rinse and finish in the slow cooker for 6 to 7 hours as directed.
The Recipes
Minestrone Soup with Parmesan Broth & Basil Swirl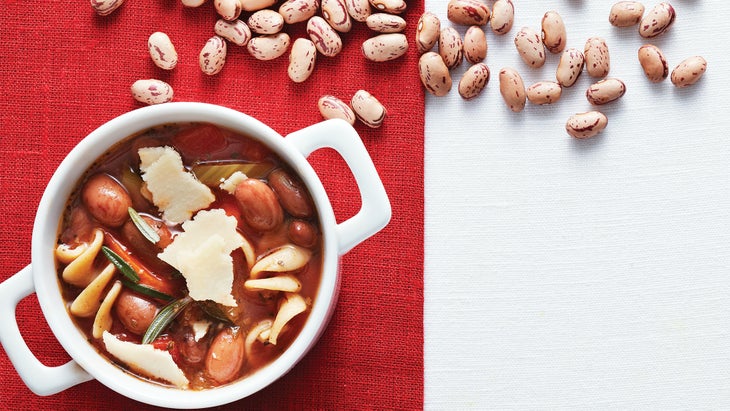 This hearty bean soup is brimming with veggies like celery, onions, carrots, and zucchini.
Get the recipe
Turkey & Black Bean Tacos with Green Herb Salsa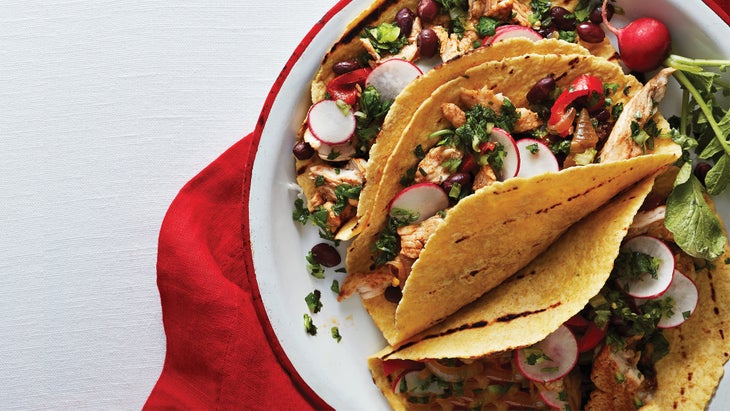 Don't get too fussy with this salsa – think of it as a Mexican-style pesto you can switch up according to your taste preference.
Get the recipe.
Black-Eyed Pea & Pineapple Salsa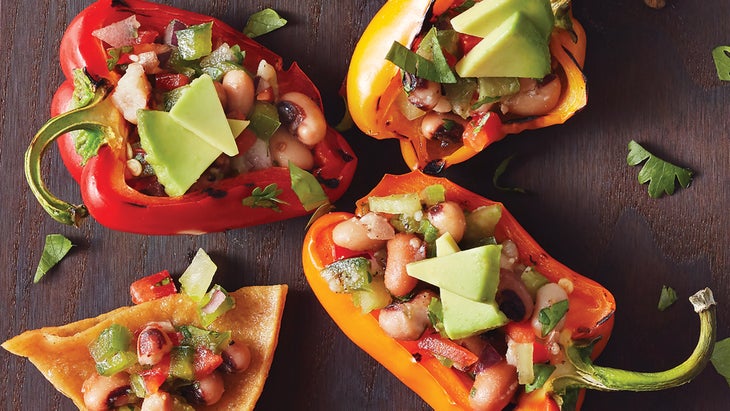 This smoky-sweet salsa is incredibly versatile – spoon into lettuce leaves and top with stir-fried veggies for quick wraps, spoon into halved mini bell peppers for an easy appetizer.
Get the recipe.
Ingredients
3 cups 
dry beans, picked over and rinsed (NOTE: If using kidney or cannellini 
beans, first cook in a saucepan of boiling water for 10 to 15 minutes; drain, rinse and follow recipe 
as directed.)
1 
small yellow onion, chopped, optional
1 
clove garlic, 
peeled, optional
1 bay leaf
2 tsp sea salt
Preparation
1. Place beans in a 3- to 6-qt slow cooker. If using, add onion and garlic. Stir in bay leaf and salt. Add enough cold water to cover beans by 2 inches. Cover and cook on low until beans are plump and tender, 
5 to 9 hours (see chart below for cook times).
2. Discard bay leaf. Drain bean mixture in a colander and rinse under cold water. Let cool completely. Refrigerate in an airtight container or zip-top bag for up to 
3 days, or freeze for up to 3 months.
Tip: It's best to freeze the beans in 1 1/2 cup portions — the same amount you'll find in a standard 15-oz. can. To save space in your freezer, store the beans in zip-top freezer bags; simply stack the bags and freeze flat. Thaw overnight in your fridge before using in recipes.