Fresh, Vibrant and Oh-So-Versatile, This Spicy Veg Salsa is Everything
Consider this your complete guide to making a sensational salsa.
Heading out the door? Read this article on the new Outside+ app available now on iOS devices for members! Download the app.
Whether you're hosting guests and need a dip that'll please a crowd or are craving something with a punch of flavor you can snack on, salsa is always the answer. Who doesn't love salsa and its fresh, fragrant bite? It's scoopable but also completely versatile; it goes beyond a basic dip and can become a topping or a little flavor bomb for meats and veggies, a marinade or anything you want it to be.
There's a whole rainbow of different salsa varieties you can whip up. The classics, salsa roja (made with cooked tomatoes, onion, garlic, cilantro and chiles) and salsa verde (made with cooked tomatillos and chiles), are two of the most popular. But you can't forget about pice do gallo – a variety with raw tomatoes, onions, cilantro, chiles and lime juice – or rich, chocolaty mole. Even guacamole is technically a salsa! Yet at the heart of every salsa are a few shared features: Some heat and spiciness, a little liquid and plenty of fresh ingredients.
What, exactly, makes a great salsa? It's in the veggies, fruits, chiles and herbs. You can play with combinations, flavors and temperature, serving up cooked, blended or raw salsas in nearly any flavor profile. But, perhaps best of all, salsa is super easy to make. Once you master the basics, you can customize and create your own personal spin on this much-loved dip.
Don't have a go-to salsa recipe in your cooking arsenal just yet? We're walking you through the steps of our Spicy Veg Salsa, an easy recipe that'll give you staple ingredients and salsa prep techniques that you can make your own.
Section divider
What you'll need
Bowl
Cutting board
Fork
Knife
Measuring cups and spoons
Mixing spoon
Rasp
Reamer
Section divider
Expert salsa-making tips and tricks
Creating a flawless salsa isn't too difficult, but certain elements can pose a challenge. Because most salsas utilize fresh fruits, veggies and herbs, your ingredients really stand out and shine. So, you'll want to keep your knife skill, your seasoning and your ingredients' freshness at the front of your mind. Try these tips and tricks that'll help you perfect every step of salsa prep.
Mince like a master
When you're mincing green onions – a common addition to salsas – make sure you're cutting them lengthwise first. This creates long, skinny pieces that are easier to control, and it also helps you achieve the perfectly small size you're looking for. Then, once you've sliced your green onions lengthwise, go ahead and begin mincing widthwise.
Want to save some time? You don't necessarily have to mince your salsa ingredients by hand. Chopping up veggies and fruit by hand does create a more uniform size and shape, but it isn't a must. You can use a food processor to quickly puree ingredients (a great option if you've roasted your ingredients and want a more liquid salsa), or do a quick chop if you don't mind a less-perfect finished product.
Keep herbs fresh
No one enjoys opening their fridge's produce drawers to find fresh herbs that've turned black or become slimy with decay. Here's how to maximize their freshness: Store your herbs upright, not laying flat.
Trim the stems of herbs and place them upright in a jar filled with a bit of water; cover with a plastic bag with holes. Or, go eco-friendly and skip the plastic: Trim the stem ends and loosely wrap herbs in a damp paper towel. Then, seal in a zip-top reusable bag and refrigerate.
If you're working with particularly finicky or delicate herbs that can wilt quickly and turn black in no time inside the fridge, like basil, try keeping your herbs upright on your windowsill instead.
Go beyond cilantro
Sure, cilantro is the most popular fresh herb mixed into many types of salsa. But it isn't your only option – and you shouldn't be afraid to get creative!
You can play around with common herbs like parsley, basil, oregano and even mint to alter your salsa's flavor profile. The basic ingredients are versatile, and adding in new spices can create a completely different result. If you're making a salsa that includes fruit, like mangoes, peaches, pineapples or strawberries, mint is an especially great addition.
Add heat for some extra sweetness
While many salsas are made with raw ingredients to deliver a satisfying, refreshing flavor (looking at you, pico de gallo!), you can change the flavor by adding some heat. No, we don't mean more chiles; we're talking about heating up the ingredients themselves.
When you use raw tomatoes, onions, jalapeños and fresh herbs, you're making what's called a salsa cruda. It's a great choice as a snack, a chilled dip or a topping for various dishes. But if you cook your salsa, you can completely change it. Roasted salsas use cooked ingredients (often the very same ingredients you'd find in most salsa cruda varieties), placed in the oven or charred over the flames of a grill or gas stovetop burner. This gives the tomatoes, garlic, onions and chiles a smokier and richer flavor – and some surprising sweetness. It also makes for a liquid, sauce-like salsa.
Aim for plenty of color and texture
Unsure how to customize your salsa or change up the recipe? Think color and texture. A classic salsa has vibrant red tomatoes, bright green cilantro and jalapeño peppers, translucent onions – and if you want to add more, go for additional colors and make it a rainbow. You can add in orange or yellow bell peppers, kernels of yellow corn, darker chile varieties or light white-to-yellow pineapple. Keep texture in mind, too. Onions and peppers can deliver a bit of a crunch, while the juiciness of tomatoes is one of the best parts of salsa; you can add in more crunch or other juicy ingredients to change the balance.
Section divider
The recipe
Our Spicy Veg Salsa is a salsa cruda that steps beyond the traditional salsa basics. We've got tomatoes, cilantro and lime, but we're mixing things up with the addition of extra vegetables to offer a powerful combination of nutrients and fresh flavors. With the addition of zucchini, red bell pepper, radish and basil, you'll get a classic taste with some extra herbs and plenty of good-for-you vitamins and minerals.
Here's how to make it.
1. Dice your tomatoes and other veggies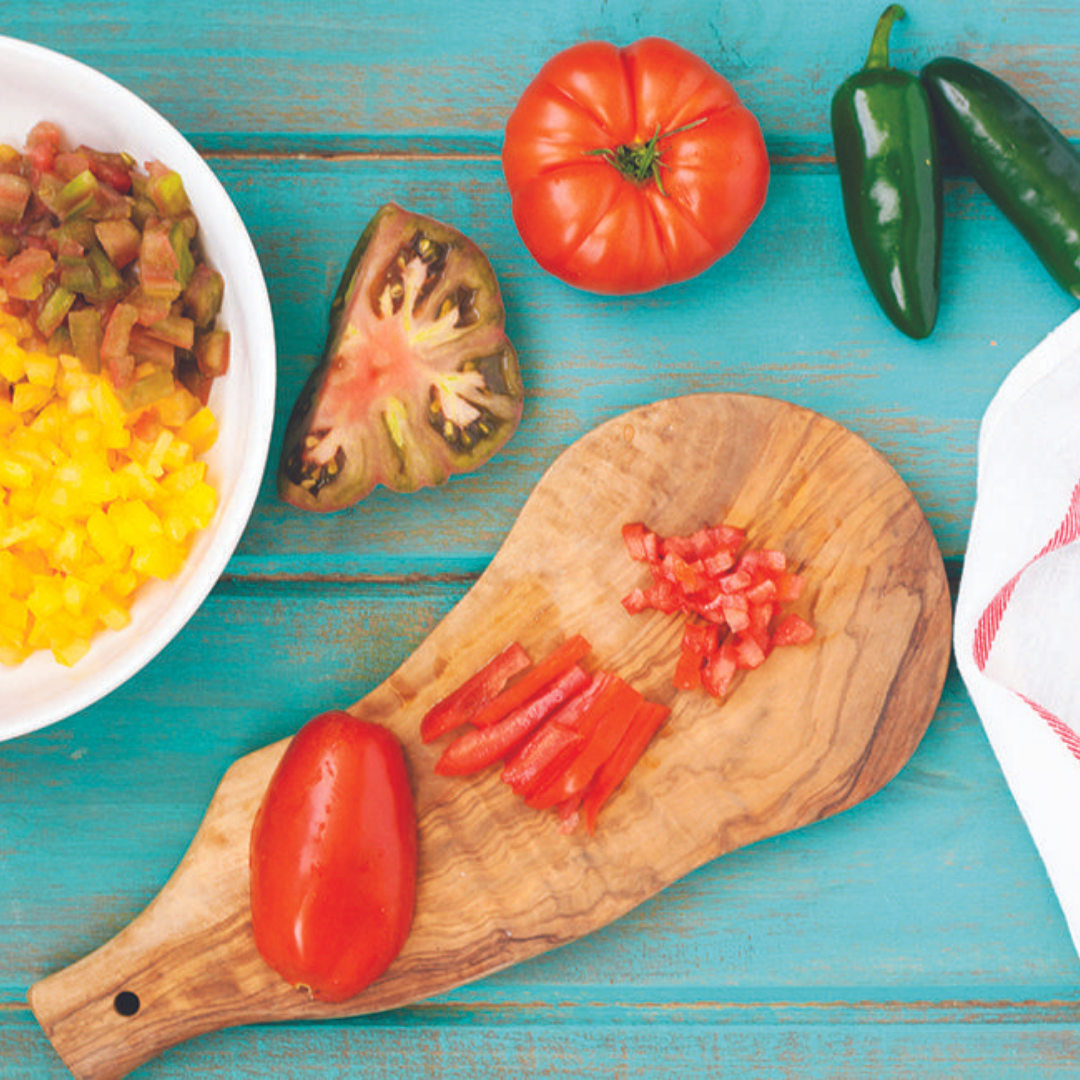 Grab your chef's knife and cutting board, and start dicing your chosen tomato variety (either Roma or heirloom) into small chunks. Next, dice up your red bell pepper, zucchini and radish in the same manner.
2. Chop your herbs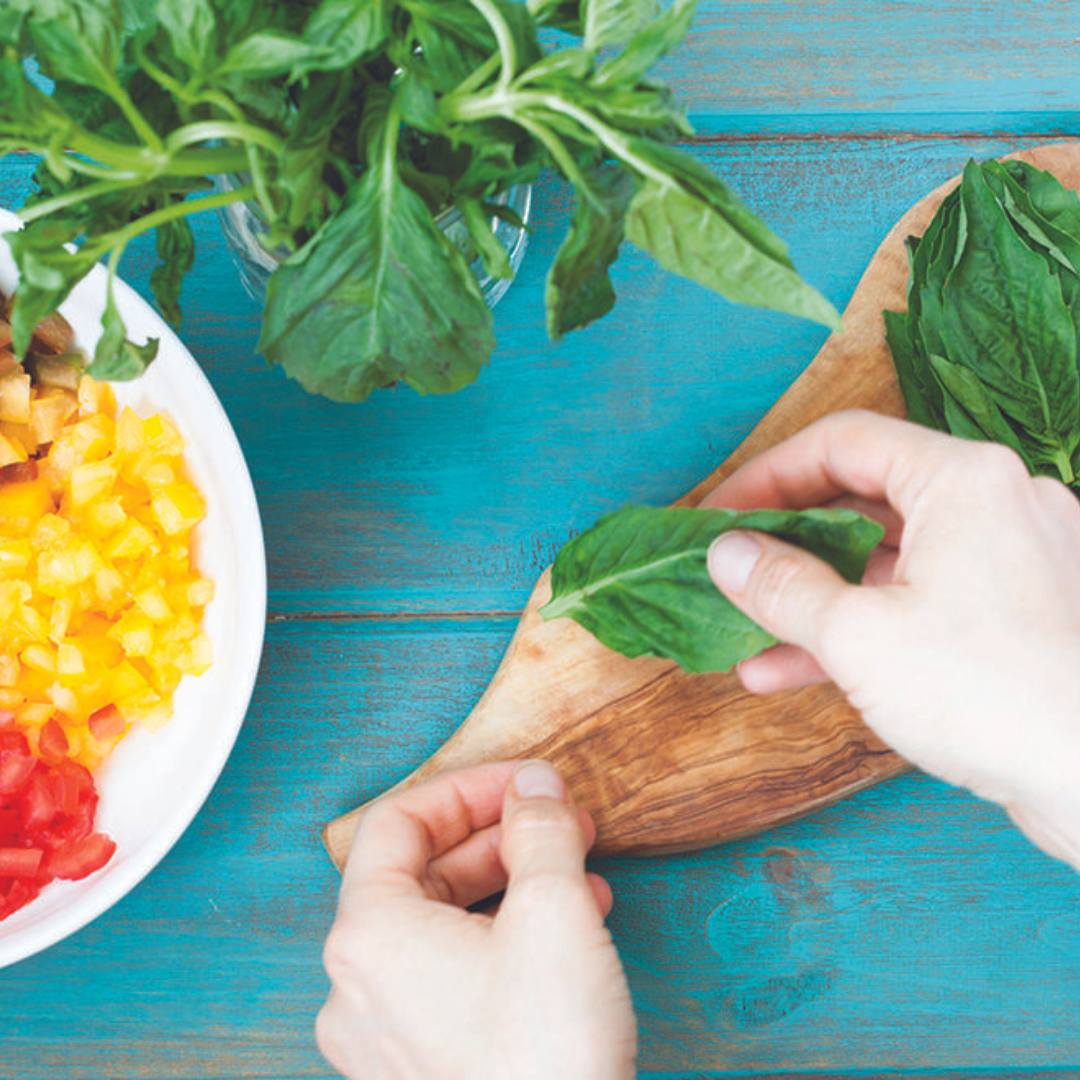 Stack leaves of basil on top of one another. Roll them together into a slim cylinder and begin chopping, moving down the cylinder lengthwise. Separate the leaves and roughly chop again to create smaller pieces.
To chop cilantro, you can remove the cilantro leaves from the stems (or leave attached, if you prefer), then chop by rocking your knife up and down.
3. Tackle the green onions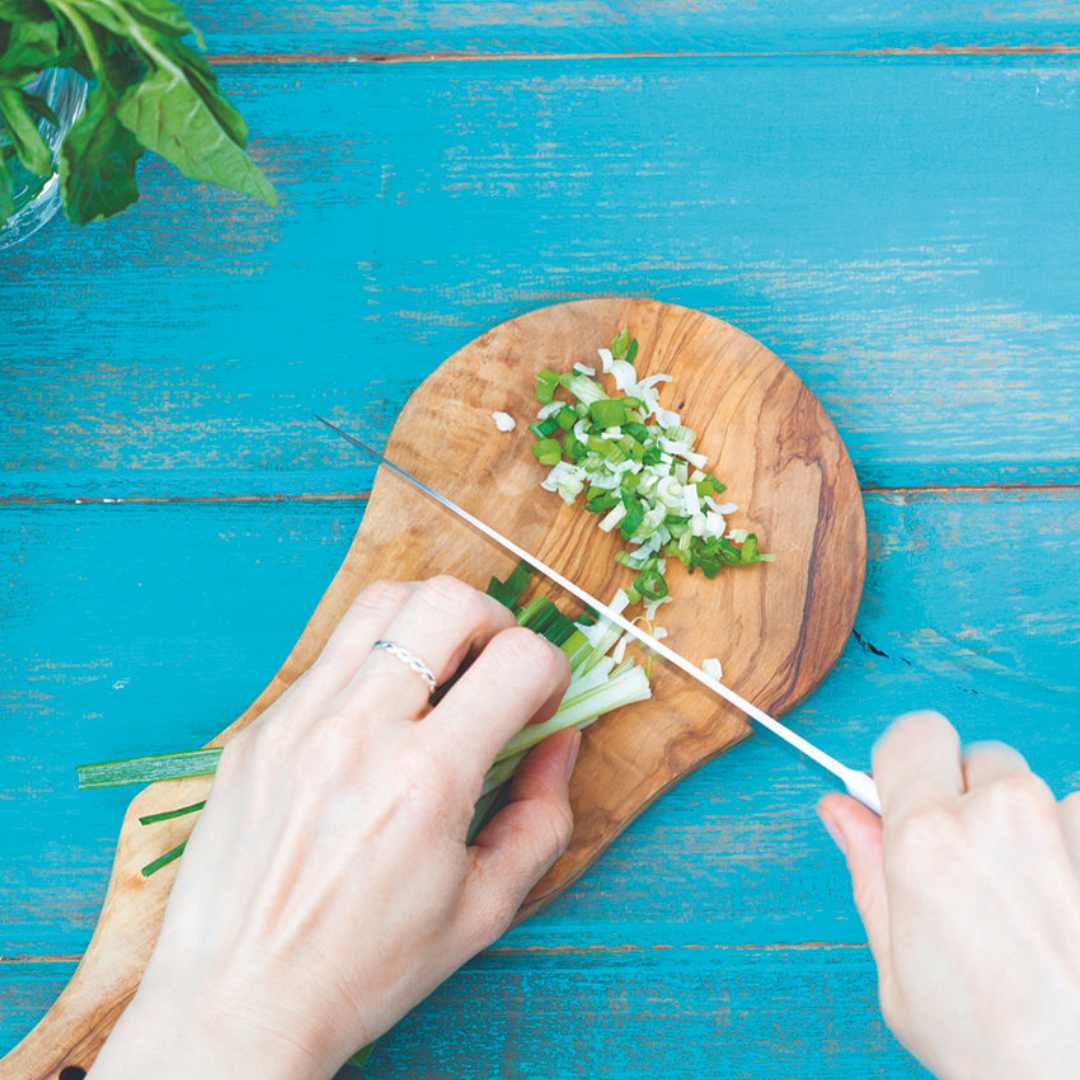 Slice each of your green onions in half, lengthwise. Then, bundle the halves together and chop width-wise. Make sure to include the white, light green and dark green parts.
4. Zest and juice the lime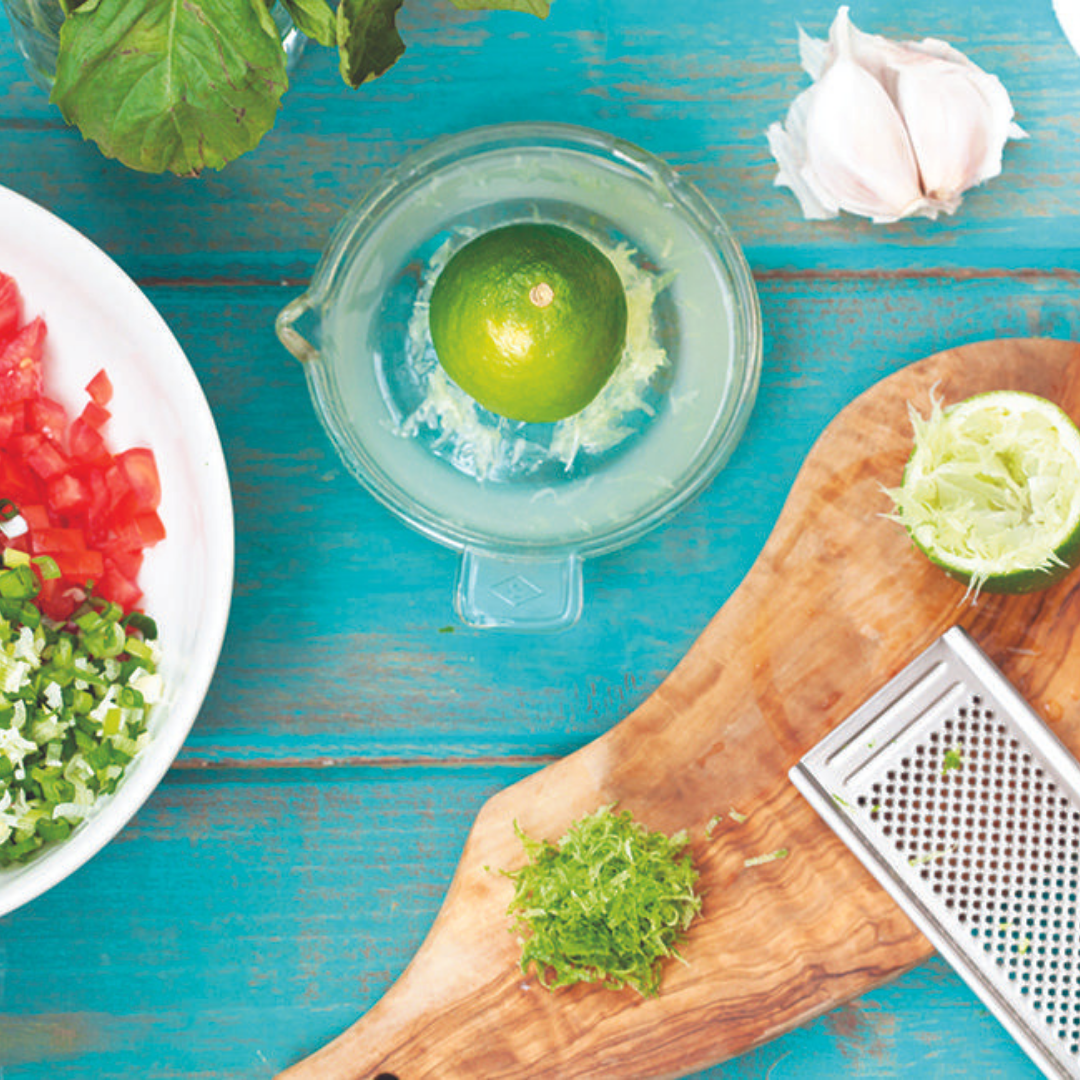 Grab your rasp and rub it across the lime's skin to create zest. Using your chef's knife, slice lime in half and juice each half (either by hand or with a small handheld citrus reamer).
5. Mix it all together
To a medium bowl, add all ingredients (including seasoning) and mix until fully incorporated. Refrigerate for 10 minutes to let the flavors come together.
Section divider
More ideas
Perfect salsa pairings
A fresh, homemade salsa is easy to serve: After all, it's made to pair with your fave tortilla chips! But that doesn't mean that every time you serve salsa you have to enjoy it with crunchy, salty chips.
In fact, some salsas are even better when paired with tortilla chip alternatives. You can really make flavors pop when you use salsas in creative ways – so don't be afraid to take yours from dip to marinade to topping! Here are a few ideas you can try:
Type of salsa
Ideas for dipping
Ideas for serving
Fresh salsa cruda
Tortilla chips
Blue corn chips
Bean dip
Homemade guacamole
Sweet cherry cilantro salsa
Tortilla chips
Crackers
Crackers topped with soft goat or nut cheese
Dishes with mole sauce
Chipotle & pinto bean salsa
Tortilla chips
Grilled jalapeños
Sliced or mini bell peppers
Quesadillas
Tostadas
Sandwich or burger topping
Roasted, baked or grilled chicken
Spicy veg salsa
Tortilla chips
Homemade veggie chips
Over whitefish
On marinated tofu
Burger topping
Salsa verde
Tortilla chips
Homemade veggie chips
Enchiladas
Tacos
Burritos
Tostadas
Tamales
Grilled meats, including chicken and seafood
Recipe inspiration
Want to expand your salsa skills? We've got plenty of recipes that'll give you fresh ideas and all of the know-how you need to create different combinations. After making our Spicy Veg Salsa, try one of these other varieties: