Breakfasts for Busy People
We've compiled our favorite clean recipes that come together in 10 minutes or less so you never have to miss the all-important first meal of the day.
Heading out the door? Read this article on the new Outside+ app available now on iOS devices for members! Download the app.
We've grown up hearing that breakfast is the most important meal of the day. So, why is it that roughly 31 million Americans skip breakfast every day, according to American market research firm NPD Group? One of the most prevalent reasons cited for skipping breakfast is time constraints. Particularly, adult females are more likely to skip their morning meal rushing to get out the door.
Lucky for you, our arsenal of recipes includes numerous breakfast meals that come together in a snap. Enjoy a breakfast of champions and still manage to beat the clock with the following collection. Plus, read to the end for our favorite Clean Eating approved packaged breakfast foods:
Bites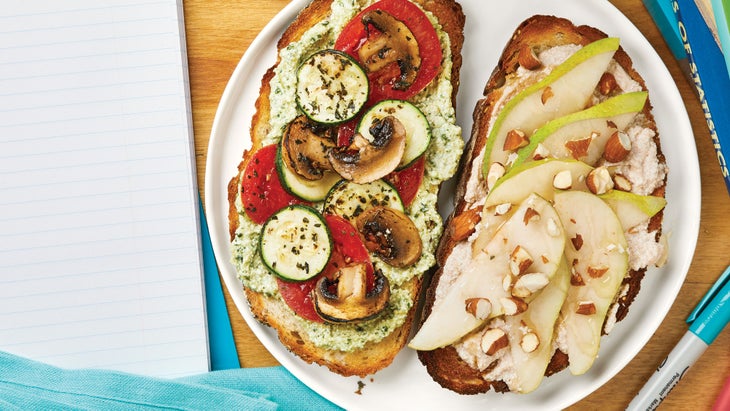 Toast topped with tasty goodies is a great way to start the day, any way you slice it. And you can always fall back on the egg-and-avo classic (we have a recipe for that too). But we're deviating from the norm with this ricotta spread topped with pear and almonds. Simply stir together the sweetened ricotta base and top with fruits and nuts.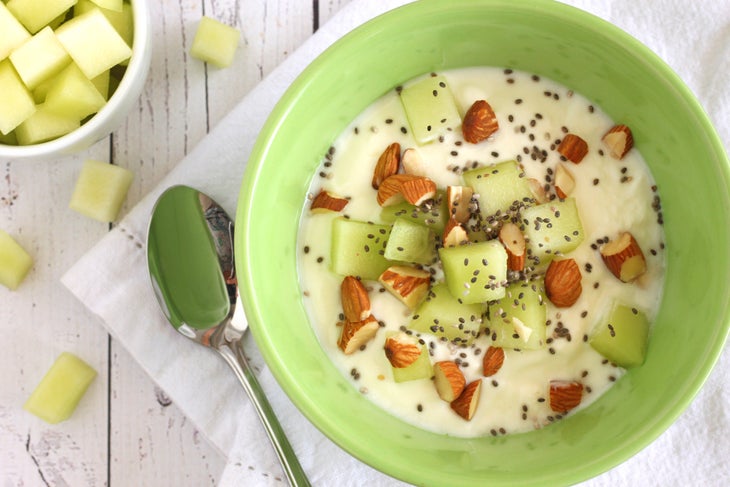 This sunny summery bowl is the picture of good health. In five minutes, toss together some full-fat plain Greek yogurt with sweet honeydew and crunchy nuts and seeds. We opt for almond and chia in this healthful mix. But you can just as easily mix and match with the toppings you have on hand.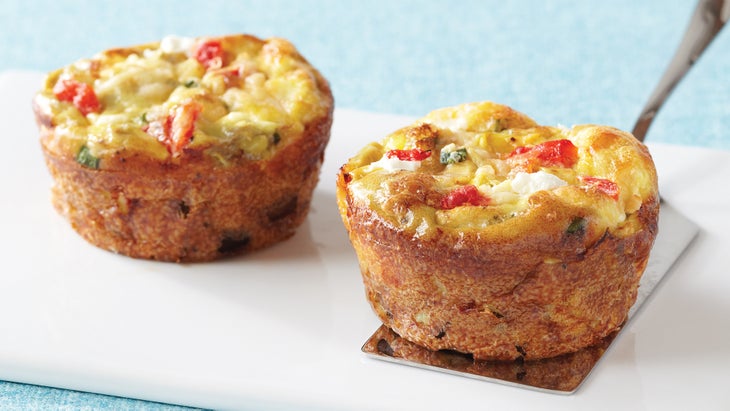 Admittedly, this make-ahead recipe doesn't come together in a snap at the start of your day. However, it only takes 25 minutes to craft these truly delicious cheesy veg-packed bites the night before. Simply grab, heat and go!
Bevvies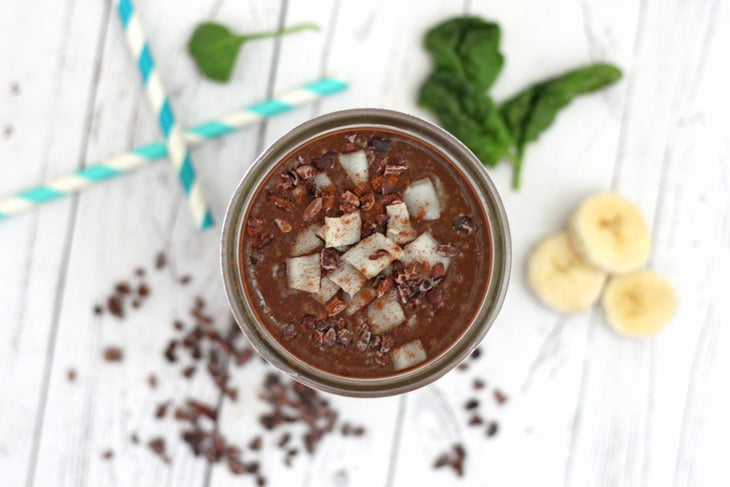 You read that right — we're eating chocolate for breakfast today. This protein-rich smoothie is boosted with cannellini beans, powered by spinach and sweetened with banana. Simply dump all ingredients into a blender and whirr into a creamy mix for a liquid breakfast in five minutes.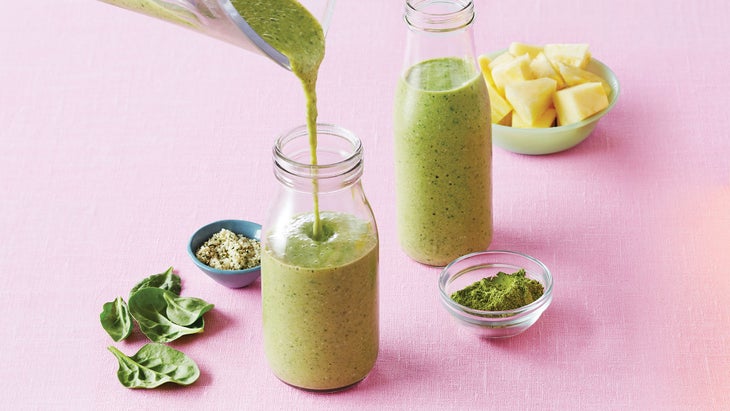 Caffeine-lovers know that a morning cuppa is key, but it can be hard to squeeze in both a breakfast bite and bevvy. That's why we crafted this two-in-one matcha smoothie. This silky drink includes more than just caffeine-rich and concentration-boosting matcha. It's also packed with potassium-rich banana, vitamin-dense spinach and hemp hearts for improved cardiovascular health.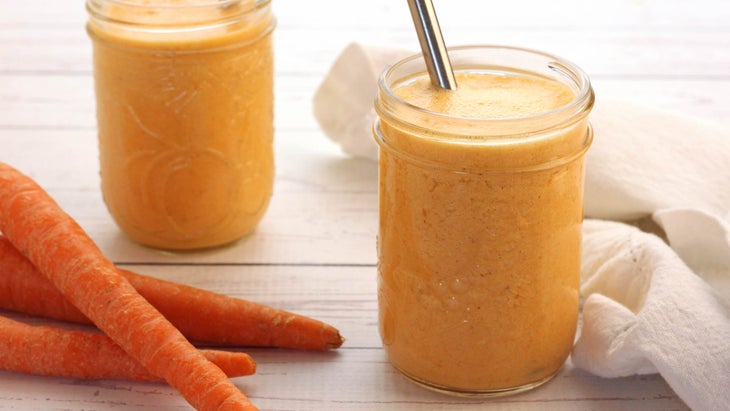 This bright orange bev guarantees a cheerful start to your day. Its unique combo of mango and carrots is full of beta carotene and vitamin C. Mixed with a creamy base of plain Greek yogurt and tinged with honey and cinnamon, simply dump all ingredients into a blender and mix into a sweet, colorful, nutrition-packed smoothie.
Packaged breakfasts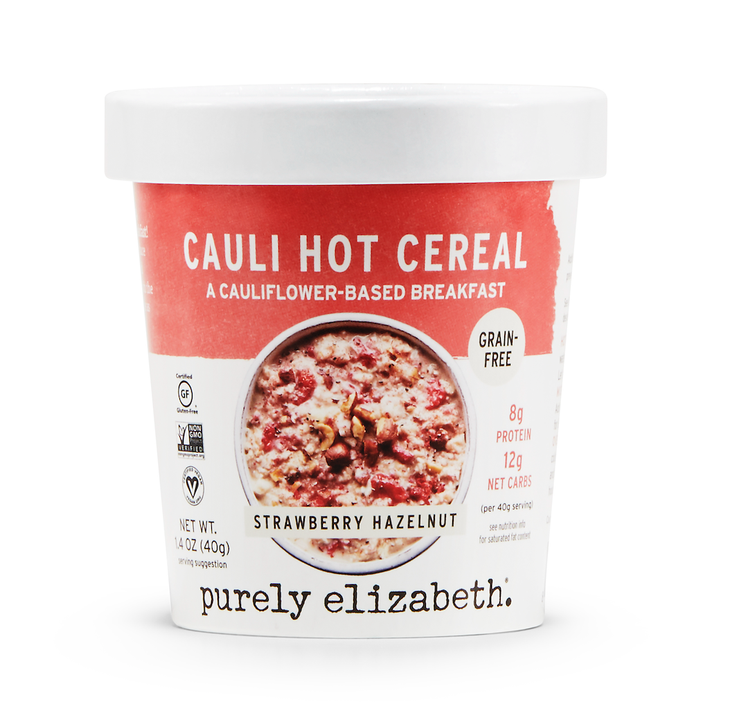 The innovative Purely Elizabeth Cauli Hot Cereal Cup makes a filling and healthy breakfast a breeze. Paleo-friendly, gluten free and powered by plant protein, you'd never guess from its taste that this "cereal" is made from cauliflower. Just add hot water for an oatmeal-like bowl with a fraction of the carbs. Our favorite flavor is Strawberry Hazelnut, made with almond protein powder, freeze-dried strawberries, chia and flax seeds and more.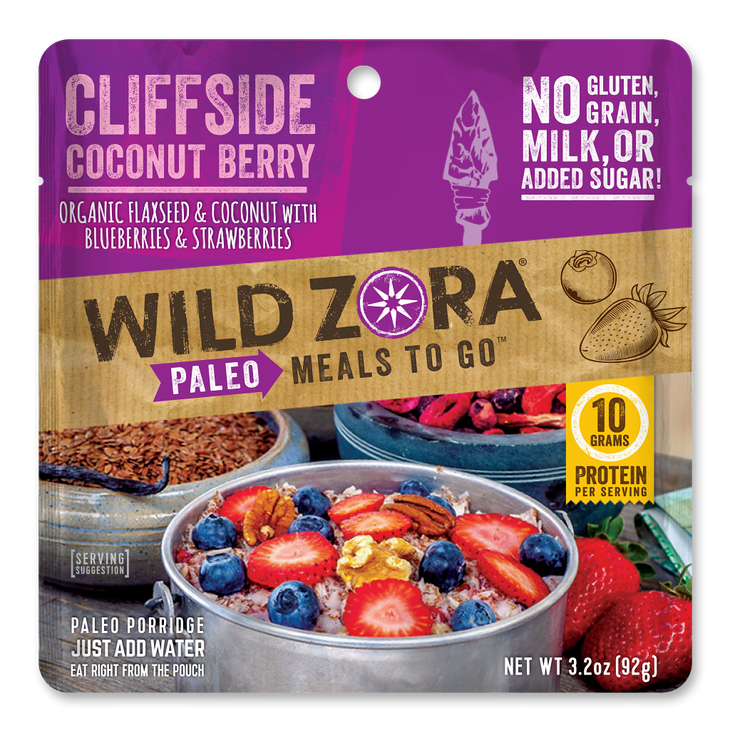 We're wild for Wild Zora's freeze-dried fruit-based breakfast blends.Our flavor of choice is the Cliffside Coconut Berry, with a flaxseed base topped with berries, nuts, coconut, mango and more. If you can't pick between the delicious varieties available, you can sample all three in an order of the Vegan Breakfast Multi-Pack.
In the mood for pancakes in a pinch? Flourish makes it easy with plant-based gluten-free pancakes, with fava flour in place of wheat flour. You know you're keeping it clean when your packaged food ingredients list includes only five wholesome ingredients. Of the two available flavors, our favorite is the Chocolate Chip, of course!