18 Tried-and-True Chili Recipes
Hearty and delicious, a bowl of chili is the perfect way to warm up during the cool fall months. Whether you're looking for a recipe with beans or without, with meat or vegetarian, we've got a chili recipe for you.
Heading out the door? Read this article on the new Outside+ app available now on iOS devices for members! Download the app.
Moroccan Buffalo & Chickpea Chili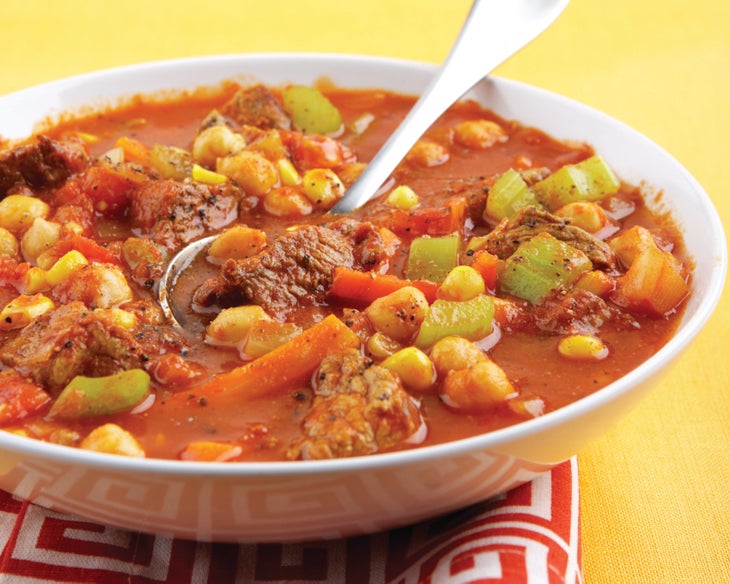 High in protein and low in fat, buffalo is a fantastic alternative to beef, and our chili boasts hearty cubes of the lean meat, paired with veggies and nine spices.
Coconut Curry Chili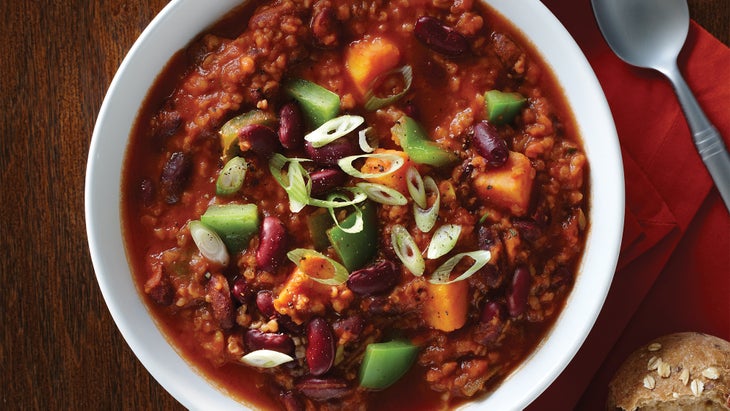 Readers fell hard for this recipe the second it was published, thanks to its 27-minute total time, loads of veggies and bulgur and a curried coconut undertone that sends your taste buds to Cloud Nine!
Cincinnati Chili with Turkey & Pumpkin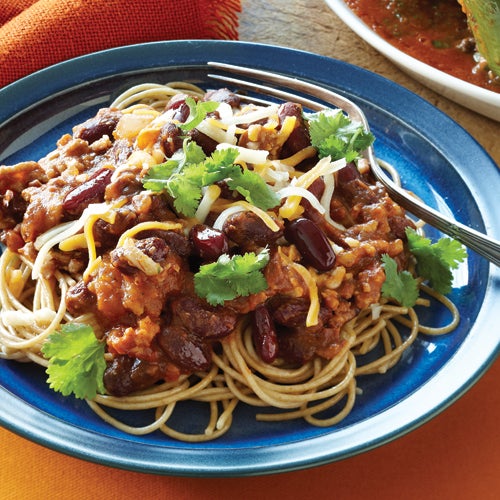 Cincinnati chili is a bit thinner and sweeter than southwestern-style chili, and is traditionally served over spaghetti. Here, we've cut back the fat without compromising its trademark meaty flavor by using tender lean ground turkey.
Kabocha Squash Chili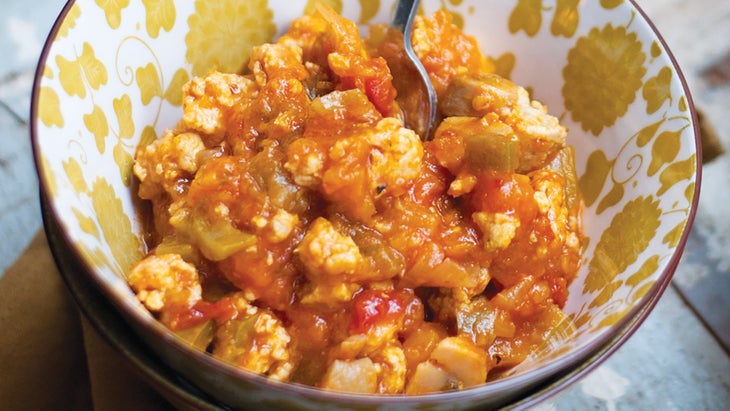 Sometimes known as Japanese pumpkin, kabocha squash has a rich, sweet flavor. If you can't find kabocha, substitute butternut squash.
Quinoa and White Bean Chili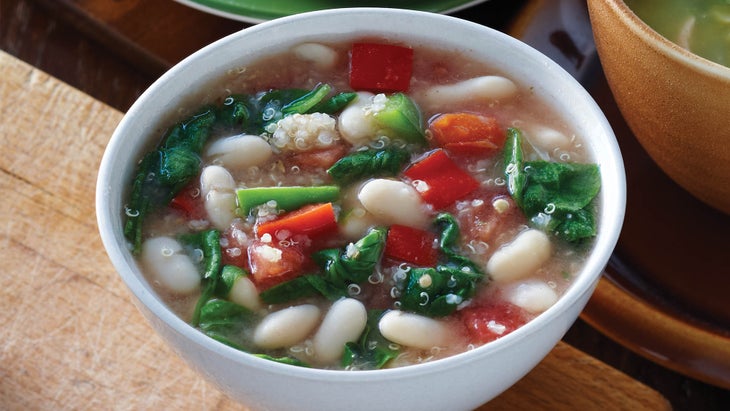 Nutty-tasting quinoa adds texture to a backdrop of creamy rich-tasting beans. A dash of smoky chipotle pepper gives this chili a meaty quality without all the fat.
Slow Cooker Beef & Black Bean Chili with Corn Bread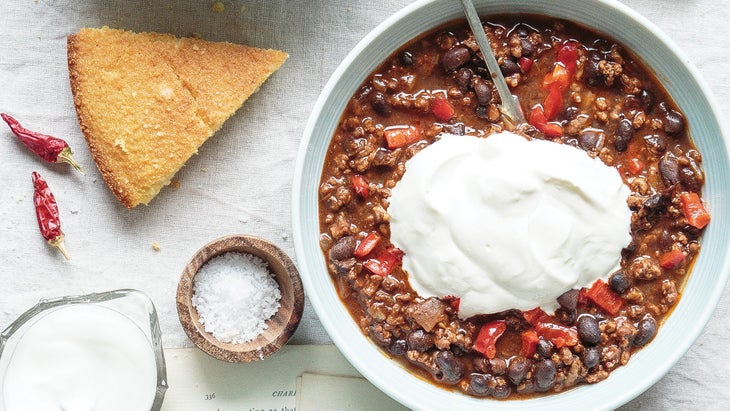 There's no need to soak the beans overnight for this easy slow-cooker version of an all-American favorite. The corn bread recipe makes more than you'll need, but here's a tip: Heat up the leftovers and drizzle with honey for a super fast breakfast the next day.
Mexican Beef Chili with Lime Crema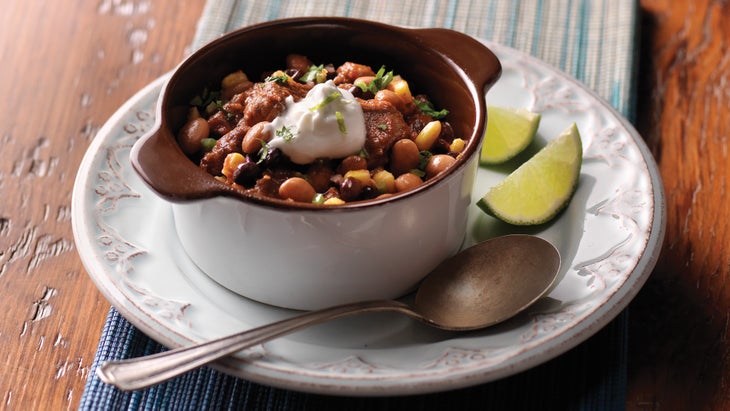 To cut costs without skimping on flavor, we use cheap cuts of stew beef (chuck or round roasts will do) instead of the pricier ground beef normally used in chili. The slow-and-low heat of your slow cooker easily breaks down the tough cuts into tender, melt-in-your-mouth chunks of savory meat.
Tuscan Turkey & White Bean Chili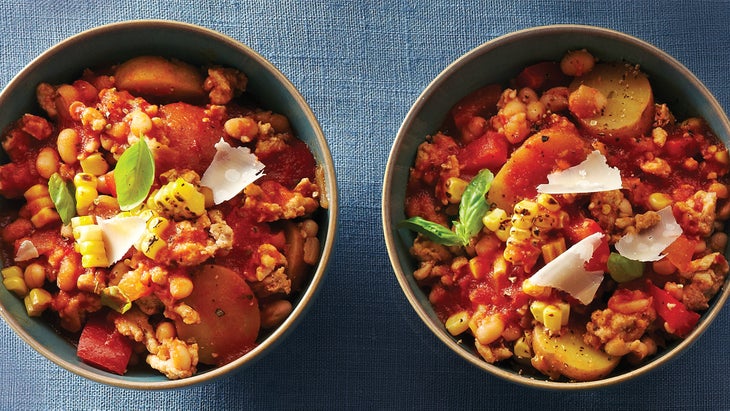 This satisfying chili boasts classic flavors such as thyme, oregano and basil. Grilled corn lends the dish a modern flair, but frozen corn kernels work just as well if you want to save time.
Beef & Espresso Chili with Cayenne Cream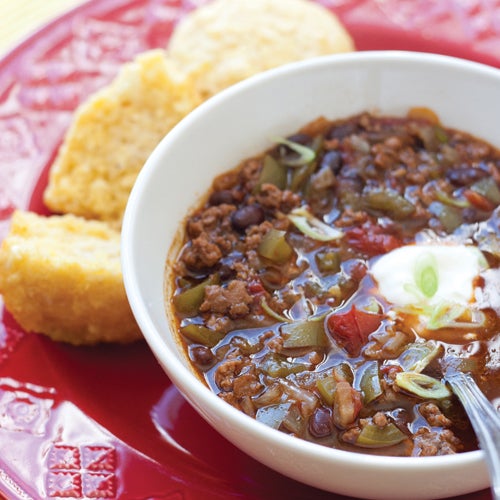 We take your traditional slow-cooker chili and turn it on its head with subtle hints of espresso, just enough to tickle (rather than assault) the palate! The cost for a trip to flavor country? Just 230 calories.
Turkey & Tomatillo Chili with Chipotle & Cilantro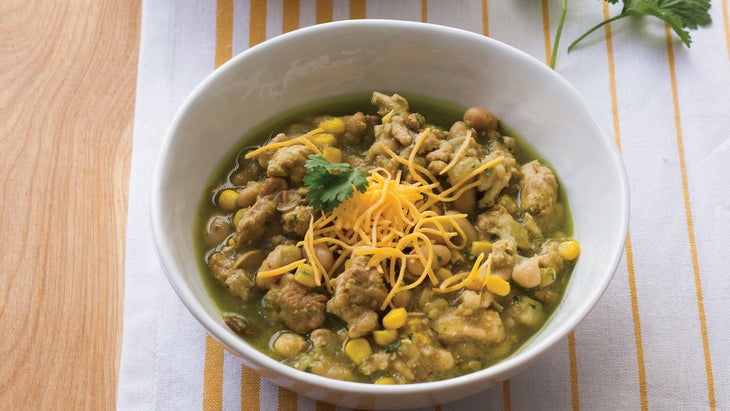 Every clean eater should have a tried-and-true chili recipe in his or her culinary arsenal. We've added chipotle peppers and tomatillos for a fresh take on the old family favorite.
Spicy Beef Chili with Buttermilk Jalapeño Corn Bread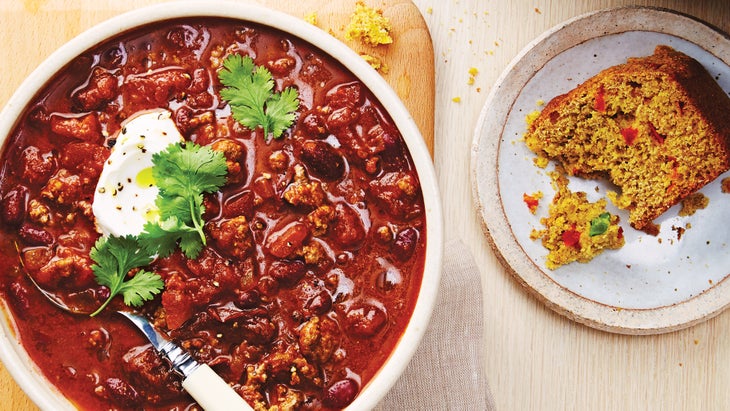 An electric pressure cooker makes great chili in a snap, and it can also bake up delicious corn bread at the same time. When cooked, the top of the corn bread will appear pale, but the bottom will be golden brown — just invert it onto a serving plate for the best presentation.
Chili Cheese Fries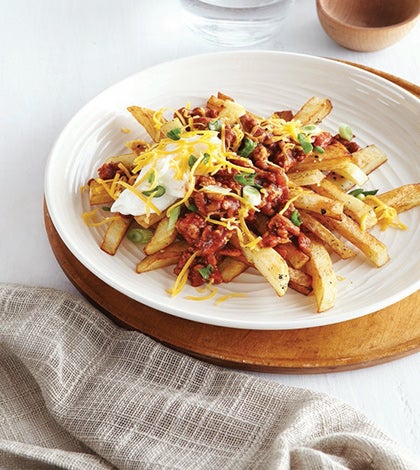 We take a fast-food favorite, once an indulgence, and turn it into a dinner delight by stripping 400 calories, 39 grams of fat, 14 grams of saturated fat and nearly 1000 mg of sodium with our twist on traditional chili cheese fries!
Corn Bread-Topped Beef & Black Bean Chili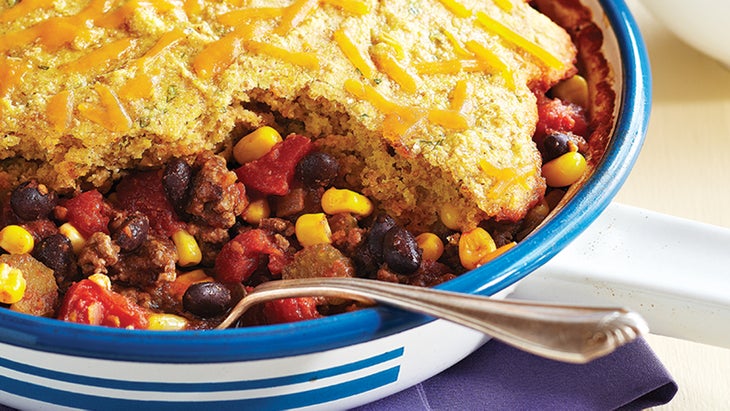 A one-skillet twist on a traditional chili with corn bread, this clean eating chili uses both lean beef and black beans for a satisfying protein punch.
Quick Stove-Top Beef Chili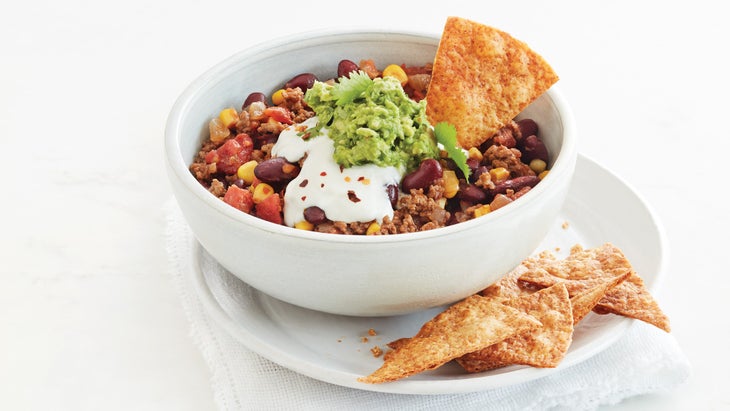 This quick-cooking chili tastes like it's been simmering for hours. To get it on the table even faster, you can replace our seasoning mix with 4 tbsp of an all-natural Mexican-style spice blend, but make sure to look for low-sodium varieties.
Mole Chicken Chili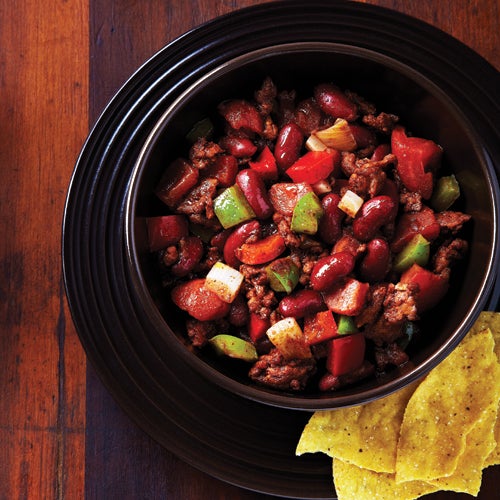 One of the defining features of Mexican mole is a touch of chocolate in the sauce, and we've mimicked the effect with a few tablespoons of cocoa powder in this low-cal chili!
White Turkey Chili with Kale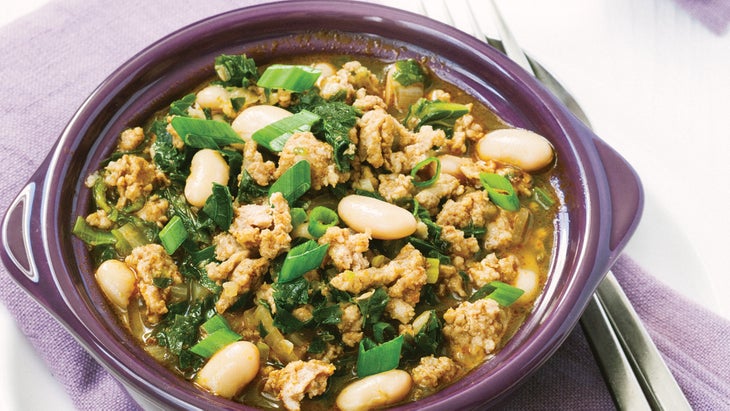 This lighter take on chili is made without tomatoes, leaving room for fiber-rich greens. We've kept the spices mild to please many palates, but you can easily add more chile powder if you prefer a spicier dish – here at the CE office, we love this meal smothered in hot sauce!
Five-Spice Pork Chili with Asian Vegetables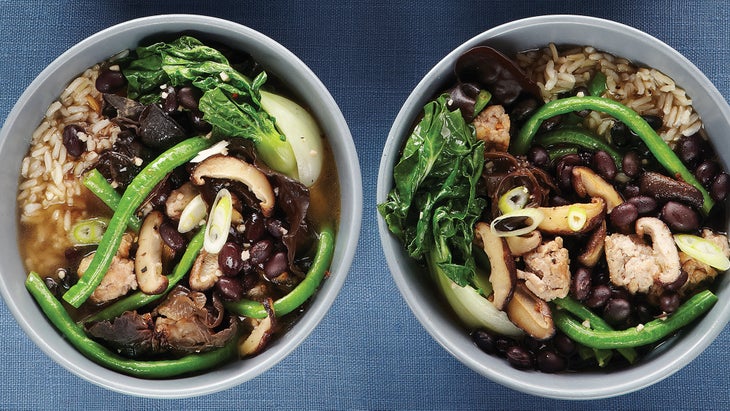 Pungent ginger, spicy red chile and aromatic Chinese five-spice powder intermingle to make this pork chili dish an authentic experience. Try serving it over brown rice.
Plantain Chip Chili Nachos
Trade tortilla chips for fiber-rich plantains in this healthy upgrade of a pub favorite.