Burgers Unwrapped: We've Turned Your Fave Burgers Into Gorgeous Salads
Who needs a bun? We've subbed in lettuce and kept all of the flavors you love in these can't-miss burger salads.
Heading out the door? Read this article on the new Outside+ app available now on iOS devices for members! Download the app.
It's hard to top the burger as a comfort food. A thick, juicy patty between the two halves of a bun, delicious sauces from simple ketchup to spicy mayos and rich dressings, plus slices of your favorite veggies and leaves of crunchy lettuce – it's no wonder that the burger is such a staple sandwich. And just because you're eating clean doesn't mean you can't enjoy a super-stacked burger with all of your favorite fixings.
In fact, we've taken your favorite classic burgers (and some of your other go-to sandwiches, like the banh mi) and given them a slightly lighter twist. We've tossed the buns aside and layered all of the ingredients you know so well over a bed of leafy greens to create satisfying, stunning salads. And, if we're being honest, we think this is an even better way to enjoy a burger. It's less messy, low-carb and so full of textures, flavors and sauces.
Make your burger salads even better with a crunchy topping
While we're talking about texture – a key element of any good salad – you've got to think about your toppings. Instead of sticking with the typical crunchy croutons, why not try something more burger-inspired? We've come up with some perfectly paired options you can make for these inspired salads. As an added bonus, they work wonderfully on other kinds of salads too.
Here's how to make our burger salad croutons:
French fry croutons
Cut all-natural, frozen fries into half-inch pieces. Cook according to the package instructions until crisp and golden. Sprinkle onto salad while still piping hot.
Cheese croutons
Freeze-dried cheese, such as Moon Cheese or ParmCrisps, make perfect croutons. Use straight out of the bag.
Garlic chips
Place a fine-mesh sieve over a bowl. Slice peeled garlic cloves thinly and evenly. In a small, unheated skillet, add garlic in a single layer. Cover with avocado oil. Cook over medium-low heat, stirring occasionally, until golden. Immediately strain through sieve, caching the oil in the bowl. Use garlic chips as a salad topping and save oil for dressings or drizzling over steamed veggies.
Now, you're ready to dive into these burger salads and make one of the recipes below.
The recipes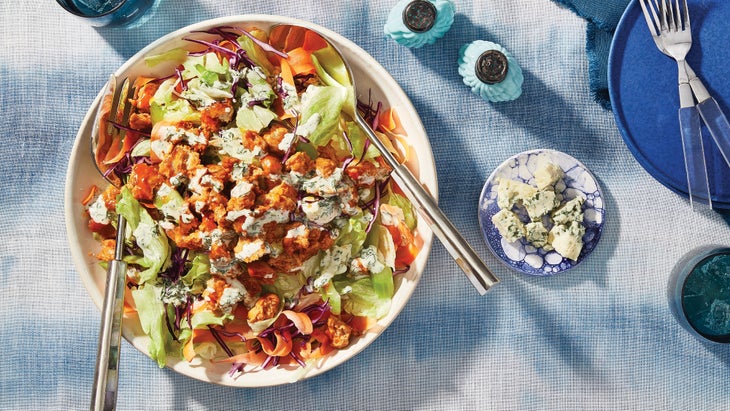 Spicy Buffalo chicken, sliced veggies, blue cheese and lettuce – yes, please! Get the recipe here.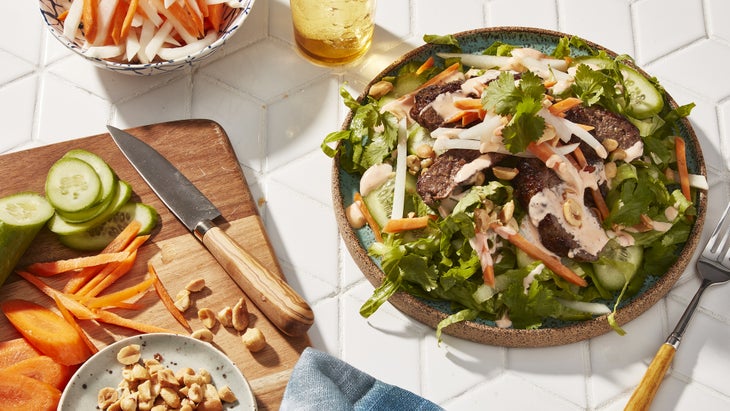 After pho, perhaps the best-known Vietnamese dish among Western populations, is the flavorful banh mi. Get the recipe here.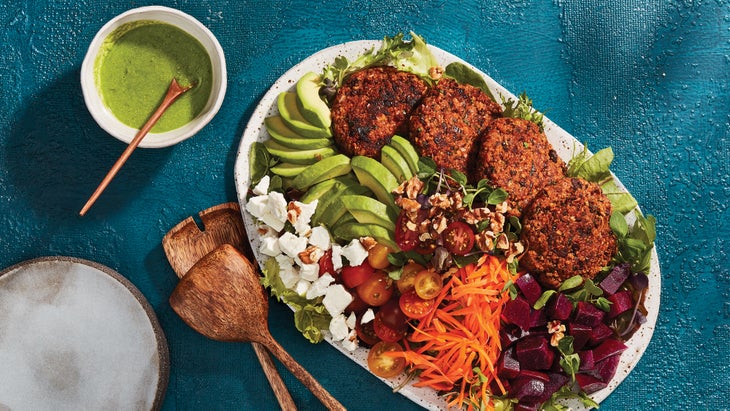 Eat like a Californian with this vibrant smorgasbord of healthy, Cali-classic gems: creamy avocado, veggie patties, microgreens and more. Get the recipe here.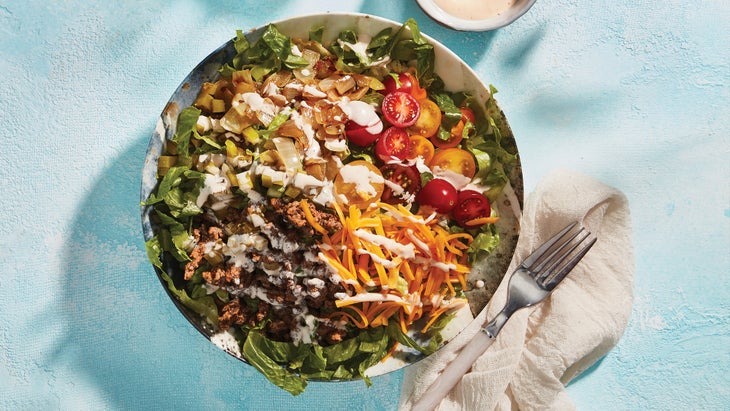 Ground beef, special sauce, lettuce cheese, pickles, onions – we captured all the flavor (minus the bun!) of the fast-food icon in a protein-packed salad. Get the recipe here.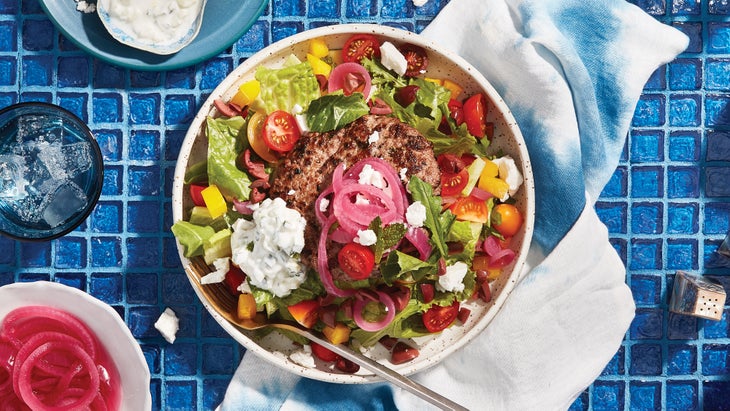 Punch up the flavor by pairing beef or lamb with a medley of crunchy fresh greens and veggies. Get the recipe here.