Why Korean BBQ Should Be on Your Menu This Weekend
Learn the basics of Korean BBQ, or KBBQ, including how to use key ingredients like gochujang and gochugaru, and how they combine to make the most potently delicious marinade to use on any protein.
Heading out the door? Read this article on the new Outside+ app available now on iOS devices for members! Download the app.
Imagine a charcoal or gas bbq on the table and a bunch of small bowls of gochujang-marinated meat, lettuce, perilla leaves, a spicy sauce, kimchi, steamed rice and long green chiles. Everyone assembles their own Korean-style lettuce tacos at the table, customizing it to their taste. This is what Korean BBQ, or KBBQ, is all about – an interactive dining experience meant for sharing. And it's the perfect way to enjoy a long weekend in front of the grill with your favorite people.
Before we get to the Korean BBQ recipe, let's go over some ingredient basics that you need to know. Namely, the two need-to-have flavor boosters in Korean cuisine, gochujang and gochugaru.  
What is gochujang?
Have you seen the glossy red tubs on the shelves of your local market or Korean grocer and wondered what the heck is it? Gochujang is a Korean chile paste that serves as the key ingredient in classic Korean food like the bibimbap sauce in bibimbap (also known as the OG rice bowl) and dwaeji bulgogi (spicy bbq pork). Gochujang's spicy-hot-sweet-salty-umami flavor matrix hits every taste bud in your mouth and will breathe life into every recipe including soups, stews, sauces and marinades. 
Gochu translates to chile pepper, and jang means fermented paste or sauce in Korean. It's a concentrated mixture of Korean sun-dried chile pepper, fermented soybeans, glutinous rice, salt and a sweetener to balance it all out. This thick paste has serious flavor depth and is funky in the best way. We love it because it's the umami condiment that can't be categorized. It's uniquely intense with a mouthwatering effect that starts with the aroma and continues after the first bite. Once opened, gochujang can be safely refrigerated for four to six months.
How to use this umami paste
When it comes to gochujang, use it sparingly.  It's not a finishing sauce and needs to be cut with a drizzle of vinegar, oil, soy sauce, garlic or sweetener to make it spreadable. A little goes a long way in marinades, sauces, vinaigrettes and dips and, of course, Korean BBQ. Classically, you mix two parts Korean miso, "doengjang," with one part gochujang with sesame oil, sesame seeds, rice vinegar, honey or sugar and garlic. This dipping sauce is essentially the integral glue that binds tender leaf lettuce and perilla leaves with the protein and kimchi or other Korean side dishes. 
You'll also need some Korean chile powder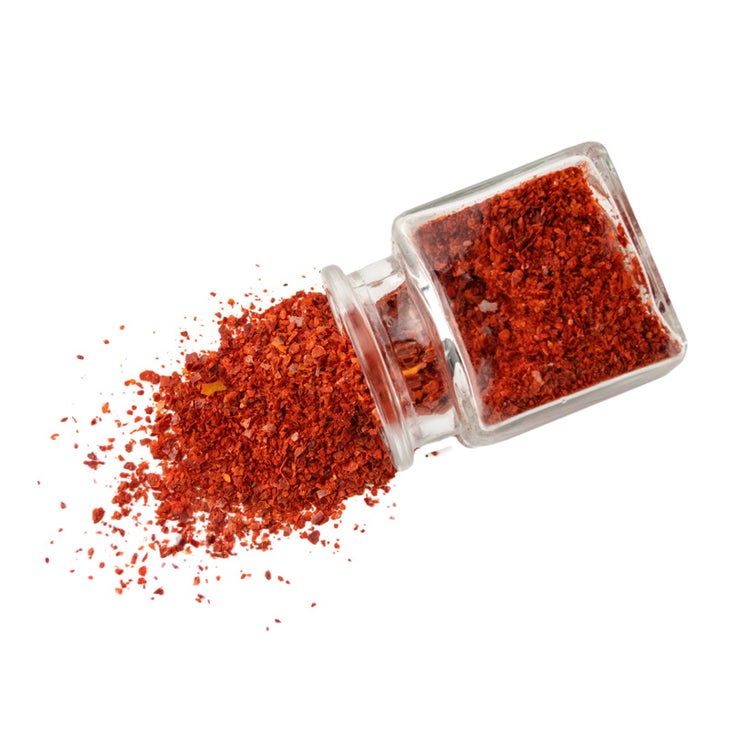 Gochugaru is another Korean workhorse in the kitchen. Gochu, translates to chile pepper, and garu means powder in this context. The muted dry, fruity, smoky chile comes in fine or coarse flakes (the coarse powder is what you need for everyday Korean cooking). Look for a bright fiery hue for the best flavor. For storage, divide into jars and freeze to preserve the vibrant color and bright flavor. Look for sun-dried, "taekyung," or "taeyangcho" on the package. It's worth the price for the prized complex flavor notes. Use it in sauces, soups, stews, marinades, popcorn, pizza, pasta and, in place of hot pepper flakes. 
Now for the best part… Korean BBQ
Korean food is all about balance and contrast between textures and flavors. So marinating and grilling the meat is only the beginning. Once you grill the protein to the desired doneness, snip them up with kitchen shears and make layered lettuce wraps. Start with red leaf lettuce layered with a perilla leaf, a spoonful of gochujang sauce, a small piece of grilled meat, kimchi and fold in the lettuce to create a packet. This lettuce wrap is a one-biter, so stop yourself from piling on the ingredients. It's meant for your taste buds to start with the fresh leaf, then sauce, meat, kimchi, and finish with an herbaceous leaf. Again, it's a customizable experience, so you can add all your favorites and experiment as you like. 
To get started with your KBBQ this weekend, try our Korean-Style Gochujang Flank Steak. The recipe makes a quick and easy marinade that uses both gochujang and gochugaru. The same marinade can easily be used on chicken, pork or even tofu.
For another way to use gochugaru, try these Gochugaru Collard Chips.