Beat Inflammation and Reset Your Health
Learn the factors that play a role in chronic inflammation, the silent condition that may contribute to impaired immune function, weight gain and even heart disease. To help you on your inflammation-free path are these quick and easy recipes that taste great and use nutrient-dense ingredients to bring you closer to optimal health.
Heading out the door? Read this article on the new Outside+ app available now on iOS devices for members! Download the app.
Inflammation is a buzzword that's used by health experts, celebrity doctors and social media influencers, all of whom tout an anti-inflammatory diet as a cure-all. And while we wouldn't go as far as to call it a panacea, inflammation definitely is a factor that affects a vast number of your body's systems.
So what exactly is inflammation? It's a natural process that protects your body and allows it to heal. Acute inflammation occurs after an injury, such as when you get a minor cut or sprain your ankle. The area gets red and swollen and typically hurts for a few days at most, but it heals relatively quickly. Chronic inflammation is more subtle but can last weeks, months or years and set you up for health problems including arthritis, insulin resistance, obesity and heart disease.
Lifestyle factors can contribute to chronic inflammation. Poor-quality and inadequate sleep appears to promote increased release of cortisol (the stress hormone), which may increase hunger and lead to cravings for sugary and processed food. Daily stress from work, family, responsibilities, financial burdens and commuting can cause a constant release and high level of cortisol in your blood. High cortisol levels may promote insulin resistance, which can lead to diabetes and weight gain.
Chronic inflammation can contribute to other serious health issues such as coronary artery disease and autoimmune disease, and it even impacts the way your immune system reacts to viruses and bacterial infections. When inflammation is kept in check, your body is less likely to overactivate the immune system when a foreign invader attacks, one of the major concerns when someone falls ill with a viral infection such as COVID-19.
One of the most commonly talked-about lifestyle factors that impacts inflammation, though, is food. Fortunately, there's a good consensus about which foods cause inflammation and which help fight it.
Consuming high amounts of sugar, high-fructose corn syrup and white, refined carbohydrates has been linked to insulin resistance, weight gain, inflammation and diabetes. Processed and packaged foods that contain artificial trans fats have been shown in some studies to promote inflammation and may damage the lining of your arteries.
Vegetable oils that come from seeds such as corn and soy (used in home cooking, restaurant meals and processed foods) are high in omega-6 fatty acids. The majority of omega-6 fatty acids have been linked to inflammation as well as altering the omega-6 to omega-3 ratio in favor of more inflammation. And finally, foods that have been exposed to high, dry heat – for example, when baked, broiled, grilled or roasted – may increase oxidative stress and inflammation, which can increase the risk for obesity and chronic diseases (see "Why Your Cooking Method Matters" below).
A diet based on whole, nutrient-dense foods mostly from plants is rich in anti-inflammatory antioxidants and phytochemicals, vitamins, minerals and omega-3 fatty acids. Anti-inflammatory foods include some fruits, vegetables, nuts, seeds, healthy fats (like avocados and extra-virgin olive oil), healthy proteins like fatty fish (like wild Alaskan salmon and sardines), herbs and spices (like turmeric and ginger) and green tea. Other healthy protein sources include pasture-raised eggs and pork, organic chicken and turkey, and grass-fed and grass-finished beef and bison. These proteins have a healthier fat profile than conventionally raised animals.
To ensure you're getting enough anti-inflammatory foods in every meal, start by covering half of your plate with colorful vegetables, such as darky leafy greens, beets, sweet potatoes, bell peppers, carrots and berries. Then, fill the other half with your favorite protein (animal sources or plant-based protein sources such as beans, lentils and organic tofu) that's been cooked with herbs and spices in an anti-inflammatory fat, like a good-quality olive or avocado oil. Top it with nuts or seeds for crunch. And enjoy a tall glass of water or a mug of brewed green tea or matcha with your meal. In fact, we've curated six anti-inflammatory recipes to kick-start your health reset in this section.
To complement your anti-inflammatory eating, incorporate some form of daily exercise, breath work or meditation to reduce stress, and engage in an evening routine that prioritizes sleep. With the right habits, in a matter of days, you should notice more energy and fewer aches and pains.
Looking for more in-depth guidance for lowering inflammation and becoming metabolically flexible ? Join Outside+ to get access to premium health-improving content and to join our 4-week keto reset protocol, the Anti-Inflammatory Keto Reset challenge! 
Why Your Cooking Method Matters
If advanced glycation end products (AGEs) are not on your radar yet, they should be. Put simply, AGEs are compounds formed when proteins or lipids (i.e., fats) bond with sugar in a process called glycation. Foods called dietary advanced glycation end products (dAGEs) are foods that are processed and refined or that have been cooked in a way that has formed AGEs. Cooking method is very important in the prevention of dAGEs; wet, lower-temperature cooking methods, such as poaching, boiling, steaming and simmering as well as marinating meat in an acid (such as lemon juice or vinegar) will generate fewer dAGEs than broiling, grilling or frying. AGEs contribute to increased oxidative stress and inflammation, which are linked to diabetes and cardiovascular disease. The consumption of dietary antioxidants such as plant-derived polyphenols, found in numerous sources including some berries, teas and coffees may also help prevent AGE formation.
Sweet Potato & Bacon Hash with Avocado Crema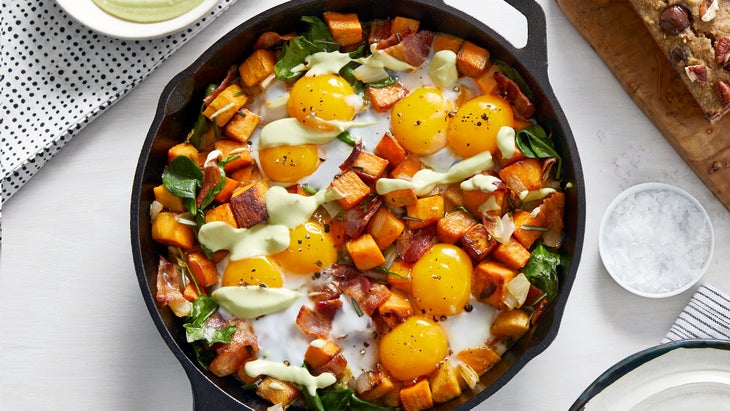 Get the recipe here.
One-Bowl Paleo Banana Loaf with Chocolate Chips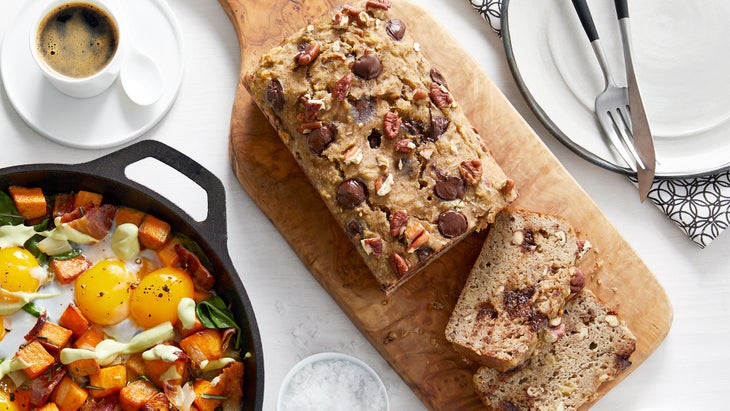 Get the recipe here.
Tropical Grilled Chicken with Mango Salsa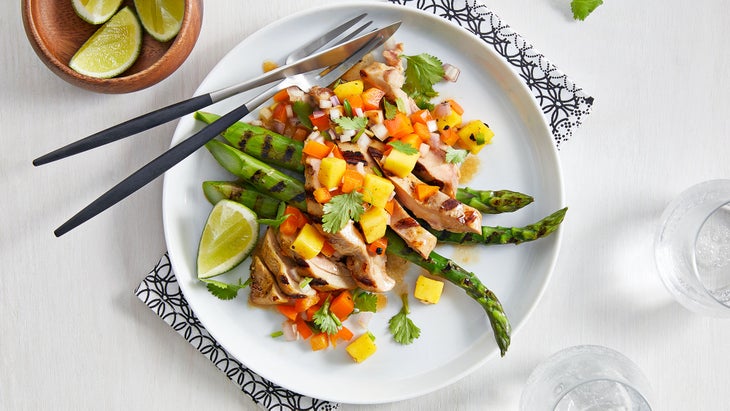 Get the recipe here.
Roasted Salmon & Veggie Bowl with Sesame Orange Sauce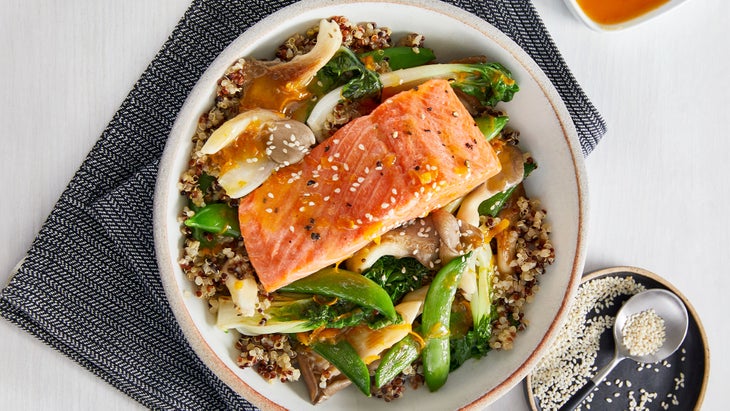 Get the recipe here.
Lemon Herb Cod Parchment Packets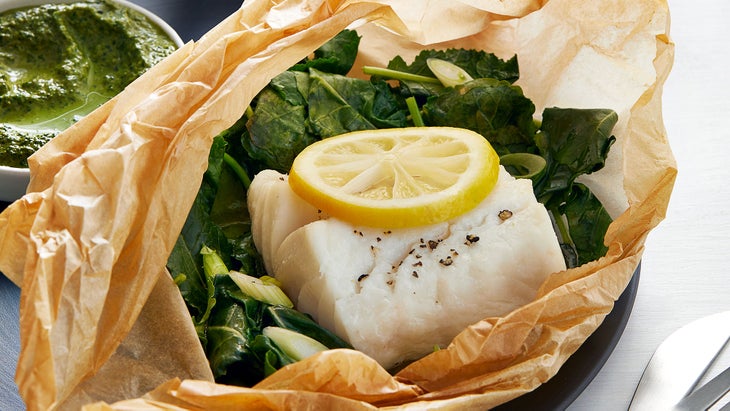 Get the recipe here.
Grilled Chicken Tacos with Roasted Tomatillo Sauce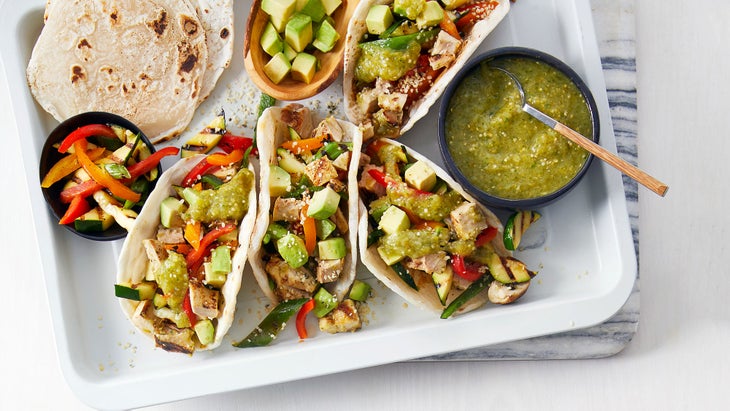 Get the recipe here.