Beyond the Golden Latte – 6 Tasty Ways to Take Turmeric
We love a golden latte as much as the Clean Eater. But now, we think it's time to turn the corner and try our hand at something new. Beat inflammation and supercharge brain power with these turmeric-infused recipes.
Heading out the door? Read this article on the new Outside+ app available now on iOS devices for members! Download the app.
When it comes to spices with brain- and body-boosting benefits, turmeric is king. Originating in India, it's been used as both food and medicine for nearly 4000 years. Its recent meteoric rise in the West can largely be credited to the golden latte, a quick-and-cozy way to consume curcumin, the potent anti-inflammatory compound in turmeric that makes it so healthful.
What makes curcumin so powerful?
In a study on various compounds' abilities to inhibit spreading of tumor cells, researchers from The University of Texas's Department of Experimental Therapeutics found that curcumin has a potent anti-inflammatory effect comparable to that of nonsteroidal anti-inflammatory drugs.
In the brain, curcumin can increase a hormone called brain-derived neurotrophic factor (BDNF). A decrease in BDNF has been linked to disorders like depression, Alzheimer's, OCD and schizophrenia. A study published in the American Journal of Geriatric Psychiatry found that supplementing with curcumin twice a day improved memory and mood.
Clean Eating's Top Turmeric-Infused Eats
We love golden lattes – we've even shared our super-easy South Asian haldi doodh recipe. But if you want to try your hand at other uses for this famed spice, check out these delicious turmeric-infused recipes:
BREAKFAST: Turmeric Carrot Muffins
These addicting mini muffins make the ultimate morning meal or snack. They get their cheerful hue from turmeric and are stuffed with beta carotene-rich shredded carrots for improved eye health and natural sweeteners such as shredded coconut and maple syrup. Get the recipe here.
LUNCH: Golden Cauliflower Soup
Brighten up winter months with this golden soup, where turmeric co-stars with creamed cruciferous cauliflower. Cauli packs a wide array of nutrients, such as vitamins C, K, B6 and much more, making it a go-to ingredient in any clean kitchen. Get the recipe here.
SNACK: Turmeric Deviled Eggs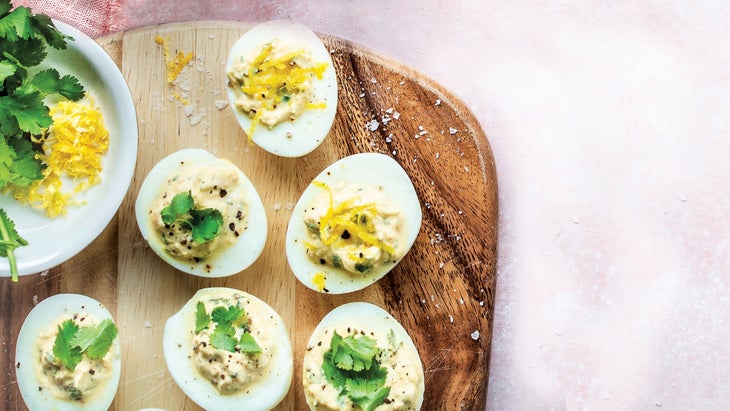 These deviled eggs are everything the perfect healthy snack should be: quick, easy, tasty and packed with nutrients. Eggs are a favorite energy source, rich in B vitamins like B12 (which helps prevent fatigue-causing megaloblastic anemia), B2 (which the body uses to maintain energy supply) and B5 (needed for making blood cells and helps the body convert food into energy). In this recipe, we combine the yolk with a tangy mixture of yogurt, lemon, cilantro, and of course, turmeric. Get the recipe here.
DINNER: Squash Spinach Chickpea Curry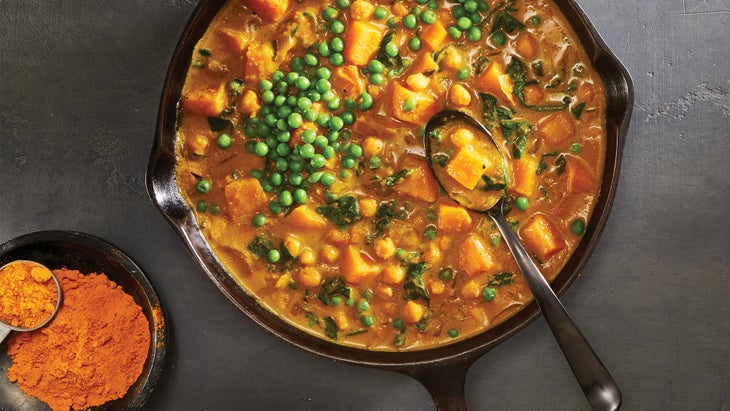 We couldn't compile a list of the best ways to utilize turmeric without including curry. Along with turmeric, this veggie-packed stew is flavored with black pepper, which contains a compound called piperine that can increase the body's curcumin absorption by up to 2000%! Get the recipe here.
SIPPER: Reishi Golden Milk Nightcap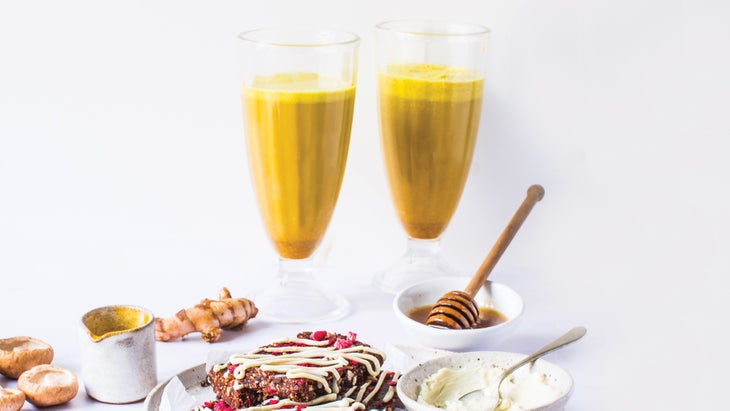 Alright, we cheated a little with this one. A CE original take on the turmeric latte, this drink does double duty for the brain. It combines brain-supportive turmeric with reishi mushrooms, revered in traditional medicine for its links to improved mental clarity and health. Get the recipe here.
SWEET TREAT: Mango Turmeric Lassi Smoothie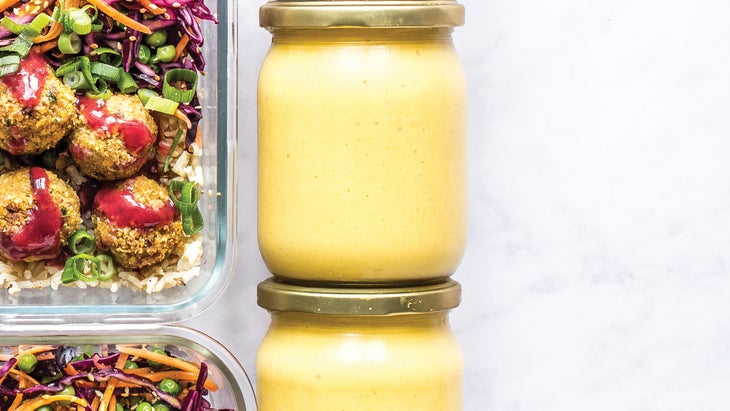 Lassi is an Indian drink, commonly made with mango. This version doesn't stray far from its South Asian roots, flavored with mainstay spices from the Indian subcontinent. Turmeric is combined with black pepper for greater bioavailability while cardamom aids with digestion and provides relief from GI distress like nausea and vomiting. Get the recipe here.