10 Skin-Saving Foods
Did you know that some foods have the power to protect your skin from sun damage, hydrate the dermis from within, slow signs of aging and even reduce your risk of skin cancer? Here are 10 skin-protective foods to stock up on so you can enjoy sun-drenched days without the wrinkles (or worse).
Heading out the door? Read this article on the new Outside+ app available now on iOS devices for members! Download the app.
Olive Oil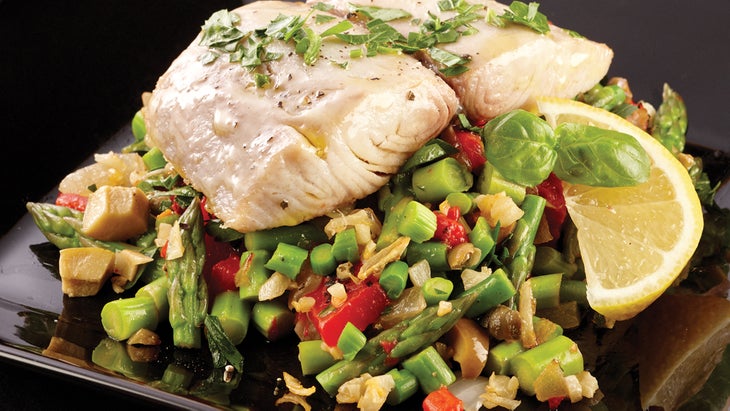 Olive oil contains oleuropein, one of the compounds that gives extra-virgin olive oil its pungent taste; it also protects against UV-induced wrinkling, skin damage, cancer and tumor growth. Whole olives are also rich in oleuropeins.
Eat this: Combine olive oil and rosemary in a glass jar and let steep for a fragrant, herb-scented oil; mix olive oil with softened pasture butter and minced chives for a smooth, buttery spread.
Get the recipe: Olive Oil Poached Mahi-Mahi
Eggplant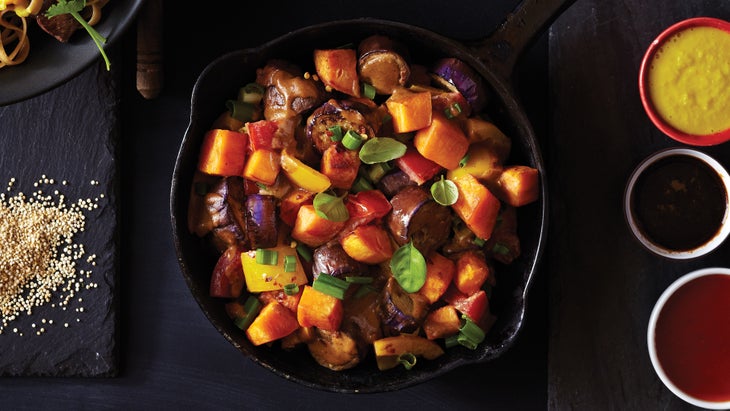 Eggplant contains anthocyanins, potent antioxidants that inhibit skin cancer and damage caused by UV exposure. Other good sources include blueberries, red onions, red cabbage and black rice.
Eat this: Cut eggplant into strips, toss with garlic, thyme and olive oil, and roast until tender; halve and roast eggplants, then scoop flesh into a food processor and purée with olive oil, tahini, lemon juice and garlic; cut crosswise into ¼-inch slices, grill over hot coals then sprinkle with minced rosemary.
Get the recipe: Eggplant and Sweet Potato Stir Fry
Tea
Tea, including green and black, contains catechins to help prevent and repair skin damage, reduce inflammation and protect against UV-induced skin cancers. Tea also contains tannic acid and theobromine, which, applied topically, can soothe sunburn and repair damage.
Eat this: Purée matcha green tea powder with grated ginger, honey and coconut milk, then freeze in an ice cream maker; steep lapsang souchong tea in hot water to make a strong, smoky stock for cooking rice; combine cooled green tea with grapefruit juice, pomegranate juice and sparkling water.
Get the recipe: Mango Mint Iced Green Tea
Broccoli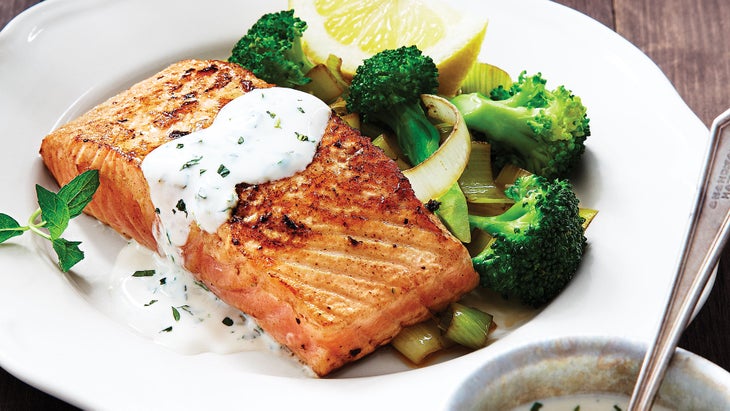 Broccoli is high in sulforaphane, a compound found in cruciferous vegetables that prevents oxidative damage to the skin from sun exposure. Other sources include cabbage, kale, Brussels sprouts, radishes and arugula.
Eat this: Combine finely chopped broccoli with scallions, almonds and a honey vinaigrette for a summery slaw; serve steamed and chilled broccoli spears with red pepper hummus for dipping; toss broccoli florets with olive oil, garlic and red pepper flakes and roast until tender.
Get the recipe: Salmon and Broccoli with Tangy Lemon Herb Sauce
Carrots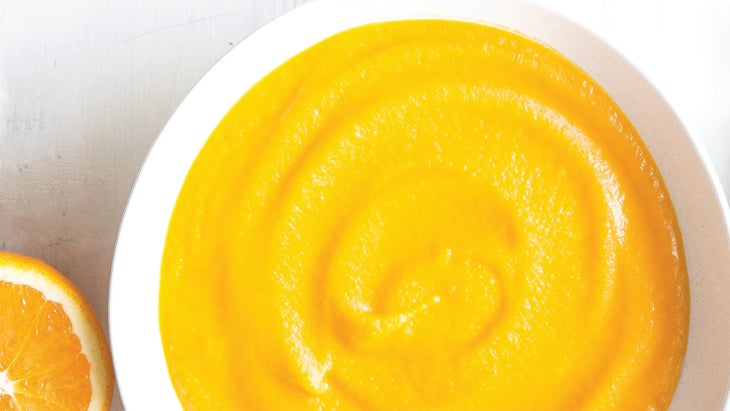 Carrots are high in beta carotene, an antioxidant that inhibits free radical damage and can protect skin cells from UV damage and improve the health and appearance of skin. Sweet potatoes, winter squash, mango and dark leafy greens are other good sources of beta carotene.
Eat this: Use a vegetable peeler to make long ribbons from carrots, then toss with olive oil, balsamic vinegar and pistachios; stem carrots and purée with cooked white beans and garlic for an easy dip; grate carrots and add to pancake batter, along with cinnamon, cardamom and nutmeg.
Get the recipe: Orange Carrot Soup
Avocado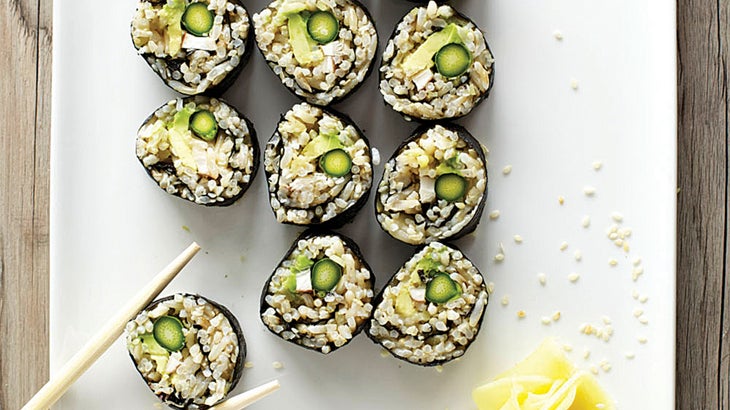 Avocados are rich in polyhydroxylated fatty alcohols (PFAs), which protect the skin from UV damage and inflammation and repair DNA, plus the monounsaturated fats they contain enhance the availability of sun-protective nutrients from other fruits and vegetables.
Eat this: Add avocados to smoothies; purée avocados with lemon juice and olive oil for a healthy salad dressing; combine avocado chunks with corn kernels, diced peppers, onions and lime juice for an easy salsa.
Get the recipe: Asparagus and Avocado Sushi
Strawberries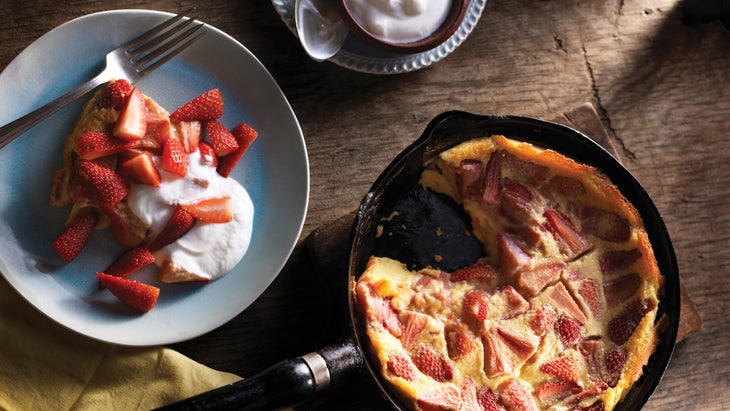 Strawberries are rich in vitamin C, a powerful skin-protective antioxidant that reduces sun damage, wrinkles and dry skin; in combination with beta-carotene and vitamin E, it can protect against skin cancer and reduce sunburns. Other good sources of vitamin C include broccoli, peppers, grapefruit, oranges and kiwi.
Eat this: Drizzle fresh strawberries with balsamic vinegar, sprinkle with minced basil and top with a dollop of vanilla yogurt; dip strawberries in extra-dark chocolate; add sliced strawberries to a salad of arugula, spinach and pine nuts.
See also What Your Diet Can Do For Your Skin
Get the recipe: Balsamic Roasted Strawberry Clafouti
Cacao Nibs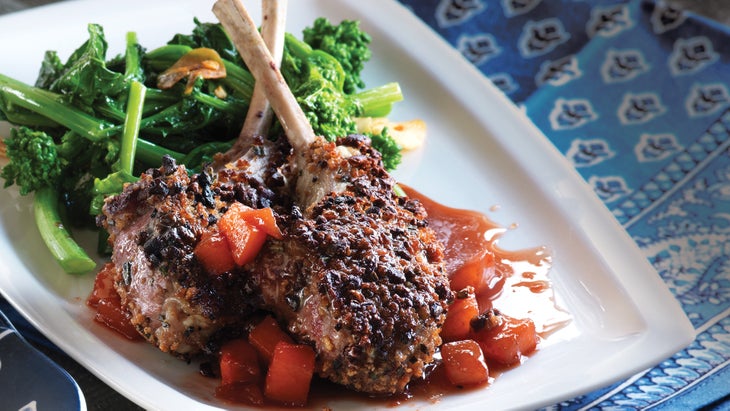 Cacao nibs are exceptionally rich in flavanols, antioxidants that protect the skin from sun damage, increase blood circulation to the skin, improve hydration and reduce signs of aging. Commercial processing dramatically reduces levels of antioxidants, so unprocessed raw chocolate is best.
Eat this: Grind cacao nibs in a coffee grinder and add to ground coffee beans before brewing; stir cacao nibs and fresh raspberries into vanilla Greek yogurt; combine cacao nibs, whole oats, walnuts, pumpkin seeds and coconut oil, and bake until crunchy for granola.
Get there recipe: Cacao-Crusted Lamb Chops with Pear and Red Wine Reduction
Red Grapes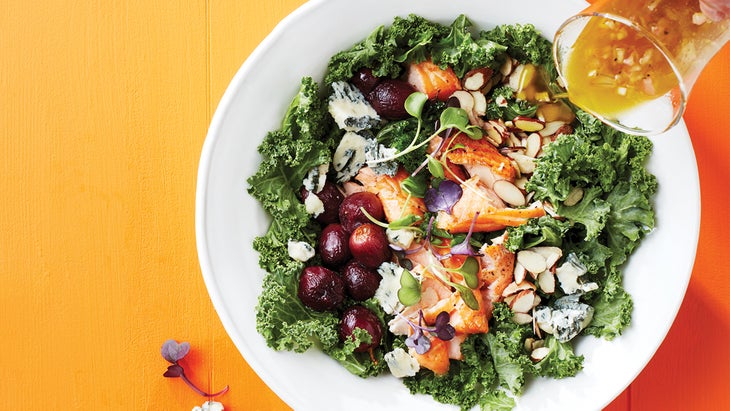 Red grapes are rich in resveratrol, a type of polyphenol antioxidant that reduces inflammation and protects against skin cancer from UV exposure. Other good sources of resveratrol are red wine, cranberries and peanuts.
Eat this: Freeze red grape juice in ice cube trays then add to glasses of sparkling water for a refreshing summer beverage; braise whole red grapes, sliced fennel and Brussels sprouts in olive oil until tender; add halved red grapes to a salad of endive, blue cheese and toasted walnuts.
See also 3 Summer Skin Savers
Get the recipe: Roasted Grape and Salmon Kale Salad with Cider Maple Vinaigrette and Gorgonzola
Tempeh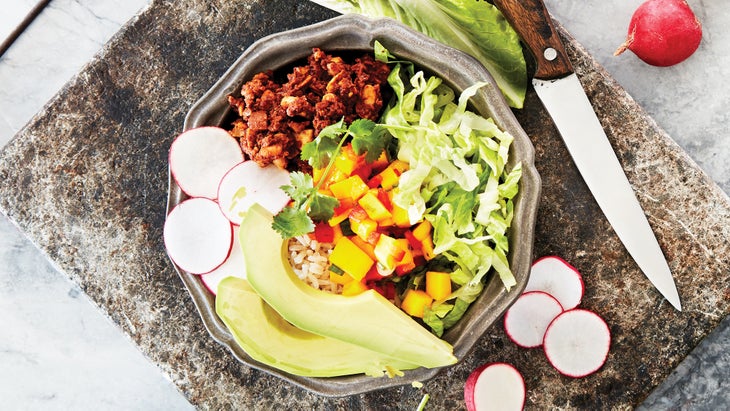 Tempeh contains isoflavones that can reduce inflammation, prevent cell death, inhibit skin cancer and reduce sun damage and signs of aging in the skin. Tofu and miso also contain isoflavones.
Eat this: Crumble tempeh and add to chili instead of beef; stir-fry tempeh cubes with red, yellow and green peppers in a ginger, soy and honey sauce; brush tempeh cakes with oil and garlic powder, grill until golden brown and shower with minced chives.
Get the recipe: Tempeh Taco Bowl with Mango Salsa