Your 7-Day Gluten-Free Meal Plan
Eating gluten-free for a week has never been so easy (or delicious) with this seven-day meal plan.
Heading out the door? Read this article on the new Outside+ app available now on iOS devices for members! Download the app.
Whether you have celiac disease, a gluten intolerance or simply prefer to eat gluten-free because you feel better, it's key to choose whole foods that are naturally free of gluten.
With a plethora of packaged foods on store shelves – think crackers, cakes and breads – now boasting their "gluten-free" status on the label, it's easy to fall into a junk-food, gluten-free diet. In fact, many of these products contain sugars, gums and additives that make them poor choices for your overall health.
The solution? Focus on whole foods including plenty of produce, nuts, seeds and organic meats, wild fish and eggs. Choose packaged options to fill in the gaps in moderation and be vigilant about reading labels to select the best options.
This one-week plan includes a gorgeous grain bowl, a fragrant curry and a deep-dish quiche with a homemade crust made with almond and coconut flour. The recipes are easy to put together, delicious and most importantly will have you eating gluten-free in the healthiest way possible.
Section divider
The recipes
Deep Dish Smoked Salmon Quiche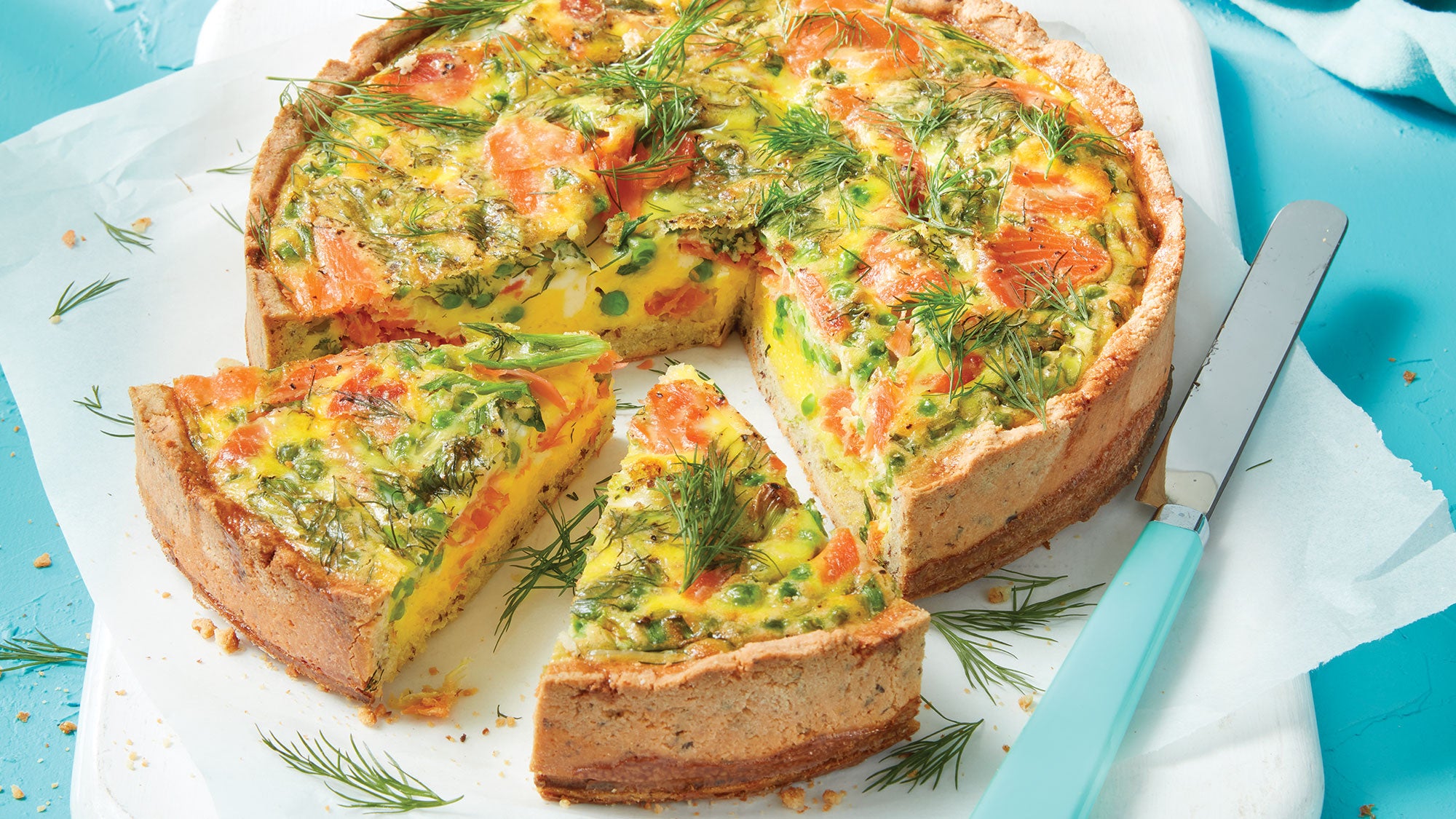 This smoked salmon quiche recipe is fabulous for lunch with a salad. It's also wonderful for an appetizer and even better for brunch. Get the recipe.
Grilled Lemon Chicken & Avocado with Shishito Peppers & Lemon Crema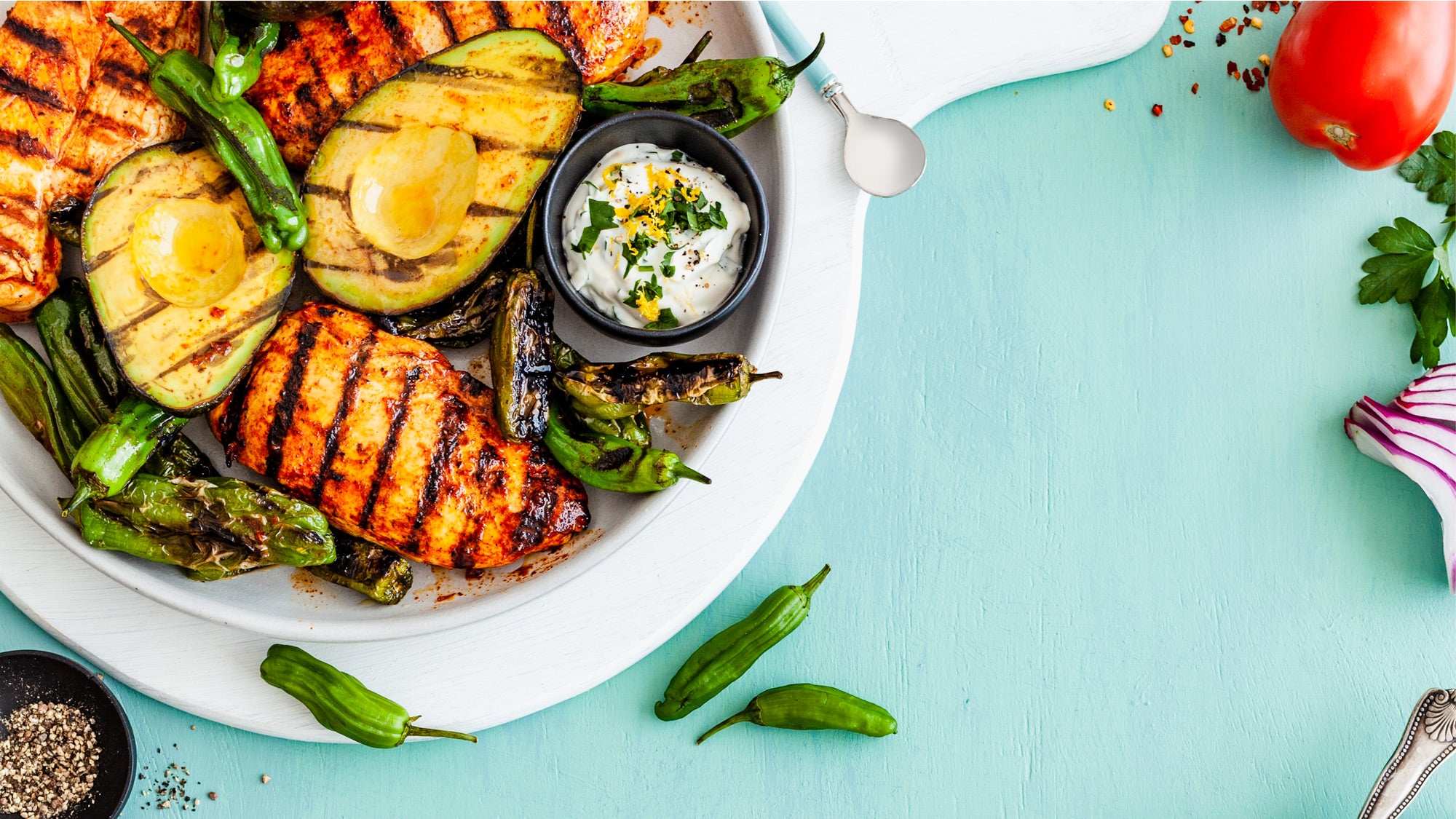 If you aren't grilling avocados, you are missing out! Grilling avocados makes them creamy and smokey, and serving them with grilled chicken breasts and shishito peppers makes a satisfying meal. Get the recipe.
Coconut Chicken & Lentil Curry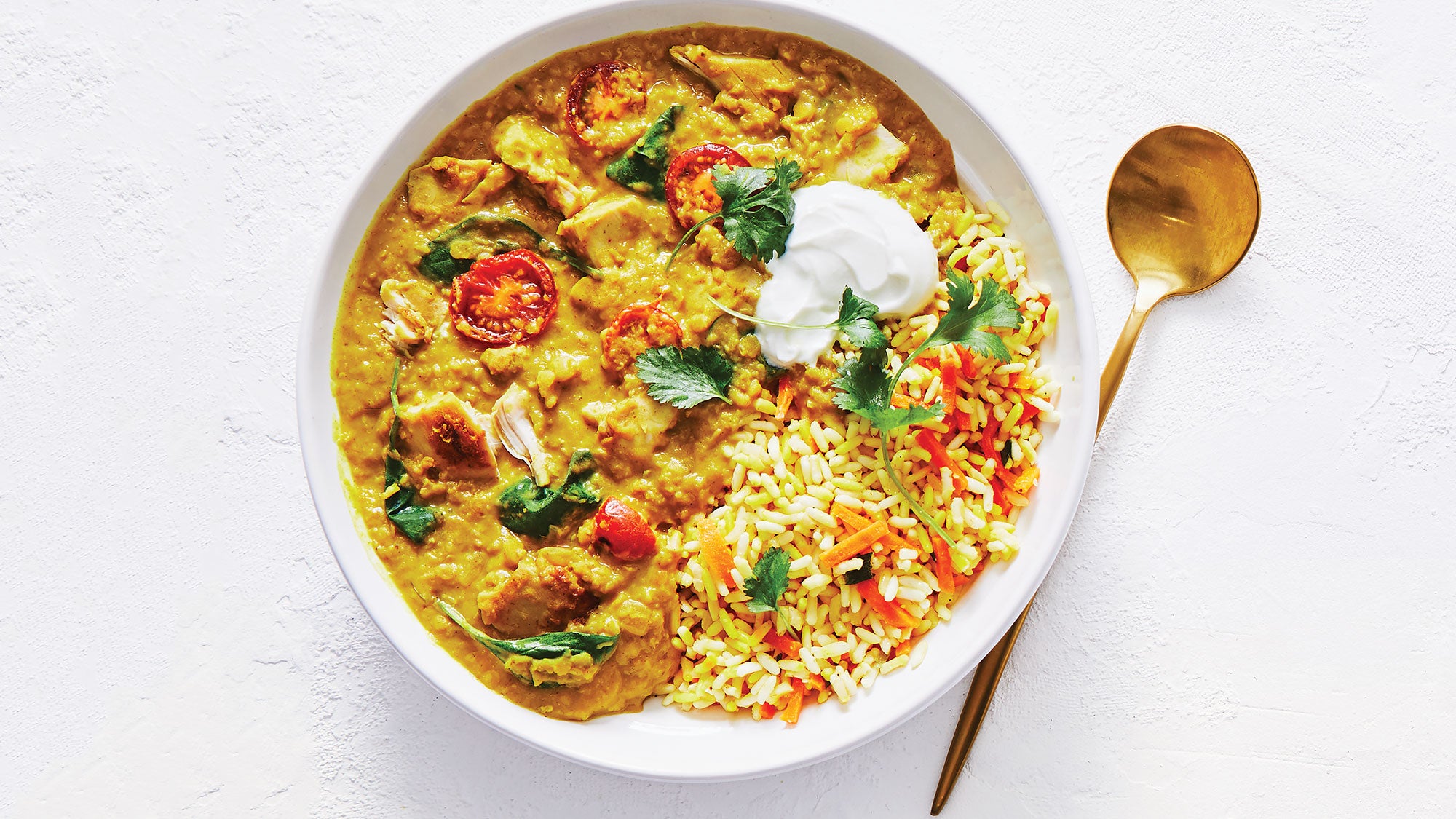 This curry with chicken, lentils and a variety of warming spices to bring the heat can be made entirely in advance and simply heated up when you're ready for it. Get the recipe.
Sweet Potato & Coconut Millet Bowls
A zesty ginger-lime vinaigrette sweetened with maple syrup brings the savory flavors of sweet potato and kale together with the tropical taste of coconut. Get the recipe.
Sweet Potato & Bacon Hash with Avocado Crema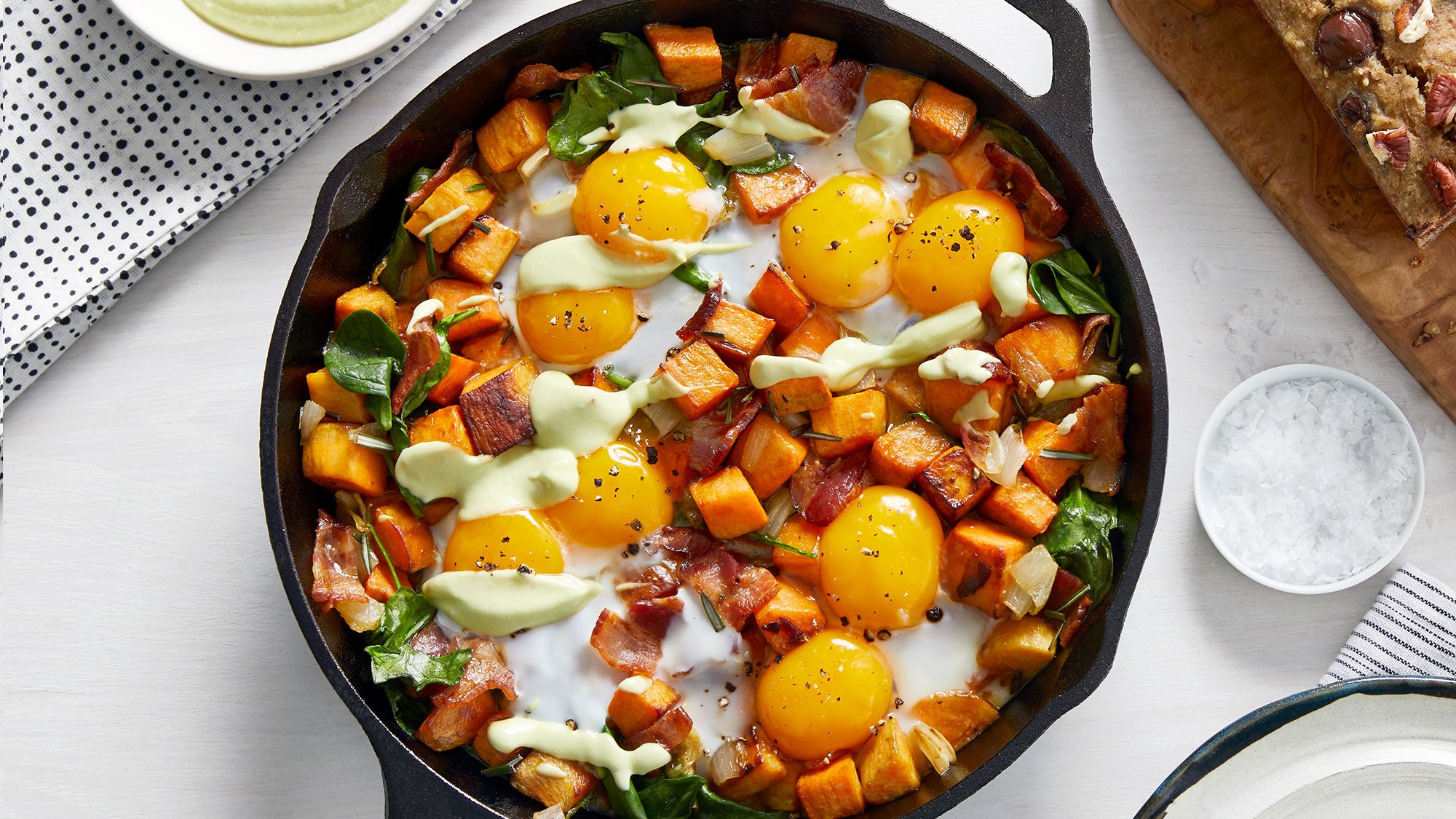 Tossed with good-for-you leafy greens and an unexpected kick of rosemary, this satisfying dish takes sweet potato hash to another level. Get the recipe.
Easiest Baked Halibut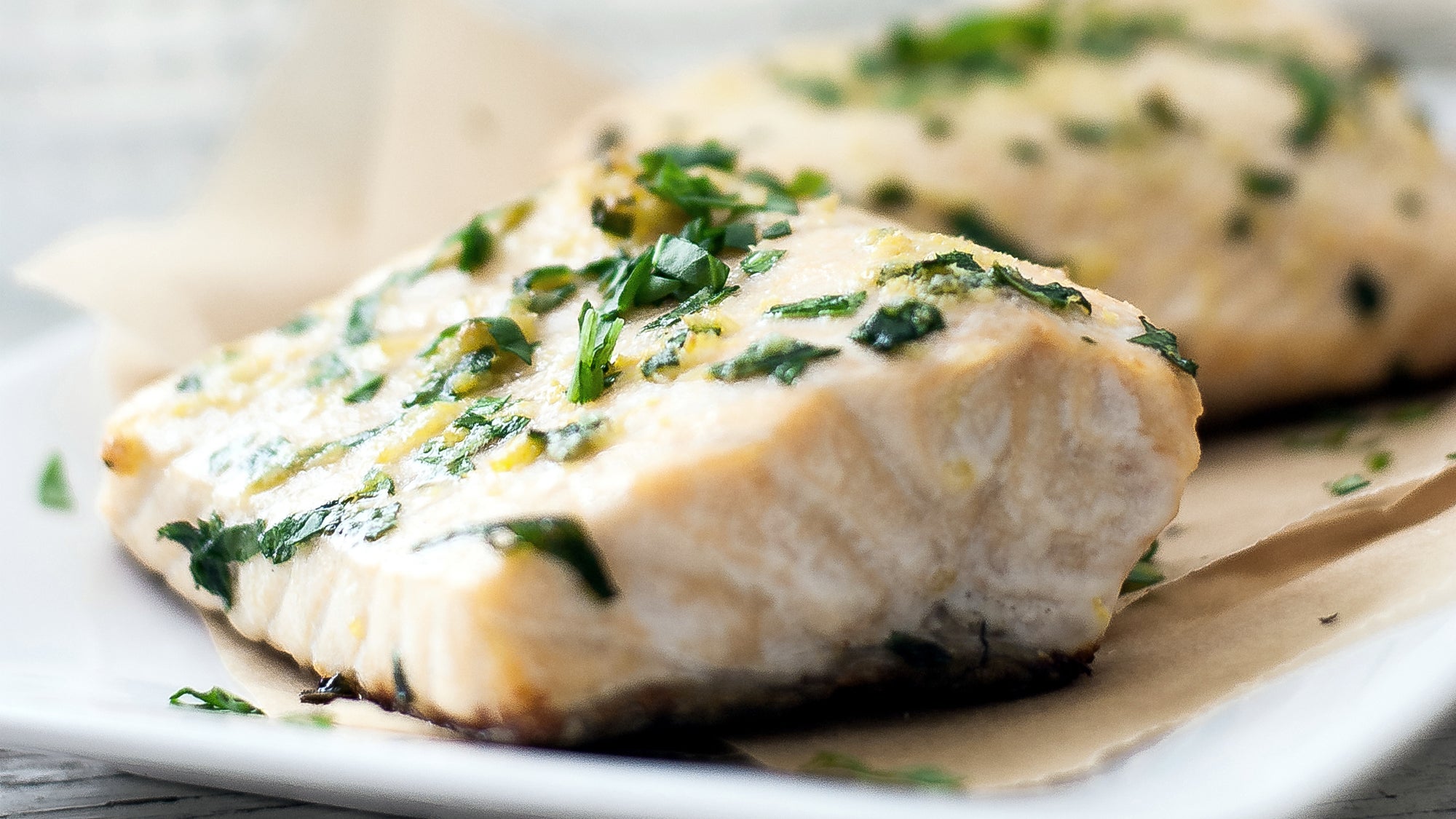 Halibut recipes don't have to be complex or time-consuming. Grab a couple of fillets and some leafy parsley and let your kitchen staples do the rest of the work. A simple blend of flavors is all you need for a fresh and fulfilling oven baked halibut dinner in just 20 minutes. Get the recipe.
Maple-Glazed Heirloom Carrots with Lemon Cashew Cream
Heirloom carrots are a great go-to veggie for a side dish because they look gorgeous plated; plus, they're delicious simply roasted with olive oil or coconut oil. But when you top with maple syrup and cashew cream, these carrots become next-level! Get the recipe.
Section divider
This week's menu
| | | | | |
| --- | --- | --- | --- | --- |
| | Breakfast | Lunch | Dinner | Total Nutrients |
| Monday | 1 serving Deep Dish Smoked Salmon Quiche (refrigerate leftovers; freeze 2 servings) | 1 serving Grilled Lemon Chicken & Avocado with Shishito Peppers & Lemon Crema (save leftovers) | 1 serving Coconut Chicken & Lentil Curry (refrigerate leftovers; freeze 2 servings) | Calories: 1,424 Fat:91g Sat. Fat: 34 g Carbs: 72 g Fiber: 26 g Sugars: 11 g Protein: 90 g Sodium: 1,338 mg Cholesterol: 415 mg |
| Tuesday | 2 servings Deep Dish Smoked Salmon Quiche (leftovers) | 1 serving Sweet Potato & Coconut Millet Bowl (save leftovers) | 1 serving Grilled Lemon Chicken & Avocado with Shishito Peppers & Lemon Crema (leftovers) | Calories: 1,748 Fat: 105 g Sat. Fat: 28 g Carbs: 129 g Fiber: 38 g Sugars: 28 g Protein: 87 g Sodium: 1,883 mg Cholesterol: 525 mg |
| Wednesday | 1 serving Sweet Potato & Bacon Hash with Avocado Crema (save leftovers) | 1 serving Grilled Lemon Chicken & Avocado with Shishito Peppers & Lemon Crema (leftovers) | 1 serving Coconut Chicken & Lentil Curry (leftovers) | Calories: 1,555 Fat: 94 g Sat. Fat: 38 g Carbs: 97 g Fiber: 29 g Sugars: 18 g Protein: 90 g Sodium: 1,573 mg Cholesterol: 586 mg |
| Thursday | 1 serving Sweet Potato & Bacon Hash with Avocado Crema (leftovers) | 1 serving Sweet Potato & Coconut Millet Bowl (leftovers) | 1 serving Grilled Lemon Chicken & Avocado with Shishito Peppers & Lemon Crema (leftovers) | Calories: 1,528 Fat: 83 g Sat. Fat: 42 g Carbs: 168 g Fiber: 34 g Sugars: 31 g Protein: 67 g Sodium: 1,623 mg Cholesterol: 477 mg |
| Friday | 1 serving Sweet Potato & Bacon Hash with Avocado Crema (leftovers) | 1 serving Coconut Chicken & Lentil Curry (thawed and heated) | 1 serving Sweet Potato & Coconut Millet Bowl (leftovers) | Calories: 1,675 Fat: 83 g Sat. Fat: 42 g Carbs: 168 g Fiber: 33 g Sugars: 32 g Protein: 75 g Sodium: 1,822 mg Cholesterol: 499 mg |
| Saturday | 1 serving Sweet Potato & Bacon Hash with Avocado Crema (leftovers) | 1 serving Sweet Potato & Coconut Millet Bowl (leftovers) | 1 serving Easiest Baked Halibut (save leftovers); 2 servings Maple-Glazed Heirloom Carrots with Lemon Cashew Cream (save leftovers) | Calories: 1,839 Fat: 91 g Sat. Fat: 27 g Carbs: 187 g Fiber: 37 g Sugars: 67 g Protein: 80 g Sodium: 1,949 mg Cholesterol: 435 mg |
| Sunday | 2 servings Deep Dish Smoked Salmon Quiche (thawed and reheated) | 1 serving Coconut Chicken & Lentil Curry (thawed and heated) | 1 serving Easiest Baked Halibut (leftovers); 2 servings Maple-Glazed Heirloom Carrots with Lemon Cashew Cream (leftovers) | Calories: 1,735 Fat: 100 g Sat. Fat: 34 g Carbs: 119 g Fiber: 29 g Sugars: 47 g Protein: 103 g Sodium: 1,664 mg Cholesterol: 373 mg |
Section divider
Shopping list
Proteins & dairy
4 5-oz skinless, boneless chicken breasts

1 lb boneless, skinless chicken thighs

2 5-oz boneless, skin-on halibut fillets

1 pkg bacon, no nitrates or nitrites

6 oz smoked salmon

1 bag dry red lentils

1 15-oz BPA-free can unsalted cannellini beans

17 large eggs

1 container full-fat sour cream

1 small carton half-and-half cream

1 15-oz BPA-free can full-fat coconut milk
Veggies & fruits
3.5 lb sweet potato

1.5 lb organic heirloom carrots

4 shallots

1 small yellow onion

1 3-inch piece fresh ginger

1 head garlic

18 oz baby spinach

1 bunch purple kale

1 bunch rosemary

1 bunch fresh dill

1 bunch cilantro

1 bunch parsley

3 avocados

8 oz shishito peppers (about 24)

2 limes

3 lemons

1 bag frozen peas

1 bunch green onions

1 pint cherry tomatoes 
Whole grains
1 bag rice

1 bag quinoa or millet
Nuts, seeds & oils
1 bag almond flour

1 bag ground flaxseed

1 bag chia seeds

1 oz pistachios

5 oz raw cashews

1 bottle olive oil

1 container coconut oil
Pantry staples
1 bag unsweetened coconut flakes

1 bag coconut flour

1 bottle pure maple syrup

1 bottle apple cider vinegar

1 bottle sea salt

1 bottle ground black pepper

1 bottle ground turmeric

1 bottle ground cumin

1 bottle ground coriander

1 bottle ground cayenne pepper

1 bottle paprika