Ready, Set, Go: Make These 5 Liver-Friendly Snacks in 1 Hour Flat
We've planned out a week's worth of snacks to support your liver (that also happen to be Mediterranean and gluten-free). We've also set you up with a grocery list and game plan to ensure you can be in and out of the kitchen in just an hour.
Heading out the door? Read this article on the new Outside+ app available now on iOS devices for members! Download the app.
Almost one in three adults and one in ten children has nonalcoholic fatty liver disease (NAFLD). This makes eating for liver health – whether to maintain a healthy liver or address NAFLD – something that should be on all of our minds. 
Thankfully, much is known about how to eat for a healthy liver and it starts with produce-rich, Mediterranean-style eating. We've carefully selected five of our best liver-friendly snack recipes and put them together in this batch-cooking plan that includes a game plan and shopping list.  
What does eating for liver health mean?
A plant-forward, Mediterranean diet is a great place to start when eating for a healthy liver. Brightly colored, fiber-rich vegetables and fruit should play a central role in your diet. 
Eating healthy fats is also necessary to maintain a healthy liver, which means replacing processed oils and trans fats with healthy fat sources such as avocado, extra-virgin olive oil and fatty fish like salmon. 
Antioxidant compounds in green tea (and matcha powder, made from ground green tea leaves) have been connected to lower levels of abnormal liver enzymes, so drinking green tea or adding matcha powder to recipes can be a potent addition. (For more information on foods to include, read How to Eat Well for Nonalcoholic Fatty Liver Disease.)
We've put all of these principles into practice when curating these liver-supportive recipes. These snacks are all prep-ahead so you can batch cook them on the weekend and eat them throughout the week. 
Section divider
How this plan works
Use our shopping list to make your trip to the grocery store quick and easy. We've accounted for all the ingredients to make each of the snack recipes once but if you'd like to double up on something, you'll need to account for that.
Also think about any additional ingredients you might need, such as vegetables for dipping in the White Bean Bagna Cauda or healthy crackers or endive leaves for the Salmon Rillettes. 
Once you have all the ingredients ready, read through the prep list and make sure you have everything ready prior to starting. Also take a look at our equipment list to ensure you're not looking for bowls or your blender at the last minute.
When you're ready to start, follow our game plan to make your time in the kitchen as efficient as possible.
Section divider
Your liver-friendly snack recipes
Zucchini Artichoke Bites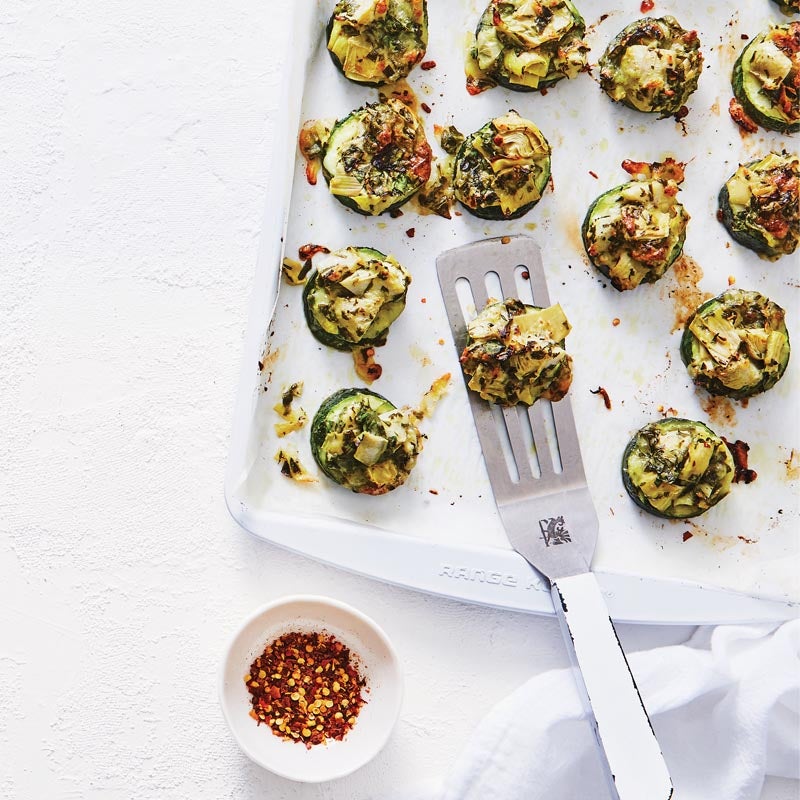 Artichokes contain compounds such as cynarin and chlorogenic acid that help protect the liver against oxidative stress. To make sure you can put this together quickly, make sure to prep your veg and measure out your ingredients ahead of time. Get the recipe.
Salmon Rillettes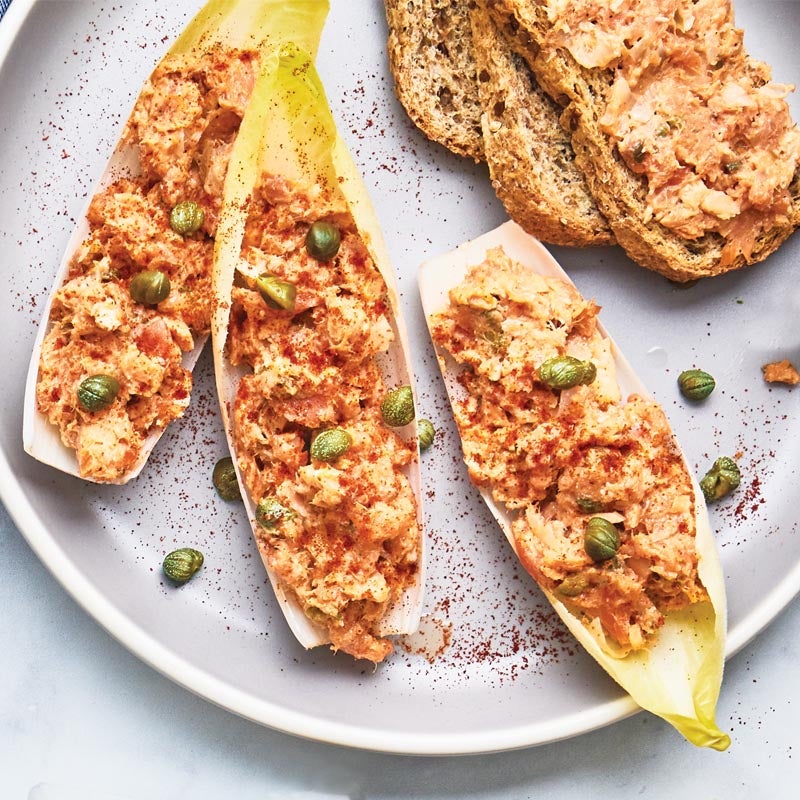 This savory salmon spread is made with canned and smoked salmon. Serve it over endive leaves or healthy crackers. Get the recipe.
Matcha Smoothies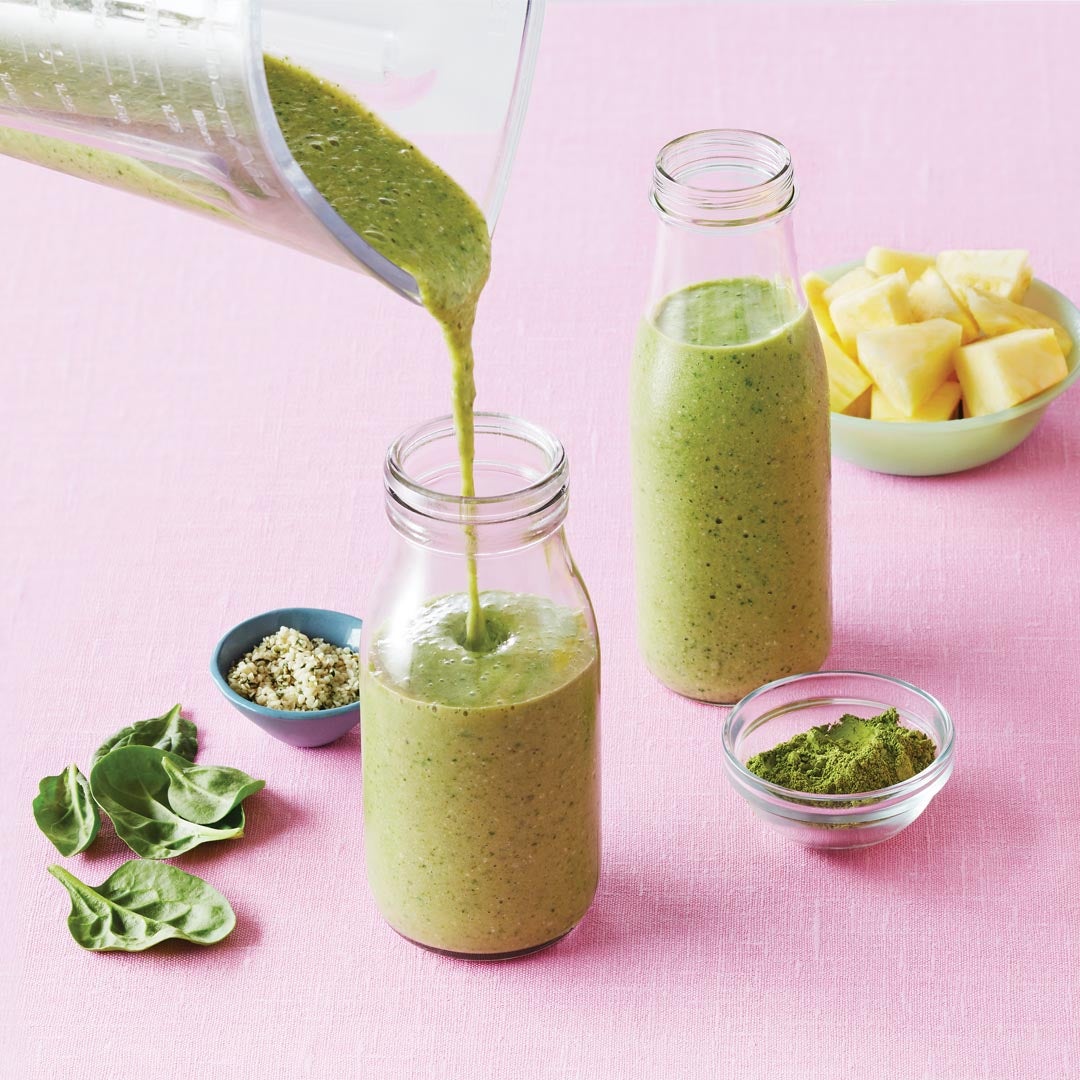 Amp up the flavor and the nutritional value of your smoothies by adding matcha, a finely ground green tea with antioxidants. Use frozen pineapple chunks for even faster prep. Get the recipe.
Blueberry Almond Breakfast Cookies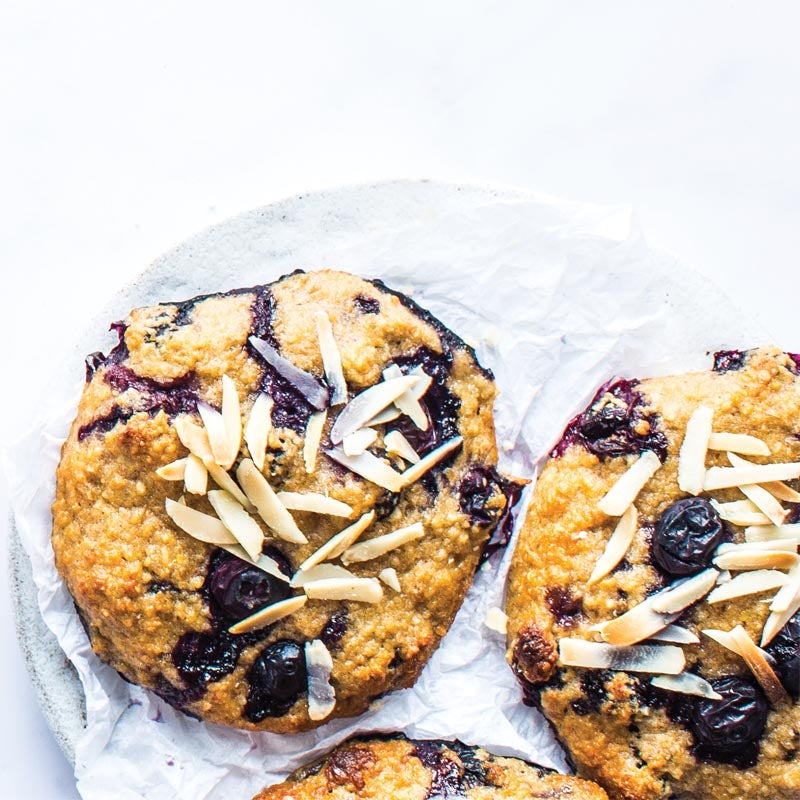 Blueberries and banana naturally sweeten these gluten-free cookies with an almond flour base. Get the recipe.
White Bean Bagna Cauda Dip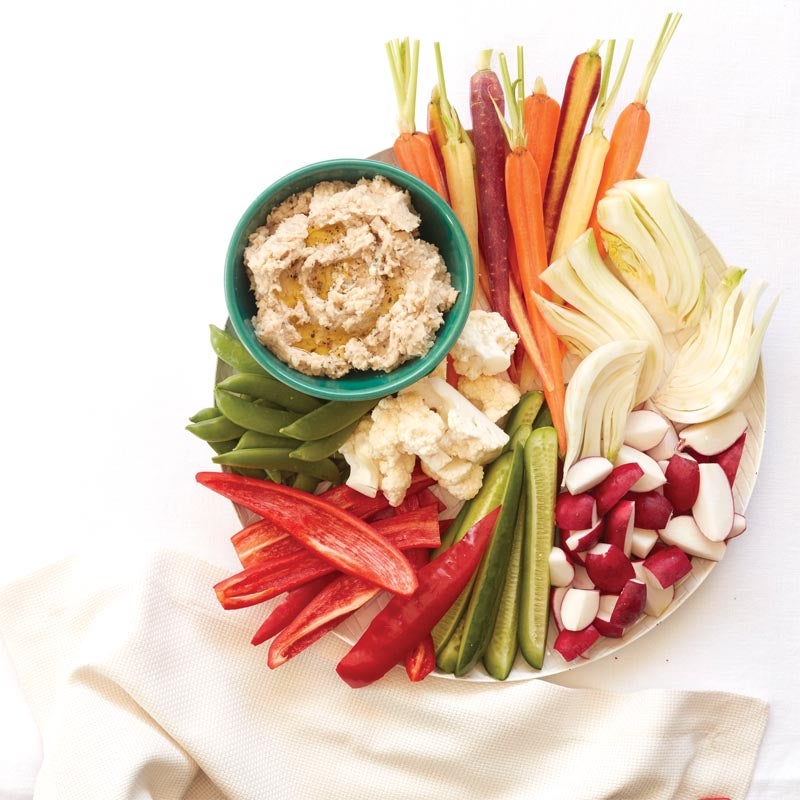 This olive oil and anchovy dip is a Mediterranean staple from Northern Italy and is brimming with healthy fats. Get the recipe. 
Section divider
Prep like a pro
To ensure you can get your snack recipes done in one hour, make sure you have your ingredients prepared and your tools ready. Tackle this list of items up to one day ahead.
Gather all ingredients for all recipes (pull out spices and dried goods; prep perishables and keep them in one area of your refrigerator.)

Chop veg and measure cheese for

Zucchini Artichoke Bites

.

Chop shallots, zest and juice lemon for

Salmon Rillettes

.

Prep garlic, herbs and beans for

White Bean Bagna Cauda Dip

.

Pull out equipment for all recipes (see below).
Section divider
Get your equipment ready
There's nothing that gets in the way of a batch cooking session like a misplaced appliance. Make sure you have all your tools out prior to starting for the smoothest prep.
2 large baking sheets

4 medium bowls

1 small skillet

1 medium saucepan

1 heat-proof cup

Blender 

Food processor 

Measuring cups and spoons

Airtight containers and silicone bags  

Parchment paper
Section divider
Your 5-snack game plan
With all your ingredients prepared and your tools out, you should be able to get these recipes made in an hour. Make sure your oven is preheated to 400℉ prior to starting.
1. Prep
Zucchini Artichoke Bites
and bake. (Once baking is done, reduce oven temperature to 350℉). 
2. Step 1 of
Salmon Rillettes
. Set aside to cool.
3. Prep
Matcha Smoothies
as smoothie packs: prep all the dry ingredients in a silicone bag or airtight container and freeze (when ready to blend, simply add the liquid ingredients along with your frozen packets). 
4. Prepare
Blueberry Almond Breakfast Cookies
. Transfer to the oven.
5. Finish
Salmon Rillettes
and refrigerate. 
6. Make
White Bean Bagna Cauda Dip
. (Optional: While this is a heated dip, you can also skip the heating step and add all the ingredients directly to the food processor to save time. Keep it mind that it will have a lot more bite so we'd suggest using less garlic if going that route.)
Section divider
Your shopping list
Dairy & Proteins
½ cup grated mozzarella cheese

¼ cup grated Parmesan cheese

3 tbsp plain whole-milk yogurt

1 large egg

5 canned anchovies 

4 oz smoked salmon 

1 6-oz can wild-caught salmon

1 stick organic unsalted butter
Vegetables & Fruit
3 bananas 

1 pint blueberries

3 cups baby spinach

1 head garlic

1-2 sprigs fresh rosemary 

2-3 zucchinis

1 shallot

1 lemon

1 bag frozen chopped pineapple 

Crudités or crackers, as desired for dipping
Nuts, Seeds & Nut Butters
1 bag ground flaxseeds

1 bag hemp seeds

1 jar almond butter

2 tbsp slivered almonds
Pantry Staples & Miscellaneous
1 jar capers

1 jar artichoke hearts (packed in water or olive oil)

1 15-oz BPA-free can unsalted cannellini or great northern beans

1 carton plain unsweetened almond milk

1 container matcha powder 

1 bottle pure vanilla extract

1 bottle extra virgin olive oil 

Spices: sea salt, ground black pepper, ground cinnamon, red pepper flakes, paprika
You might also be interested in 7 Foods to Protect Your Liver and Should You Eat Fat if You Have Fatty Liver Disease? Or Drink Alcohol?