Drop Sugar, Lose the Weight: Your 1-Week Plan
Get a start on your weight-loss journey with this one-week plan that ditches sugar and sweeteners and keeps the calories around 1,300 or less per day.
Heading out the door? Read this article on the new Outside+ app available now on iOS devices for members! Download the app.
One of the biggest challenges to weight loss is the fact the sugar is pervasive – it's everywhere and in everything. It's not just cane sugar that impacts your blood sugar, and in turn, your weight, but a reliance on sweeteners in general, even less refined varieties such as pure maple syrup and coconut sugar.
To jump-start your weight loss, why not give a no-sugar lifestyle a try? This plan ditches all sweeteners, even the natural varieties, to give you a taste of what it's like to reduce your reliance on the sweet stuff. It's also designed with a reduced calorie load, about 1300 calories per day or less, but you can adjust this as needed to suit your weight and activity level. 
The connection between obesity and sugar is real (for more information, obesity expert Dr. Amy Lee explains the link here.) We're making it straightforward and easy with this nutritionist-designed plan to ditch sugar and help you on your weight-loss journey.
Section divider
The recipes
Berry Green Smoothie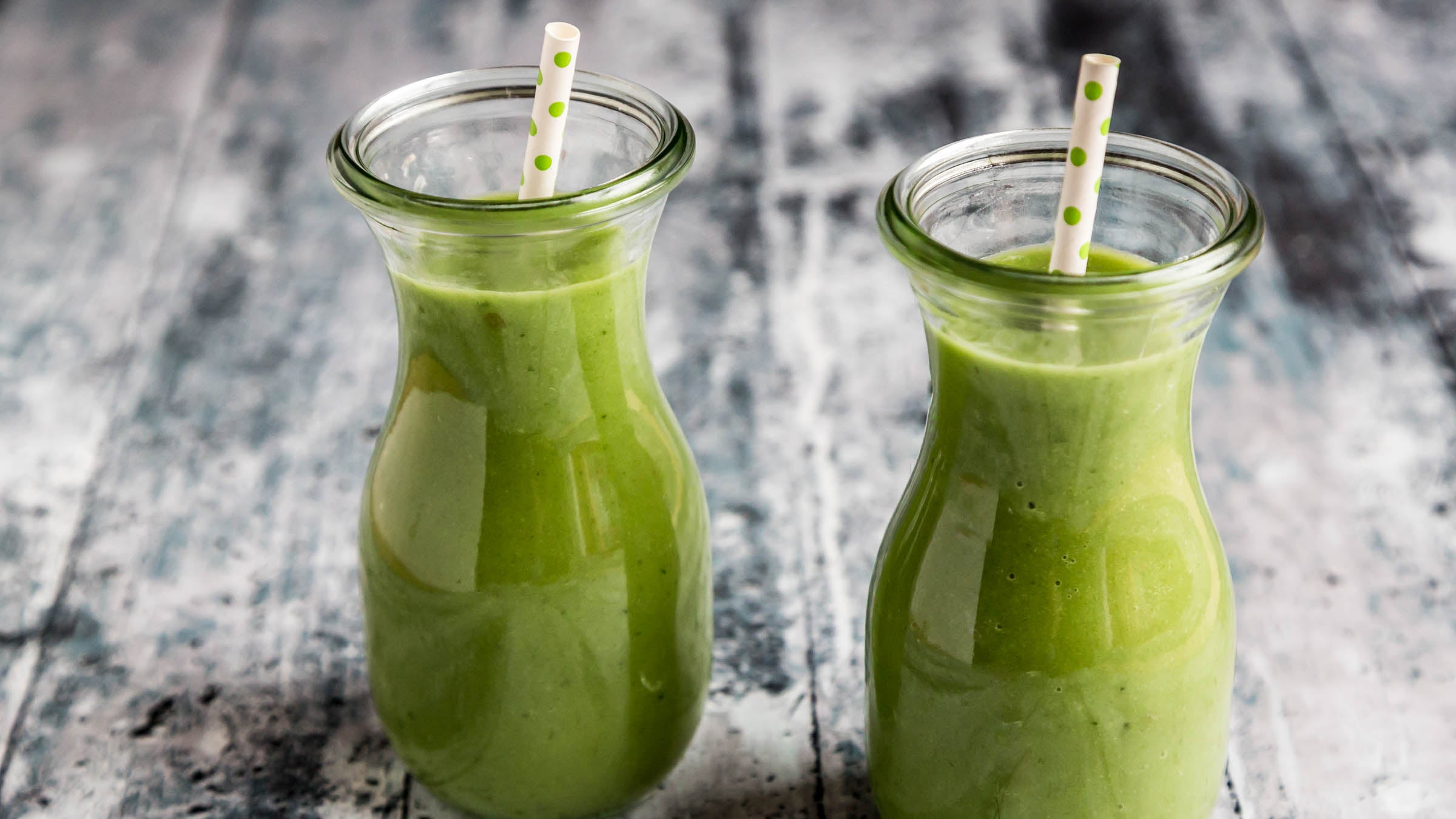 Get a hearty helping of vegetables and fruit with this recipe for a delicious berry and spinach smoothie. Get the recipe.
Spinach and Cauli-Rice Salad with Cashew Dressing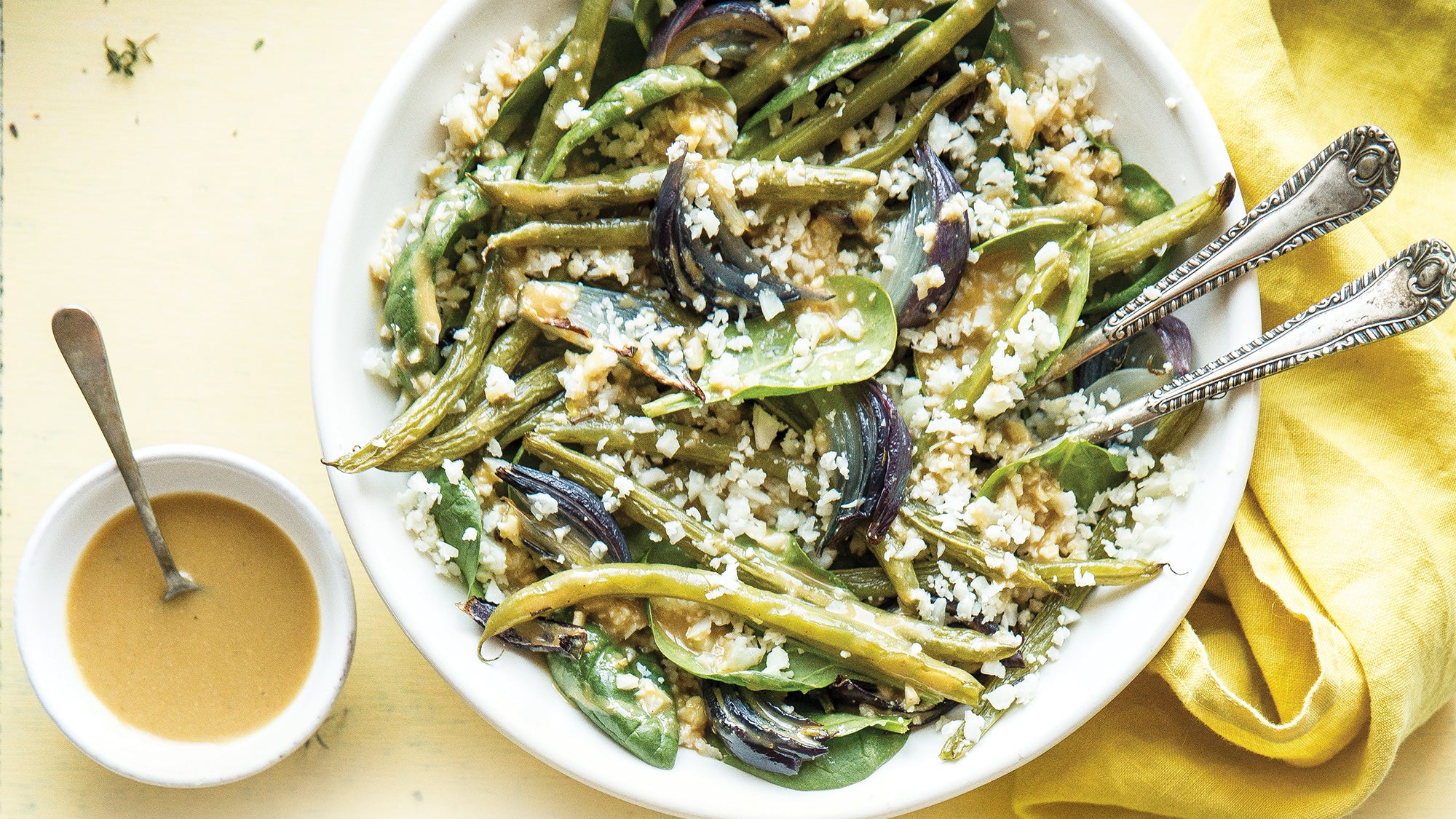 This paleo-friendly, vegan main features riced cauliflower, which you can quickly make in a food processor. If you're stretched for time, use premade or frozen. Get the recipe.
White Bean Soup with Caper Almond Pesto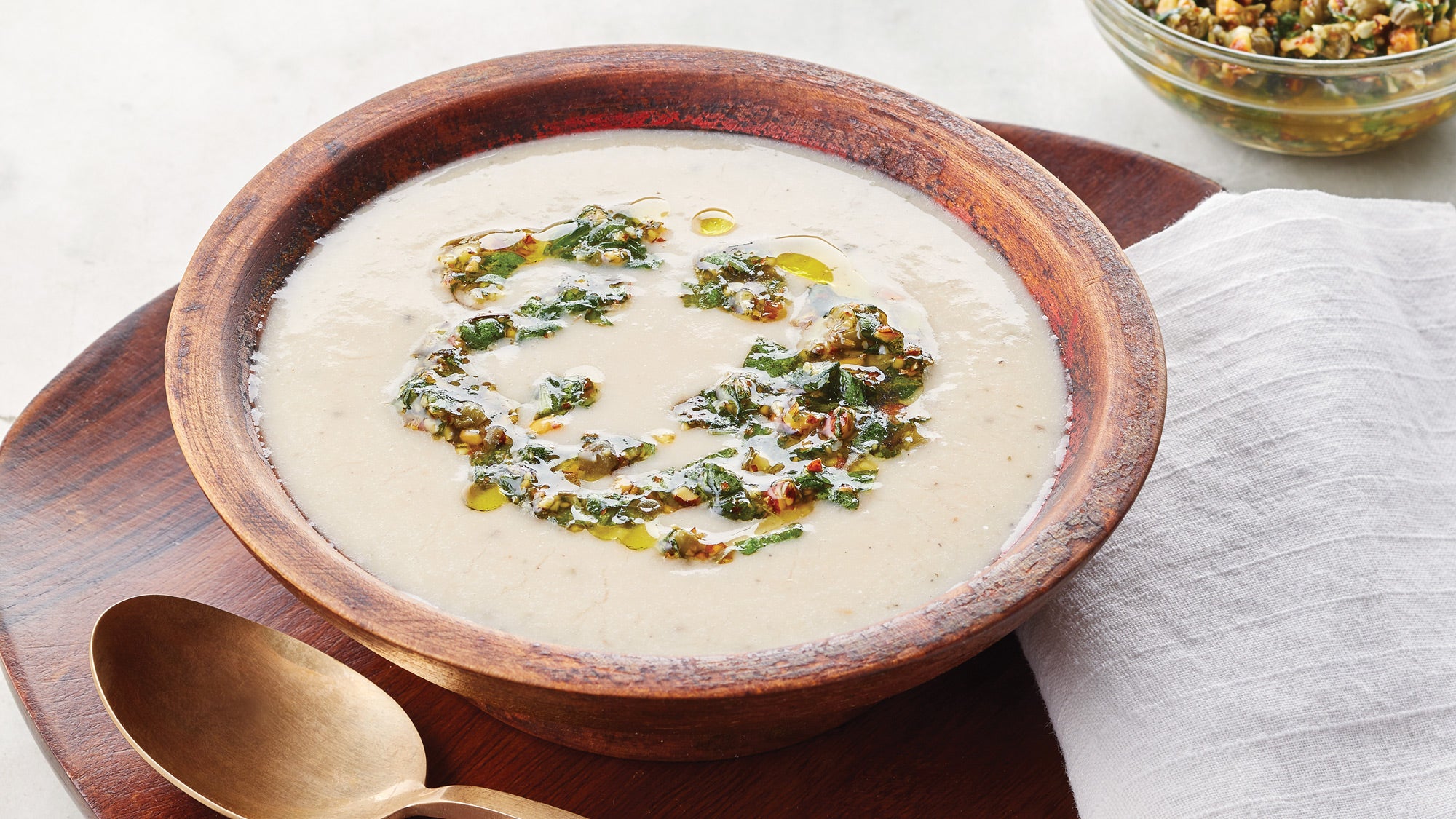 White beans add a rich, creamy texture to this soup without any dairy. A 5-minute almond pesto that you can whip up while the soup is heating adds oomph to the recipe. Get the recipe.
Better Baked Beans on Toast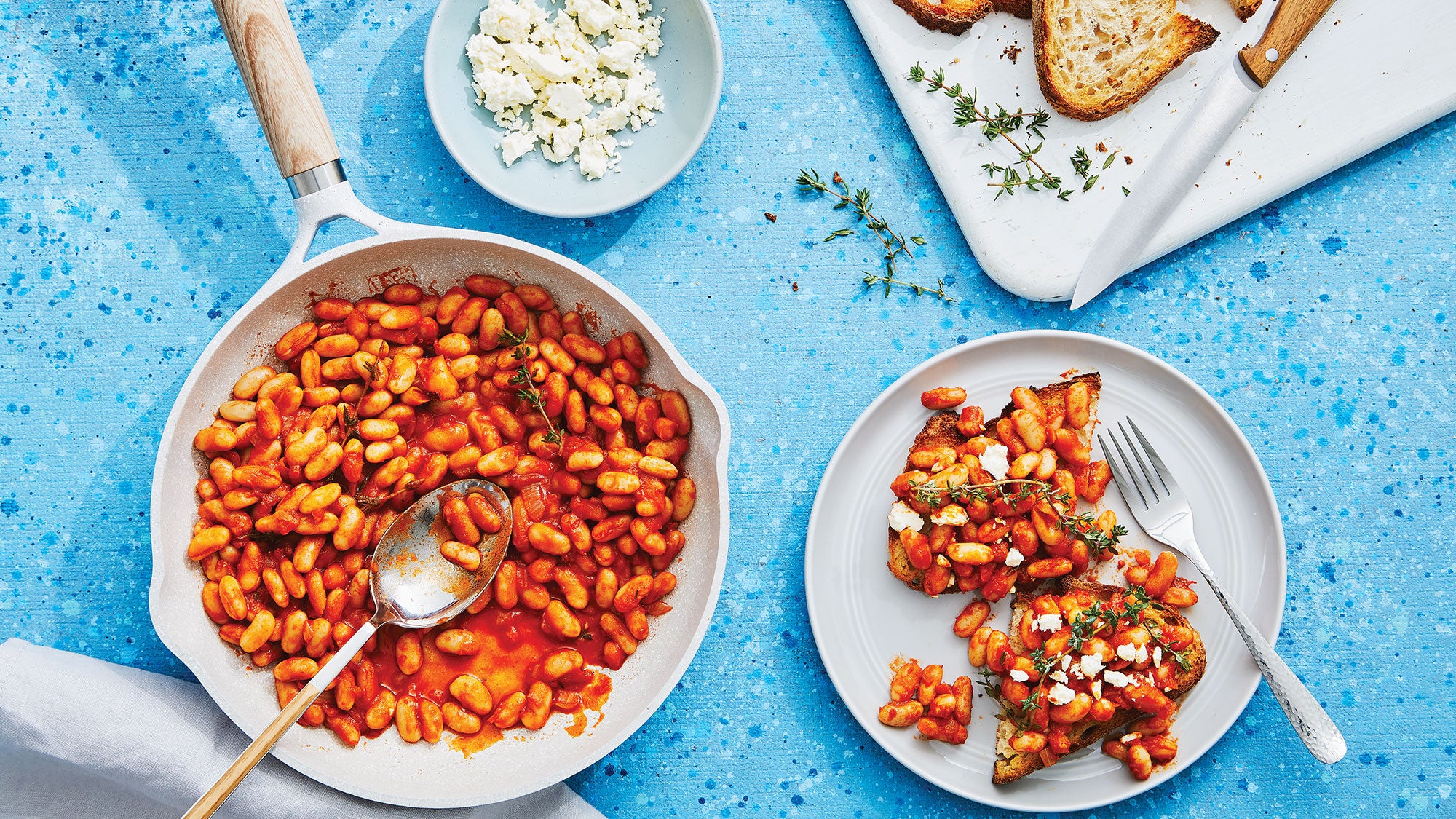 Instead of the typical sugar-filled tomato sauce in baked beans, the sauce in our version relies on peppery fresh thyme, savory coconut aminos and sour apple cider vinegar to balance out this protein-rich, hearty breakfast. Get the recipe.
Basil Cashew Salmon with Asparagus Tomato Sauté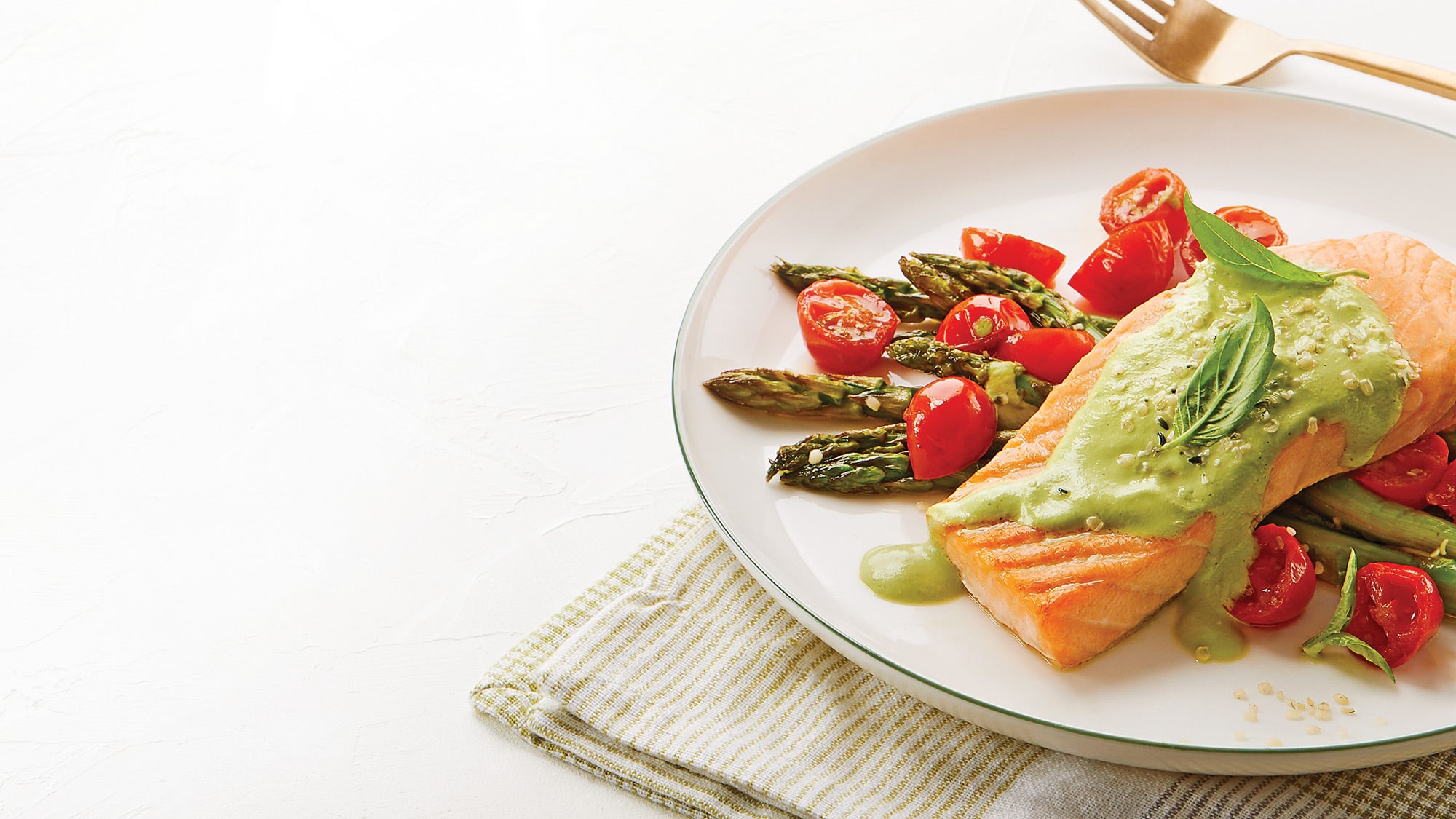 The fresh flavors of asparagus, lemon and basil help to offset the richness of nutrient-dense wild salmon. To make it extra pretty, add a sprinkle of lemon zest over top before serving. Get the recipe.
Grilled Asparagus Salad with Feta Hazelnut Crumble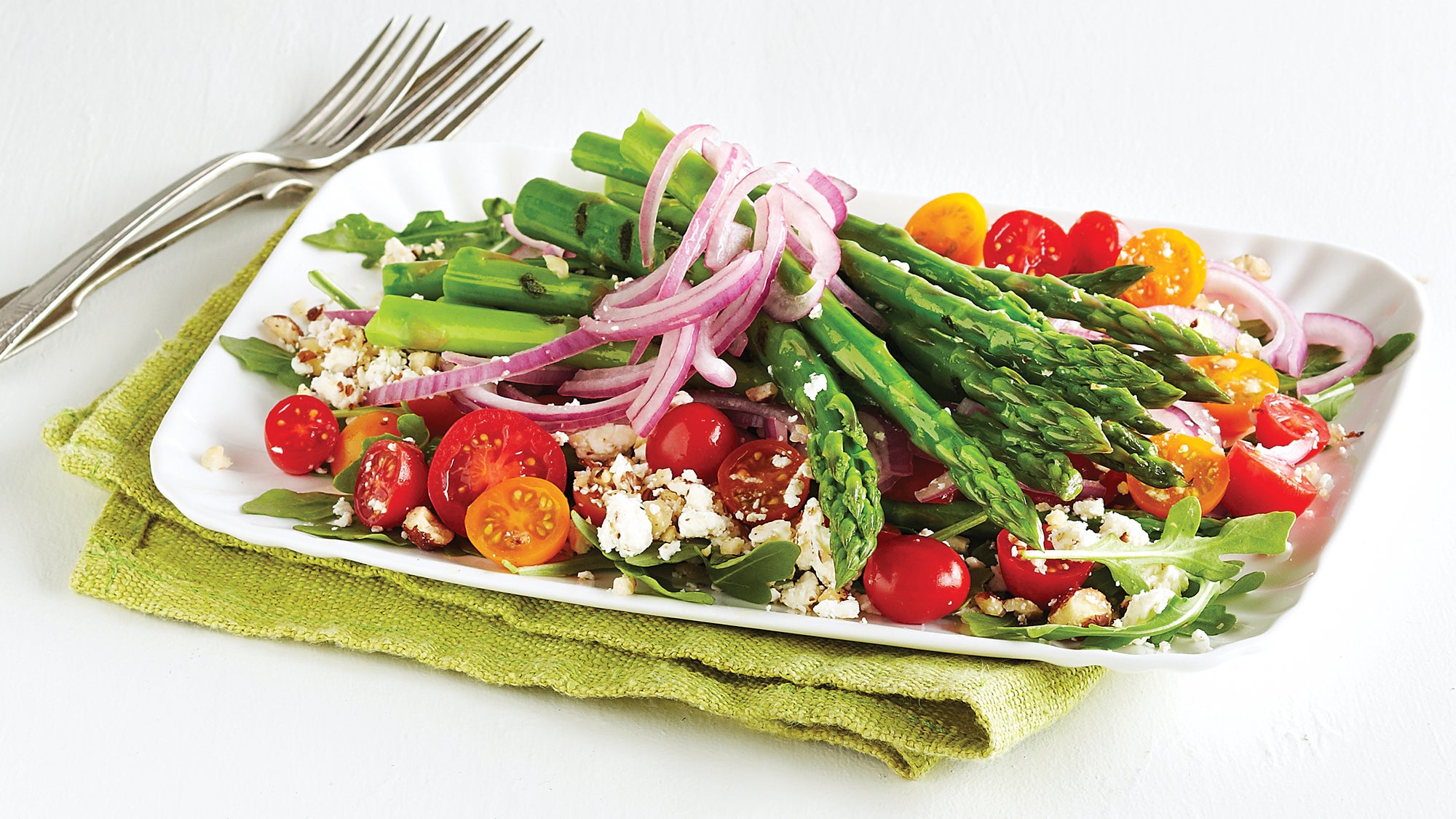 A simple lemon dressing adds a zesty zing to smokey grilled asparagus in this fast and fresh salad. Get the recipe.
Chile Orange Chicken Wings with Ranch Slaw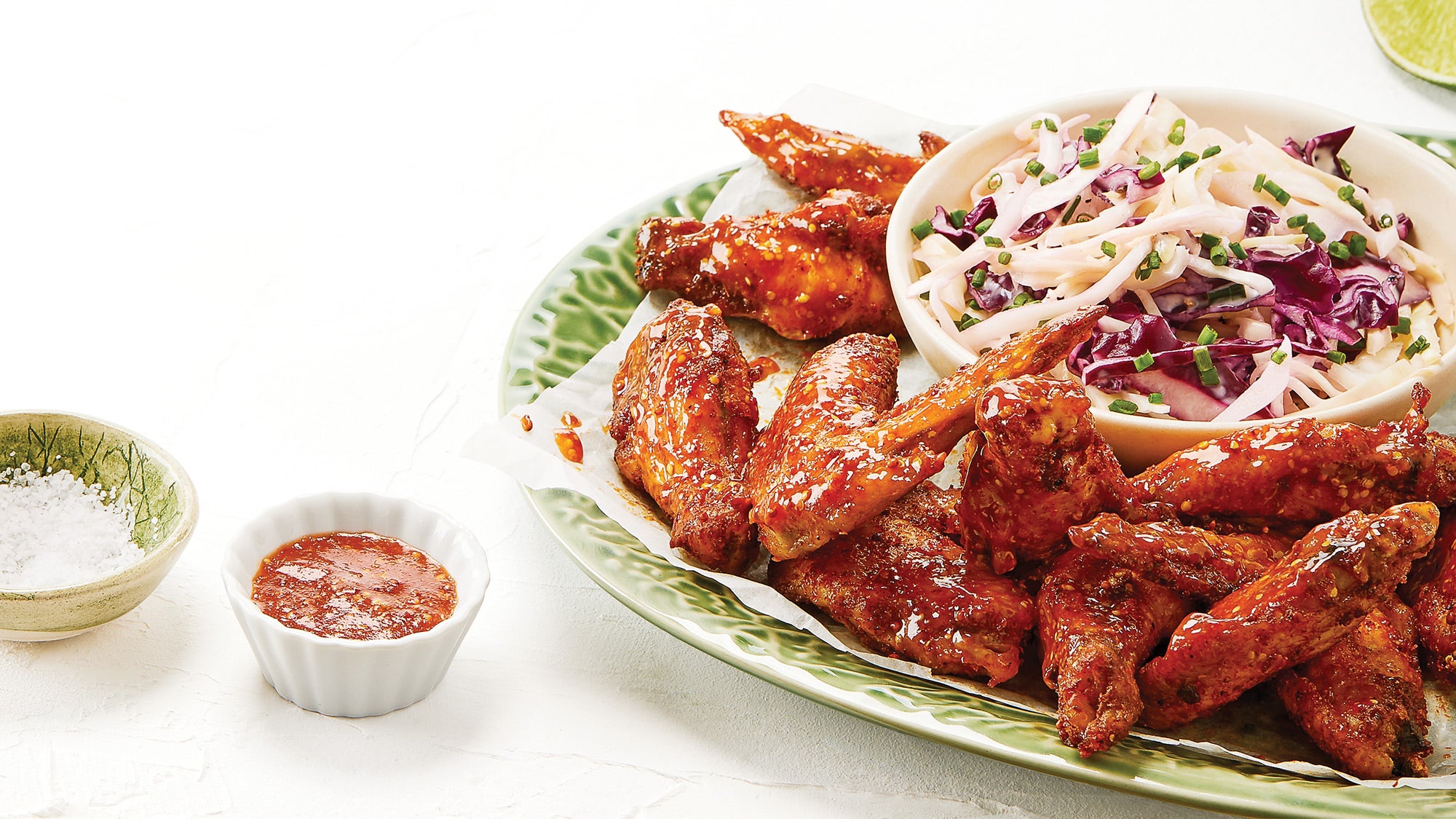 By baking wings on a rack elevated over a baking sheet you're able to achieve all-around crispness without frying. These wings are smoky, spicy and sweet — a winning combination and something a little different for dinner. Get the recipe.
Section divider
This week's menu
| | | | | |
| --- | --- | --- | --- | --- |
| | Breakfast | Lunch | Dinner | Total Nutrients |
| Monday | 1 serving Berry Green Smoothie | 1 serving Spinach & Cauli-Rice Salad with Cashew Dressing (save leftovers) | 1 serving White Bean Soup with Caper Almond Pesto (save leftovers) | Calories: 1,209 Fat: 75 g Sat. Fat: 14 g Carbs: 101 g Fiber: 26 g Sugars: 26 g Protein: 43 g Sodium: 1,292 mg Cholesterol: 22 mg |
| Tuesday | 1 serving Better Baked Beans on Toast (save leftovers; make toast fresh before serving) | 1 serving White Bean Soup with Caper Almond Pesto (leftovers) | 1 serving Spinach & Cauli-Rice Salad with Cashew Dressing (leftovers) | Calories: 1,255 Fat: 74 g Sat. Fat: 11 g Carbs: 117 g Fiber: 33 g Sugars: 15 g Protein: 40 g Sodium: 1,312 mg Cholesterol: 0 mg |
| Wednesday | 1 serving Better Baked Beans on Toast (leftovers) | 1 serving Spinach & Cauli-Rice Salad with Cashew Dressing (leftovers) | 1 serving Basil Cashew Salmon with Asparagus Tomato Sauté (save leftovers); 2 servings Grilled Asparagus Salad with Feta Hazelnut Crumble (save leftovers) | Calories: 1,302 Fat: 90 g Sat. Fat: 14 g Carbs: 84 g Fiber: 24 g Sugars: 23 g Protein: 56 g Sodium: 1,099 mg Cholesterol: 57 mg |
| Thursday | 1 serving Better Baked Beans on Toast (leftovers) | 1 serving Chile Orange Chicken Wings with Ranch Slaw (store leftovers separately) | 1 serving Spinach & Cauli-Rice Salad with Cashew Dressing (leftovers); 1 serving Grilled Asparagus Salad with Feta Hazelnut Crumble (leftovers) | Calories: 1,194 Fat: 87 g Sat. Fat: 15 g Carbs: 79 g Fiber: 20 g Sugars: 22 g Protein: 32 g Sodium: 1,442 mg Cholesterol: 85 mg |
| Friday | 1 serving Better Baked Beans on Toast (leftovers) | 1 serving White Bean Soup with Caper Almond Pesto (make a second time; save leftovers) | 1 serving Chile Orange Chicken Wings with Ranch Slaw (leftovers) | Calories: 1,281 Fat: 68 g Sat. Fat: 11 g Carbs: 123 g Fiber: 33 g Sugars: 16 g Protein: 50 g Sodium: 1,828 mg Cholesterol: 85 mg |
| Saturday | 1 serving Berry Green Smoothie | 1 serving Chile Orange Chicken Wings with Ranch Slaw (leftovers) | 1 serving Basil Cashew Salmon with Asparagus Tomato Sauté (leftovers); 1 serving Grilled Asparagus Salad with Feta Hazelnut Crumble (leftovers) | Calories: 1,155 Fat: 74 g Sat. Fat: 16 g Carbs: 67 g Fiber: 15 g Sugars: 34 g Protein: 67 g Sodium: 1,557 mg Cholesterol: 164 mg |
| Sunday | 1 serving Berry Green Smoothie | 1 serving White Bean Soup with Caper Almond Pesto (leftovers) | 1 serving Chile Orange Chicken Wings with Ranch Slaw (leftovers) | Calories: 1,235 Fat: 69 g Sat. Fat: 14 g Carbs: 107 g Fiber: 26 g Sugars: 30 g Protein: 53 g Sodium: 1,808 mg Cholesterol: 107 mg |
Section divider
Shopping list
Proteins & dairy
1 small container plain whole-milk yogurt

1 small container whole milk

1 container full-fat feta cheese

1 carton unsweetened almond milk

1 container vanilla protein powder

5 15-oz BPA-free cans unsalted cannellini beans

1 lb split chicken wings

2 4-oz wild salmon fillets

1 carton low-sodium chicken broth
Veggies & fruits
1 bag frozen berries

9 oz spinach

1.5 oz baby arugula

8 oz green beans

1 large bunch fresh basil

1 bunch fresh thyme

1 bunch fresh chives

2 large shallots

1 small yellow onion

2 red onions

1 head garlic

1 head cauliflower

8 oz shredded cabbage mix

1.5 lb asparagus

2 pints grape tomatoes

5 lemons

2 oranges
Grains
1 small loaf whole-grain sourdough or country rye bread
Nuts, seeds & oils
1 bottle olive oil

1 bottle avocado oil

1 jar unsalted cashew butter

1 bag raw unsalted cashews

1 bag roasted unsalted almonds

1 bag hemp hearts

1 container toasted unsalted hazelnuts (optional)
Pantry staples
1 jar capers

2 cans unsalted tomato paste

1 jar olive oil mayonnaise

1 bottle coconut aminos

1 bottle apple cider vinegar

1 jar whole-grain mustard

1 bag nutritional yeast

1 bag tapioca starch

1 bottle dried herbes de provence

1 bottle sea salt

1 bottle ground black pepper

1 bottle dried dill

1 bottle smoked paprika

1 bottle chile powder

1 bottle garlic powder

1 bottle ground cumin

1 bottle red pepper flakes