Parchment-Baked Halibut with Fennel, Red Onions & Olives
Baking in parchment keeps fish moist and makes cleanup practically effortless. Try substituting Pacific cod for similar results at a reduced cost, and reserve the second half of your fennel bulb for use in a salad: Try it with radicchio, toasted walnuts, cubes of pear and crumbled goat cheese.
Heading out the door? Read this article on the new Outside+ app available now on iOS devices for members! Download the app.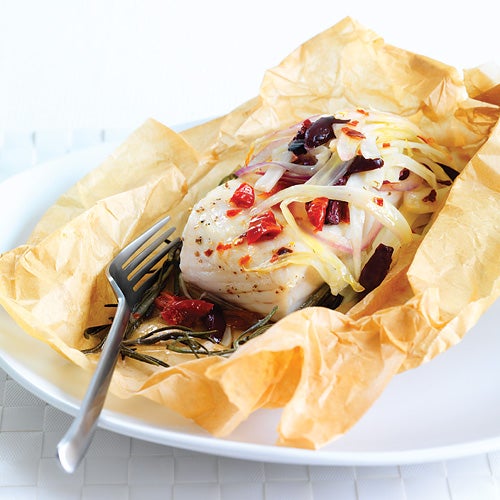 Nutritional Bonus:
Sun-dried tomatoes are a concentrated source of lycopene, an antioxidant that may reduce your risk of heart disease, help lessen the signs of aging and protect the skin from ultraviolet damage.
See Also The Easiest Baked Halibut
Ingredients
1 6-oz Pacific halibut fillet
1 tsp olive oil
1 medium clove garlic, passed through garlic press
Ground black pepper, to taste
3 sun-dried tomatoes, chopped (1 tbsp)
2 thin slices red onion
1/2 small fennel bulb, cored and thinly sliced
4 Kalamata or other black olives, rinsed and drained, pitted and thinly sliced
1/4 tsp red pepper flakes, or to taste
2 large sprigs rosemary
Preparation
Preheat oven to 400°F.
Tear off 1 piece of parchment to form a square. Place parchment on a baking dish and place fish in center of square. Drizzle with oil, then rub with garlic and season with black pepper. Sprinkle sun-dried tomatoes over top. Arrange onion slices over fish, and top with fennel and olives. Sprinkle with red pepper flakes and lay rosemary sprigs on either side of fish, tucking them firmly against fillet.
To fold parchment, grasp top and bottom edges parallel to work surface and bring them together up over food, pinching together at the top. Fold over by about 1 inch, then continue folding down, leaving about 1/2 inch of space above the fish to allow for steam. Fold each side toward center until about 1/4 inch from fish.
Place baking dish in oven and cook for 12 to 14 minutes, depending on thickness of fish. Remove baking dish from oven and place pouch on a serving dish or plate. Carefully unfold parchment to allow steam to escape and serve immediately. If desired, serve this light fish entrée with a side salad.
Nutrition Information
Serving Size

1 packet

Calories

331

Carbohydrate Content

15 g

Cholesterol Content

54 mg

Fat Content

13 g

Fiber Content

5 g

Protein Content

38 g

Saturated Fat Content

2 g

Sodium Content

469 mg

Sugar Content

2 g

Monounsaturated Fat Content

0 g

Polyunsaturated Fat Content

2 g