This Herb-Stuffed Turkey Breast is the Ultimate Holiday Dinner
This extra-easy cooking technique lets you cook your turkey and stuffing at the same time – and it's so easy, you'll want to make this dish a holiday tradition.
Heading out the door? Read this article on the new Outside+ app available now on iOS devices for members! Download the app.
Turkey is a holiday staple whether you're celebrating Thanksgiving, Christmas or the arrival of the new year. But, if we're being perfectly honest, achieving a moist, flawlessly seasoned bird along with a collection of side dishes takes a lot of prep, time and cooking experience. Well, until you master this incredibly easy recipe, that is. It's turkey and traditional dressing, all rolled into one herbaceous, deeply flavorful package – literally!
Instead of spending your holidays timing your dishes in the oven and keeping a close eye on the turkey, we're making it easier. We've devised a creative recipe that lets you cook your turkey faster, and master a perfect, herby stuffing at the same time. The key? Skip the gigantic whole bird and cook turkey breasts instead – turkey breasts filled with richly flavorful stuffing. And no, there's no need to stick your hands inside your turkey with this cool cooking technique.
Thinner cuts of meat cook faster than whole birds. So, if you serve up turkey breasts instead, you can shave hours off your usual holiday cooking timeline. And, by stuffing those breasts with herbs, bread and all of the classic ingredients involved in a basic dressing, you can skip the steps involved with cooking this staple side as a separate dish. As an added bonus, stuffing tends to stay moist when cooked inside of turkey, giving you yet another reason to skip the extra work and opt for an easier (and equally delicious!) method.
All it takes is a little prep for the stuffing and just four quick and simple steps to get the turkey in the oven. And we'll walk you through it!
Section divider
What you'll need
Small bowl
Medium skillet
Chef's knife
Cutting board (or a cleared countertop)
Plastic wrap
Kitchen string or twine
Roasting pan
Meat thermometer
Section divider
The recipe
Before you get cooking: Prep the herb mixture
Don't touch the turkey just yet – you'll want to get your herbs ready before you dive into the meat.
In a small bowl, combine marjoram, thyme, sage and rosemary. Set aside. In a medium skillet on medium, add bacon and onion and cook, stirring occasionally, for 8 to 10 minutes, until onion is translucent and very soft. To a large bowl, transfer bacon-onion mixture along with cooking juices; add bread, cheese, 1/2 tsp pepper, 1/2 tsp salt and all but 1 tbsp herb mixture. Set bread mixture and remaining herb mixture aside.
Step 1: Prep the turkey breasts
Arrange 1 turkey breast on a work surface. Using a long, thin knife, cut almost entirely in half parallel to work surface, leaving one side attached. Repeat with remaining breast.
Step 2: Flatten the turkey
Open both breasts like a book and arrange side by side, skinned side down, with long edges overlapping by about 2 inches. Cover with plastic wrap and pound 3/4 inch thick.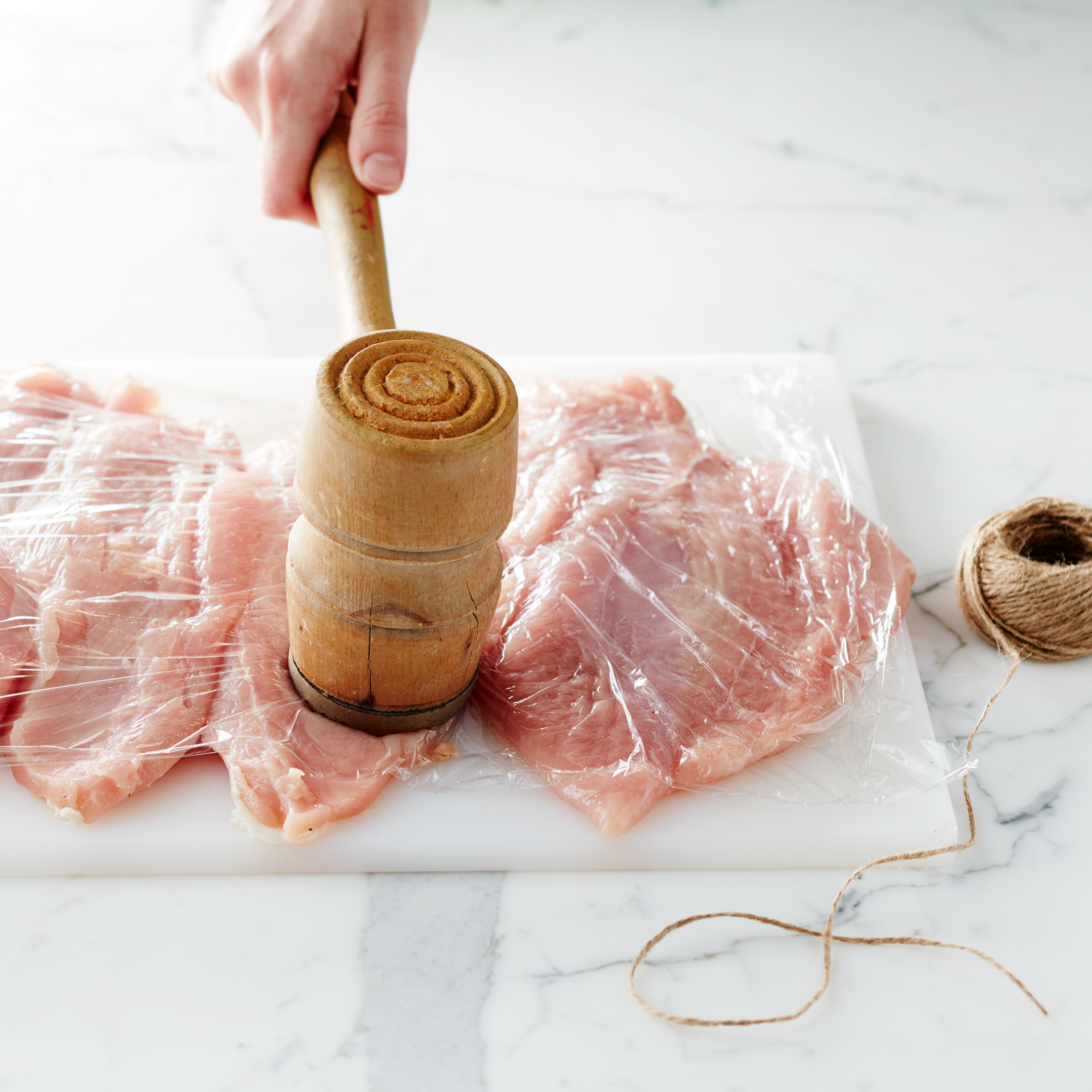 Step 3: Fill the turkey with stuffing
Arrange bread mixture on turkey, leaving a ½-inch border. Starting at one short side, roll into a log.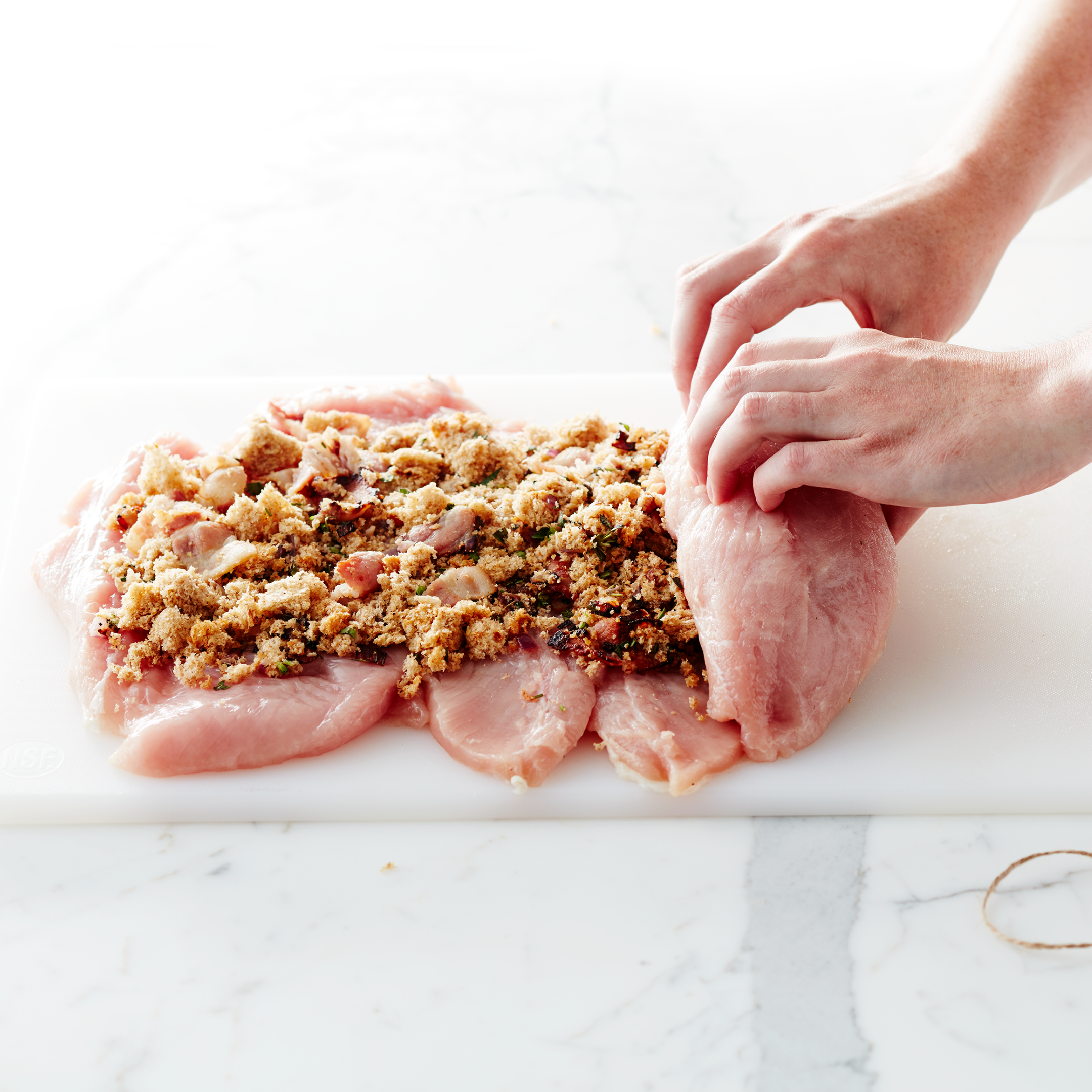 Step 4: Tie the turkey and stuffing to secure
Use kitchen string to tie at 1½- to 2-inch intervals. Sprinkle with remaining 1 tbsp herb mixture, ½ tsp pepper and 1/4 tsp salt.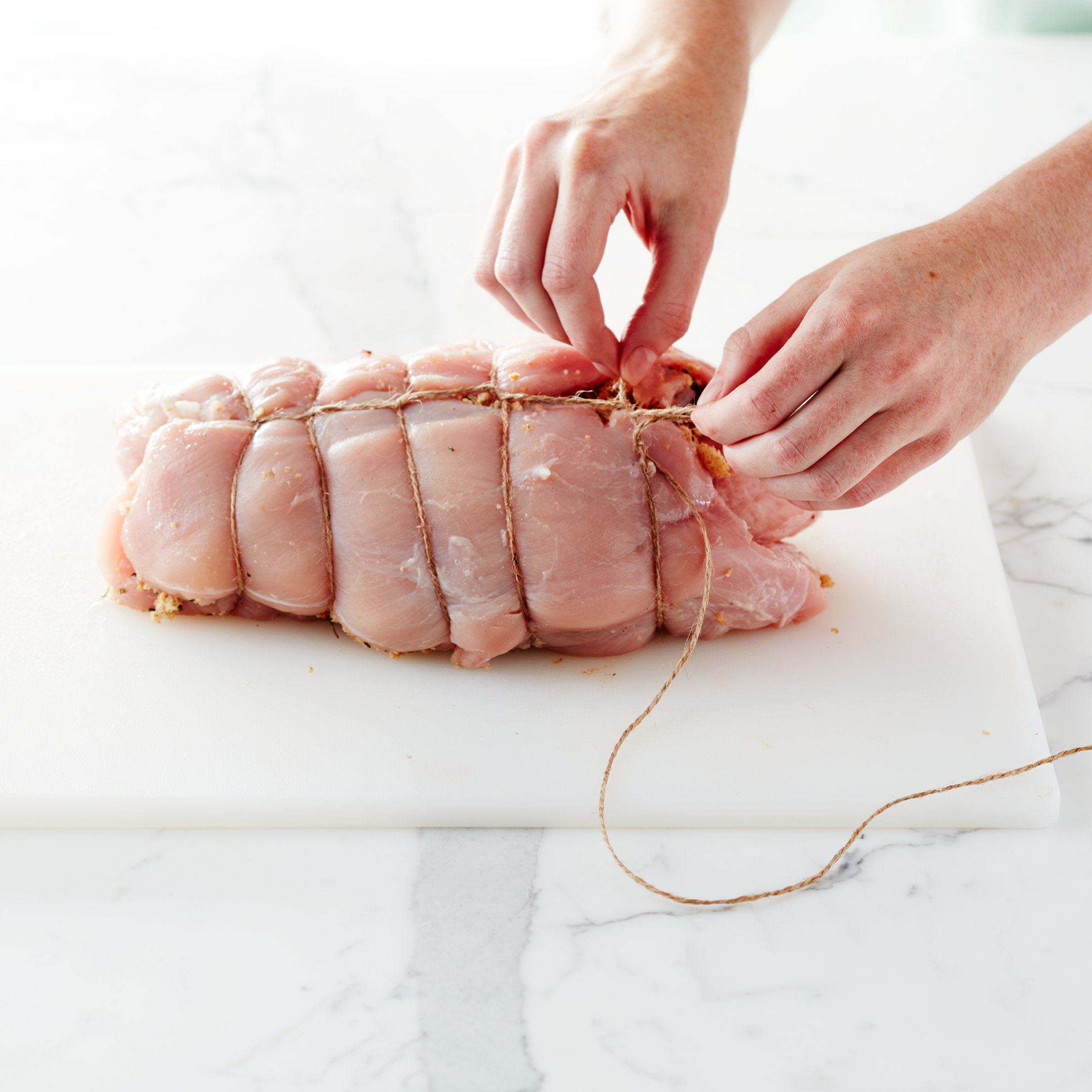 Now, your turkey is ready to be laid inside your roaster and hit the heat of your oven – all without losing any of its stuffing! To continue cooking, keep reading.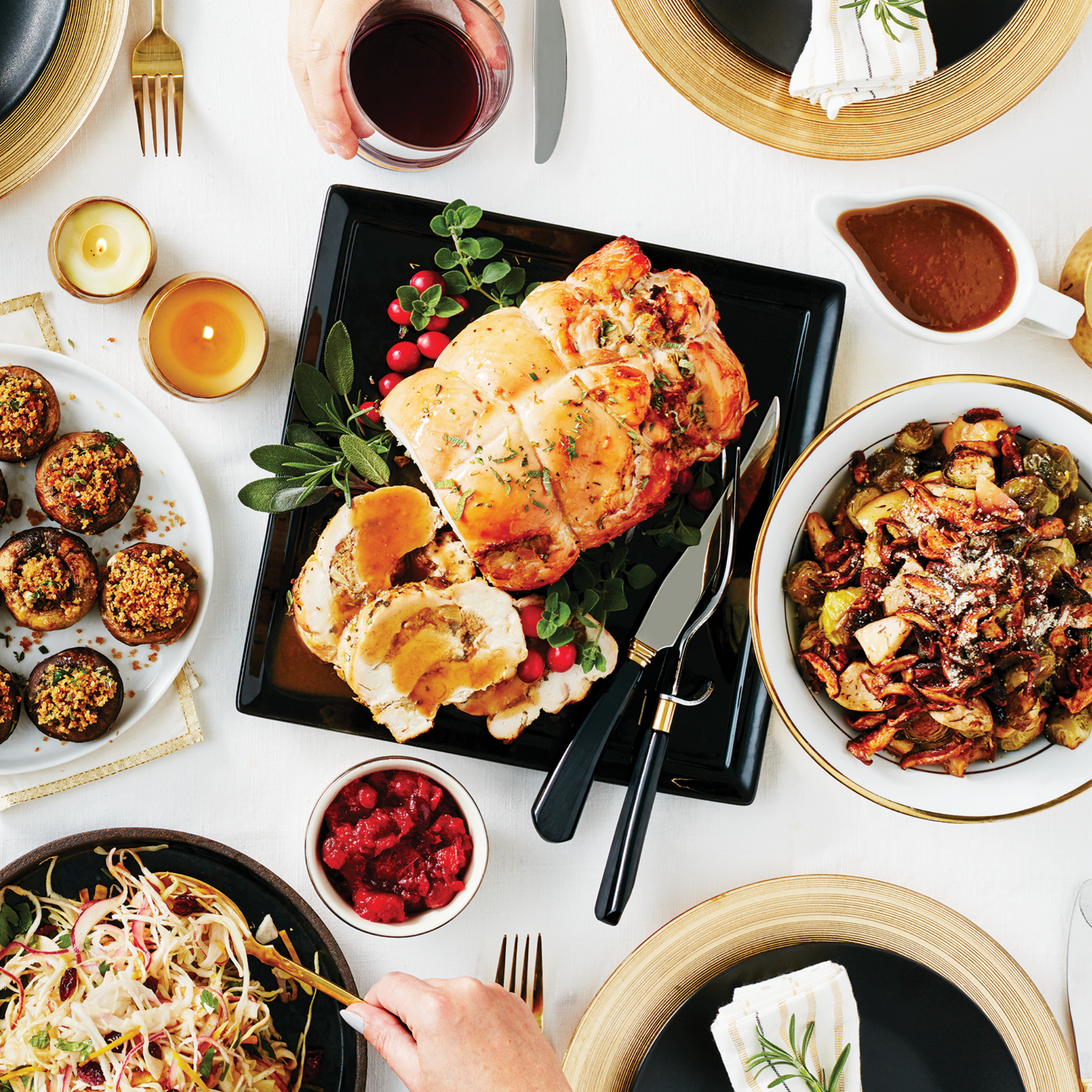 Section divider
More ideas
Now that you've mastered the art of stuffing, rolling and wrapping turkey breasts for your holiday dinners and celebrations, you can take this technique and apply it to other recipes too. This cooking method isn't just for turkey – it'll work just as well for chicken breasts, pork and different cuts of beef. Just make sure to pound out whatever kind of meat you're working with thin enough so it's easy to roll.
What can you use in place of stuffing? The possibilities are endless! You can use all kinds of vegetables, herbs and spices to create delicious fillings for all kinds of proteins. Cheese is another great option; add a sprinkle of your favorite into the mix, and you'll have a stuffing that's perfectly creamy and ooey-gooey. You can also use sauces as a filling. For more inspiration, check out these stuffed recipes and put your new cooking technique into practice well beyond the holidays: