Recipes for Nonalcoholic Fatty Liver Disease
Eating for nonalcoholic fatty liver disease can feel daunting. Make it easier with the following liver-friendly meal plans and recipes.
Photo: Klaus Vedfelt/gettyimages.com
Heading out the door? Read this article on the new Outside+ app available now on iOS devices for members! Download the app.
Your liver is responsible for over 500 different functions in the body. This means that an unhealthy liver can mean poor health overall. One of the most common types of liver-related illnesses is nonalcoholic fatty liver disease (NAFLD), affecting nearly 1 in 3 adults and 1 in 10 children in America.
NAFLD signifies the accumulation of fat deposits in liver cells, inhibiting this essential organ from functioning properly. This fat buildup and consequent inflammation and swelling can cause cirrhosis — scarring of the liver. In turn, cirrhosis can lead to liver cancer or liver failure.
While the exact cause of NAFLD isn't well understood yet, we do know about the best treatment: A healthy, liver-friendly diet. Not only can focusing on the following foods slow down NAFLD, but it can also reverse the progression of liver damage.
Clean Eats to Reverse Nonalcoholic Fatty Liver Disease:
Plant-Based Foods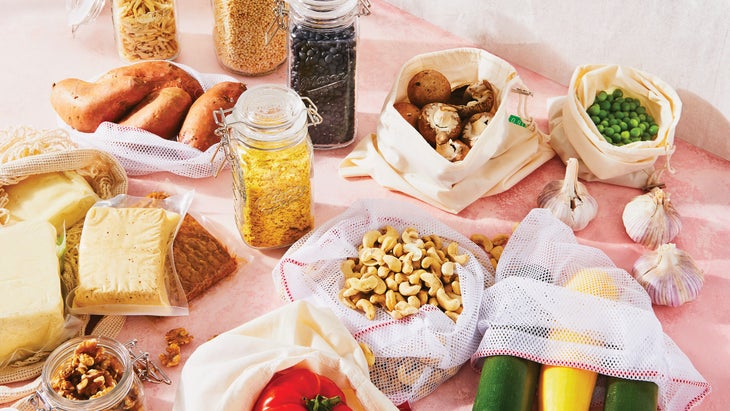 Plantiful and Protein Rich: This plant-based meal plan is rife with high-fiber, nutrient dense produce. Veggies, fruits, beans, nuts, healthy oils and whole grains can be extremely beneficial in the fight against NAFLD. They prevent buildup of fat in the liver and accelerate weight loss. Our meal plan features the following foods linked to improved liver function and weight loss: Beans, walnuts, extra virgin olive oil and garlic.
Healthy Fats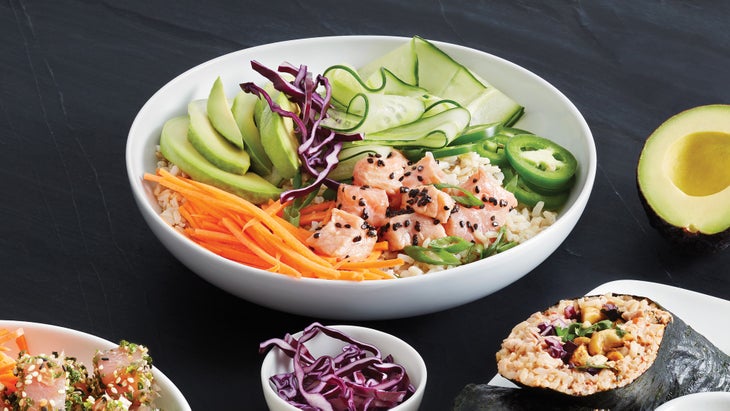 California Poke Bowl: We believe in putting healthy fats on our plates to combat unhealthy fat in our bodies. This delicious, satiating bowl is made using sashimi-grade salmon, avocados and sesame oil, all sources of healthy fats. Since people with NAFLD can't process fat efficiently, it's important to depend on healthful whole-food sources of fat.
The Mediterranean Diet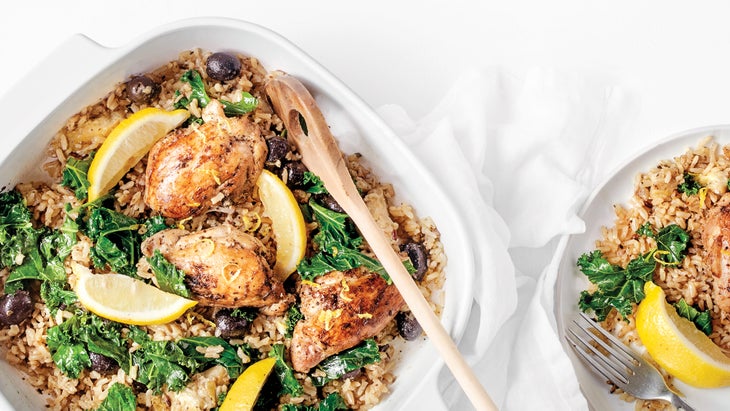 Eat Mediterranean For 1 Week: You don't need to rely entirely on vegetables to repair your liver. Plant-based diets with some seafood and occasional animal proteins have also shown to be beneficial for people with NAFLD. One such eating plan is the Mediterranean diet. Our 1 week Mediterranean meal plan combines veggies, fruits and nuts with cod (rich in omega-3s), chicken (one of the leanest meats) and plenty of heart-healthy extra virgin olive oil. Together, they create an eating style conducive to reducing inflammation and fatty buildup in the liver.
Caffeine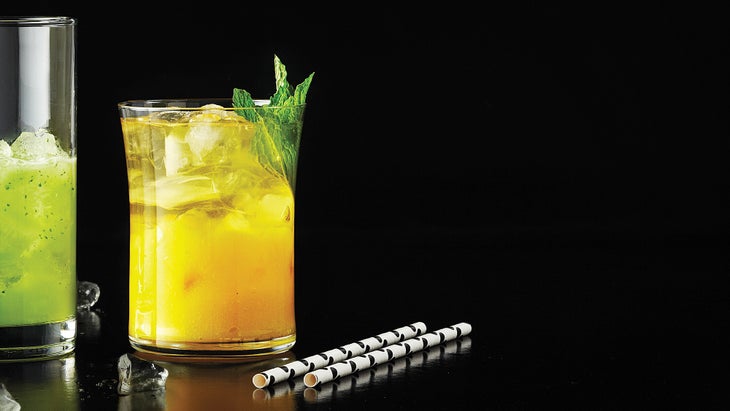 Mango Mint Iced Green Tea: Summer is here, so celebrate with this refreshing bevvie brimming with bennies. Green tea is rich in antioxidants linked to decreased fat absorption. Green tea also contains caffeine, as do coffee and other types of tea. Why is this important? Because some studies show that people with NAFLD who consume caffeine experience less liver damage than those who don't. Caffeine is linked to decreasing the amount of liver enzymes found in people at risk for liver diseases.
Vitamin E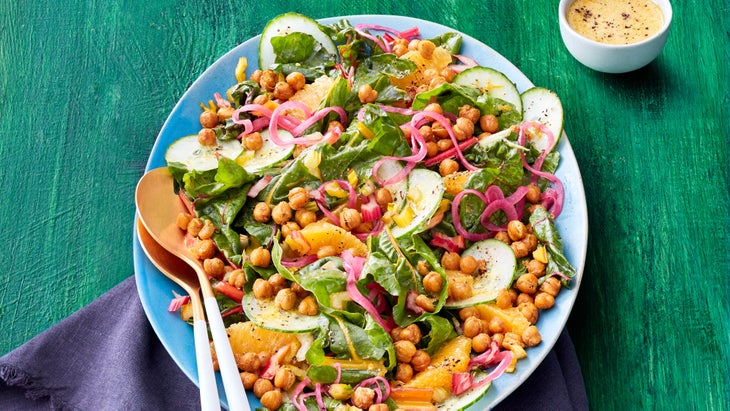 Swiss Chard & Curried Chickpea Salad with Orange Vinaigrette: This swiss chard salad is not only overflowing with color, but with nutritional benefits, too — including vitamin E. This essential vitamin is an antioxidant, and one studied most in relation to NAFLD. Studies show that vitamin E can counteract the oxidative stress of liver disease progression.
Vitamin D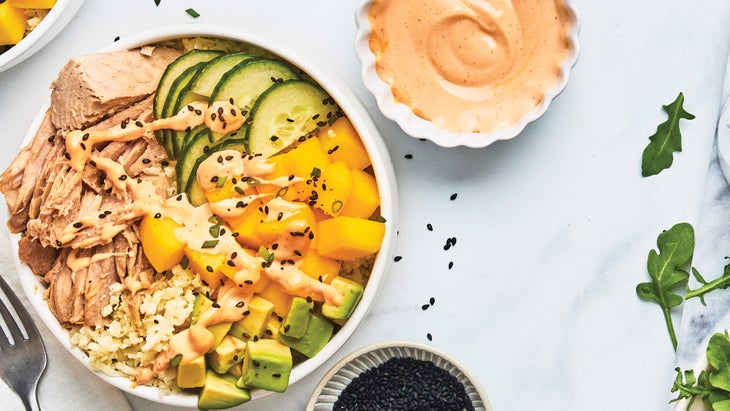 Tuna Poke Bowl: We can't get enough of vitamin D here at Clean Eating, mainly because Americans are so largely deficient in this essential nutrient. Notably, vitamin D deficiency has been established as a risk factor in NAFLD and the severity of liver disease. Studies have linked vitamin D to having a direct role in reversing liver inflammation. The good news? It's super easy to get this essential vitamin dietarily, in the form of highly accessible and budget-friendly canned tuna. Our Tuna Poke Bowl recipe is everything an NAFLD-friendly meal should be: brimming with liver-friendly nutrients, inexpensive, easy to make and totally delicious.
Omega 3s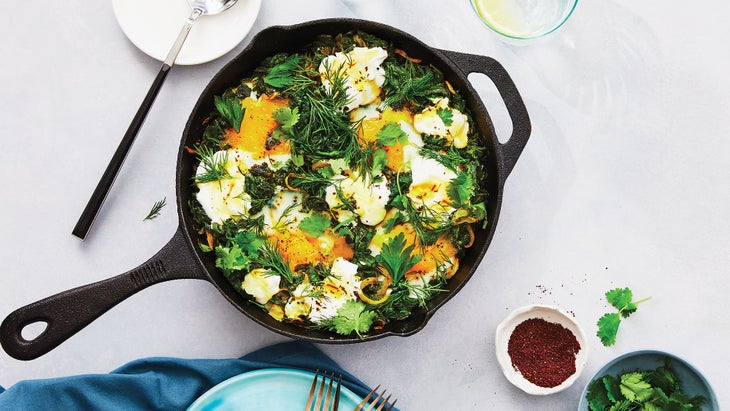 Persian-Style Spinach & Herb Sauté with Eggs: We're omega-obsessed, and for good reason. Recent studies testing effects of this fatty acid in people with NAFLD show promising findings suggesting omega-3s may have potential in treatment of this liver disease. You probably already know by now that your best sources of omega-3s are fatty fish like salmon, mackerel and tuna. That's why we're suggesting something new: omega-3 fortified eggs. These eggs are from chickens fed a diet containing flaxseed. And an eggy breakfast doesn't get much more nutritious and delicious than this gorgeous green skillet dish.
Synbiotics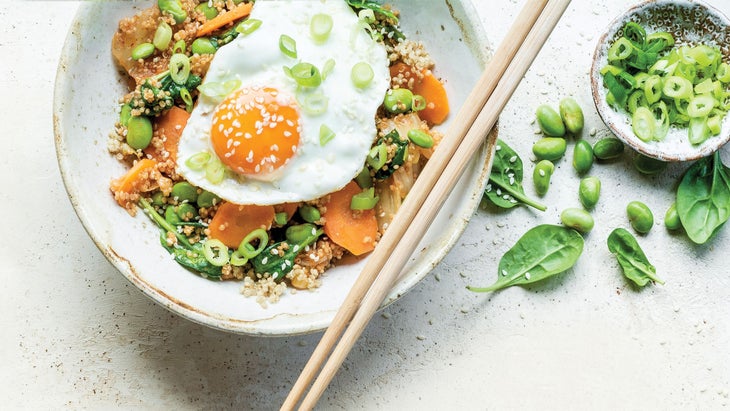 Spicy Kimchi Fried Quinoa: You've heard of probiotics, which are good bacteria that promote gut flora diversity. You've likely also heard of prebiotics, a type of dietary fiber that feeds your friendly gut bacteria. A synbiotic is the combination of probiotics and prebiotics. You can purchase synbiotics in supplement form, but here, we suggest a delicious dietary source. This spicy bowl features kimchi, a popular probiotic food, as well as quinoa, which studies suggest have a prebiotic effect.
Herbs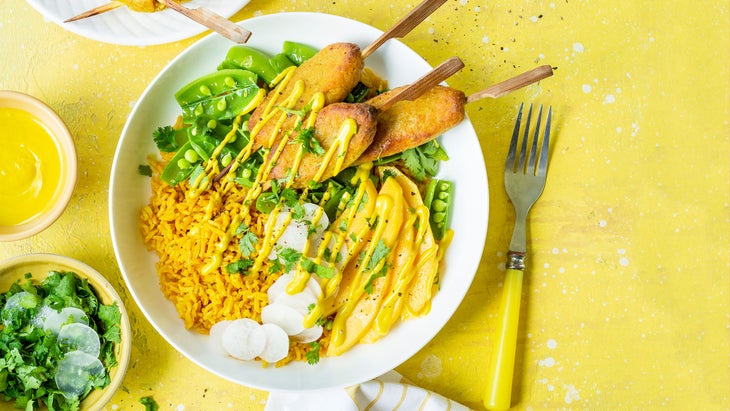 Lentil Kebab Bowl With Turmeric Tahini Sauce: It's not as if you need another reason to load up on flavorful herbs, but we're giving you one anyways. Herbal supplements have shown to have a strong antioxidant effect in people with NAFLD. These herbs include milk thistle, turmeric, ginger and ginseng. However, herbal supplements contain highly concentrated amounts of herbs which can potentially be dangerous for people with liver disease or interact with other medications. That's why we suggest this dietary source. Our vibrant plant-based kebab bowl features sunny turmeric, a potent anti-inflammatory spice very commonly used in herbal medicine.
---
NAFLD can feel like a constant uphill battle. But the more you know about your condition, the more empowered you are to successfully tackle it. That's why we've collected the following CE reads on this complex liver disorder.