The One-Two Keto Punch
Keto isn't just about weight loss anymore. It's a whole-health plan that can benefit your brain, liver and more – if you do it right.
Heading out the door? Read this article on the new Outside+ app available now on iOS devices for members! Download the app.
Parents ask me time and again: "How do I get my kid to eat healthier?" My answer is always the same: Take away the alternative. If all you have in your fridge is good food, your kid will complain for a couple of days, and then – eventually – they'll eat it.
And so it is with your body's source of fuel. We have trained our bodies to be very good at running on sugar. The metabolic pathways that are involved in breaking down sugar and using it for energy are well-worn, like popular hiking trails in the Delaware Water Gap. We train these metabolic pathways to be more or less efficient, just as we train our biceps to either get bigger by performing biceps curls or get flabby from lack of stimulation.
However, we have not done a very good job of training our bodies' fat-burning pathways. For years, people have been taught to eat "mini meals." To graze. To eat every two hours. To avoid fat and load up on carbs. To never ever skip breakfast. But now we know better.
Forward-thinking clinicians routinely speak of getting their patients into what we call a "fat adapted" state, where they are more easily able to access (and burn) their fat stores. These folks are always surprised to find that they actually don't need an energy bar every two hours once their body has dusted off the metabolic pathways needed to burn fat.
The recent craze over keto diets is all about fat-burning metabolisms. If you reduce your carbs enough, the body has no choice but to use the metabolites of fat burning, called ketones, just like your kid has no choice but to eat the "good" food in the fridge – once you get rid of the cookies. Keto basically forces your body to
go into fat-burning mode because ketones are only produced when you're actually burning fat. That's why keto is known for its fat-burning power. But weight loss doesn't tell the whole story.
The brain connection
The ketogenic diet has been around for a century, initially used to treat people with epilepsy. In more recent years, we have come to understand the benefits of the keto diet for brain function.
Many people think that a ketogenic diet is just a high-fat, low-carbohydrate diet. While that is true, the point of a ketogenic diet is to drop blood sugar levels and use up glycogen stores so the body can switch to burning stored fat or using dietary fat to produce ketone bodies, or ketones. This also improves insulin resistance, which is thought to be a causal factor in Alzheimer's disease.
It's important to combine keto with an anti-inflammatory plan – subsisting on bacon and cheese doesn't equal long-term health. Instead, select anti-inflammatory fats such as olive oil and avocado oil; focus on non-starchy vegetables; and choose high-quality proteins such as grass-fed, organic or pasture-raised chicken and wild-caught fish.
In fact, combining keto with the Mediterranean diet might be a powerful approach to maintaining healthy cognition as we age. The Mediterranean diet is highly correlated with improved cognition in people over the age of 65 as well as slower rates for cognitive decline. While this diet focuses on high intakes of nutrient-rich foods, it is also important to note that it limits or avoids refined starches, sugar, pastries, fast food, trans fats and red meat.
Brightly-colored plant foods are rich in the antioxidants and phytochemicals responsible for decreasing inflammation, reducing oxidative stress and improving blood flow, all of which improve brain function. So too are specific nutrients found in certain animal foods, including zinc, choline and omega-3 fatty acids. These nutrients are found in the foods that make up the cornerstone of the Mediterranean diet. Combining keto with the Mediterranean diet is just as it sounds – incorporating all the healthful Mediterranean anti-inflammatory foods while still keeping carbs in check.
A healthier liver
It might sound counterintuitive to eat more fat for liver health, but some research is starting to come out in support of it – particularly when weight loss is encouraged or necessary.
A research review published in August 2020 took a look at the benefits of a ketogenic diet in individuals with nonalcoholic fatty liver disease (NAFLD). While there's been hesitancy about a fat-rich diet, the authors of this review noted that ketone bodies were a potential boon for inflammation – one of the key concerns for those with NAFLD. It's hypothesized that adopting a keto approach to diet can help NAFLD patients lose weight, reduce inflammation and potentially offer additional
benefits through ketosis. And it's thought that the low-carb component of a keto diet may be what has the biggest impact.
While more in-depth research is needed, a keto diet could help you target two of the most critical factors in developing fatty liver: inflammation and being overweight. A research study published in June 2021 examined the impact of different eating approaches on individuals with nonalcoholic fatty liver disease. Over the course of 12 weeks, researchers examined 74 patients, randomly assigning each a 12-week NAFLD treatment program with one of three approaches: a low-
carb, high-fat diet; a 5:2 intermittent fasting diet; or general healthy-lifestyle advice and suggestions from a hepatologist.
By the study's end, researchers noted a higher reduction in steatosis (abnormal fat retention in the liver) and overall body weight in those who followed the
low-carb, high-fat diet. Compared to the typical NAFLD lifestyle recommendations given by a hepatologist, a low-carb, high-fat diet offered more promise. While those who followed the recommendations of a hepatologist focused primarily on controlling calorie intake, those on the low-carb, high-fat diet saw significant decreases in liver fat. That diet also proved more effective in reducing body weight.On average, the low-carb, high-fat diet led to a 7.3 kilogram weight loss; those who stuck with the hepatologist-advised approach lost just 2.5 kilograms.
We spoke with Jessie Shafer, RD, a registered dietitian at The Real Food Dietitians, about keeping fat – and nonalcoholic fatty liver disease – in mind when trying a keto diet. "It is natural to think that you should avoid fat if you've been diagnosed with fatty liver disease," Shafer said.
"But all people, including those with fatty liver disease, need to eat fat for many beneficial reasons, including absorption of key vitamins, supplying energy, building immunity and protection of nerves and cells."
When you're picking out high-fat foods, Shafer recommends making sure you eat the right types of fat: "Not all fats are created equal, and someone with compromised liver health needs to pay special attention to the types of fats they are eating. The best thing to do is to swap out trans fats and highly processed
oils in favor of plant-based fats (think avocado, coconut and olives) and animal-based fats that contribute beneficial omega-3 fatty acids (think fatty fish and grass-fed beef)."
If you think you're ready to give keto a try, it's important to keep in mind that NAFLD can make this eating approach more challenging. As Shafer explains, "What people with fatty liver should know is that, while diets like keto can be done (studies have lasted from six days to six months) and can show benefits, they are also quite intense and restrictive. If you were to 'slip' one day and eat too many carbohydrates, then your body is not in ketosis anymore."
So, if you are going this route, it's important to follow the keto approach closely. In order to better your overall health – and your liver health – ensure every meal and snack is keto-approved, with liver-friendly plant- and animal-based fats.
What's keto-friendly?
The keto diet is great for many people. But you don't have to go full keto forever to make your metabolism more flexible and reap the brain, liver and anti-inflammatory benefits. Instead, consider going "keto-friendly."
You can cut out sugar and processed carbs and you can increase good fats like extra-virgin olive oil, avocado oil, whole eggs and grass-finished butter. You can stick to low-sugar fruits like berries, start snacking on nuts instead of pretzels and go heavy on the olive oil and certain veggies (see below). A recent article in the Journal of Sports Medicine defined a fat-burning diet as one including 65% or so of calories from fat and 25% – or less – from carbs.
Remember, if you give your body mostly carbs, it will get very good at using those quick-acting sugars for fuel. But you won't like the way you feel.
You can eat a higher-fat, whole-foods diet whether you're a vegan, a carnivore or — like most people — somewhere in between. All it takes is following one single
mantra: Eat. Real. Food.
To the extent that you can cut off your body's supply of toxic and useless processed food, you will also reduce your metabolism's dependence on glucose and will
teach it how to use the most wonderful and abundant fuel it has available: fat. And that's a very good thing for your health.
How low can you go?
To do keto the right way, opt for low-carb foods with high nutritional impact. Here's how your fave veggies stack up per serving:
1 net carb
2 net carbs
3 net carbs
Mushrooms
Asparagus
Zucchini
Eggplant
Green pepper
Cauliflower
4 net carbs
Tomato
Cucumber
Red pepper
5 net carbs
Broccoli
Green beans
Fennel
6 net carbs
Try these keto-approved recipes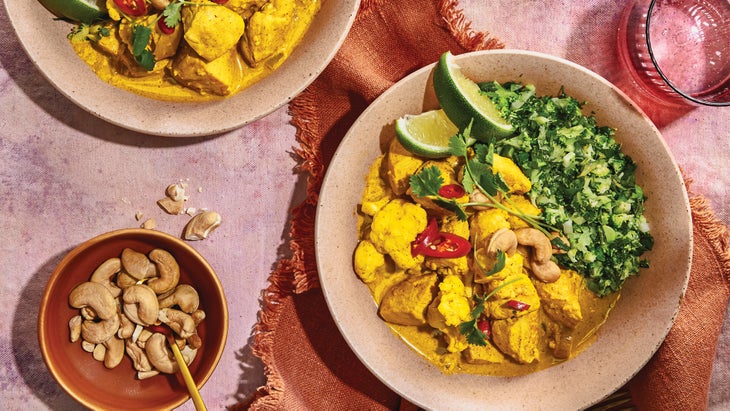 This low-carb take on classic curry and white rice doesn't use any sweeteners. Served over riced broccoli infused with lime and cilantro, the dish is savory, salty and totally craveable. Get the recipe here.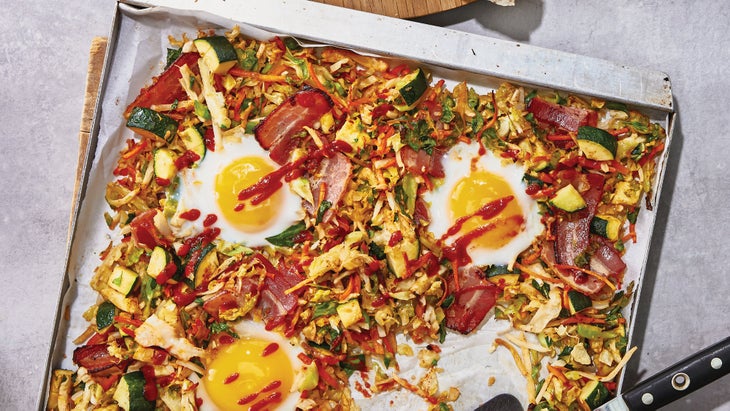 Prepackaged slaw is an easy cheat in this keto-friendly roasted-veggie sheet pan topped with bacon and eggs. Get the recipe here.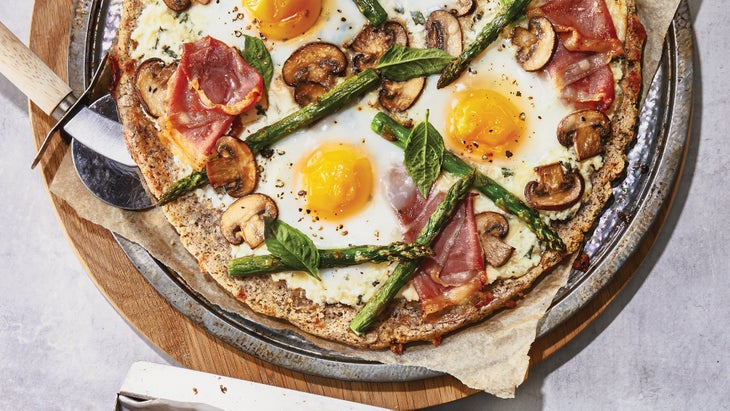 We're big fans of breakfast for dinner, but this delicious riff on pizza turns the table and serves dinner for breakfast. The homemade crust, made of almond flour, eggs, cheese and a little arrowroot, acts as the base for an array of veggies, herbs, prosciutto and eggs. Get the recipe here.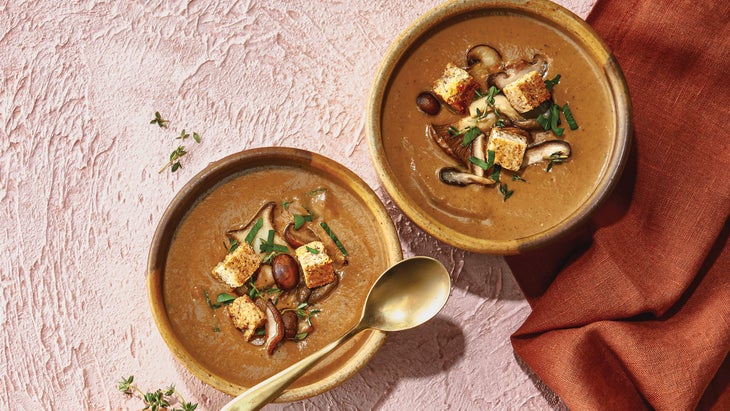 This rich, velvety soup is thickened with sour cream and topped with crunchy homemade croutons made from almond flour, Parmesan cheese and a nutty garlic-butter drizzle. Get the recipe here.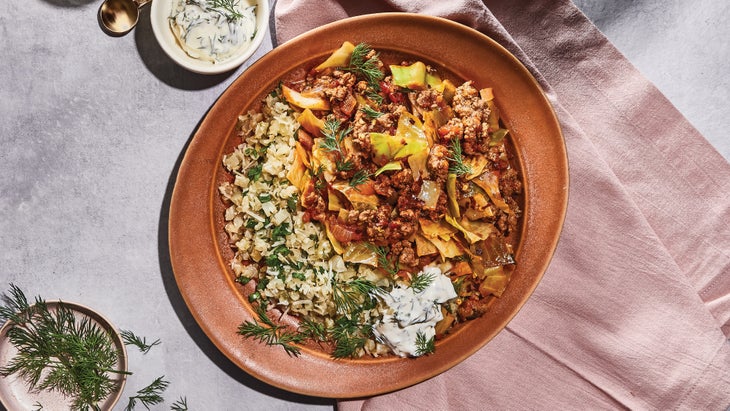 We've taken all the flavors of a classic cabbage roll and made it into a hearty bowl with riced cauliflower and creamy dill sauce. Get the recipe here.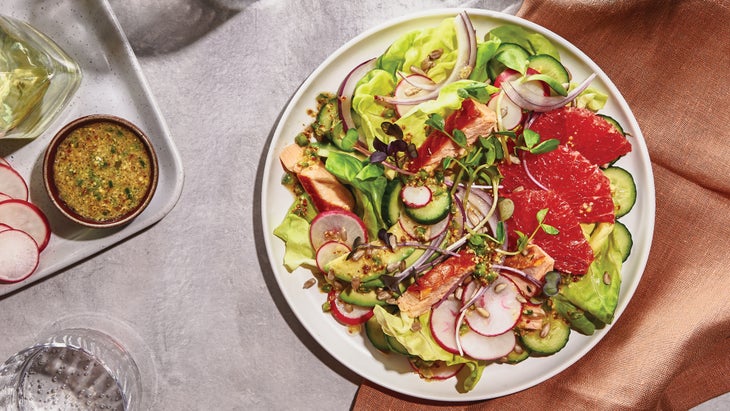 You might think that a lower-carb diet excludes fruits and vegetables, but this gorgeous salad – rich with creamy avocado, crisp radishes and crunchy butter lettuce – proves that's not the case. Get the recipe here.