5 Little-Known Greens to Start Eating This Spring + Recipes
Go beyond spinach and arugula and bring some 
lesser-known leafy greens into your kitchen this spring. From peppery watercress to sweet pea shoots, we've 
got the dirt on what's fresh this season.
Heading out the door? Read this article on the new Outside+ app available now on iOS devices for members! Download the app.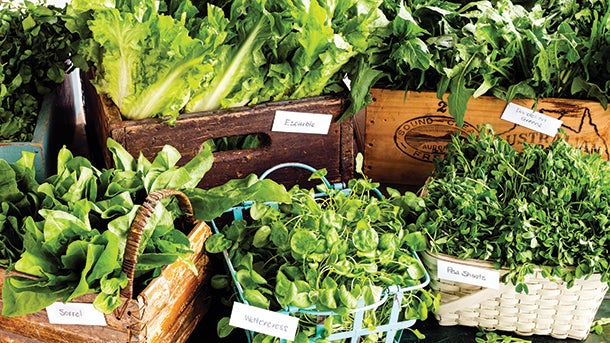 Sorrel
This perennial herb may resemble mild spinach, but its flavor is anything but docile. Sorrel is a member of the Polygonaceae (buckwheat) family and boasts a bold, tart citrus flavor that is equally delicious raw in salads as it is in hot soups or sauces. Look for the leafy herb, which is available in green and red-veined varieties, at farmers' markets or natural-food stores. They're a good source of vitamin A, which helps protect your eyesight. TIP: Sorrel pairs well with seafood.
Watercress
Don't be fooled by watercress' delicate leaves and slender stems – this green's got bite! A member of the Brassicaceae (mustard) family, watercress has a fiery flavor when eaten raw in salads, sandwiches or as a garnish, but it mellows when cooked into soups, pastas or stir-fries. Look for watercress, which is a great source of folate, in the produce section alongside fresh herbs. 
Tip: If the bunch still has the root attached, plant it in moist soil and keep picking leaves for months.
Pea Shoots
The delicate young leaves, tendrils and stems of pea plants have long been beloved in Southeast Asian, Chinese and Japanese cooking, and only recently have North American chefs caught on to using pea shoots in stir-fries and salads. The shoots have a sweet, pealike flavor and are rich in vitamin K, a nutrient that helps your body regulate calcium. Look for them in Asian grocery stores and farmers' markets. Tip: If your pea shoots have longer stems, cut them into smaller pieces and cook the stems for a bit longer than the delicate tendrils.
Dandelion Greens
These pleasantly bitter greens are a common ingredient in Italian cooking. While they can be enjoyed raw, they're best tossed into pastas or served on pizzas along with other assertive ingredients, such as sharp cheeses and spicy red pepper flakes. Look for the iron-rich greens in grocery stores and farmers' markets alongside fresh herbs. Tip: If your lawn isn't chemically treated, go ahead and pick those young weeds from your own backyard!
Escarole
The broad, pale green leaves of escarole are easy to mistake for green leaf lettuce, but this high-fiber member of the chicory family is much more versatile than the standard go-to green. Toss escarole's juicy white stems into salads for a mild crunch, then add the bitter green leaves to a braise in place of mustard greens or kale. Or, use the whole bunch as an extra-flavorful substitute for romaine in a Caesar salad. Look for escarole in the produce section of your grocery store and at farmers' markets. Tip: Escarole may sometimes be labeled "Batavian endive" or "broad-leaved endive."
See also The 20 Most Powerful Superfoods of the Moment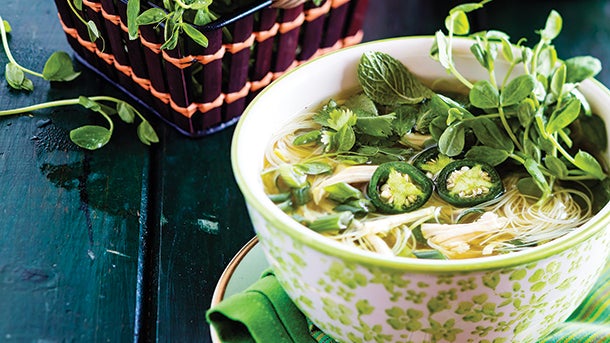 The Recipes
Chicken Pho with Pea Shoots
This flavorful broth-based Vietnamese-style soup is infused with fragrant ginger, garlic and whole spices, then piled high with fresh herbs and delicate pea shoots for a hit of freshness. If your shoots are longer than a few inches, snip them into shorter, bite-size pieces.
Get the recipe.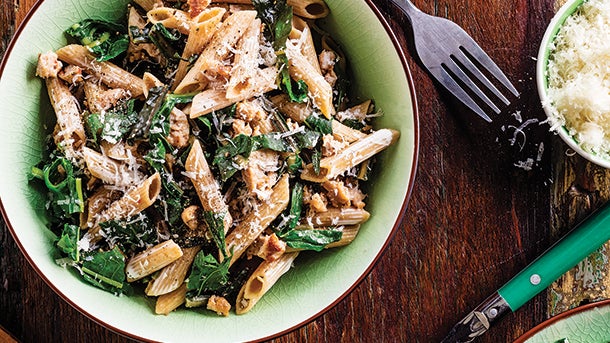 Chicken Sausage Penne with Dandelion Greens
Dandelion greens pack a tasty, bitter punch that is best paired with other bold ingredients that can stand up to its flavor, such as the sharp Parmesan and flavorful sausage in this quick pasta. The leaves mellow as they cook, so hold back some fresh ones to toss in at the end of cooking for an extra kick. Serve with lemon wedges and red pepper flakes.
Get the recipe.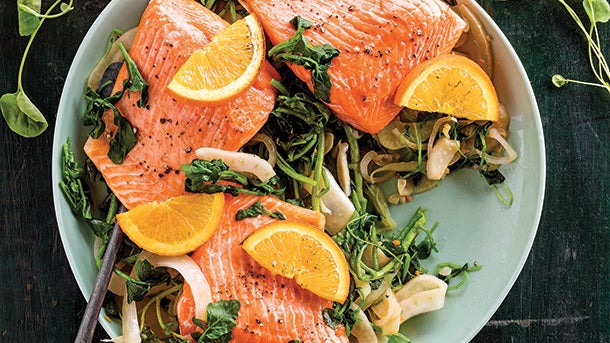 Arctic Char with Watercress, Fennel & Orange Sauté
Sweet sautéed fennel and orange juice mellow the peppery taste of watercress in this company-worthy dish. For the best flavor, add the watercress and orange zest to the sauté at the very last minute. If the sauté is done cooking before the fish, simply take it off the heat and stir in the greens and zest when you're ready to serve. Use clean tweezers to remove the pin bones from the fish, or ask your fishmonger to do it for you.
Get the recipe.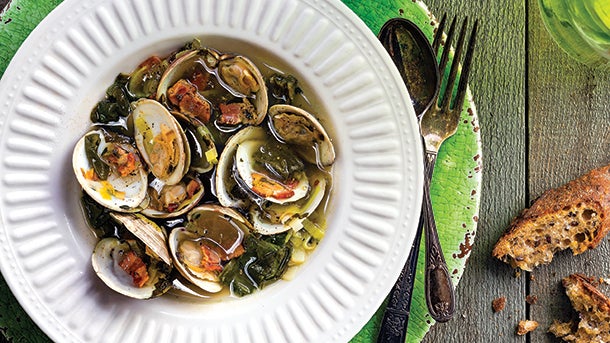 Steamed Clams with Sorrel & Garlic Bread
Sorrel's lemony flavor is a perfect pairing for briny shellfish, such as clams. This recipe easily serves four as an elegant appetizer; to make it a meal, toss the clams and broth with 8 oz (4 cups cooked) whole-grain linguine.
Get the recipe.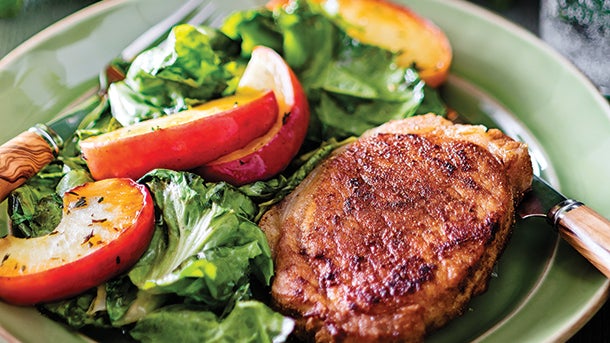 Spice-Rubbed Pork Chops with Escarole & Apple Sauté
Toasting the whole spices and grinding them yourself is the key to this dish's amazingly fragrant flavor. Choose a crisp, firm apple such as Braeburn or Fuji that will hold its shape when cooked with the slightly bitter greens. When prepping the escarole, trim just the very end of the root, keeping as much of the juicy white stem as possible – it's the best part.
Get the recipe.