Aged Cheddar Potato Chips with French Onion Dip
It's hard to believe these addictive, cheesy chips with creamy dip are just 1 gram of fat per serving!
Heading out the door? Read this article on the new Outside+ app available now on iOS devices for members! Download the app.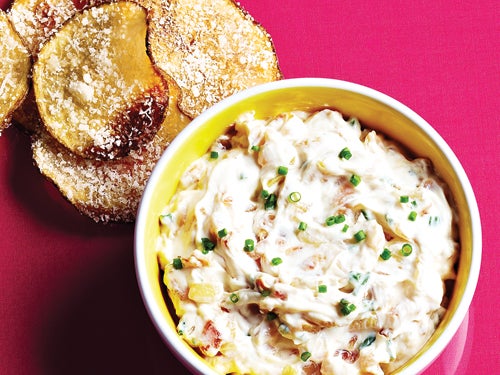 Serves: 6
Hands-on time: 35 minutes
Total time: 35 minutes
INGREDIENTS:

Olive oil cooking spray
2 yellow onions, finely diced
3 Russet potatoes (about 1 1/2 lb), scrubbed well
Sea salt and fresh ground black pepper, to taste
3 tbsp nutritional yeast
3 tbsp grated Parmesan cheese
2 tsp onion powder, divided
1 tsp garlic powder, divided
1 cup plain Greek yogurt
2 tbsp fresh lemon juice
2 tbsp chopped chives
INSTRUCTIONS:

Heat a large skillet on medium. Mist with cooking spray and add onions. Sauté, stirring frequently, until golden brown and caramelized, about 10 minutes. Transfer to a large bowl and set aside until completely cooled, about 20 minutes.
Meanwhile, arrange oven racks on the top and bottom third of oven; preheat oven to 400°F. With a mandoline or food processor with slicing attachment, slice potatoes about 1/8 inch thick. Line 2 large baking sheets with parchment paper and mist with cooking spray. Arrange potatoes in a single layer on sheets and mist with cooking spray. Sprinkle with salt and pepper and transfer 1 sheet to top and 1 sheet to bottom third of oven. Bake, switching tray positions halfway through, until crisp, about 20 to 25 minutes. (Tip: Smaller pieces will cook faster than larger ones. Check occasionally during last 10 minutes of cook time, removing crispy golden chips and allowing remaining chips to cook longer.)
Meanwhile, in a small bowl, combine yeast, Parmesan, 1 tsp onion powder and 1/2 tsp garlic powder. Remove chips from oven and immediately transfer to a large bowl. Add Parmesan mixture and toss until evenly coated. Cover and set aside in a cool, dry place until needed.
To onions, add yogurt, lemon juice, chives and remaining 1 tsp onion powder and 1/2 tsp garlic powder. Season with additional salt and pepper, mix and transfer to a small serving bowl. Serve chips with dip. (Make Ahead: For maximum flavor, prepare dip 1 hour to 1 day before serving; cover and refrigerate.)
Nutrients per serving (1 cup chips and 1/4 cup dip): Calories: 155, Total Fat: 1 g, Sat. Fat: 0.5 g, Carbs: 29 g, Fiber: 3 g, Sugars: 5 g, Protein: 9 g, Sodium: 84 mg, Cholesterol: 2 mg
Nutritional Bonus: Nutritional yeast is one of the only plant-based sources of vitamin B12, a water-soluble vitamin that aids in red blood cell formation and the development of nerve cells. A mere 2 tsp provides 100% of your daily requirement of vitamin B12.
TIP: The secret ingredient behind these bold and cheesy chips is nutritional yeast, an inactive yeast that's often used as a non-dairy cheese substitute. Nutritional yeast can be found in health-food stores, bulk stores and the organic section of many grocery stores. With virtually no fat, it's a perfect CE-approved cheese powder substitute. And always use Russet potatoes – their high starch and low moisture content helps them bake extra crispy.