Easy Sheet Pan Meals
Cook a clean, healthy meal—and avoid the dreaded dish washing—by using this collection of easy sheet pan dinners.
Heading out the door? Read this article on the new Outside+ app available now on iOS devices for members! Download the app.
Sheet-Pan Dijon-Glazed Chicken & Roasted Vegetables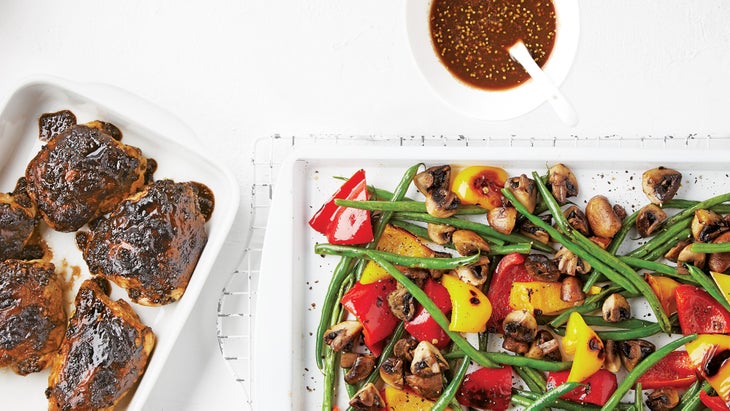 Covered with a tangy glaze, these chicken thighs stay juicy as they roast. And with just two pans to wash, you get a break on the dishes.
>> Get the recipe here.
Sheet-Pan Steak Fajitas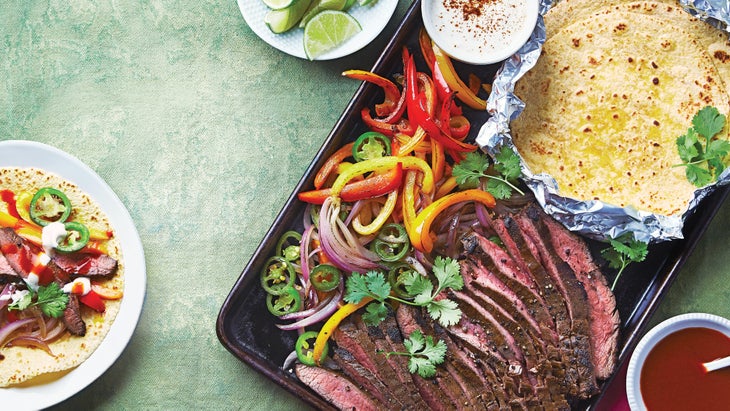 To build quality muscle mass, adding high-quality lean protein to your diet is essential. These sheet-pan fajitas are not only high in protein, but they are low in effort. You can prepare everything before you hit the gym, then arrange it on a sheet pan, broil, and eat.
>> Get the recipe here.
Sheet Pan Dijon Balsamic Chicken & Veggies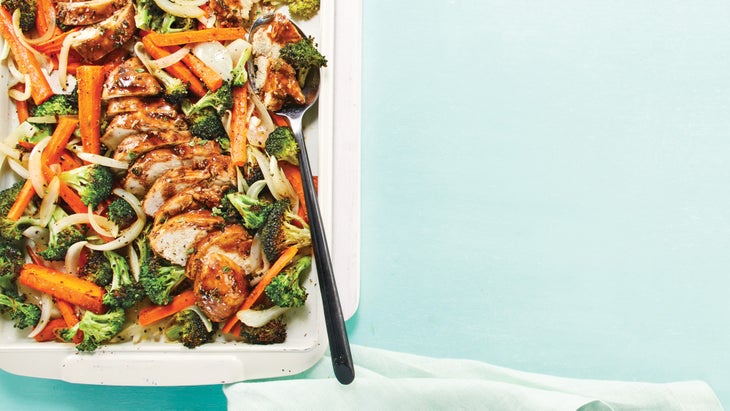 A sheet pan is one of the best tools for an easy weeknight dinner. Pile your ingredients onto it, toss it in the oven, and in under 45 minutes you will have a healthy and delicious meal.
>> Get the recipe here.
Margherita Sheet Pan Quiche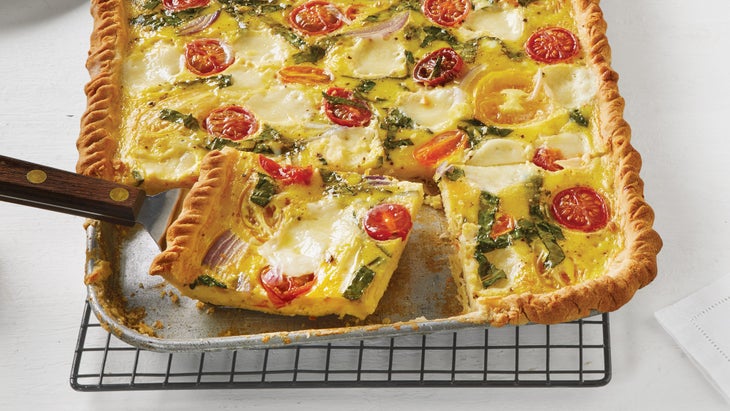 This pizza Margherita-style egg dish uses a sheet pan for faster cooking and a contemporary take on the traditional quiche. Using store-bought crusts makes this recipe super fast, but you can swap out homemade or use gluten-free crusts instead.
>> Get the recipe here.
Balsamic Cherry Pork Tenderloin with Crispy Asparagus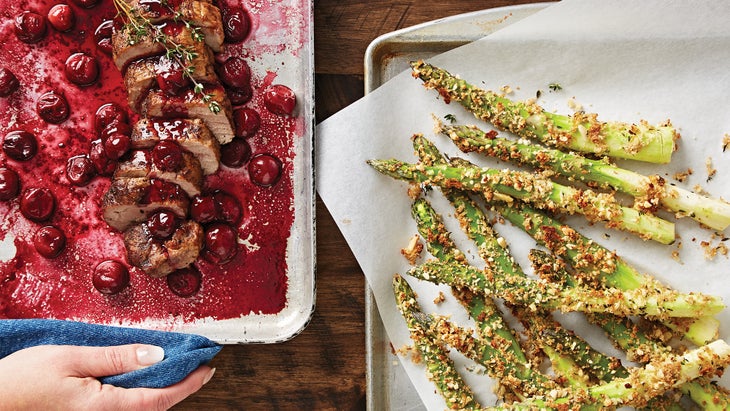 Balsamic vinegar adds a heady hit of sweet-and-sour flavor to the cherries and keeps this sauce on the savory side. Pork tenderloin has a thin end that cooks faster than the rest of the roast; to keep it from overcooking, simply tuck it under so that the tenderloin is the same thickness throughout.
>> Get the recipe here.
Barbecue Chicken Drumsticks with Roasted Brussels Sprouts & Carrots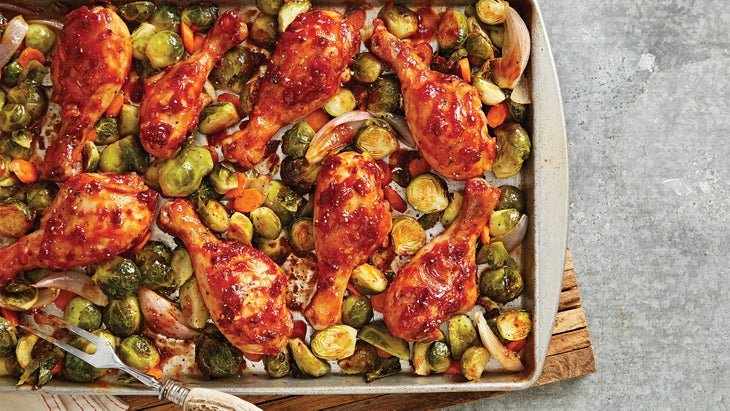 A five-ingredient barbecue sauce gives oven-baked drumsticks fresh-from-the-grill flavor. When using tomato-based ingredients, such as ketchup, use nonreactive bowls and cookware made from stainless steel, glass or ceramic.
>> Get the recipe here.
Sheet Pan Pizza with Fingerlings & Gorgonzola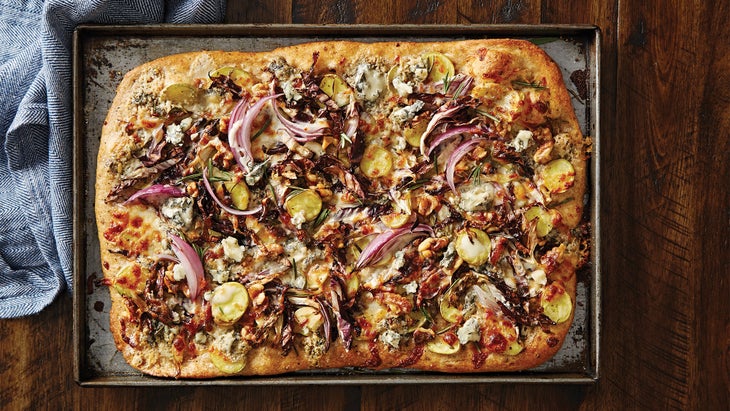 Small, knobby fingerling potatoes have a thin, delicate skin, so there's no need to peel them. If you can't find fingerlings, substitute with baby potatoes instead. Be sure to remove the dough from the fridge about 30 minutes ahead; this makes it much easier to handle. Don't worry if it seems like there's a lot of radicchio; it shrivels as the pizza bakes.
>> Get the recipe here.
Chicken Parmesan with Cheesy Eggplant Stacks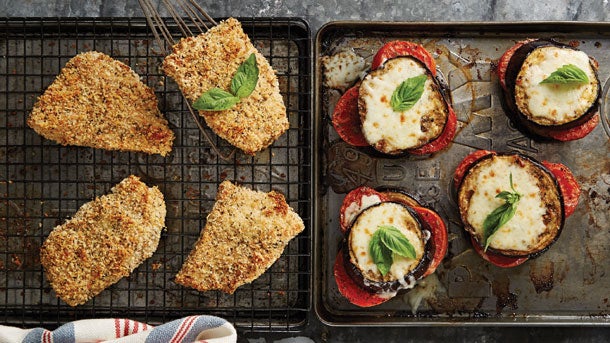 Baking the panko-crusted chicken on a wire rack lifts it away from the cooking juices, keeping the crust from getting soggy. Our eggplant stacks taste just as good as traditional eggplant Parm – but they're ready in a fraction of the time!
>> Get the recipe here.
Caper Butter Halibut with Roasted Asparagus & Baby Potatoes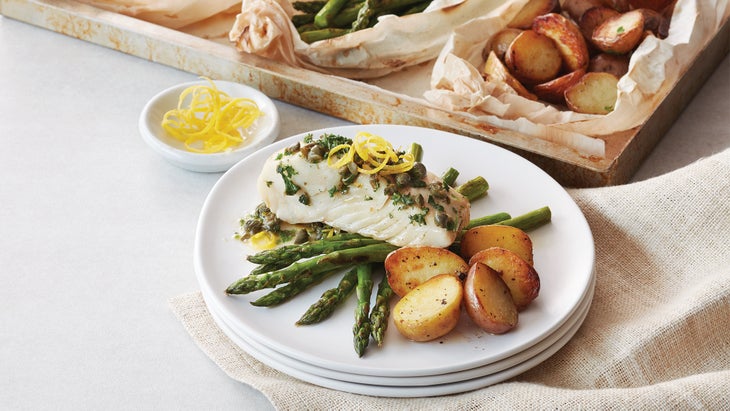 Halibut is high in protein and cooks quickly in parchment paper, making this an ideal clean dinner recipe for busy weeknights.
> Get the recipe here.
Related: