11 Hearty Portobello Mushroom Recipes
Whether you are a looking for a meat substitute, or just want to lighten up your meals, consider Portobello mushrooms. Portobellos are our go-to for burgers, sandwiches and other meal-sized dishes.
Heading out the door? Read this article on the new Outside+ app available now on iOS devices for members! Download the app.
Technically, an overgrown cremini mushroom, portobellos have an array of vitamins and minerals. Plus, they are rich in antioxidants and anti-inflammatory properties, are low in fat and high in fiber. One cup of portobellos only contains 3 grams of protein, though, so you'll have to find ways to boost the protein in your dish. Here are some of our favorite recipes that highlight these fabulous fungi.
Stuffed Portobello Mushrooms with Pesto
These meaty mushrooms are filled with a quick DIY pesto, garden veggies and goat cheese for a healthy meal with a Mediterranean vibe.
>> Get the recipe here.
Stuffed Portobello Mushroom Salad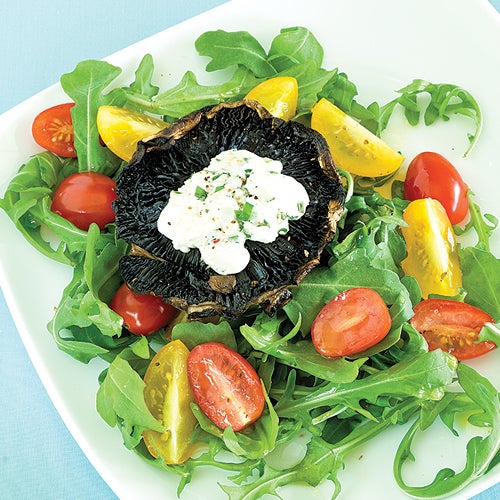 Portobello mushrooms are an excellent source of niacin, the B vitamin needed to transform carbs into energy. Plus, they're rich in selenium and potassium – the latter is an essential mineral that helps regulate blood pressure and water balance in your body.
>> Get the recipe here.
Portobello Mushroom Burger with Marinara Sauce & Provolone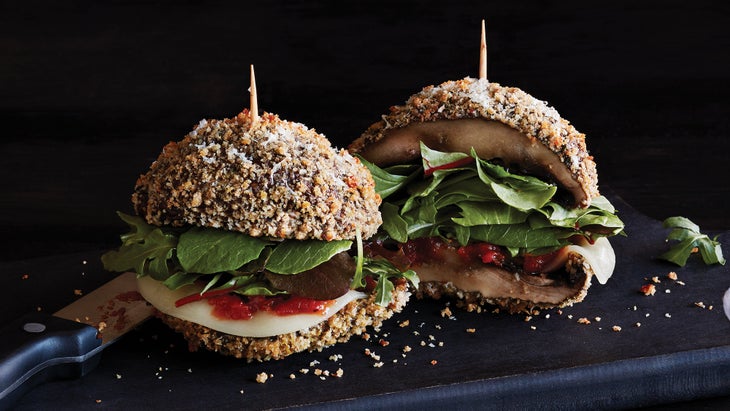 Portobello mushrooms have a meaty texture that makes them a stellar swap for beef patties in veggie burgers. But here's the trick: We've actually used the mushroom caps as the bun, then filled the middle with warmed marinara sauce, provolone and fresh, crisp greens.
>> Get the recipe here.
Salmon Artichoke-Stuffed Portobello Mushrooms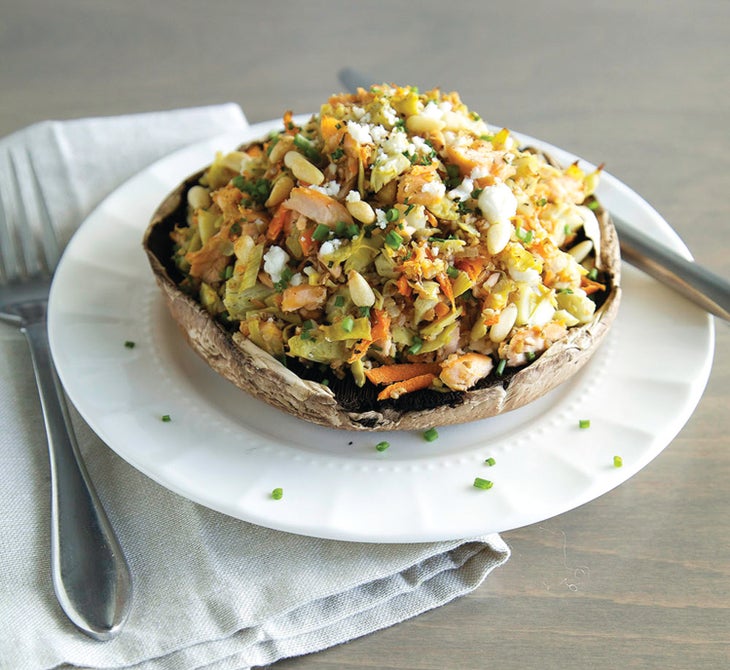 Roasted portobello mushrooms stuffed with artichoke hearts, salmon and bulgar create a hearty and delicious main dish.
>> Get the recipe here.
Mushroom Barley Risotto with Roasted Portobello Steaks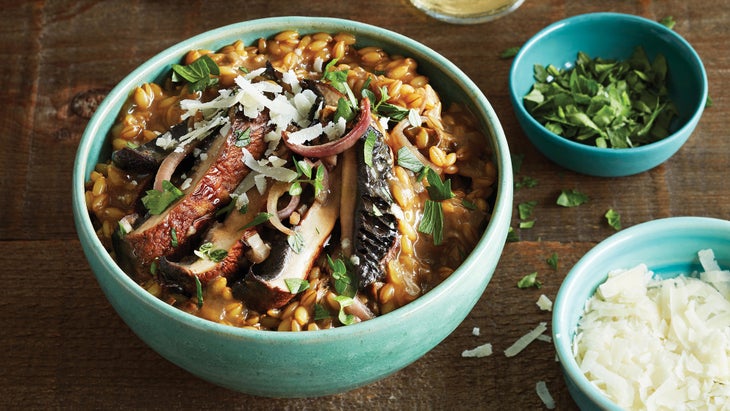 When you cook hulled barley – also called whole-grain barley – in a pressure cooker, you don't have to soak it beforehand, which cuts down on prep time. It also makes the barley tender and creamy without all the stirring you usually have to do to make risotto on the stove top.
>> Get the recipe here.
Overflowing Stuffed Portobellos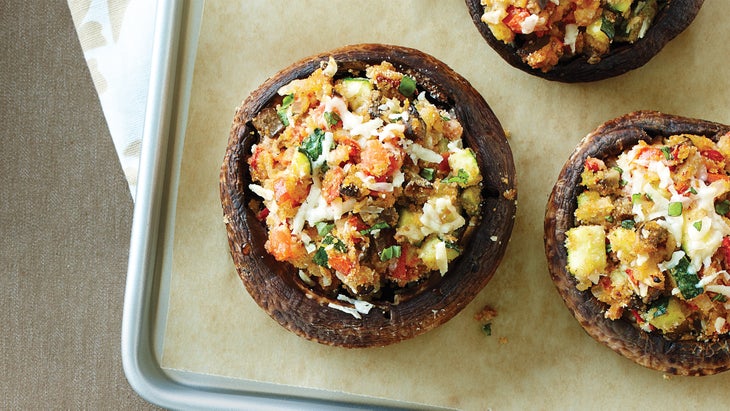 A love for portobello burgers inspired this reader to find other ways to incorporate the meaty mushroom into her cooking. Her portobello mushroom recipe is filling enough to be eaten as a full meal!
>> Get the recipe here.
Grilled Portobello Burgers with Blue Cheese & Creamy Dijon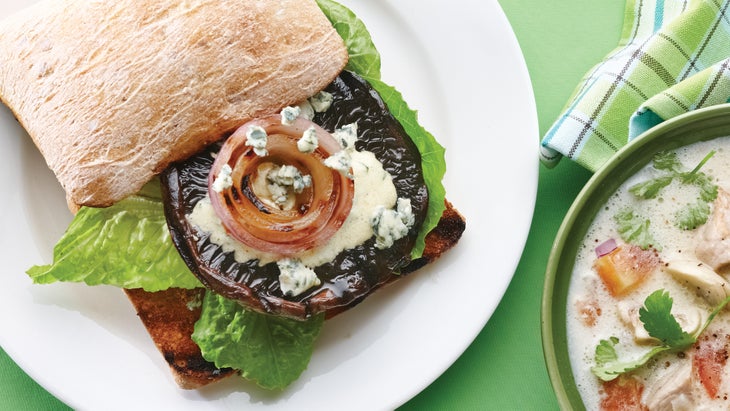 With their meaty texture, portobellos make ideal vegetarian burgers and sandwich fillers. You may be surprised to learn that portobellos (cappellone, or "big hats," in Italy) are actually oversized cremini mushrooms.
>> Get the recipe here.
Grilled Turkey & Sun-Dried Tomato Stuffed Mushrooms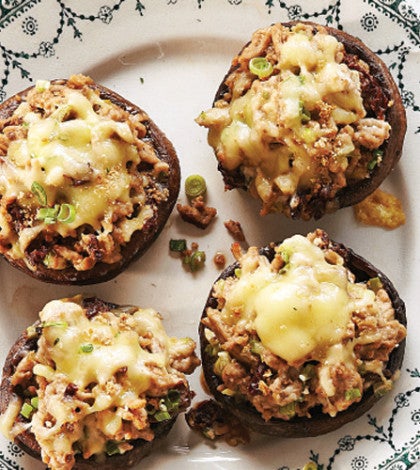 Hearty enough for a meal, these super-stuffed portobello mushrooms are packed with a flavorful turkey, goat cheese and sun-dried tomato mixture and topped with melted Swiss cheese.
>> Get the recipe here.
Stuffed Mushrooms Alfredo with Zucchini & Spinach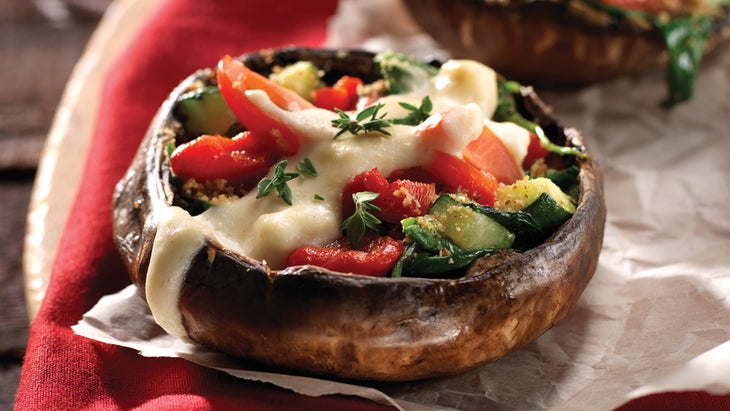 A rich, velvety alfredo sauce is the star of these veggie-packed stuffed mushrooms.
>> Get the recipe here.
Caramelized Onion & Blue Cheese Burgers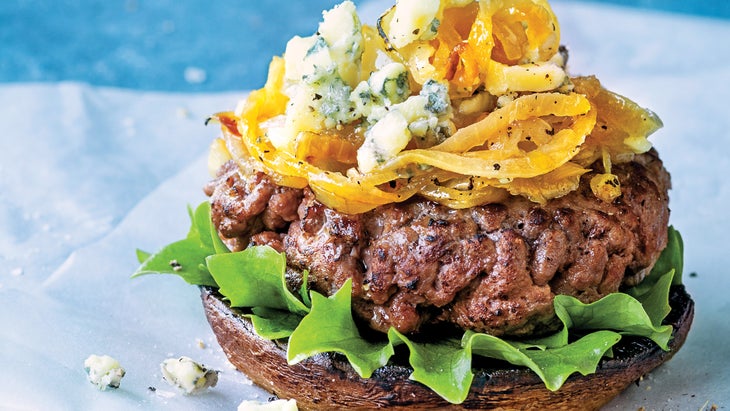 Dig into these fully loaded burgers with caramelized onions and blue cheese served on portobello mushroom caps.
>> Get the recipe here.
Miso, Almond & Mushroom Soba Noodle Bowls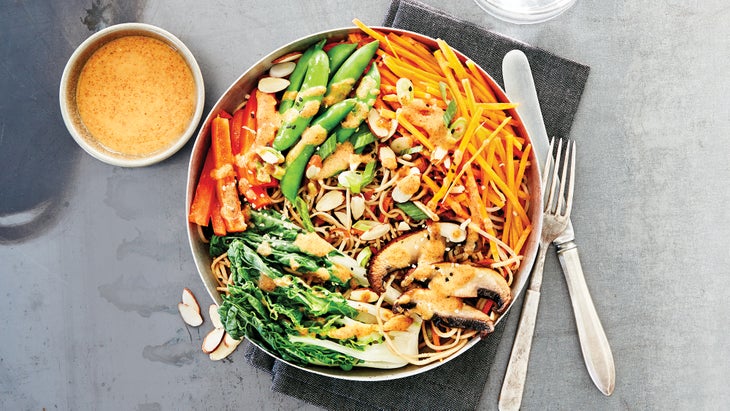 You won't miss the meat in these Asian-style bowls, thanks to a generous dose of satisfying umami, a savory, meat-like taste found in mushrooms and miso paste.
>> Get the recipe here.
Bonus: How to Prep Portobello Mushrooms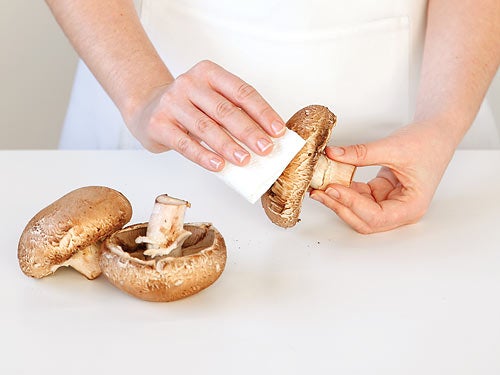 A useful approach to prepping your mushrooms and not letting anything go to waste!
Read more here.