20 Avocado Recipes for Every Meal
Creamy avocados are major players when it comes to providing healthy, good-for-you fats. Here are a ton of tempting recipes for you to try today.
Heading out the door? Read this article on the new Outside+ app available now on iOS devices for members! Download the app.
As we near the end of peak avocado season (February through September), we thought we'd share our favorite avocado recipes to help you celebrate this nutty-tasting, heart-healthy fruit. From dressings to toasts we've got you covered.
Avocado Lime Dressing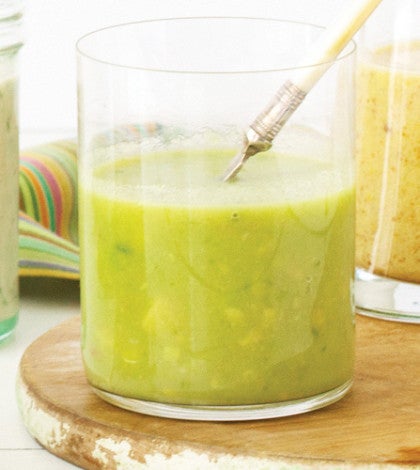 Try this avocado lime dressing drizzled over iceberg lettuce, black beans, sweet corn and roasted sweet potatoes.
Get the recipe here. 
Toast with Smashed Avocado & Smoked Salmon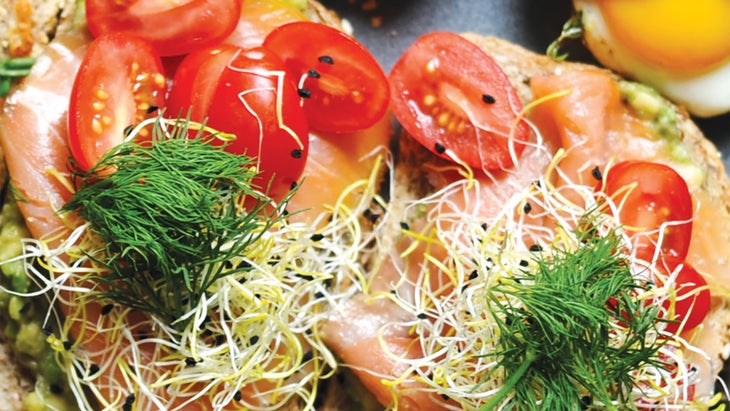 Smashed avocado steps in for cream cheese and is a decadently creamy base for smoked salmon and herbaceous dill.
Get the recipe here.
Avocado Egg Salad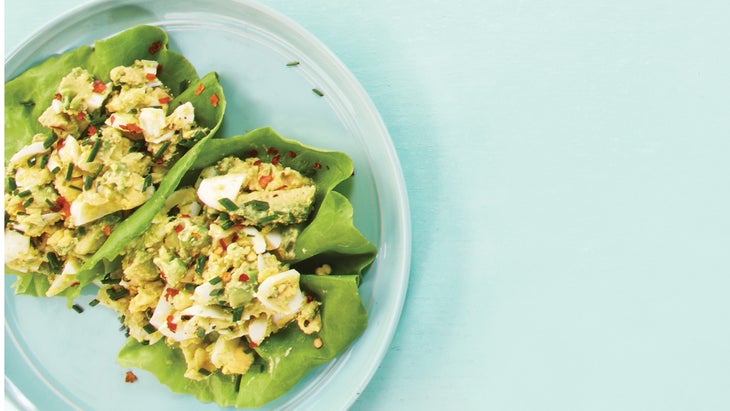 Get the recipe here. 
Avocado Pesto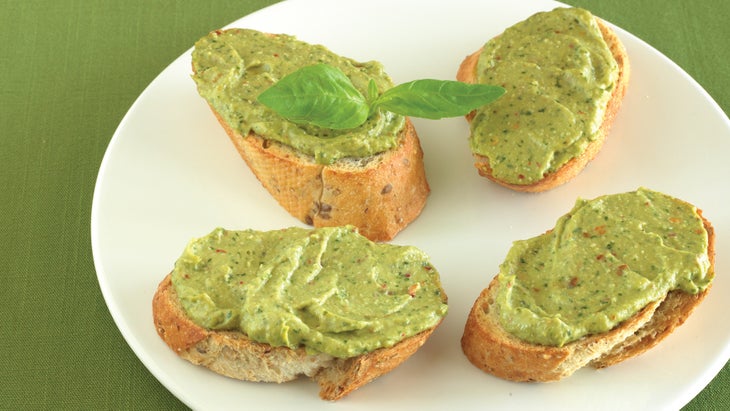 Get the recipe here. 
Arame Avocado Salad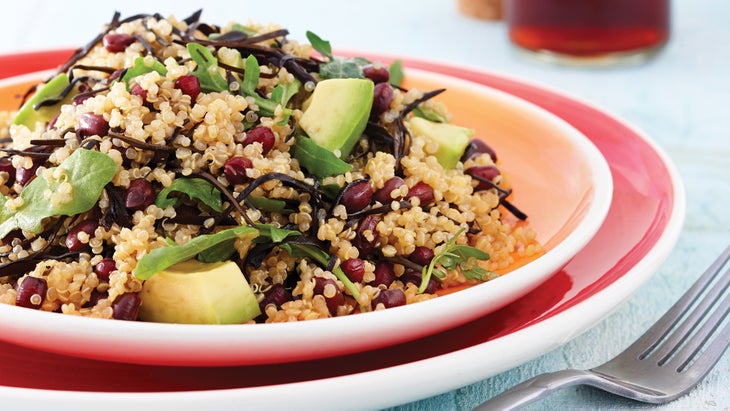 This delicious, plant-based recipe includes sea vegetables, local produce and healthy, filling grains. Naturally full of iodine, vitamin C, manganese and vitamin B2, seaweed is a clean eater's best friend!
Get the recipe here. 
Avocado Fries with Creamy Chipotle Dipping Sauce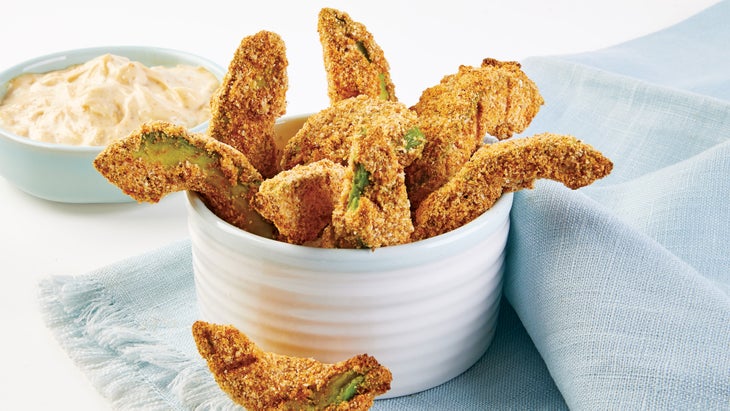 While you can't have conventional deep-fried French fries during the Whole30 challenge, you can have these heart-healthy wedges. Whether you prefer to bake or fry them, both options are compliant.
Get the recipe here.
Taco-Stuffed Avocado Boats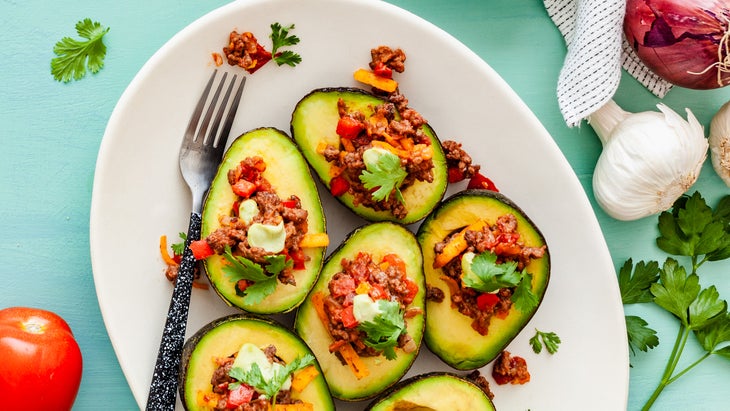 Avocado is the star ingredient of these tacos. Just substitute avocados for taco shells for the perfect low-carb taco. Load with ground beef, cheese, and a dollop of sour cream and you have a delicious lunch or dinner.
Get the recipe here.
Grilled Lemon Chicken & Avocado with Shishito Peppers & Lemon Crema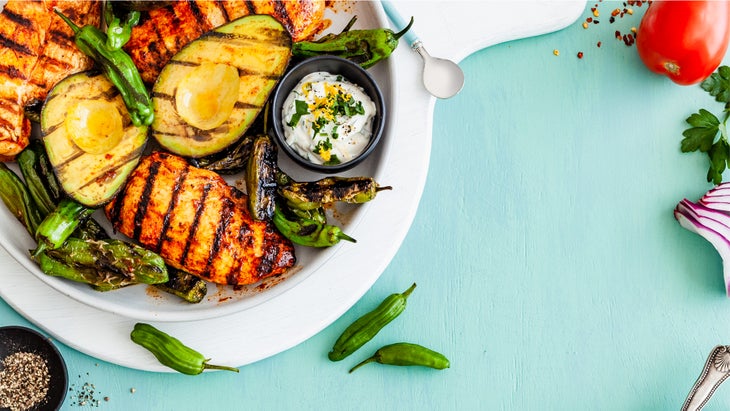 If you aren't grilling avocados, you are missing out! Grilling avocados makes them creamy and smokey, and serving them with grilled chicken breasts and shishito peppers makes a satisfying meal.
Get the recipe here. 
Chile-Glazed Salmon with Avocado Salsa & Mexican Cauli-Rice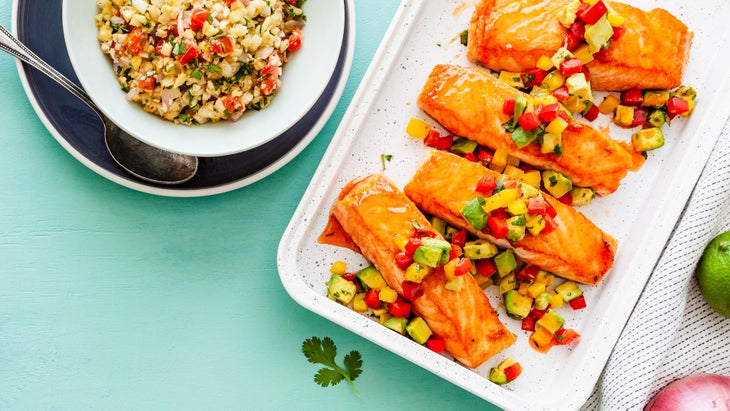 Honey and sriracha glaze gives the salmon an amazing sweet and spicy flavor. The avocado salsa is the perfect finish for this fast and easy dinner.
Get the recipe. 
Chunky Cucumber Avocado Gazpacho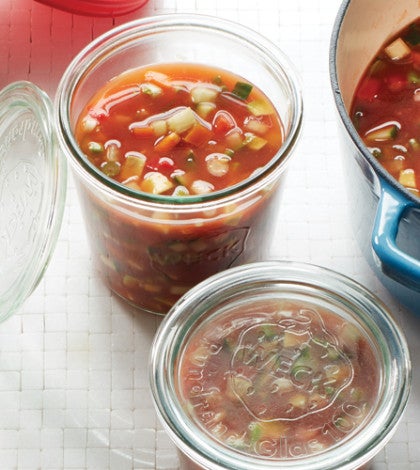 Cold soups are the perfect lunch or quick dinner during the blistering summer months as they satisfy your need to cool down. They can be made in large batches and stored for an easy lunch or a perfectly planned picnic.
Get the recipe here. 
Pita Paninis with Tuna, Sprouts, Zucchini & Avocado Cream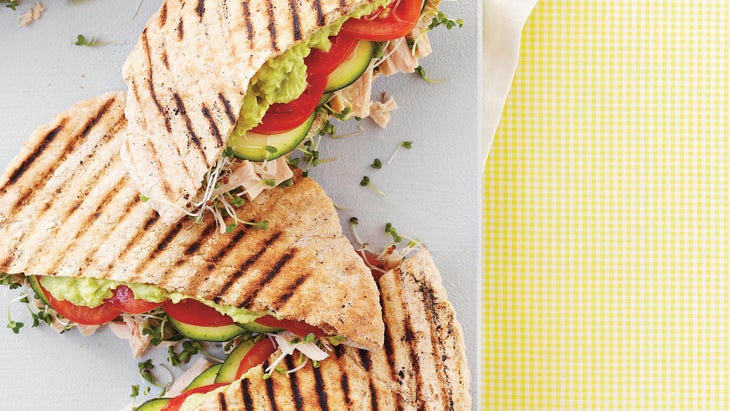 These loaded paninis, or "little breads" in Italian, don't require a panini press – a toaster oven and a quick press with your hand works, too. Alternatively, you can heat the pitas on a grill pan with another pan over top for pressure to get those signature grill marks.
Get the recipe here. 
Wakame Avocado Purée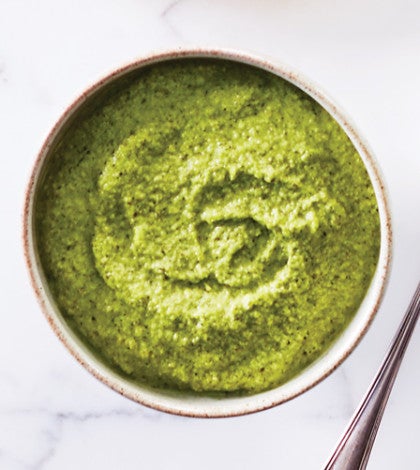 For intense wakame flavor, try this easy, one-step sauce. You can also use it to top steak, chicken or tofu.
Get the recipe here. 
White Bean & Roasted Red Pepper Toasts with Avocado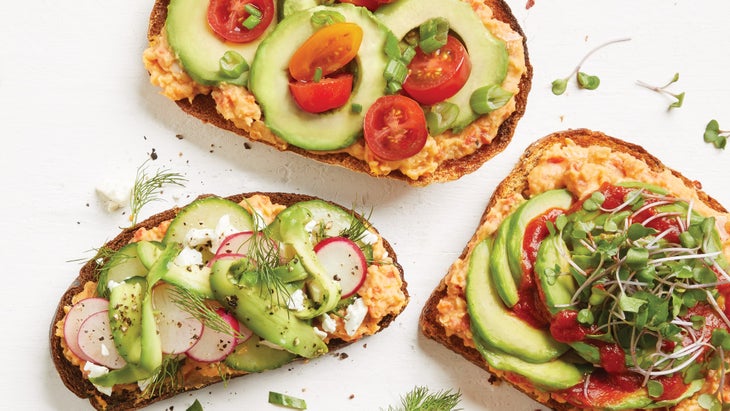 Get the recipe here.
Grilled Jalapeño Corn Cakes with Black Bean & Avocado Relish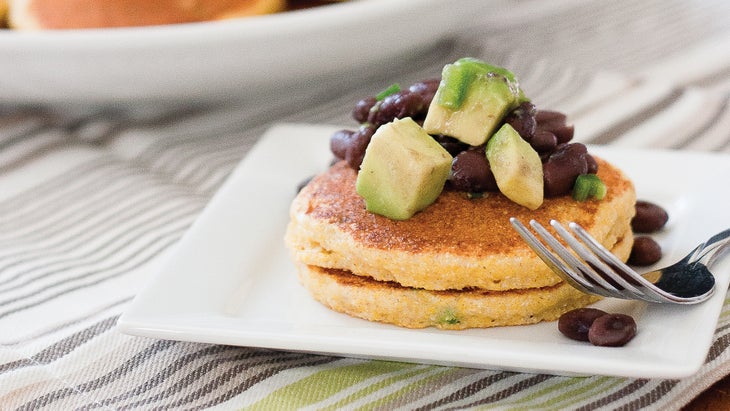 These quick and easy corn cakes make a protein-packed veggie dinner.
Get the recipe here. 
Avocado Hummus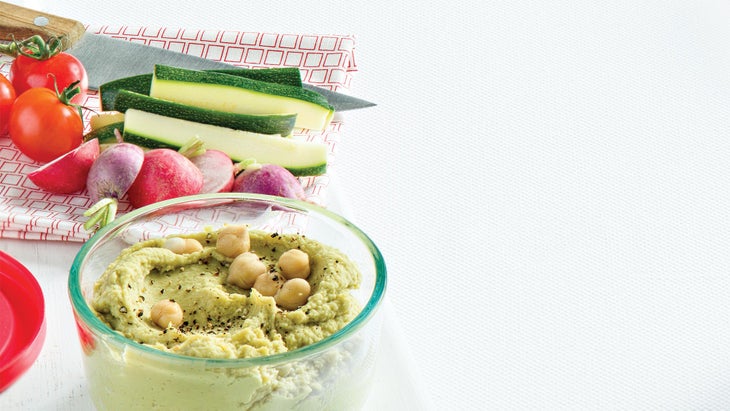 This hummus uses avocado in place of tahini for an extra-velvety spin on everyone's favorite dip. For best results, use Hass avocados, which are the creamiest variety.
Get the recipe here. 
Chilled Corn Soup with Shrimp, Avocado & Tomato Relish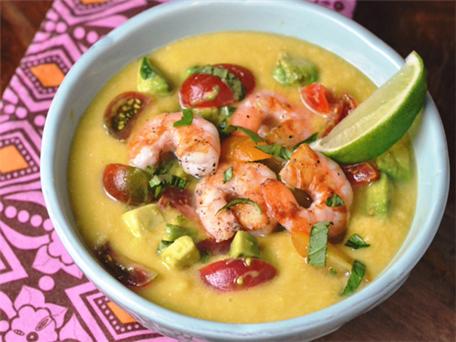 This cool, colorful soup is the perfect way to celebrate summer's best sweet corn and plump grape tomatoes.
Get the recipe here. 
Chipotle Beet Bean Burgers with Lemon Avocado Sauce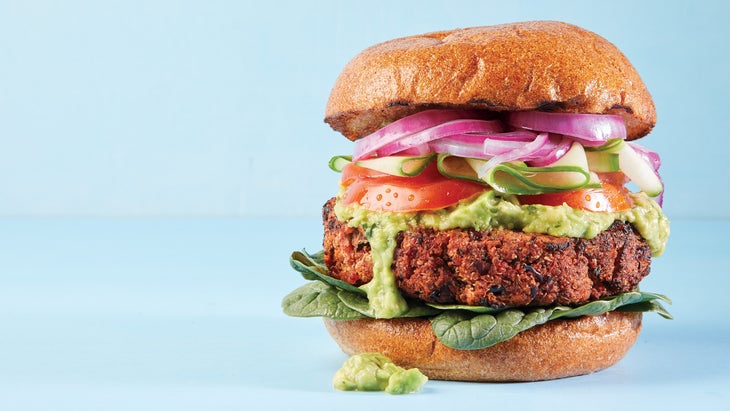 Prep these vibrantly colored veggie patties on Sunday, then simply heat them up during the week. Serve on buns or in lettuce wraps with our speedy Lemon Avocado Sauce smothered over top.
Get the recipe here. 
A Better Avocado Toast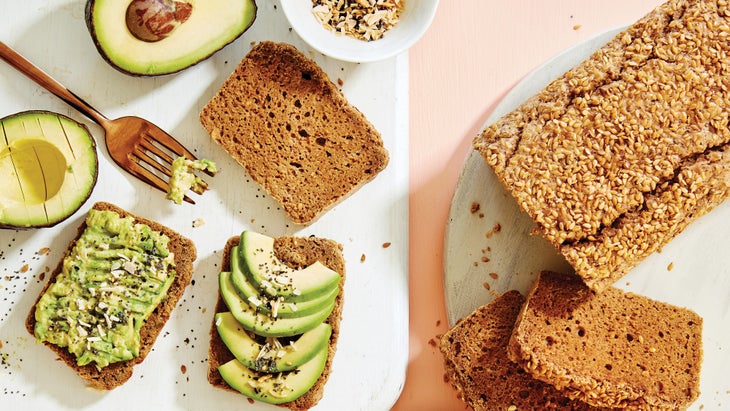 Yes, you can still have avocado toast on keto – if you use our low-carb loaf made with nut butters and coconut flour. The leftover bread is delicious toasted and buttered, for sandwiches or made into French toast.
Get the recipe here. 
Avocado Lime Frozen Yogurt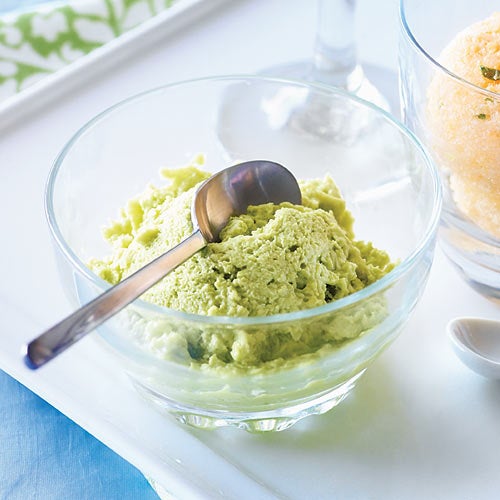 With only five ingredients and a pinch of sea salt, this savory-sweet frozen yogurt is a decadent yet healthier take on a classic chiller. Avocados lend an extra dose of creamy texture, while skim milk and low-fat yogurt ensure it tastes fattier than it actually is.
Get the recipe here. 
Farro & Chickpea Cakes with Avocado "Aioli" and Cherry Tomatoes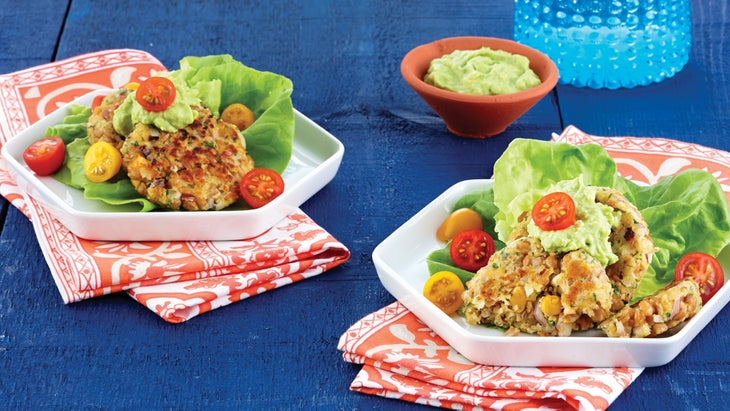 The farro for this deliciously crispy crab cake-like dish is purposely a little overcooked and sticky to help the cakes hold their shape during cooking. An avocado aioli-style sauce and tomatoes on top add creaminess, brightness .
Get the recipe here.