The Summer's Best Berries
From familiar berries like strawberries and raspberries to intriguing varieties like gooseberries and kiwi (yes, kiwi are berries, too!), we've got everything you need to know about selecting, working with and cooking with in-season berries.
Heading out the door? Read this article on the new Outside+ app available now on iOS devices for members! Download the app.
Kiwi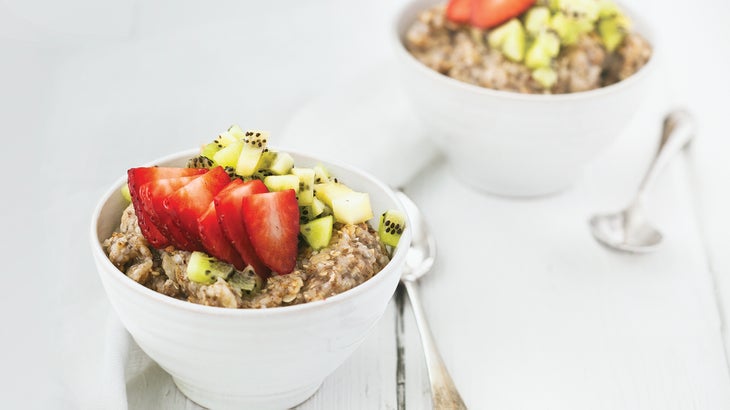 You might be surprised to learn that kiwi is a berry – we were! Mellow, creamy, with a green flesh beneath its brown, fuzzy skin, kiwi are best purchased hard and allowed to ripen on your countertop; they're ready when they give slightly when pressed. In Season: Year-round (October to May is peak season).
Try: Pair them with tropical fruits such as mango and pineapple (try a tropical fruit salad); they make a great salsa on chicken or fish; and we love them as a creative addition to veggie sushi.
A BOON TO YOUR TICKER: Kiwi contain several nutrients that are key to protecting your heart, including antioxidant vitamin C, and potassium, a mineral that helps lower blood pressure.
Get the recipe: Hot 'n' Creamy Buckwheat & Oats with Kiwi
Blackberries
Slightly acidic and bursting with juice, look for blueberries ranging in color from deep blue to purple and black. They should be plump and firm. In season: May to September.
Try: Combine with other berries, mild cheeses, meats such as pork and poultry, in salads and mixed with stone fruits in crisps and crumbles.
GET YOUR FIBER FIX: Blackberries are an excellent source of fiber, a key nutrient for maintaining healthy blood sugar levels and keeping you feeling full.
Get the recipe: Grilled Fontina & Blackberry Sandwiches
Blueberries
These gems have a mellow flavor with some tartness and acidity. Since they do not continue to ripen after harvest, pick ones that are plump and blue (no red or white). In season: April to September.
Try: Bake into quick breads or muffins or cook into a sauce; top your salad with them or blend them into a dressing (try our Kale Salad with Blueberry Ginger Dressing).
BRAIN BOOSTER: The antioxidants in blueberries called anthocyanins have been shown to help prevent cognitive decline.
Get the recipe: Blueberry Cornbread Muffins with Cornmeal Streusel
Try some more of our clean berry recipes below!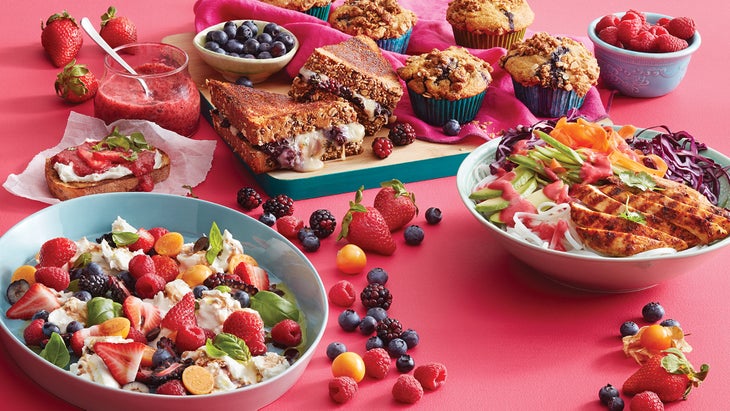 Raspberries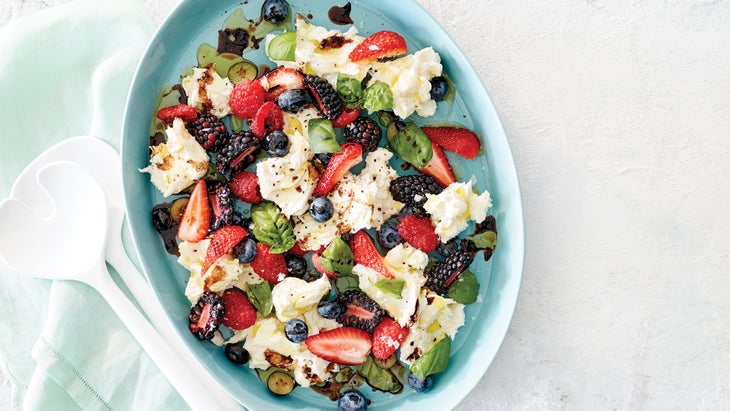 A delicate berry, sweet and slightly tart, raspberries should be bright red in color, plump and have no dents or bruises. In season: May to November.
Try: In smoothies and sauces, with chocolate and as a natural sweetener alongside other fruits. We love them on a cheese plate with honey and goat cheese.
FLAVANOLS TO THE RESCUE: Raspberries have an array of antioxidants, including quercetin and kaempferol, flavonols that prevent oxidative damage including damage to your DNA. Quercetin is also being studied for its role in regulating inflammation in the body.
Get the recipe: Mixed Berry Burrata Salad
Strawberries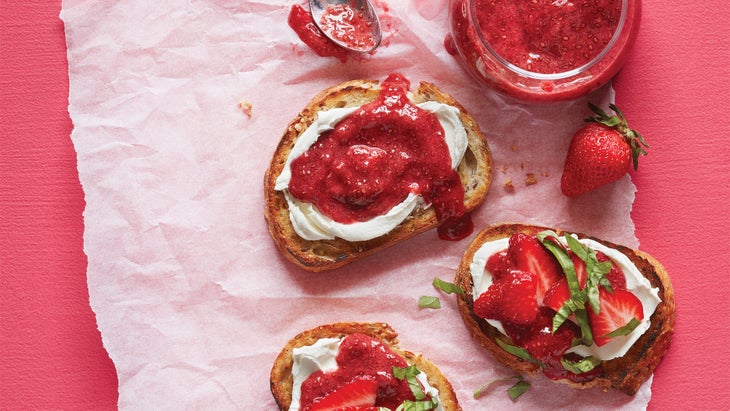 These berries have it all: sweetness, tartness, juiciness and acidity. Most varieties are sweetest when they're a deep, dark red and the flesh gives a tiny bit when touched. The tops should be dark green and look fresh, not brown or wrinkled. In season: April to June.
Try: Roast or sauté strawberries then drizzle with aged balsamic; make a savory strawberry salsa with basil, mint or cucumber; blend with any type of milk for a pink berry milk.
IMMUNE SUPPORT: Strawberries are one of the best sources of immune-boosting, free radical–fighting vitamin C.
Get the recipe: Strawberry Chia Seed Jam
Cape Gooseberries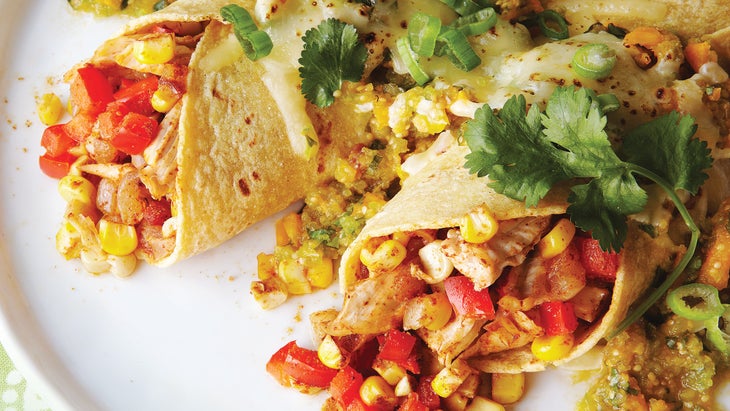 Cape gooseberries are a small, round golden berry with a papery outer layer. Most liken the flavor of gooseberries to that of a sour grape, which is why they are often used in desserts with added sweeteners. In season: June to early August (most widely available in June).
Try: Add them to tarts, pies and cobblers. Try our savory cape gooseberry salsa with grilled corn and chicken enchiladas (recipe below).
HEALTHY EYESIGHT: Rich in the carotenoid beta-carotene, which your body converts to vitamin A, cape gooseberries can help maintain healthy eyesight, including helping to prevent cataracts.
Get the recipe: Chicken Enchiladas with Corn & Cape Gooseberry Salsa
Grapes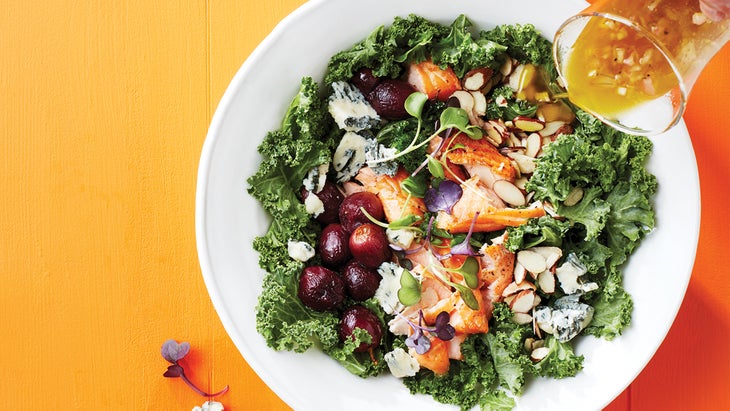 Grapes are berries that grow on a woody vine in clusters. Ranging in flavor from tart to super sweet, grapes are a versatile fruit. Along with being a great afternoon snack, grapes are most commonly used for making jams, jellies and juices and dried as raisins. In Season: Year-round (July to September is peak season).
Try: Roast and serve with poultry, on crostini or in salads. Even frozen grapes can be a delicious treat in the late summer.
KEEP YOUR BLOOD SUGAR IN CHECK: Grapes are considered a low-glycemic food, which means that while they taste sweet, they don't cause your blood sugar to spike quickly. We suggest opting for organic varieties since conventional ones can contain high amounts of residual pesticides.
Get the recipe: Roasted Grape and Salmon Kale Salad with Cider Maple Vinaigrette & Gorgonzola