Need More Energy? Your 1-Week High-Energy Meal Plan Will Deliver the Nutrients You Need
Feel refreshed with this eat-clean meal plan that is free from gluten, dairy and processed sugar. Plus, it's loaded with lean proteins like chicken, salmon, nuts and eggs to keep energy high and hunger at bay.
Heading out the door? Read this article on the new Outside+ app available now on iOS devices for members! Download the app.
If you feel like you don't have enough energy to get through the day, it's hard to even glance at your to-do list. From fogginess to afternoon crashes to slow morning starts, finding the energy you need to get up and go isn't always easy. However, it might not be a lack of sleep that's to blame for your lower-than-usual energy levels. Often, sluggishness and sleepiness can be signs of a lack of key nutrients in your diet. And while key vitamins and minerals, like B vitamins, can deliver a dose of energy, you may need to revamp your diet and choose your foods a bit more intentionally to ramp your energy back up. The easiest way to do this? Our 1-week high-energy meal plan.
This seven-day plan will have you covered from breakfast to dinner (with snacks!), with recipes that are centered around energy-boosting ingredients. From lean protein to fiber to all of the essential vitamins and minerals you need on a daily basis, each meal includes the key items you need for high-energy days. And without the addition of excess sugar, these meals will help you prevent that much-dreaded afternoon crash and sleepiness.
This meal plan averages 1,610 calories a day. Need to adjust the calorie intake for your nutritional needs? You can always change up ingredients or alter our suggested snacks to suit your personal preferences or eating approach. And if you're cooking for a crowd, you can double the recipes too. Just keep the key principles of this 1-week high-energy meal plan in mind: Plenty of protein to keep hunger at bay and all the fiber you need to keep your body running at its best. Plus, we've included plenty of fresh ingredients so you can take advantage of what's available at your local grocery store or favorite farmers' markets. At the end of the week, this meal plan is going to have you feeling fresh and fully energized!
Section divider
The recipes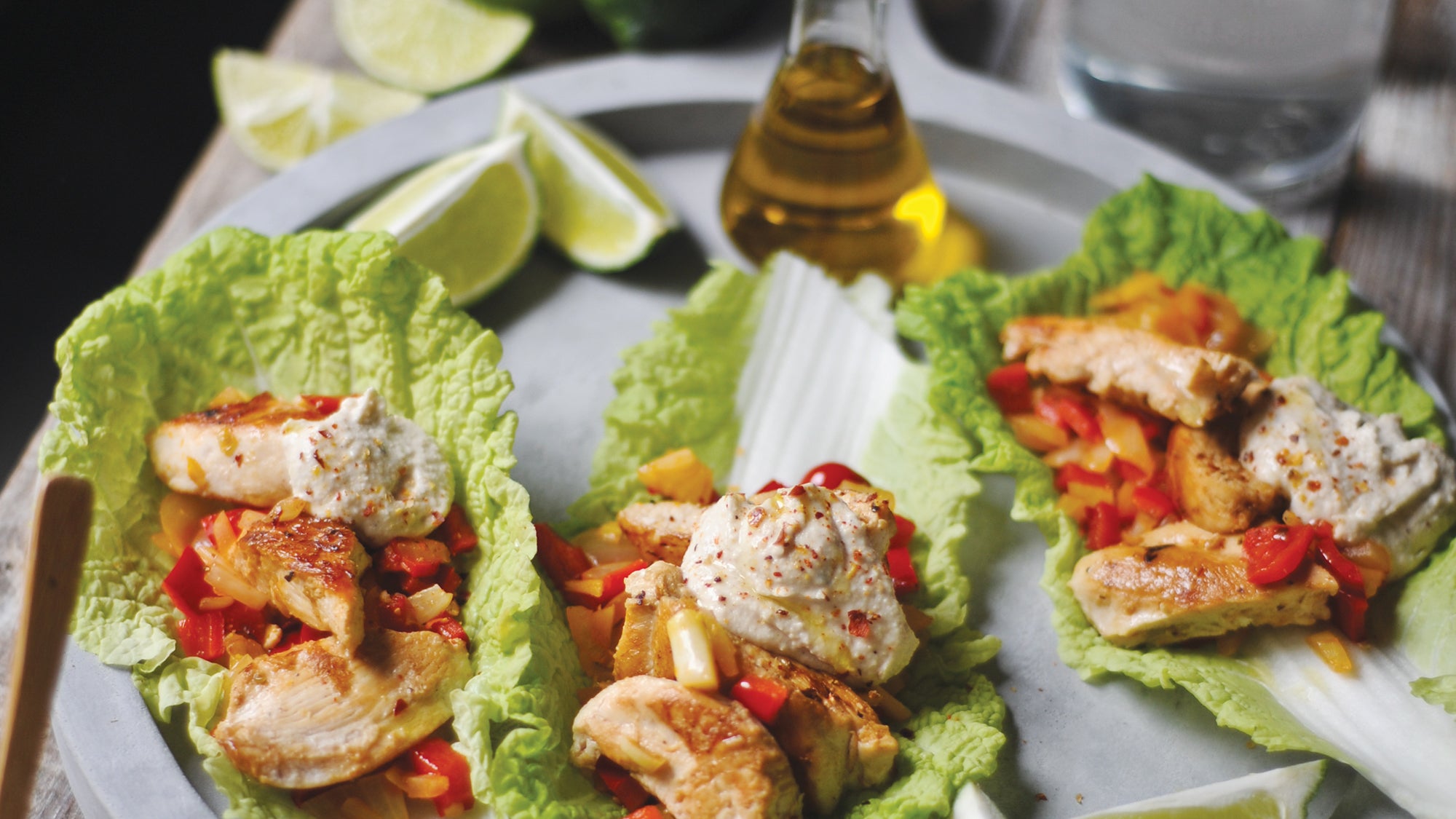 Zesty chicken sits inside crunchy Swiss chard leaves in this fajita recipe. And don't forget a big dollop of sour cream which we've remade into a lighter, dairy-free version. Get the recipe here.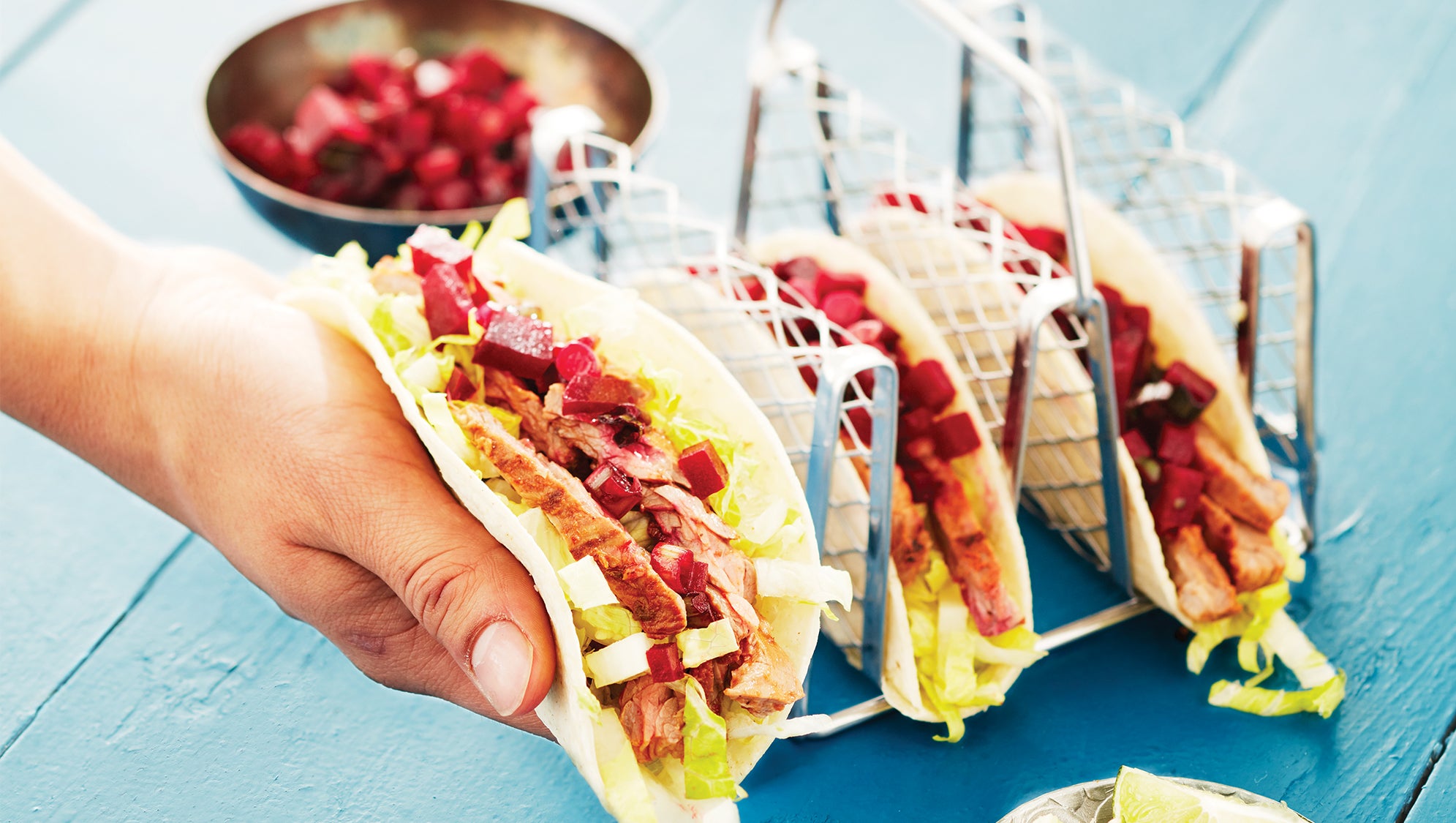 Red beet and chile pepper salsa makes for a striking and flavorful topper on these oregano and sriracha–marinated steak tacos. Because this salsa requires a little baking time to cook the beet, you can make it entirely up to 1 day in advance and refrigerate until serving. Get the recipe here.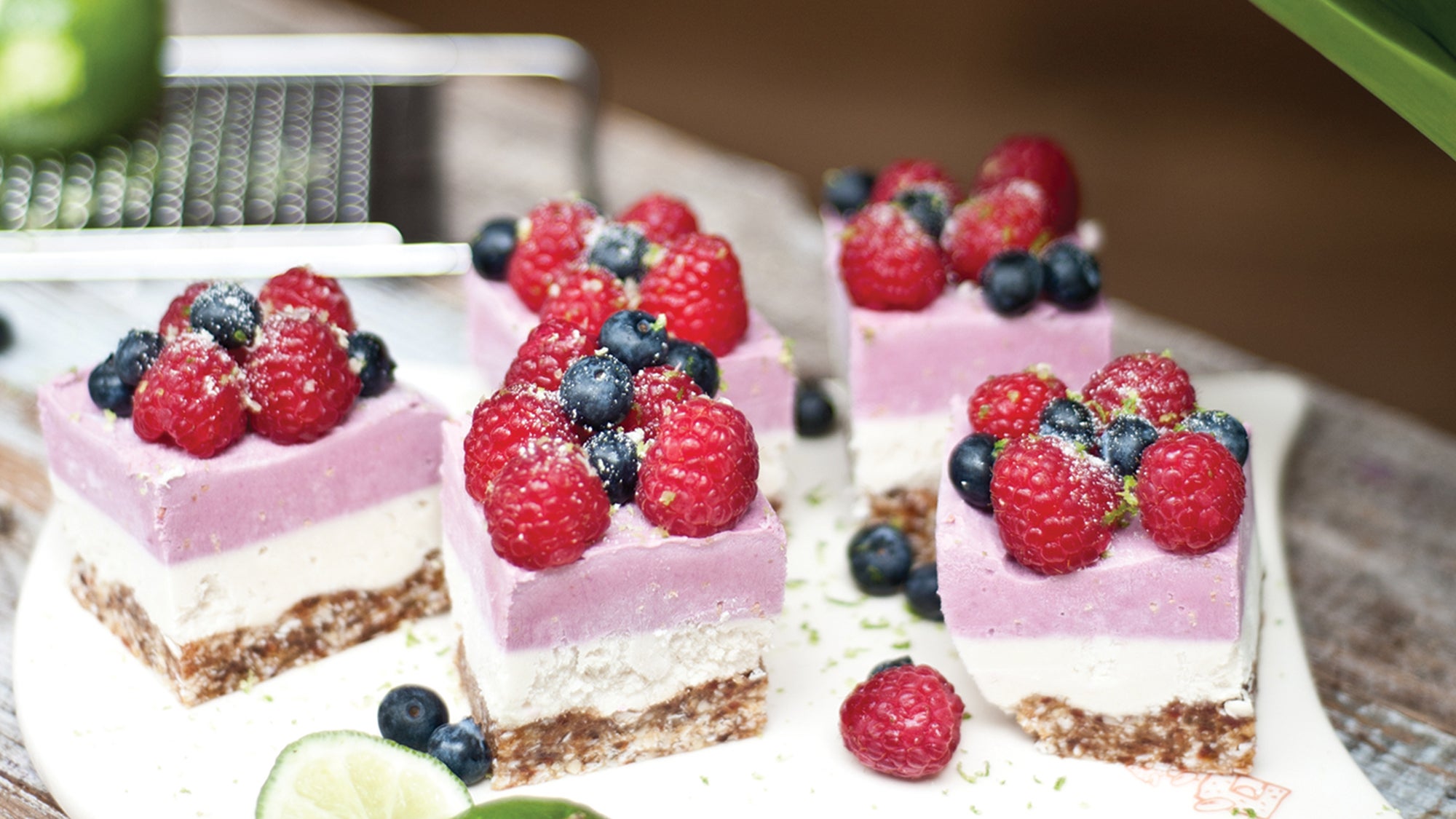 These beautifully layered squares marry the flavors of raspberry and lime for the perfect summer treat. They'll disappear so fast you won't even have to worry about them melting. Get the recipe here.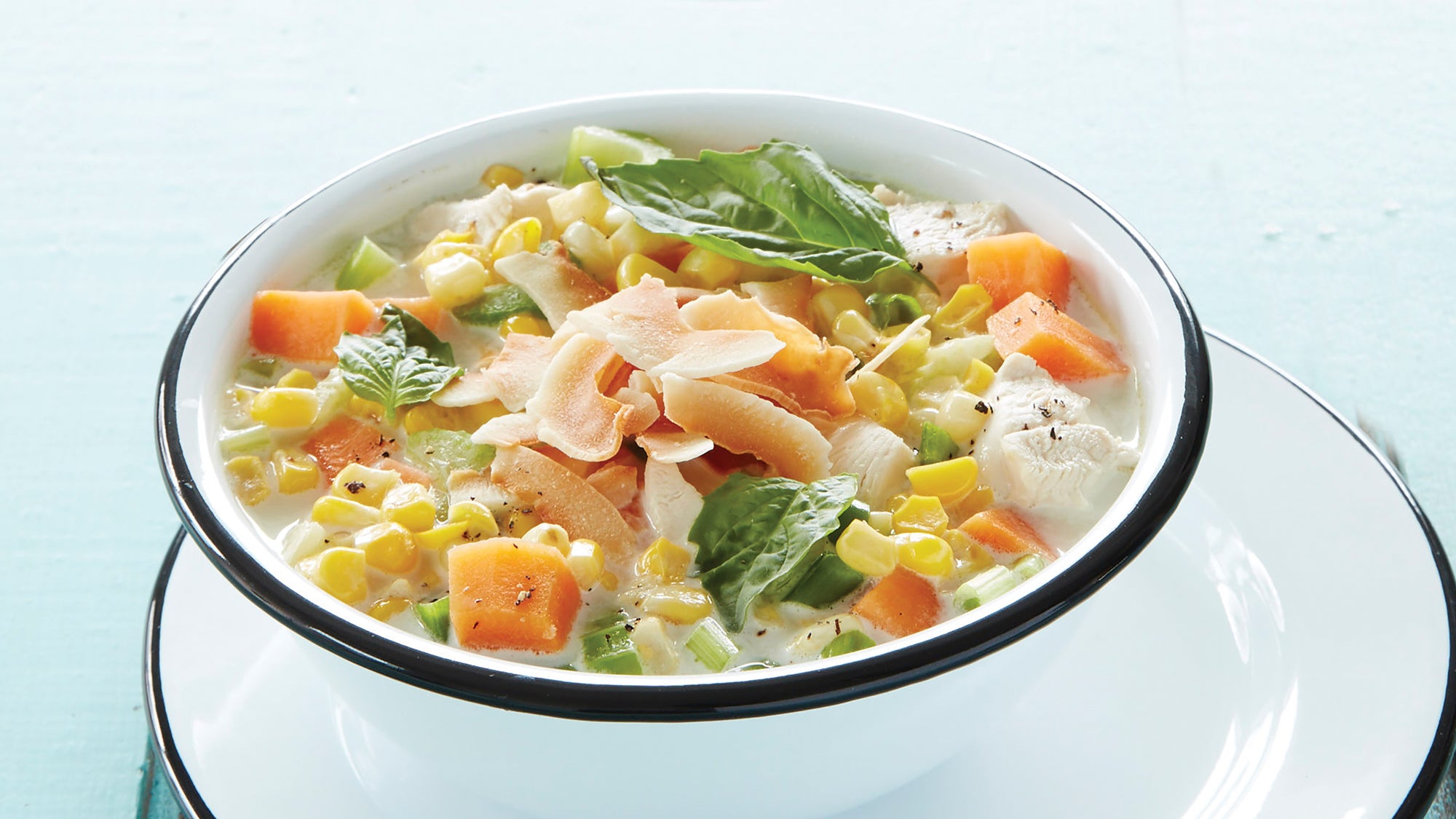 Coconut milk and fresh basil lend Thai-inspired taste to this all-American classic. Get the recipe here.
Additional recipes
Beyond these recipes, this high-energy meal plan also includes quick-and-easy extras that you can make throughout the week. These bonus recipes make it super simple to get a meal prepared – and you're going to like them so much that they're sure to become staples in your diet, especially when you're in need of a boost.
Blueberry Ginger Smoothie
Start your day with this zingy-but-sweet smoothie. Blend 1 cup non-dairy milk, 1 cup spinach, 1 cup blueberries, 1 scoop protein power, 1 tbsp chia seeds and 1-inch piece ginger, peeled, with ice.
Asian Quinoa Salad
Who says salads are comprised of leafy greens alone? This nutty salad is super filling and packed with plenty of fiber. To make it, cook 1 cup quinoa and 1 cup frozen edamame separately; in a large bowl, whisk 3 tbsp soy sauce, ½ tbsp maple syrup and 1 tsp sesame oil; add quinoa, edamame, 1 cup grape tomatoes and 1/8 red onion, sliced; toss.
Veggie Chop Salad
Here's a salad that's super simple yet totally energizing. It even uses fresh veggies and a few pantry staples – meaning you likely already have the ingredients on hand! Mix 3 cups romaine, ½ cup each grated carrot, diced red bell pepper, diced celery and chickpeas and ¼ cup almonds, chopped; top with mixture of 2 tbsp EVOO, 1 tbsp lemon juice, ½ tbsp maple syrup and pinch each salt and pepper.
Maple Pecan Salmon
A simple (and sweet) marinade takes this salmon dinner from basic to beautifully flavored. To make it, combine 3/4 cup chopped pecans, 1/4 cup maple syrup and ¼ tsp cayenne pepper; spread a thin layer of Dijon mustard over 3 salmon fillets, top with pecan mixture and bake, uncovered, at 425°F for 20 minutes.
Eggs Over Spinach
Spice up your usual breakfast of eggs and add in some veggies for an extra good-for-you meal. Sauté ¼ red onion, chopped, in 1 tbsp coconut oil; add 2 cups spinach and sauté until soft; move to side of pan and add 2 eggs; cook over easy; serve with a dash of hot sauce.
Deconstructed Fajitas
Who says fajitas have to be fancy – or even made fresh? We're turning leftovers and pantry staples into a deliciously new meal. To make these fajitas: In ½ tsp EVOO, sauté remaining Swiss chard, chopped, chicken and cashew cream (leftovers, right); stir in 2 tbsp salsa.
Section divider
Your 1-week meal plan
Follow the meal plan via the chart below, or download your day-by-day guide here.
| | | | | | |
| --- | --- | --- | --- | --- | --- |
| | Breakfast | Snack | Lunch | Snack | Dinner |
| Monday | Blueberry Ginger Smoothie | 12 crackers and 1 carrot, sliced, with ¼ cup salsa | 1 serving Asian Quinoa Salad | 1 serving Raspberry Lime Squares (save leftovers) | 1 serving Ginger Chicken Fajitas with Cashew Sour Cream (save leftovers); 1 peach |
| Tuesday | ¾ cup muesli with 1 tbsp chia seeds and ½ cup non-dairy milk | 1 serving Raspberry Lime Squares (leftovers) | Veggie Chop Salad | 1 apple, ½ oz almonds | 1 serving Maple Pecan Salmon (save leftovers); 2 cups broccoli florets, steamed, with ¼ tsp salt |
| Wednesday | Blueberry Ginger Smoothie | 1 serving Raspberry Lime Squares (leftovers) | 1 serving Asian Quinoa Salad | 2 hard-boiled eggs with 12 crackers; 1 peach | 1 serving Ginger Chicken Fajitas with Cashew Sour Cream (leftovers); 1 carrot and 1 stalk celery, sliced, with 2 tbsp salsa |
| Thursday | Eggs Over Spinach | 1 apple, ½ oz almonds | 1 serving Asian Quinoa Salad | 1 stalk celery and 1 carrot, sliced, with ⅓ cup hummus | 1 serving Maple Pecan Salmon (leftovers); 2 cups broccoli florets, steamed; 1 peach |
| Friday | Blueberry Ginger Smoothie | 1 apple, ½ oz almonds | 1 serving Maple Pecan Salmon (leftovers); 2 cups broccoli florets, steamed | 1 serving Raspberry Lime Squares (leftovers) | Deconstructed Fajitas |
| Saturday | ¾ cup muesli with 1 tbsp chia seeds and ½ cup non-dairy milk | 2 stalks celery with ⅓ cup hummus | Veggie Chop Salad | 1 hard-boiled egg with ⅛ tsp salt | 1 serving Herbed Skirt Steak Tacos with Beet & Fresno Chile Salsa |
| Sunday | Eggs Over Spinach | 2 stalks celery with ⅓ cup hummus | 1 serving Coconut Chicken Corn Chowder | 1 serving Raspberry Lime Squares (leftovers) | Veggie Chop Salad |
Section divider
Shopping list
Proteins
1½ lb boneless, skinless chicken breasts 
3 4-oz skinless wild salmon fillets 
1 qt non-dairy milk (unsweetened rice, almond, soy or other milk) 
1 dozen eggs 
14 oz skirt steak
Veggies and fruits
3 apples 
3 peaches 
1½ pints blueberries 
1 pint raspberries 
4 limes 
1 lemon 
1 orange 
4-inch piece fresh ginger 
1 head garlic 
5 Medjool dates 
10½ oz baby spinach 
6 large Swiss chard leaves 
19 oz romaine lettuce 
2 heads broccoli 
2 bunches celery
2 red bell peppers 
6 large carrots 
1 yellow onion 
1 red onion 
2 bunches green onions 
½ pint grape tomatoes 
1 Fresno (red jalapeño) or jalapeño chile pepper 
2 large ears corn 
1 sweet potato 
1 large beet 
1 bunch fresh basil 
1 bunch fresh oregano
Whole grains
1 cup quinoa 
1 box gluten-free muesli
1 box gluten-free crackers
8 6-inch corn tortillas
Nuts, seeds and oils
1 bag chia seeds 
18 oz raw unsalted almonds
1 lb raw unsalted cashews 
3 oz chopped raw unsalted pecans 
1 jar coconut oil
1 bottle grape seed oil 
1 bottle extra-virgin olive oil 
1 bottle sesame oil
Extras and pantry staples
1 bag frozen edamame 
1 8-oz container hummus 
1 15-oz can chickpeas 
1 jar protein power 
1 bottle ground black pepper 
1 bottle sea salt 
1 bottle cayenne pepper 
1 bottle red pepper flakes, optional 
1 bottle ground cumin 
1 bottle pure maple syrup 
1 bottle pure vanilla extract
1 bottle reduced-sodium, gluten-free soy sauce or tamari
1 bottle apple cider vinegar 
1 container nutritional yeast
1 jar Dijon mustard 
1 bottle all-natural hot sauce 
1 jar all-natural salsa 
1 bottle sriracha sauce 
1 BPA-free can full-fat coconut milk 
1 32-oz carton low-sodium chicken broth
1 bag unsweetened shredded coconut