Your Guide to Working with Tofu: How to Prep, Cook and Enjoy This Plant-Based Protein
If you've been avoiding tofu because of its taste, texture or because you don't know how to prepare it, it's time to discover what a wonderful alternative to meat this versatile ingredient actually is.
Heading out the door? Read this article on the new Outside+ app available now on iOS devices for members! Download the app.
We know, we know – tofu isn't one of those things that conjures up flavorful memories and "gotta-have-it-again" sentiments from many. In fact, most people have filed it away as hippie diet food, right next to lentils and hemp seeds. But tofu has come a long way since the '70s, and as we learn more about the health benefits of soy (tofu is made from coagulated soybean milk), it may be time to call it a curdled-bean comeback.
The first thing you need to know about tofu is which kind to use and when. We'll help you become a pro at choosing, recognizing and cooking with each type. Next, you need to understand the sponge-like qualities of tofu: It's important to press all the liquid out to make room for the absorption of flavors from other foods.
Tofu is high in protein and calcium, which is why it's often used as a vegetarian or vegan stand-in for meat. Soy protein is a cholesterol-free, highly digestible, high-quality form of protein that's low in saturated fat, making it a heart-healthy choice. In fact, studies have found that eating two ounces or more of soybeans, tofu or other soy foods per day can reduce blood cholesterol by as much as 5% – and that number climbs to a 14% reduction when soy is combined with other heart-healthy foods like vegetables, nuts and whole grains. Bonus alert: That's both tasty and easy to do!
So, are you ready to soak up some flavor and call it a comeback? We thought you might be.
Section divider
What, exactly, is tofu?
Tofu might look kind of complex, but it's pretty simple and straightforward. It's made out of condensed soy milk, which is pressed into solid blocks. The tofu-making process is pretty similar to cheesemaking, with soy milk turned into tofu blocks in a likewise manner.
Because it's a soy-based product, tofu is rich in protein – specifically, it's a top-tier protein because it contains all of the essential amino acids that your body requires. And in addition to all of that protein, it also offers up approximately 20 percent of your daily recommended calcium, 31 percent of your daily recommended manganese and 14 percent of your daily recommended selenium.
Tofu is also a nutrient-dense food. That means while it's loaded with beneficial nutrients, it's pretty low in calories. A 3.5-ounce serving will total just 70 calories.
Section divider
Types of tofu
If you've ever browsed the tofu selection at your go-to grocery store, you've probably seen a few different types available. Wondering which to choose? While tofu's taste doesn't really change from variety to variety, the way it handles – and cooks – can.
The key detail that sets different types of tofu apart from one another is how much water they contain. Higher water content results in a softer, less "sturdy" or solid tofu. So, firmer varieties simply have less water in their mix.
The most common kinds of tofu include:
Silken (or soft): Undrained and unpressed, this tofu has the highest water content and is typically the softest available.
Medium (or semi-firm): With less water content than silken tofu, those with medium firmness are still delicate but are denser and firmer.
Firm: Has even less water than medium-firm tofu and holds together well, with a more solid nature.
Extra-firm: A low-water, nicely dense tofu that can be sliced or cubbed as well as crumbled.
Different types of tofu can be suited for specific cooking needs and recipes. However, if you're looking for one of the most popular varieties, medium to extra-firm are all used in a number of ways.
Section divider
Your step-by-step guide to preparing tofu
Grab the tofu sitting in your fridge, because we're walking you through our tried-and-true cooking method that'll turn this simple plant protein into an impressive meal. You'll need:
2 plates
Paper towels
Cutting board
A weight (such as a jar of sauce or a couple cans of veggies)
Chef's knife
Measuring cup
2 baking sheets
Wire cooling rack
1. Let it drain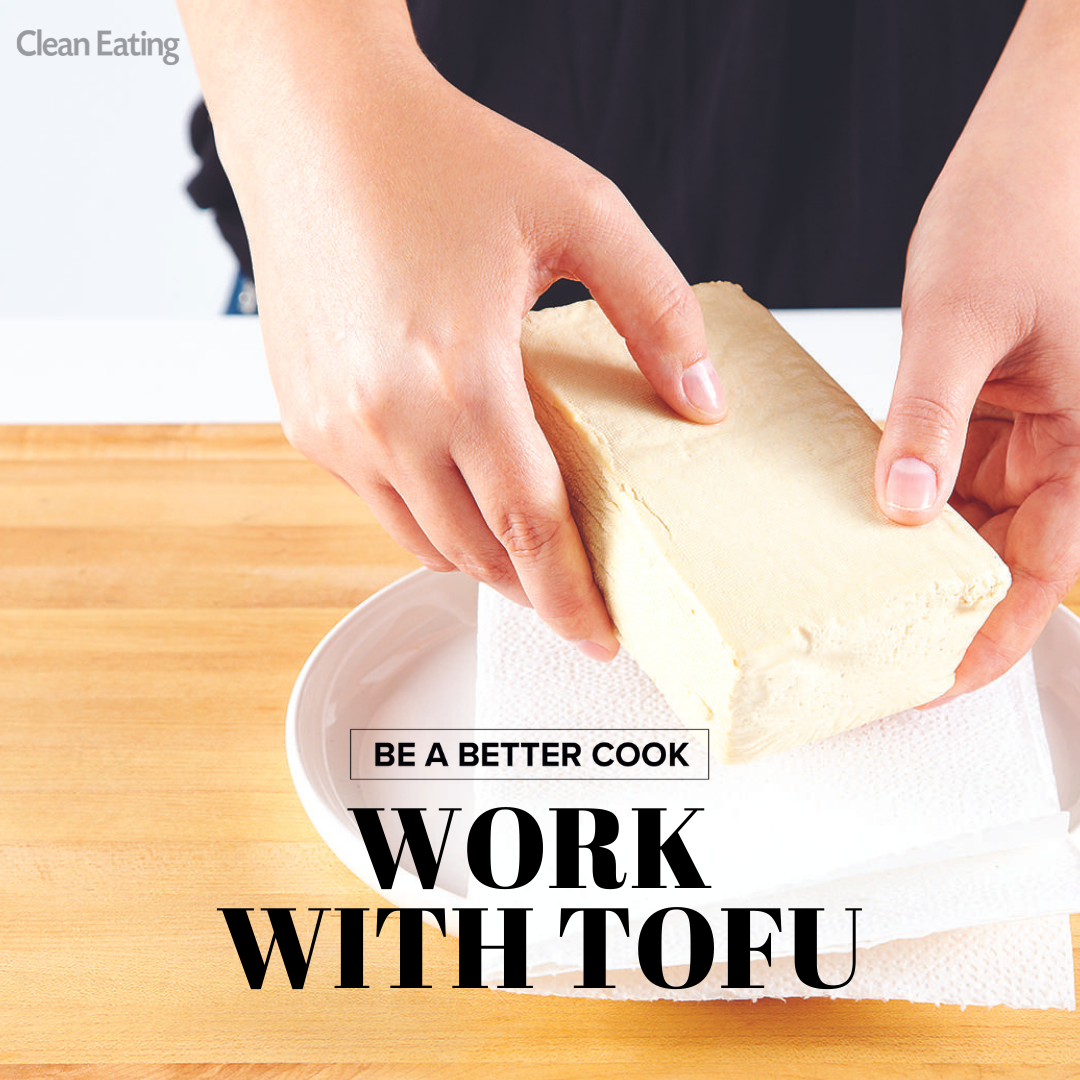 Place drained tofu on a paper-towel lined plate.
2. Apply some pressure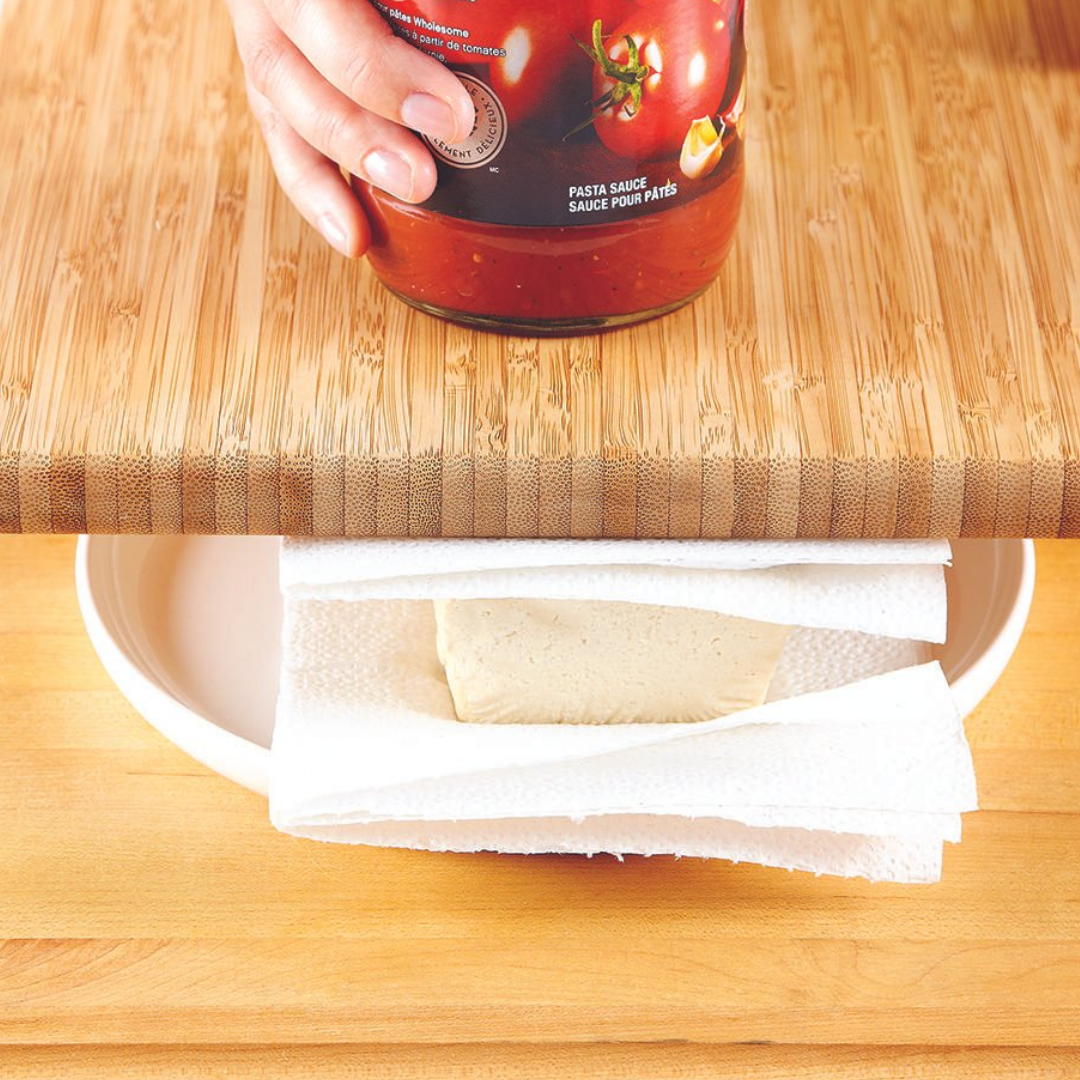 Press tofu: Arrange a layer of paper towel over top of tofu. Top with a small cutting board or a small plate. Place a weighted object on top of cutting board (such as a jar of tomato sauce) and let stand for 30 minutes to 1 hour. Replace paper towels once or twice, as necessary, to remove as much liquid as possible from tofu.
3. Slice your tofu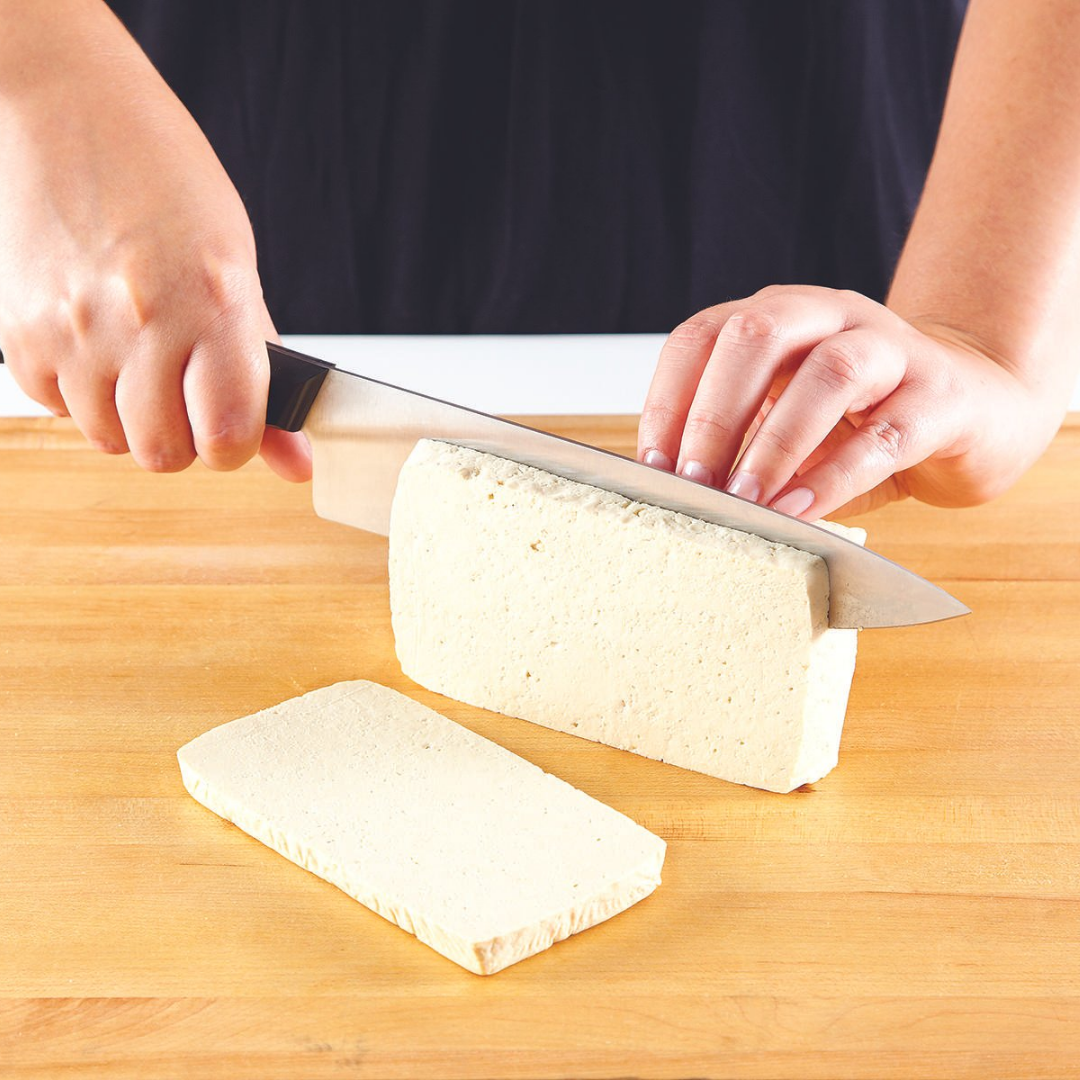 Stand tofu on one end and use a chef's knife to cut into 4 equal rectangles. When slicing, press knife straight down and pull out; do not use a sawing motion or tofu may crumble.
4. Create squares or triangles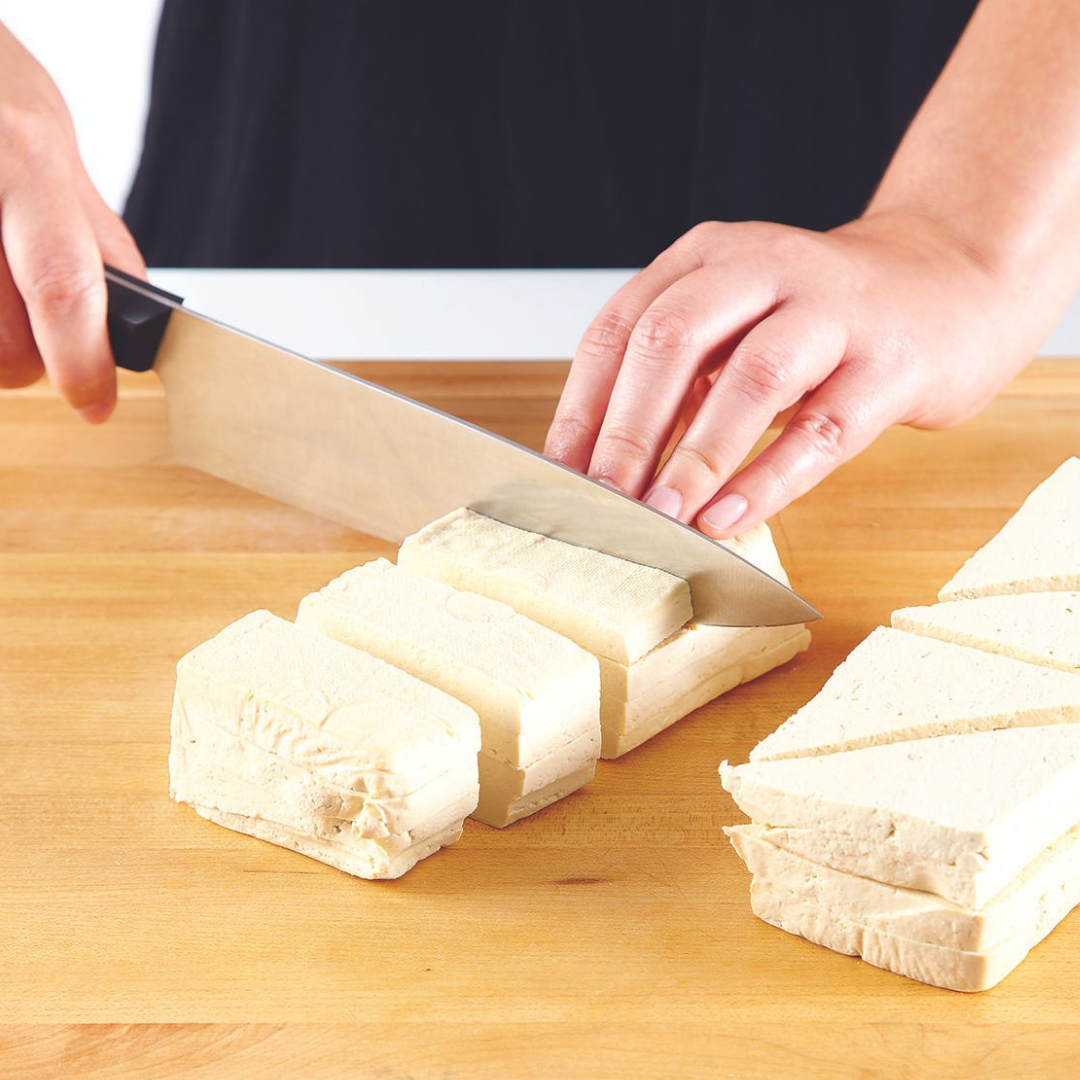 Stack squares and cut into rectangles or triangles, making 16 pieces total.
5. Infuse flavor with a marinade
On a large, rimmed baking sheet, place tofu in a single layer. Pour about 2 cups marinade over tofu. (Note: Citrus, broth and juice-based marinades work well, but avoid marinades with a lot of oil, as tofu won't absorb oil.) Refrigerate, turning tofu halfway, for 1 to 24 hours.
6. Coat for crispiness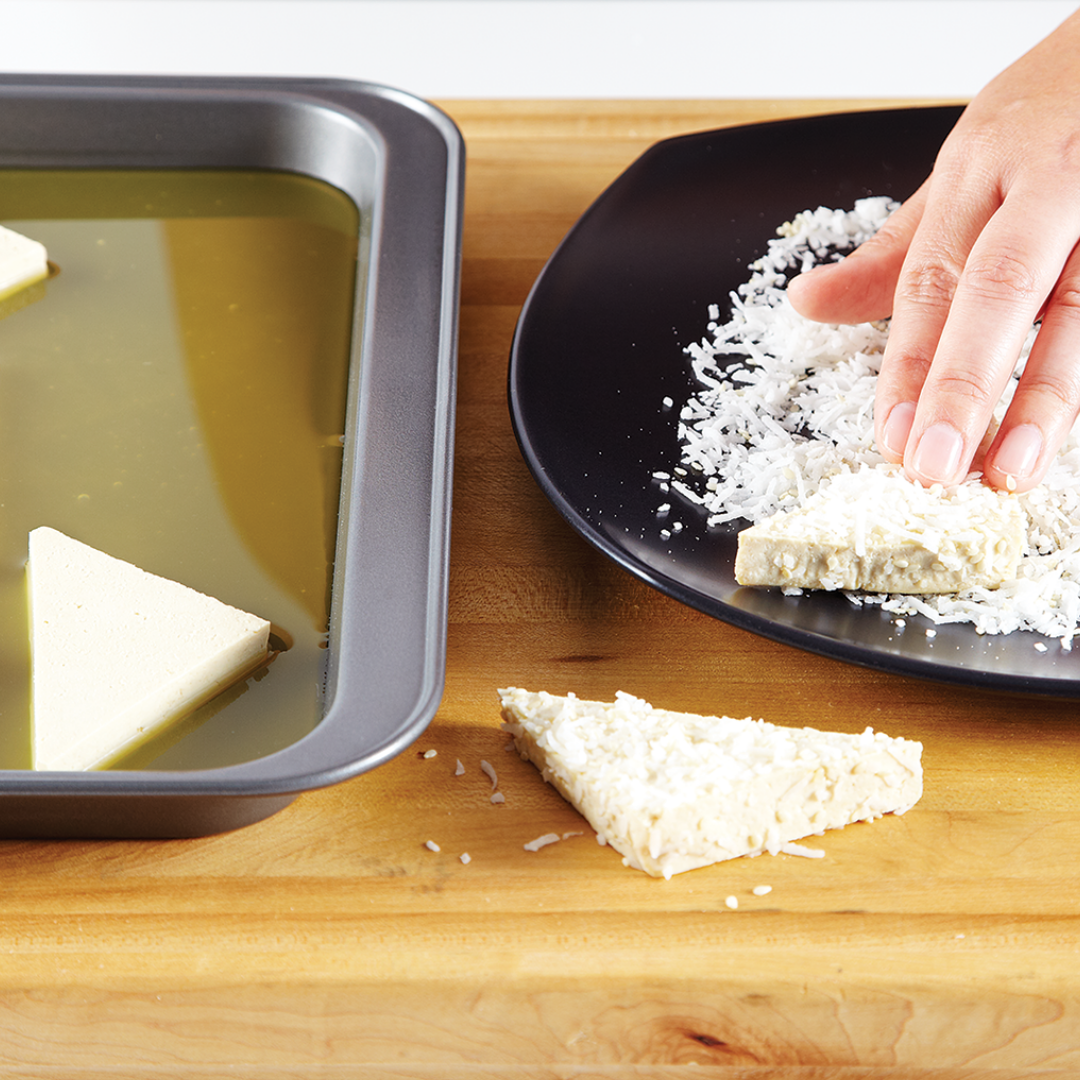 On a large plate, spread ½ to 1 cup of coating. (Note: Coconut, flour, panko, sesame or poppy seed coatings work best.) Remove tofu from marinade, letting excess drip off. Working one at a time, coat both sides of tofu in coating.
7. Bake until brown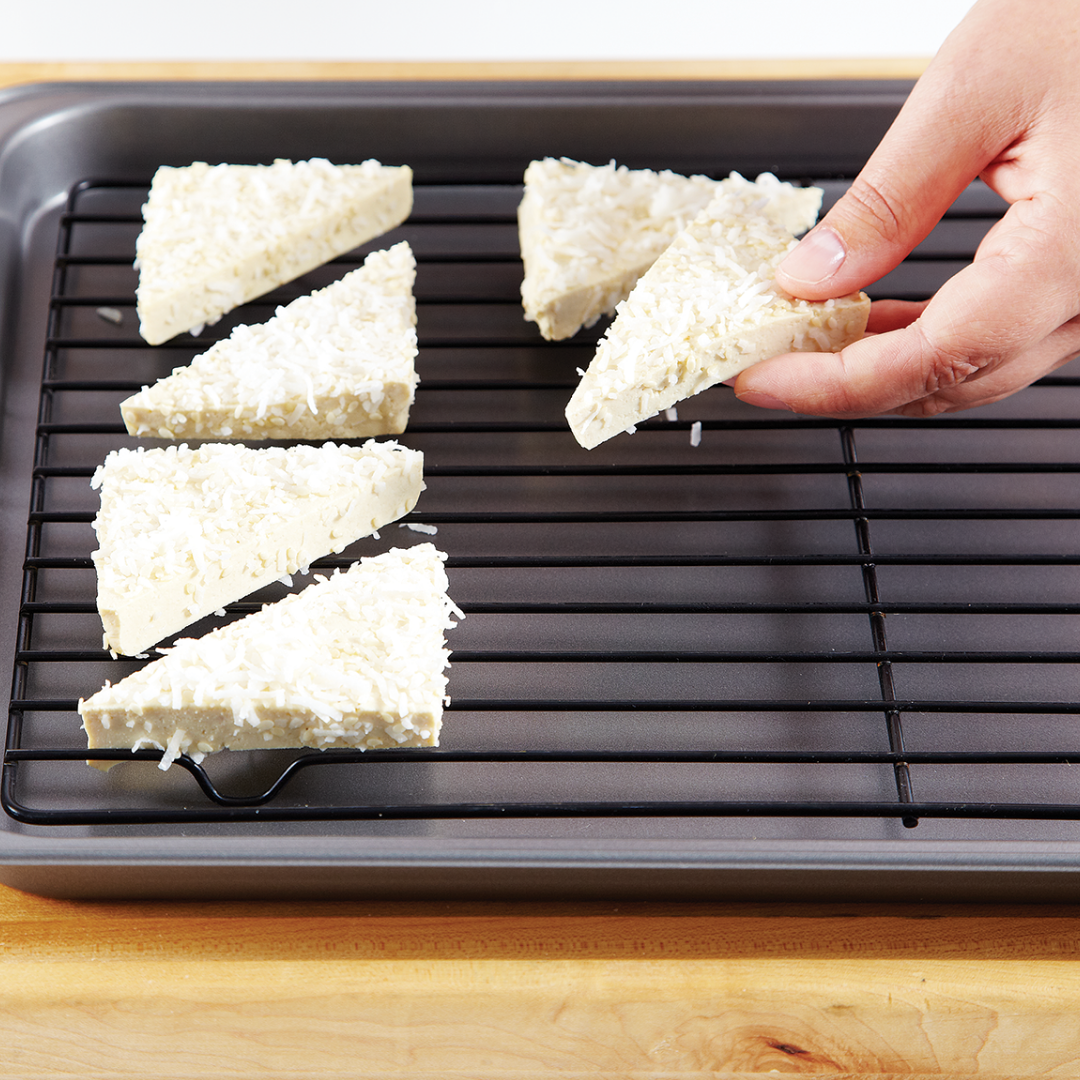 Arrange a heat-proof wire cooling rack on a large baking sheet. Place tofu on rack and bake at 400°F until browned, 10 to 15 minutes.
8. Add to a side or salad and serve
Pull your now-crispy tofu out of the oven and enjoy!
Section divider
Cooking with tofu
We've shared one of the easiest ways you can work with tofu above. But our oven-baked method isn't the only option. Because tofu is so incredibly versatile, you can sauté it, scramble it, fry it or even grill it. After you master the step-by-step recipe of marinating and crisping up your tofu in the oven, try our fave way to sauté.
The no-coat sauté method
Marinate your tofu however you'd like. Once your tofu has sat in its marinade for 1 hour or more, skip the coating. Instead, simply cook tofu in 1 tsp olive or sesame oil, turning once, until lightly browned on both sides, 5 to 7 minutes. Transfer tofu to a paper towel to absorb excess oil.
More tofu inspiration
Ready to explore more cooking methods and delicious uses for all types of tofu? We've got plenty of inspiration and ideas. You can kind of turn tofu into anything – and you're definitely going to want to try these recipes.
Don't be afraid to step outside of recipes and get creative with whatever's in your fridge, either. If you're wondering what to do with different types of tofu – or you prefer to work without a recipe's strict steps – you can consult this handy chart to figure out the best method for prepping and cooking your particular plant-based protein.
Type of tofu
How to prep it
Best for
Silken tofu
Drain and blot to remove excess moisture
Be gentle and don't press or squeeze; this softer variety can easily fall apart under too much pressure
Blend into smoothies
Incorporate into salad dressings or sauces
Use as a fat substitute in baked goods
Use to make dips and spreads
Blend and replace some or part of the cream in a cream-based soup
Medium or semi-firm tofu
Press to drain out excess moisture
Soak for 15 minutes in salt water, then drain
Make a tofu scramble (similar to scrambled eggs)
Add to a simmering soup
Cut into chunks and add to soups
Crumble and add to burgers or meatloaf
Crumble and use to make a vegan egg salad or taco filling
Firm tofu
Press to drain out excess moisture
Soak for 15 minutes in salt water, then drain
Cut into blocks and add to stir-frys
Pan-fry and make it a main dish
Crumble and use in frittatas, tacos, casseroles or chilis
Extra-firm tofu
Press to drain out excess moisture
Soak for 15 minutes in salt water, then drain
Cut into blocks and add to stir-frys
Cut into planks or triangles, then marinate, coat and bake or fry
Marinate and grill