Editor Obsession: Dark Chocolate
We're a little cacao-crazy. Here are 10 recipes for proof.
Photo: Photography by Olive & Mango
Heading out the door? Read this article on the new Outside+ app available now on iOS devices for members! Download the app.
Rich, bittersweet and incredibly good for you. What's not to love about dark chocolate? It's one of the most antioxidant-rich foods in the world and is loaded with nutrition: 89% of the recommended daily intake (RDI) of copper (promotes bone strength and metabolic function) and 98% of the RDI for manganese (promotes wound healing, reduces inflammation).
We're no newcomers to dark chocolate's healthful properties – especially its brain-boosting benefits. Did you know that experts believe that the compounds in chocolate, called flavanols, may slow and even reverse mental decline? This isn't surprising, considering that these compounds can improve various aspects of cognition, cerebral blood flow and even mood. 
Up your intake of decadent dark chocolate. Try these ten CE recipes where cocoa is the star of the show (and other nutritious powerhouses play supporting roles):
1. An Ultra-Rich Chocolate Tart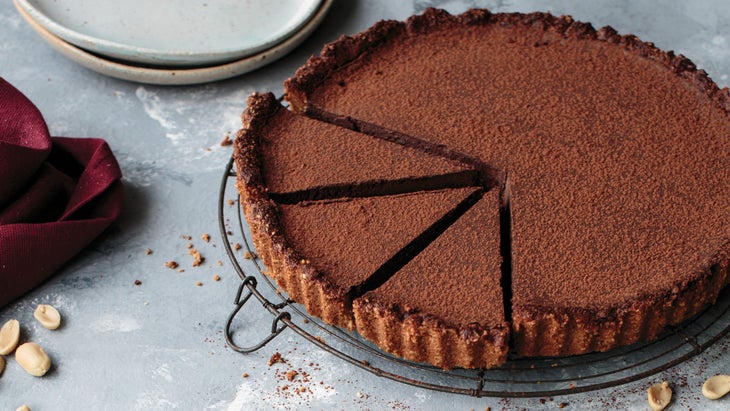 We're starting off strong with this lush chocolate tart that uses coconut milk for its rich, dairy-free base.  Recipe here.
2. Holiday Crackle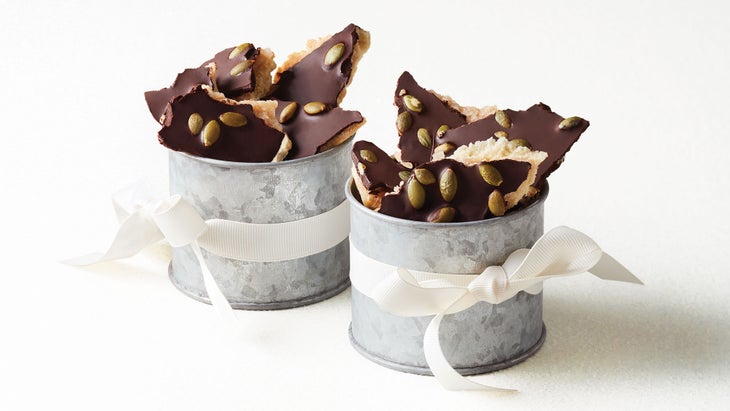 Tis the season… not. But this sugar-free salty-sweet dark chocolate crackle studded with crunchy roasted pepitas just had to be shared. Recipe here.
3. Keto Peanut Butter Cups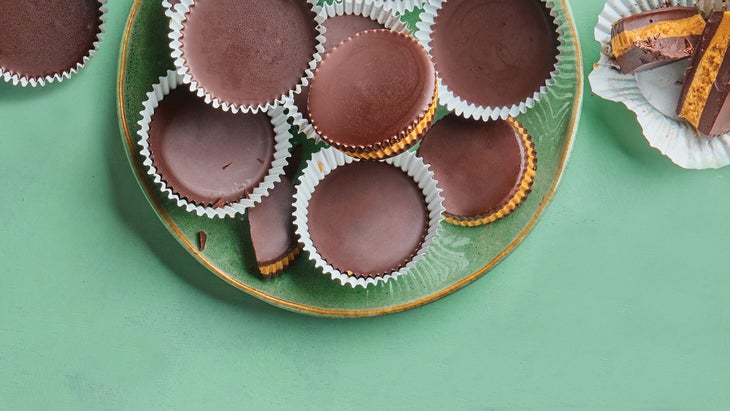 Move over, Reese's PB Cups. These better-for-you alternatives are fresh from our 3 Surprising Ways with Keto as seen in our January/February 2021 issue. Recipe here.
4. Dairy-Free Chocolate Cherry Almond Nice Cream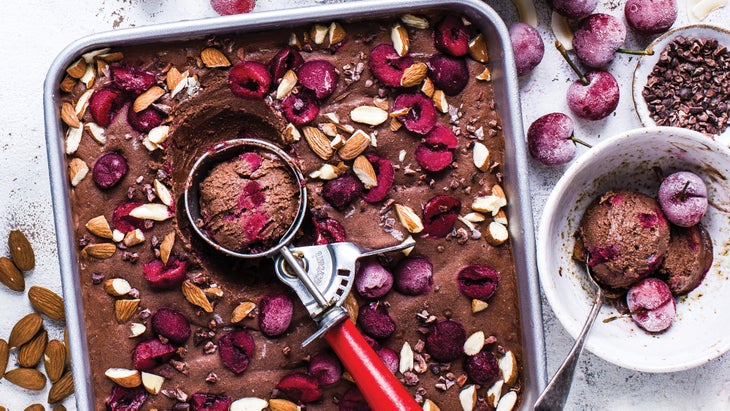 Chill out with this chocolate "nice" cream, a lux medley of coconut milk, frozen bananas, almond butter and natural sweeteners, studded with dark cherries and almond slivers. Recipe here.
5. Chocolate Raspberry Bars with Cordyceps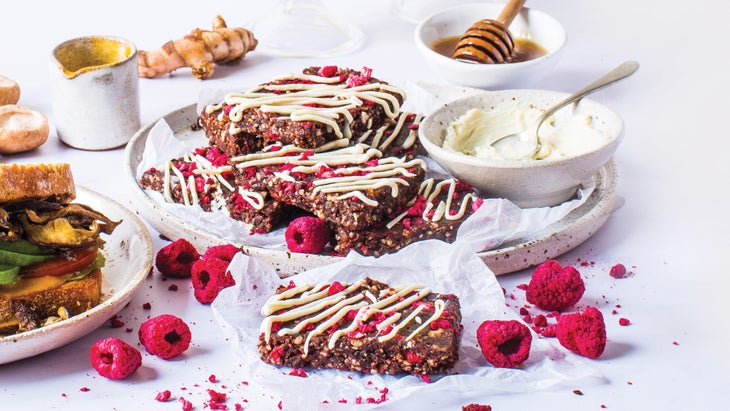 These nutty bars topped with tart raspberries contain powdered cordyceps, an adaptogenic mushroom believed by ancient Chinese medicine to support the kidney and lung systems. Recipe here.
6. Gooey Chocolate Pudding Cake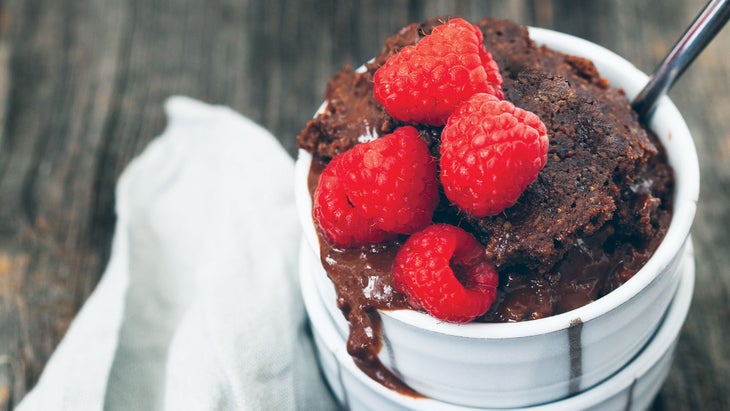 We're going back to basics with this ooey-gooey feel-good bowl of buttery chocolate, sweetened using cane juice and rounded out with a pinch of salt. Recipe here.
7. Dark Chocolate Cherry Hazelnut Energy Balls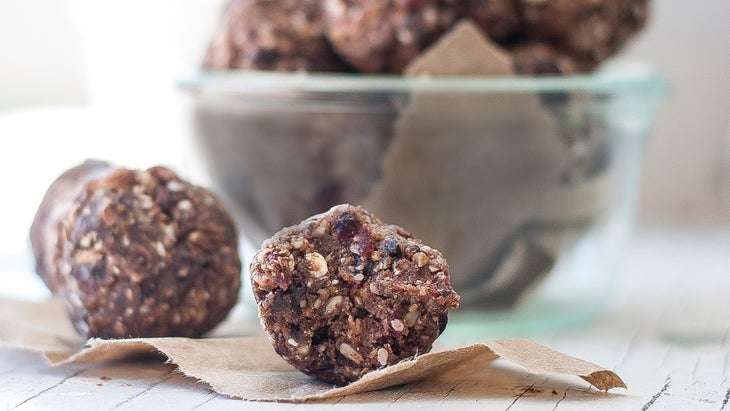 Make these chocolate and cherry bites ahead of time for sweet, energy-spiking snacks throughout the week. Recipe here.
8. Superfood Chocolate Bar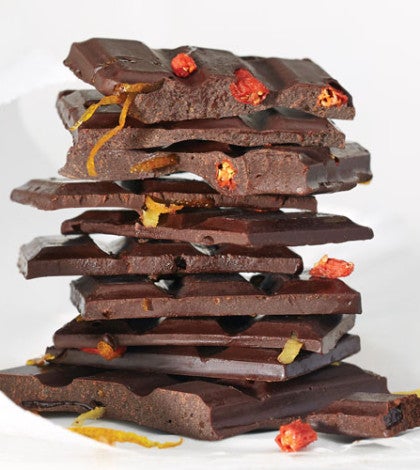 This DIY chocolate bar is made with high-powered superfoods –  ginger, cacao and goji berries – and infused with natural flavor from raw honey, coconut sugar and orange zest. Recipe here.
9. Coconut Macaroons with Dark Chocolate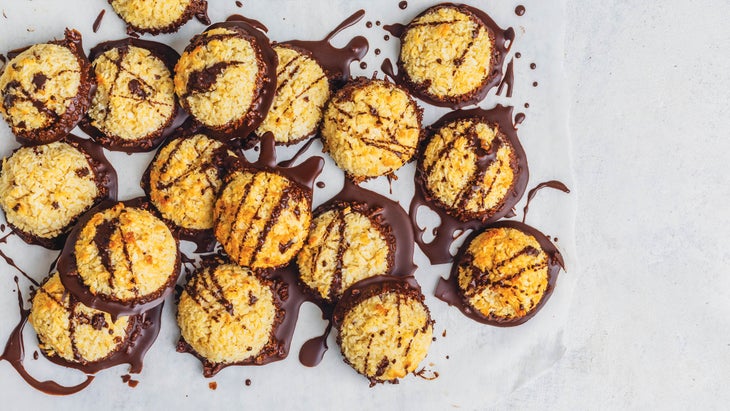 Gluten-free, grain-free, Paleo-friendly, a super-short ingredients list and only 40 minutes of work for 20 macaroons! Recipe here.
10. Avocado Banana Chocolate Pudding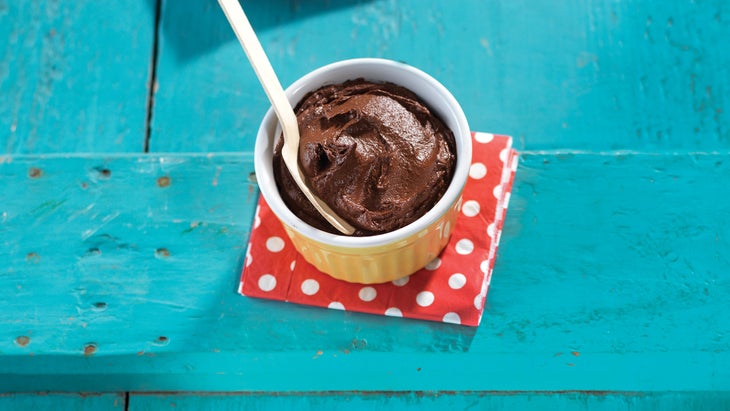 Fatty avocado and sweet banana form the creamy base for this shocking simple 10-minute pudding. Recipe here.
RELATED: