Ravishing Radishes: 5 Varieties You Need to Try
From purple to pearly white, radishes aren't just for relish trays anymore! Discover how you can make the most out of different radishes in all shapes, sizes and brilliant colors.
Heading out the door? Read this article on the new Outside+ app available now on iOS devices for members! Download the app.
Crimson, rosy watermelon, purple Easter egg, Spanish black and snowy white – there's a rainbow of radishes available. And every kind boasts a ton of health benefits, including immunity-boosting vitamin C, folate, fiber and antimicrobials. They're valued as a liver cleanser in traditional medicine thanks to their unique phytochemical, indole and potent antioxidant flavonoids, which aid healthy digestion. 
Oh, and did we mention they're delicious? Sautéed, roasted, braised and pickled, there are a million ways to love these sweet-peppery brassicas. Below are six stars of the radish lineup and our favorite ways to eat them. 
1. Daikon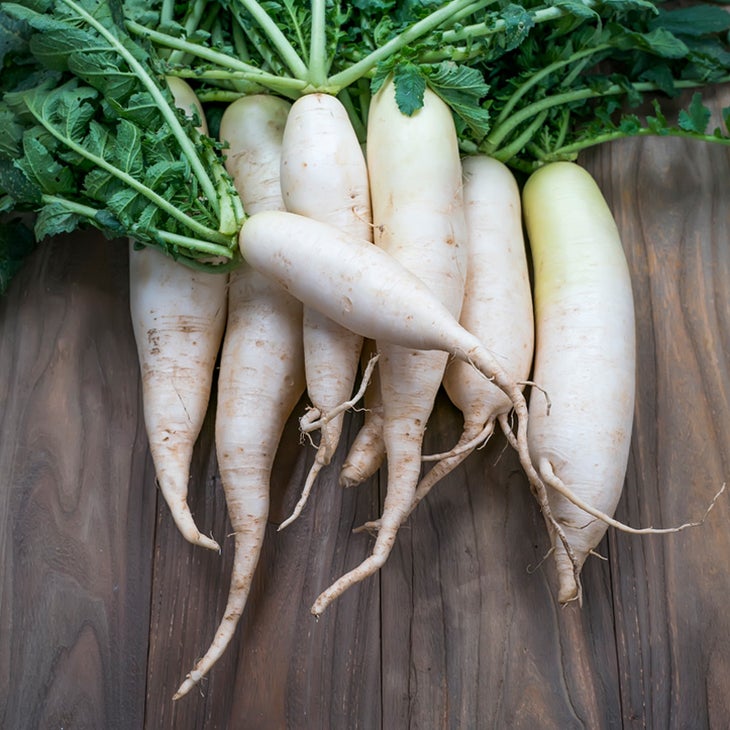 Daikon are long white roots that stretch up to 16 to 18 inches in size. They can be found at Asian markets and in well-stocked grocery stores, where they're often cut into more manageable sizes. In some countries, this variety or smaller, similar offshoots can also be called icicle radish. Regardless of what they're called, these slim veggies have extra juicy flesh and a mild, watery flavor.  
Daikon adds a crisp texture (think water chestnuts) and umami funkiness to kimchi and become mild and creamy when braised. Try shredded daikon in a simple slaw or in our Korean Stew with Tofu & Kimchi. And since the greens are packed with vitamin C, it pays to use the whole plant. Blend a fistful of the leaves with pistachios, garlic and a touch of olive oil and serve as a dip for the radishes. Or, take a cue from the French and serve them as a sophisticated snack alongside high quality butter and flakey sea salt. 
2. Watermelon radishes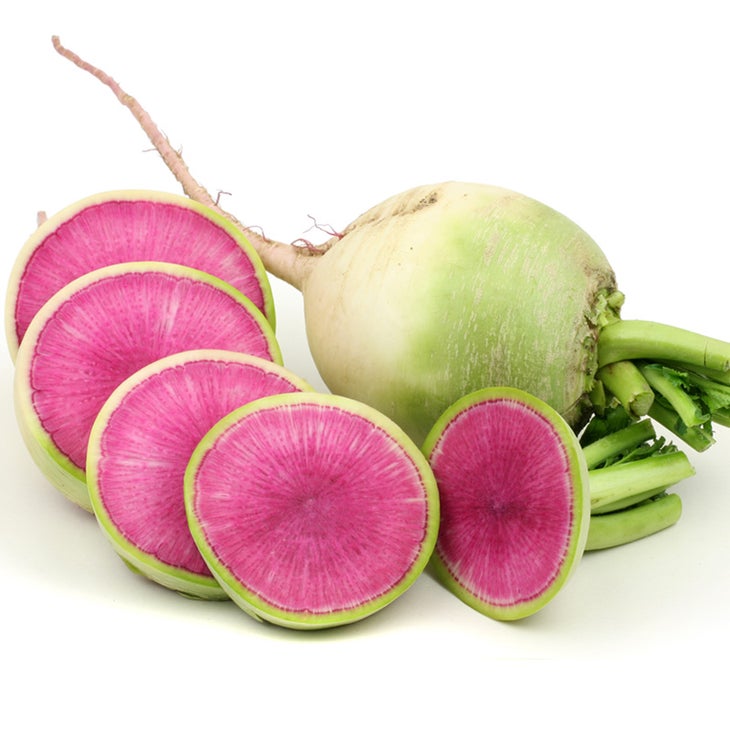 Watermelon radish, also called "Beauty Heart" in some locales, are a fist-sized relative of daikon. Their exterior is plain enough with nobbly cream or pink skins; the thrill comes when you slice the radish latitudinally to reveal the mild watermelon-pink and white flesh.
Thin slices make a showy addition to salads and grain bowls, and the mild flavor make them a nice addition to sandwiches without overpowering other ingredients. 
3. Cherry Belles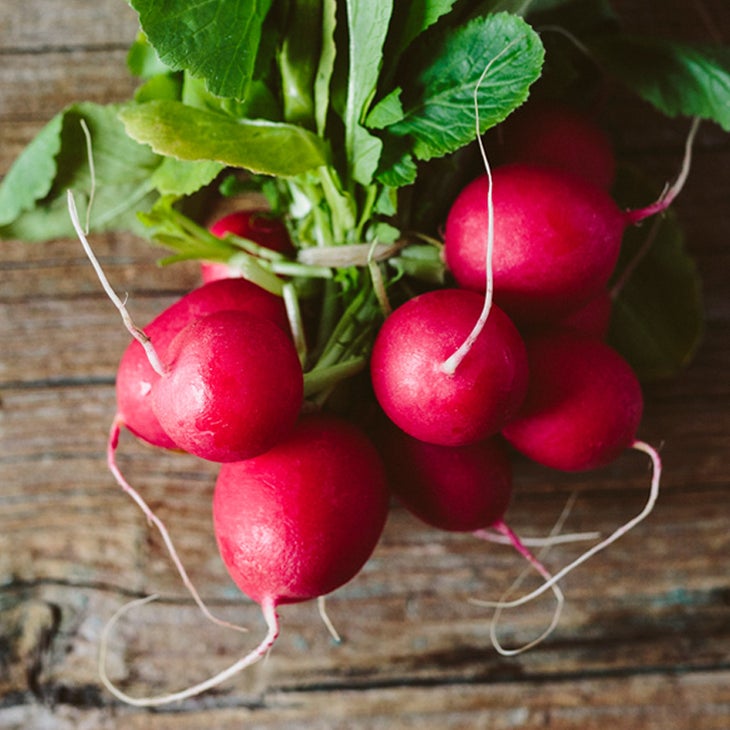 Cherry Belles are really just your basic red radishes. But these common root veggies have their own delicious flavor – and plenty of versatility. 
You can turn Cherry Belles into a simple low-carb side dish. Halve them, toss with olive oil, a few unpeeled garlic cloves, salt, and pepper and roast in a 400°F oven until tender, about 20 minutes. Peel the garlic, mash, and toss with the radishes. Or, try our recipe for Roasted Radishes and Greens with Tahini Sauce. 
4. Purple radishes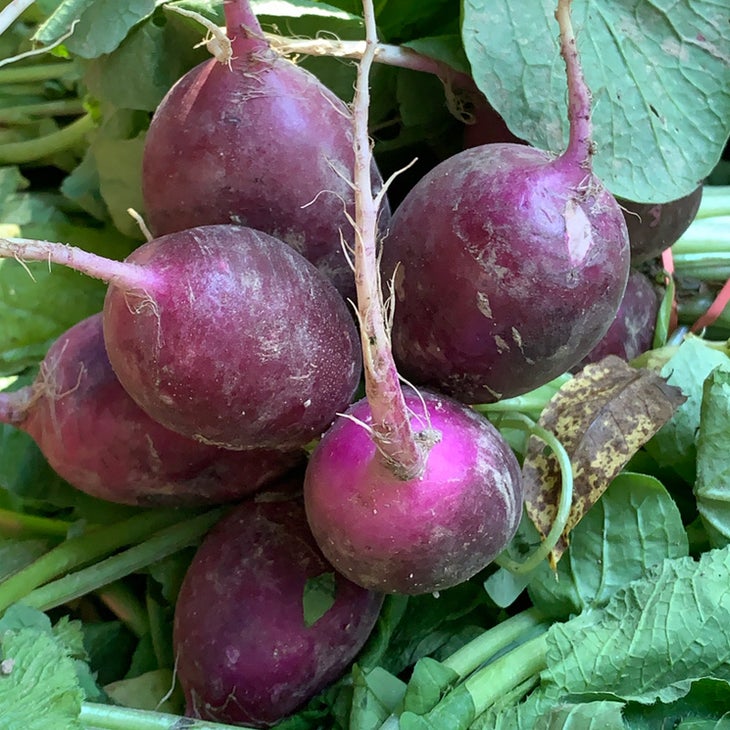 Purple radishes are part of the "Easter egg radish" group of small purple and pink radishes that are available in spring and early summer. The stunning colors of these brassicas are often found in dazzling bouquets at local farmer's markets. 
And they're as tasty as they are pretty. Purple radishes become deliciously sweet when you sauté them in butter until just tender. Toss them with chopped fresh mint for a lovely side dish for proteins like lamb or roast chicken. 
5. Black radishes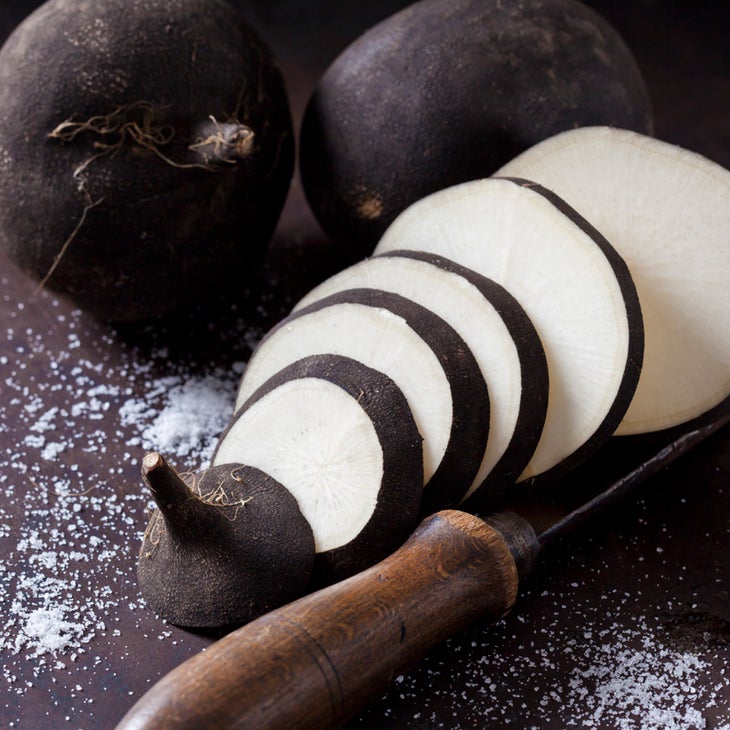 Black radishes, which are also called Spanish radishes, look something like a dirt-covered baseball. But beneath that cocoa-colored exterior is a cream-colored, dry flesh with a pungent kick – think horseradish, but with some extra bite. 
We love black radishes grated and served on dark rye bread with lox or baked in a creamy gratin.  
Put this root veggie in any form to use as toppings, sides or even the star of your plate in recipes like these: