Spice Islands Marinated Chicken
The flavors of the Caribbean islands are much more complex than knock-your-socks-off hot peppers and suicide-spicy jerk chicken. Here we've included other island pleasures, including an abundance of spices, for a freezable recipe your family will love!
Heading out the door? Read this article on the new Outside+ app available now on iOS devices for members! Download the app.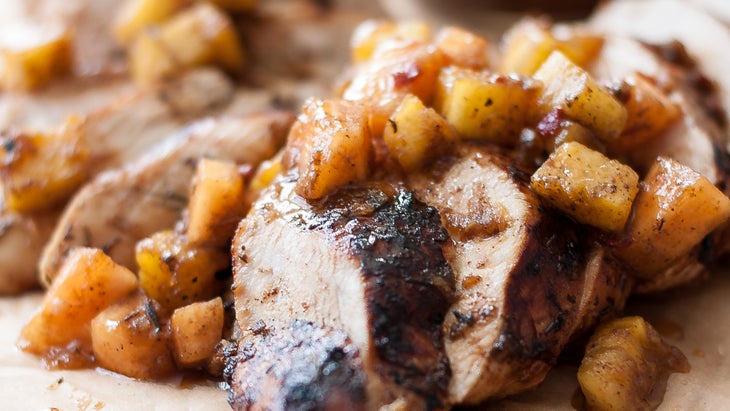 Serves: 4
INGREDIENTS:
3/4 cup of 100% coconut water
1/2 cup 100% fresh orange juice
3 cloves garlic, minced
2 tbsp fresh thyme, chopped
1 tbsp fresh ginger, chopped
1 lime, zested and juiced
1 1/2 tsp allspice
pinch red chili flakes or 1 hot pepper, minced
4 boneless, skinless chicken breasts
1/2 tsp olive oil
Sea salt and fresh ground black pepper, to taste
2 cups fresh tropical fruit (such as pineapple, mango, papaya), diced
INSTRUCTIONS:
Preparing & Freezing Chicken:
In a bowl, whisk all marinade ingredients together. Reserve 1/4 cup marinade and place into a small resealable plastic bag or container and freeze. Place chicken in a large resealable plastic bag, pouring in remaining 3/4 cup marinade. Press out excess air while sealing bag tightly, then store flat in freezer. (Marinated chicken may be frozen for 3 to 4 months.)
When it's Time to Eat:

Remove bag of marinated chicken and reserved marinade from freezer, placing them on a tray (to catch any liquid that may drain off while defrosting). Leave tray in fridge, allowing chicken and marinade to defrost overnight or for about 24 hours. (Raw, marinated chicken may be kept refrigerated for an additional 24 hours after it has completely defrosted.)
Once defrosted, preheat oven to 400°F.
Heat a sauté pan on high. Add oil to coat bottom of pan. When oil is hot but not yet smoking, place chicken in pan, discarding remainder of marinade from the bag. Sear for 2 to 3 minutes and flip breasts. Season cooked side with salt and black pepper, while searing bottom for an additional 2 to 3 minutes. Remove chicken from pan, place on a parchment-lined baking sheet and put in oven. Roast for 10 to 12 minutes, or until chicken is fully cooked throughout (no longer pink in middle).
While chicken bakes, add thawed 1/4 cup reserved marinade to tropical fruit in a medium bowl and mix. Cover and refrigerate until chicken is ready.
Serve chicken with a dollop of fruit mixture.
Nutrients per 4 oz Spice Island Marinated Chicken and 1/2 cup fruit: Calories: 220, Total Fat: 3.5 g, Sat. Fat: 1 g, Carbs: 23 g, Fiber: 3 g, Sugars: 16 g, Protein: 24 g, Sodium: 345 mg, Cholesterol: 63 mg
Nutritional Bonus: Not only is 100% coconut water refreshing and delicious, but it happens to be extremely high in potassium (779 mg in 11 oz, while the potassium-powerhouse banana has about 420 mg), naturally fat- and cholesterol-free and contains 5 essential electrolytes; so stock up!
Side Suggestion:
Try this Caribbean-inspired chicken with coconut-water brown rice and a green salad. Use the coconut water in place of H2O when making quinoa or brown rice – it gives the grains a beautiful subtle flavor.

ONE RECIPE, THREE MARINADES:
You can easily modify your marinade to create a different-tasting meal from a different part off the world altogether. The base is identical for each of our marinades (coconut water, garlic, fresh ginger, lime zest and juice); simply substitute the rest of the ingredients for the following:
Thai – 100% pineapple juice, 1 tbsp each mint & basil, 1 tsp cumin, 1/2 tsp coriander, red chili pepper (minced)
Bombay – 100% mango juice, 2 tbsp cilantro, 1 1/2 tsp curry powder, green chili pepper (minced)
Video: How to: Marinades
Chef Jo prepares a simple marinade laced with flavors of the Caribbean, and shares everything you need to know about marinades.
For more chicken recipes, click here.