Cook Sunday for the Whole Week: A 1-Week Batch Cooking Meal Plan
These batch cooking recipes will have you a covered for a week's worth of meals – and unexpected guests.
Heading out the door? Read this article on the new Outside+ app available now on iOS devices for members! Download the app.
You know how time-saving meal planning and prepping on the weekends can be. But when life throws an exceptionally busy schedule your way – complete with holidays, get-togethers and hosting guests – it's challenging to find the time to stick to your healthy eating habits. Instead of turning to takeout, we've got a better idea: batch cooking. Our 1-week batch cooking meal plan allows you to prep everything on Sunday, then enjoy everything you made throughout the week ahead.
What, exactly, is batch cooking? It's a slightly different approach to your typical meal prep, but it's one that'll allow you to make a whole lot of food in advance, without spending all of your precious free time over the stove. You'll chop, sauté, bake and simmer all of your recipes in large batches to save time and prepare all of the portions at once. Then, you can pack up your meals into single-serve storage containers and pull them out of the fridge or freezer when you need them. It's an especially handy approach when you need to free up some time during the week. But batch cooking is also handy when you're cooking for and feeding a group.
So, grab your go-to meal planning tools, because this 1-week batch cooking meal plan is one you've got to try!
Section divider
The recipes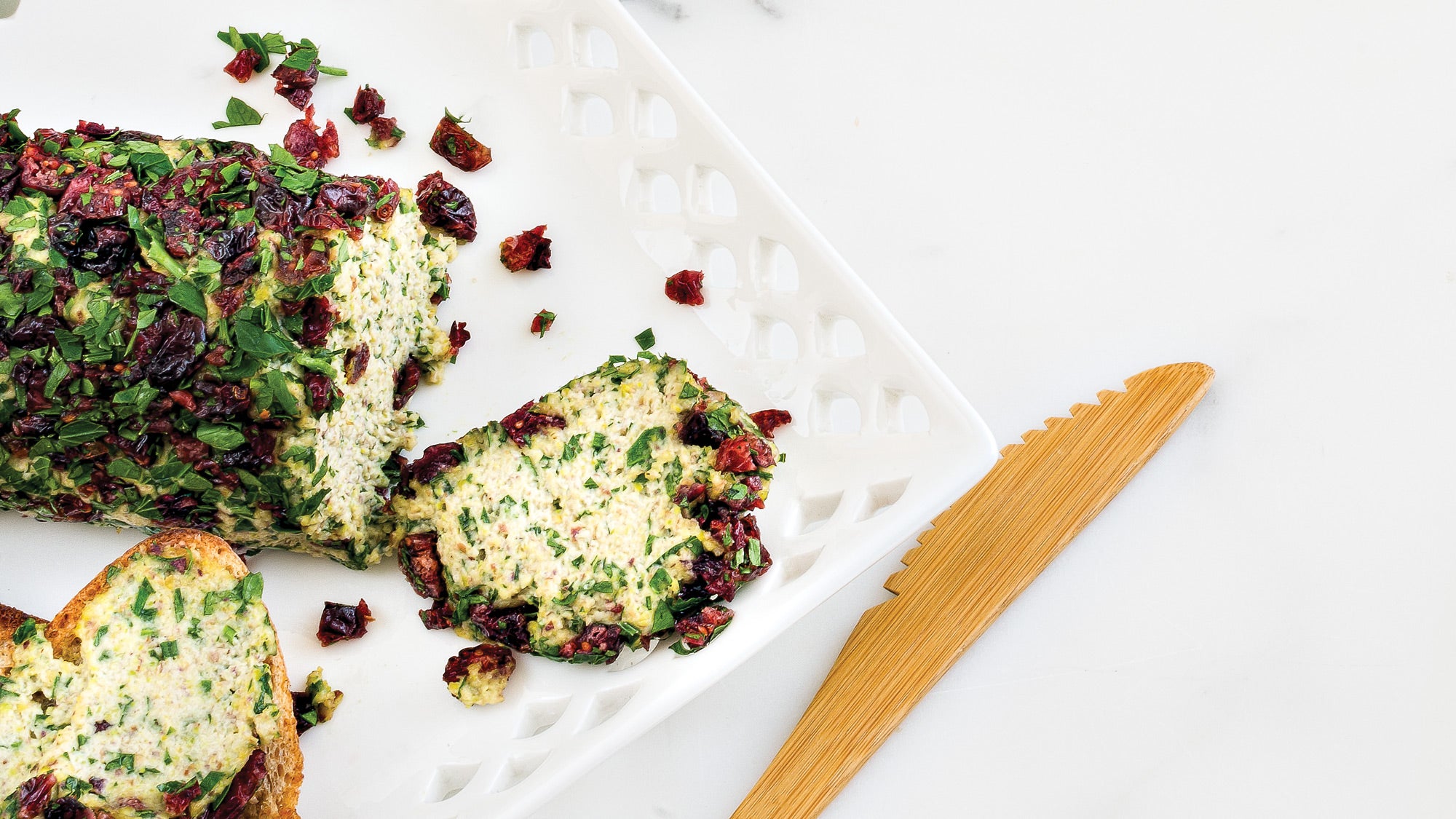 Nut cheese are a great way to impress your lactose-intolerant or vegan guests and get a little adventurous in the kitchen. Get the recipe here.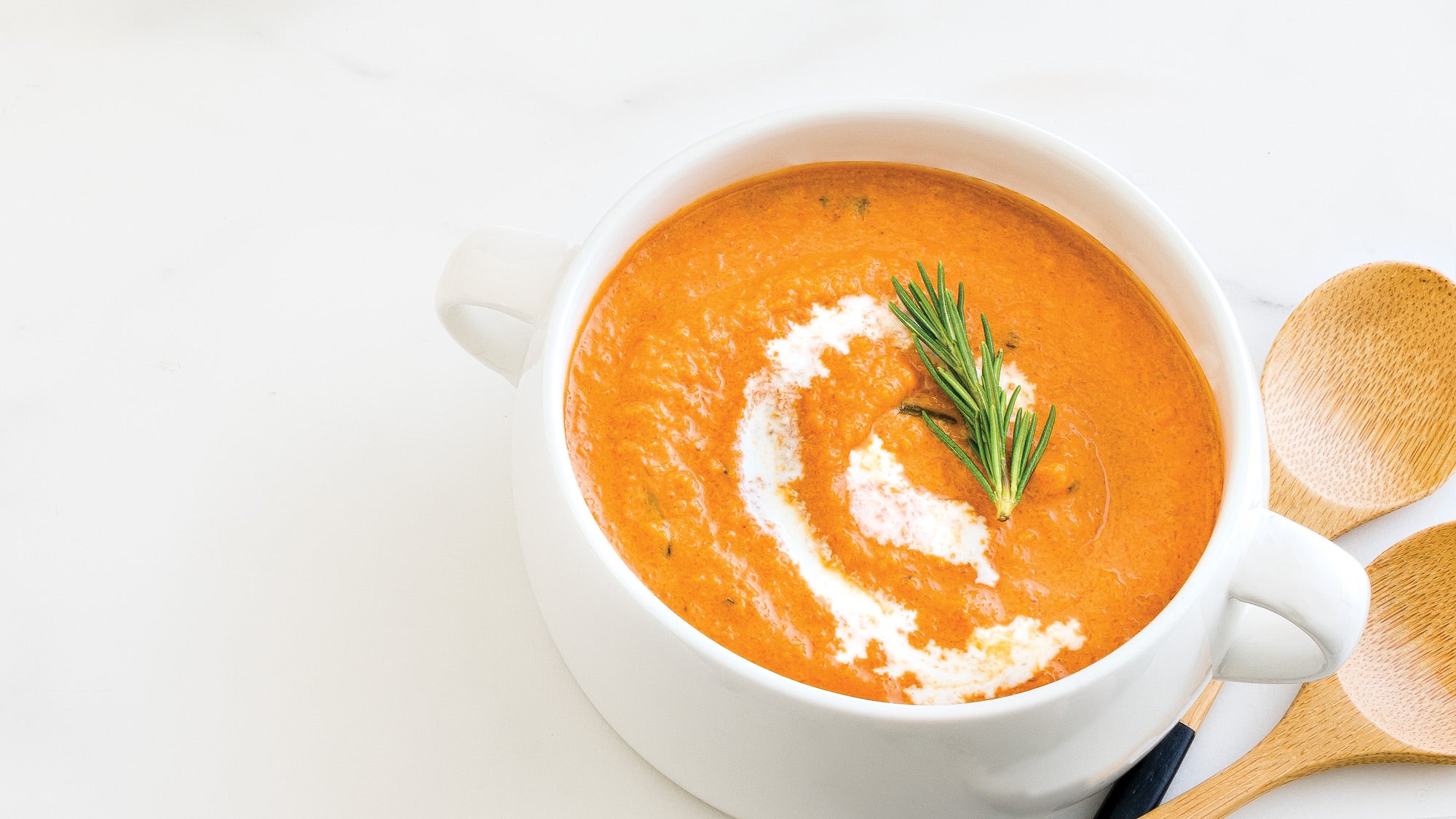 Paired with your favorite ooey-gooey grilled cheese sandwich or fresh veggie-centric wrap, tomato soup is the ultimate comfort food. Get the recipe here.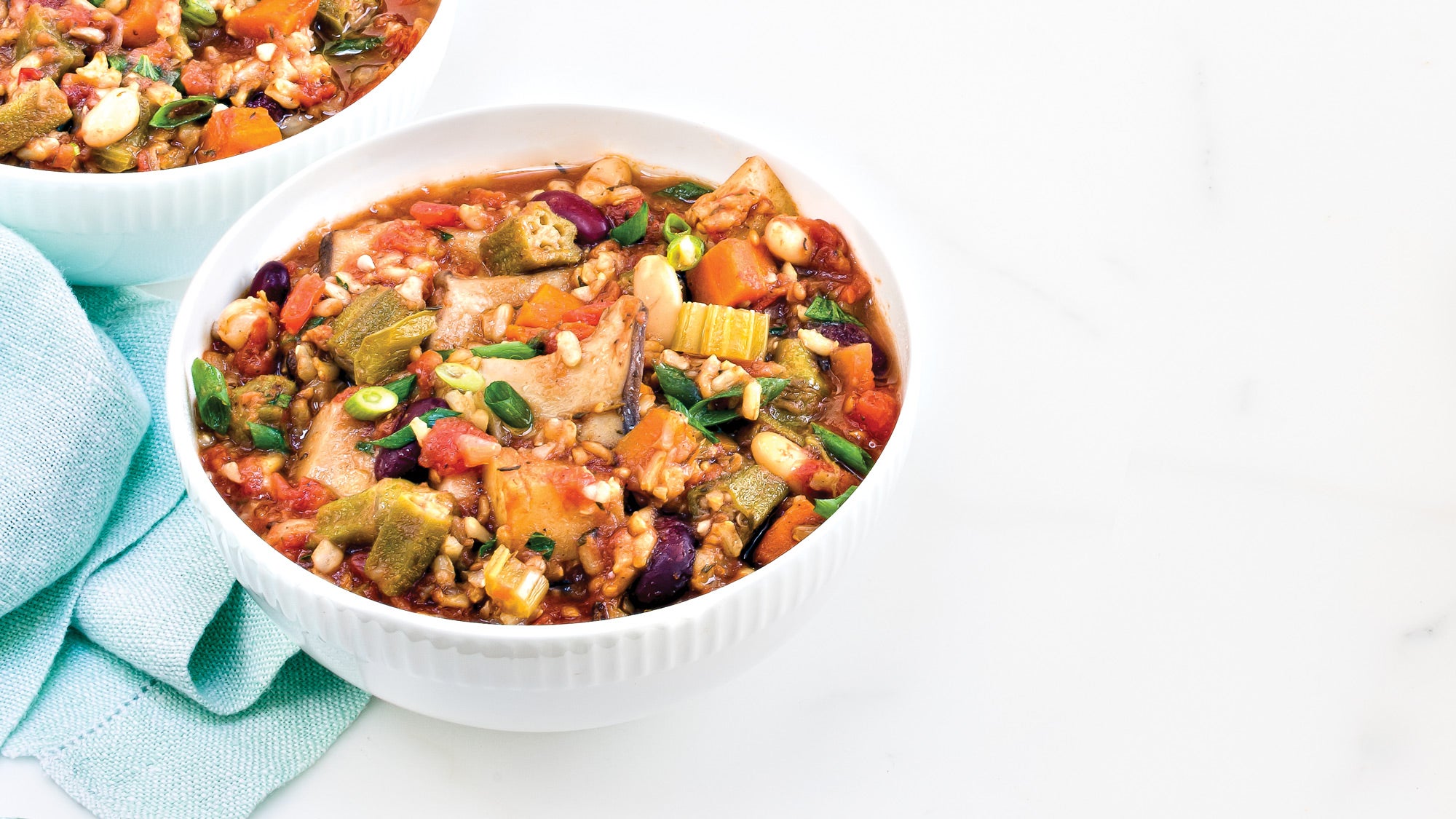 Louisiana-style gumbos are a creative way to spice up your meals and add more fiber and nutrient-dense vegetables to your day. Get the recipe here.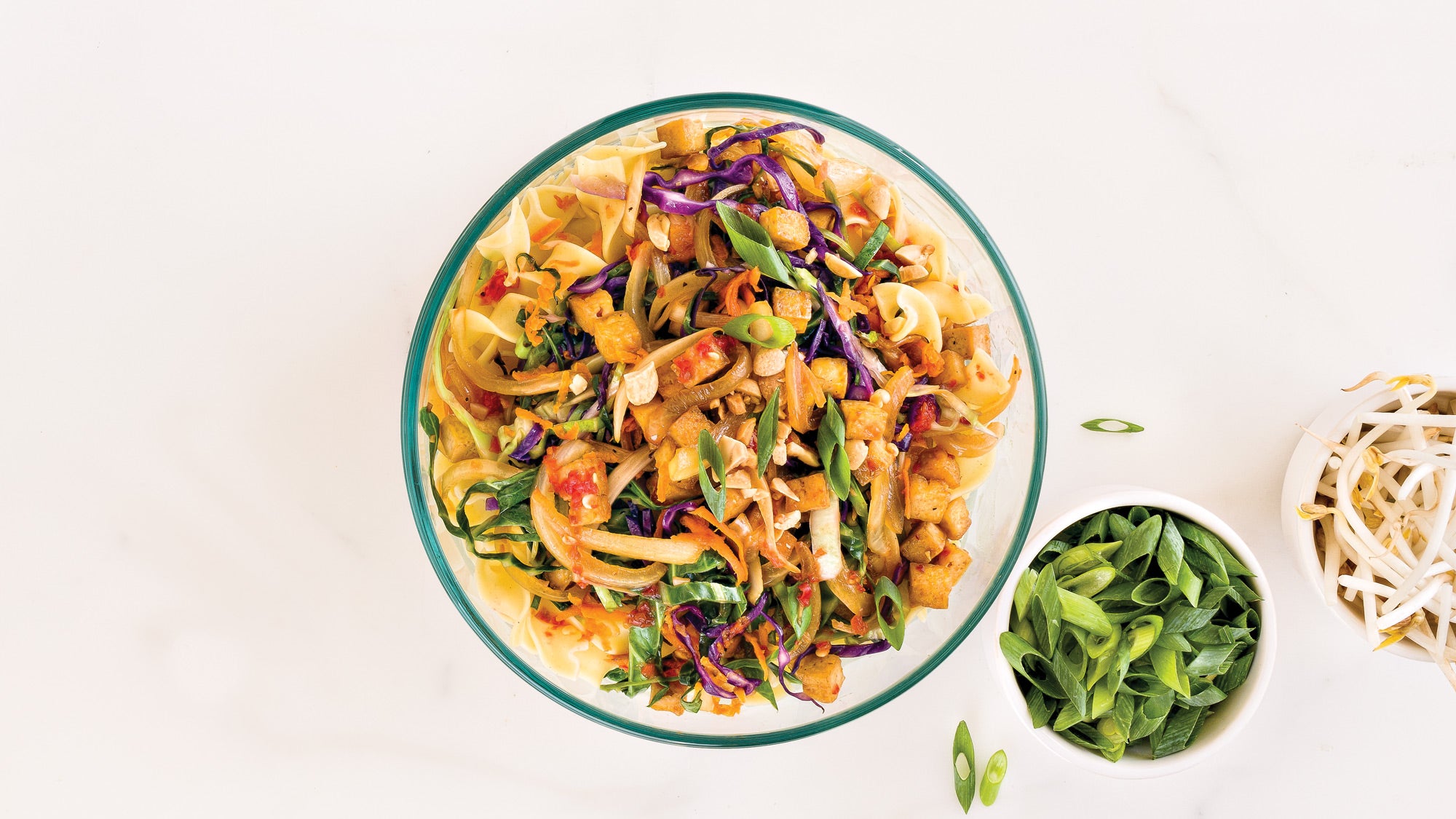 This bowl incorporates more cruciferous vegetables into your diet without resorting to same-old coleslaw. Get the recipe here.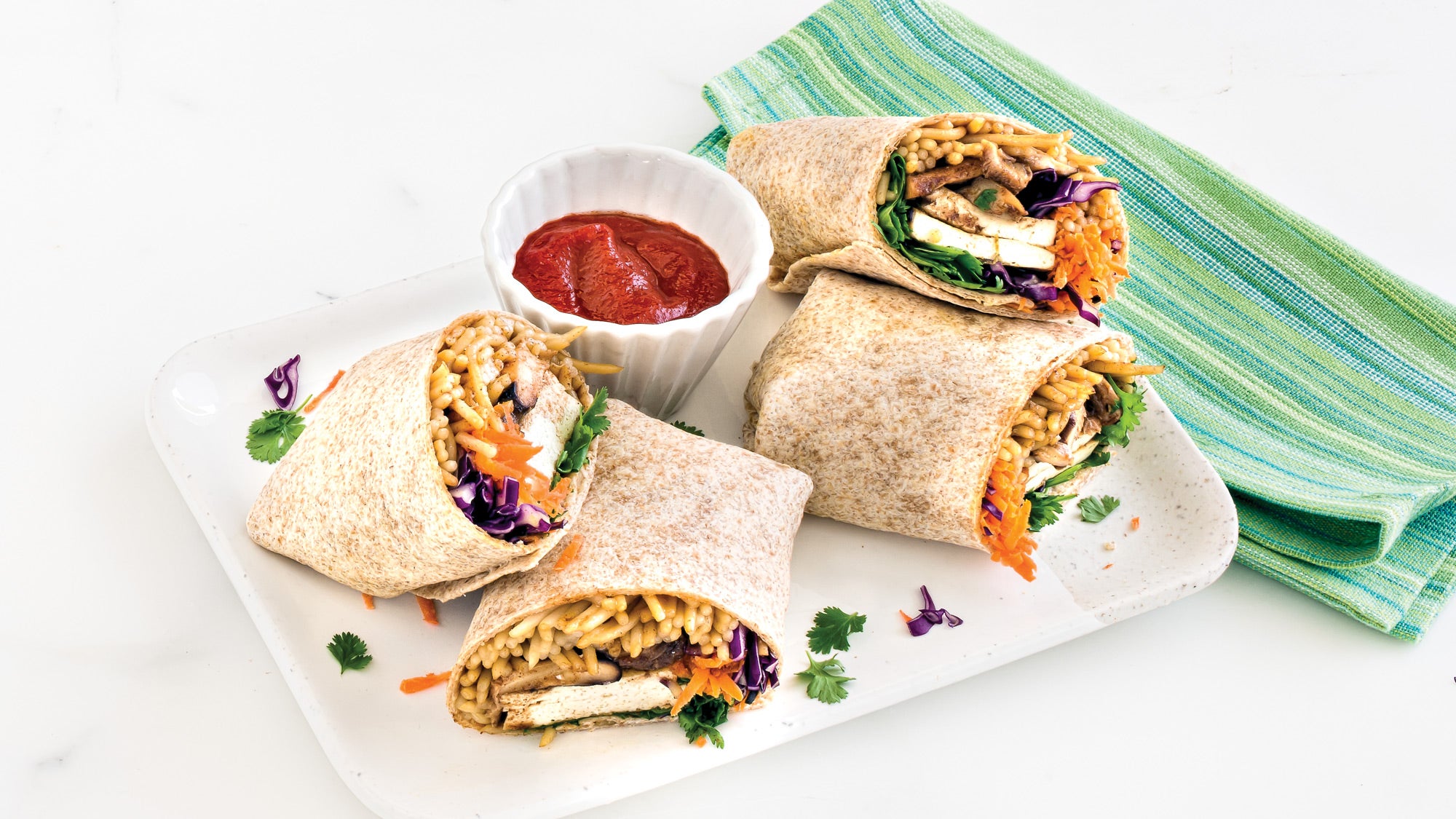 This hybrid of Pho and a burrito makes for an easy, on-the-go lunch or dinner. Get the recipe here.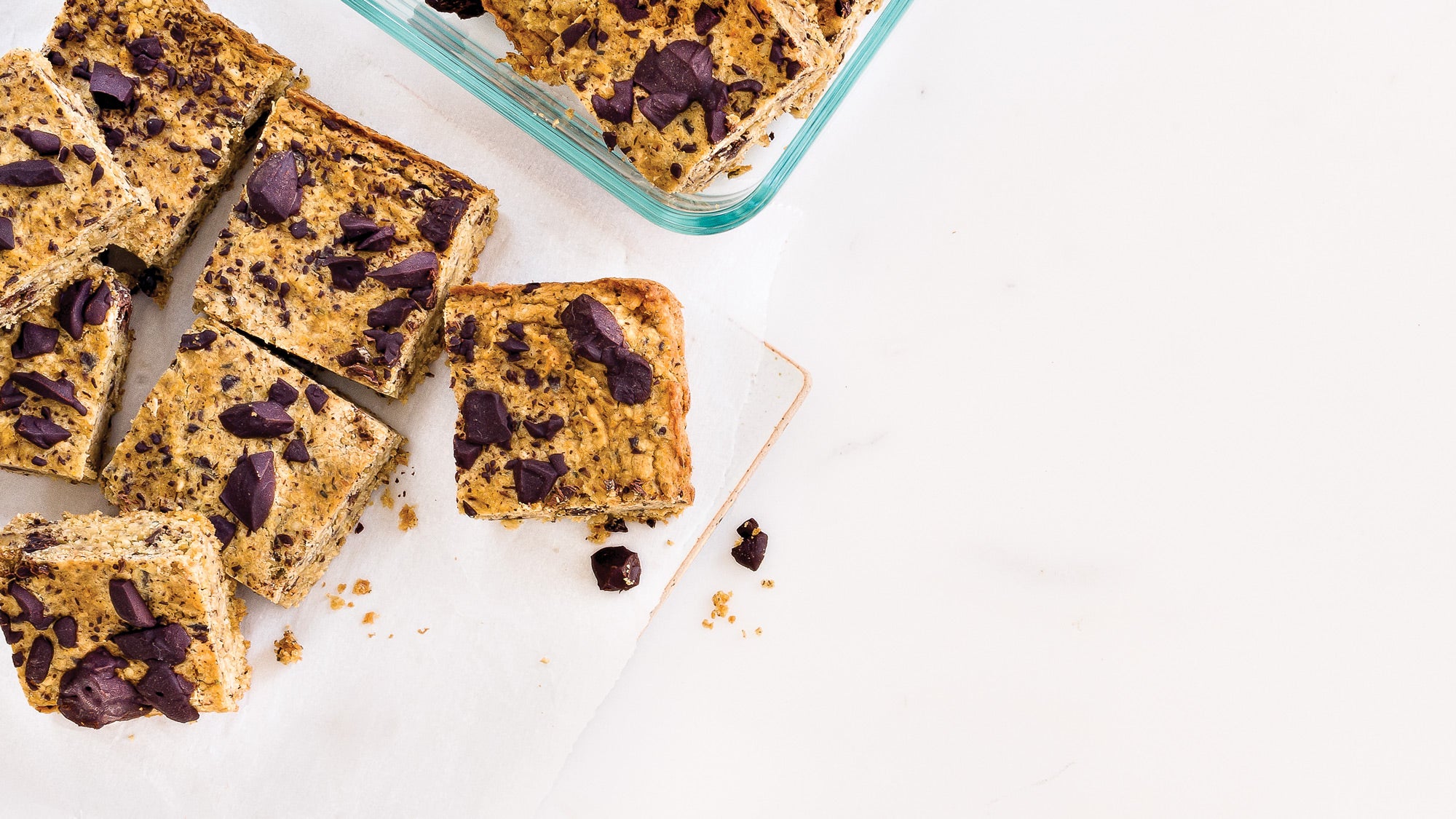 Sink your teeth into these protein-packed, decadent, gooey, chocolatey treats. Get the recipe here.
Section divider
This week's menu
Section divider
Shopping list
Proteins
3 10-oz packages firm organic tofu
Veggies and fruits
1 head green cabbage
1 head red cabbage
1 head savoy or red cabbage, optional
Bean sprouts, optional
1 apple, optional
1 orange, optional
1 pint raspberries, optional
19 oz medium carrots, plus additional carrot for optional garnish
1 large red chile
2 heads garlic
3 1-tbsp pieces fresh ginger
1 green bell pepper
2 lemons
2 limes
5 oz king oyster or cremini mushrooms
12 oz shiitake mushrooms
3 large sweet onions
1 large white onion
7 oz okra (or frozen)
2 celery stalks
2 white potatoes
4 green onions, plus additional for optional garnish
1 bunch fresh chives
1 large bunch fresh parsley
1 bunch fresh rosemary
1 bunch fresh thyme
1 small bunch fresh basil, optional
1 small bunch fresh cilantro, optional
Whole grains
1 pkg brown rice noodles
1 bag long-grain brown rice, optional
8 10-inch whole-wheat wraps
1 whole-grain bagel, optional
1 whole-wheat wrap or piece of bread, optional
Corn bread and/or whole-grain baguette, optional
1 box seed crackers, optional
Nuts, seeds and oils
11 oz raw unsalted cashews
1 bottle extra-virgin olive oil
1 bottle olive oil
1 bottle coconut oil
1 bottle grape seed oil
1 bottle sesame oil
Chopped roasted unsalted peanuts, optional
9 oz raw unsalted pistachios
1 bag ground flaxseeds
1 bag hemp seeds
1 container black or white sesame seeds, optional
Pantry staples and extras
1 bottle bay leaves
1 bottle cayenne pepper
1 bar unsweetened dark chocolate
1 bottle sambal oelek or sriracha sauce
1 bottle all-natural hot sauce or Vietnamese chile sauce, optional
2 8-oz cartons low-sodium vegetable broth
1 bag dried unsweetened cranberries
1 pkg egg noodles, optional
1 bottle ground cinnamon
1 bottle ground cumin
1 bottle garlic powder
1 bottle ground ginger
1 tbsp dried thyme
3 14.5-oz BPA-free cans unsalted diced tomatoes
1 15-oz BPA-free can unsalted white kidney beans
1 15-oz BPA-free can unsalted red kidney beans
2 15-oz BPA-free cans unsalted chickpeas
2 13.5-oz BPA-free cans coconut milk
1 bottle rice vinegar
1 container baking powder
1 container baking soda
1 bottle ground black pepper
1 bottle sea salt
1 bottle nutritional yeast
1 bottle pure maple syrup
1 bottle reduced-sodium tamari or soy sauce
1 bottle pure vanilla extract
Section divider
Cooking and prep tips
This batch cooking meal plan makes it easy to make everything you need for the week in advance. However, it's important to keep in mind that some of the recipes are best made a day or two into the week – or you may want to pop your prepped foods into the freezer for a longer storage lifespan. Here's a handy guide to assessing when these recipes need to be eaten by to guide your prep process:
Protein-Packed Chickpea Blondies – will keep until Friday covered in the refrigerator
Cranberry Pistachio Cheese Spread – will keep until Friday in a resealable bag in the refrigerator
Cream of Roasted Garlic & Tomato Soup – will keep until Thursday in the refrigerator, or up to 3 months in the freezer
Okra Mushroom Gumbo with red and white beans – will keep until Thursday in the fridge, or up to 3 months in the freezer
Egg Roll Bowl – will keep until Friday in a resealable bag in the refrigerator
Phorrito – will keep until Friday (store garnishes separately) in resealable bags in the refrigerator