Easy & Delicious Salmon Recipes
Salmon makes the perfect meal: It's both easy to prepare and healthy. Try these delicious recipes any night of the week for a clean, no-stress dinner.
Heading out the door? Read this article on the new Outside+ app available now on iOS devices for members! Download the app.
Lemon Salmon Patties with Sauce Verte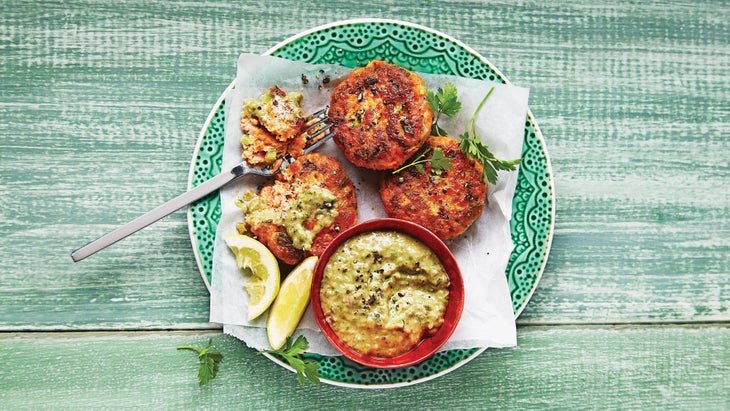 These protein-rich salmon patties have a bright citrus flavor. Serve them with your favorite sides for dinner or on a crispy green salad for a filling lunch.
Get the recipe here.
Roasted Salmon Teriyaki with Broccoli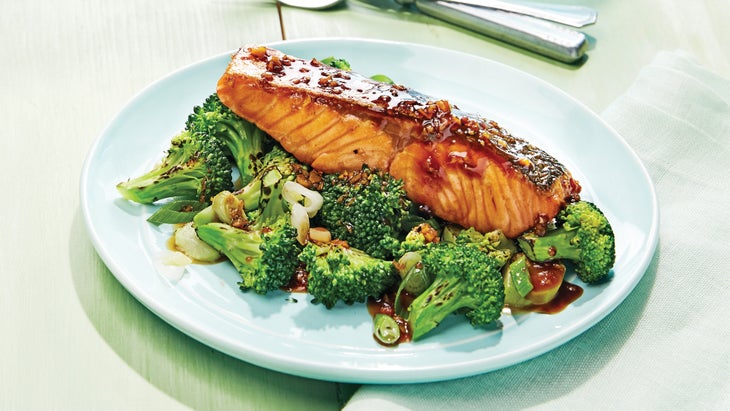 No need for a bottled sauce — here, you can make a quick, zesty teriyaki using orange juice, ginger and a few pantry staples. The recipe makes enough to coat the fish before roasting with plenty left over for drizzling and dipping at the table. (Tasty tip: Try it on the broccoli!)
Get the recipe here.
Smoked Salmon "Bagel" Salad with Lemon Chive Buttermilk Dressing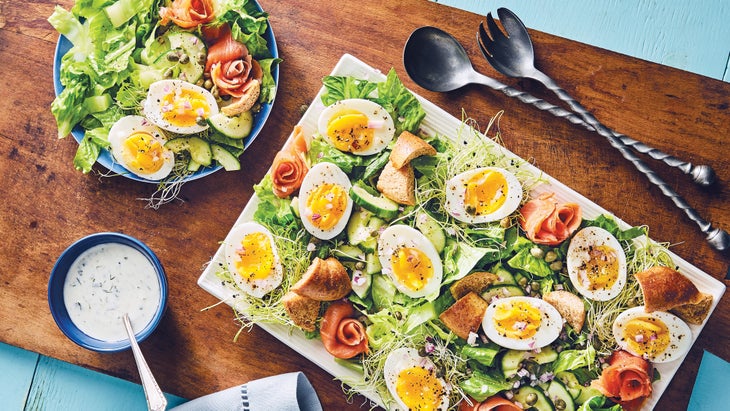 All the flavors of your favorite deli bagel — in salad form! With the dressing, croutons and eggs made in advance, this satisfying meal is ready in less time than a lunch run.
Get the recipe here.
Citrus Poached Salmon with Herb Sauce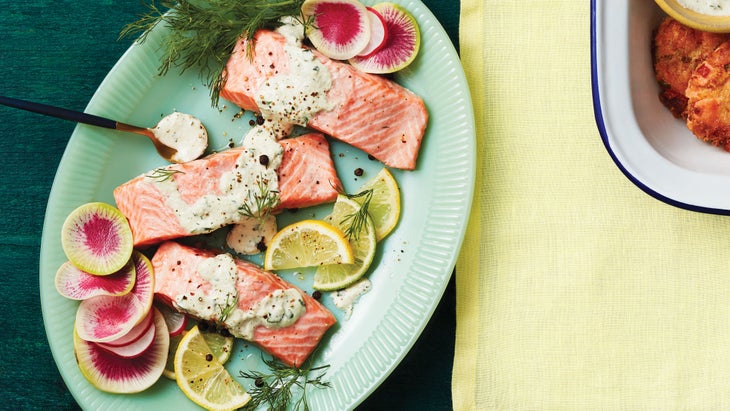 Zesty lemons and limes lend bright flavor to salmon fillets, which then get topped in a dreamy, creamy herb sauce with dill, parsley and mint. Both sauce and salmon can be made ahead and stored separately for a fast midweek meal.
Get the recipe here.
Chile-Glazed Salmon with Avocado Salsa & Mexican Cauli-Rice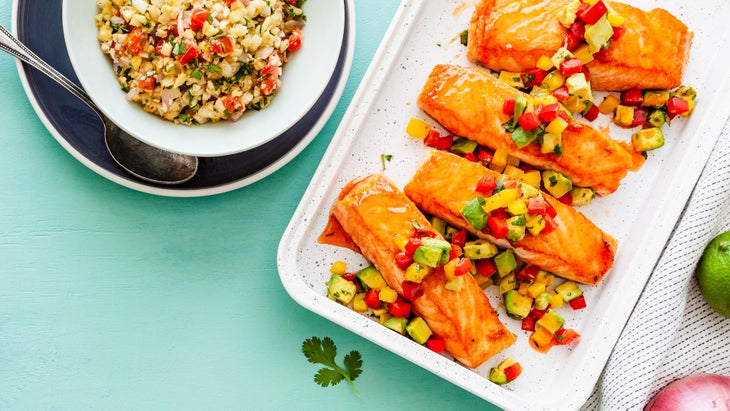 Honey and sriracha glaze gives the salmon an amazing sweet and spicy flavor. The avocado salsa is the perfect finish for this fast and easy dinner.
Get the recipe here.
Spicy Salmon Poke Bowls
Healthy protein infused with Japanese-inspired flavors create a healthy, filling lunch or dinner.
Get the recipe here.
Salmon Lettuce Wraps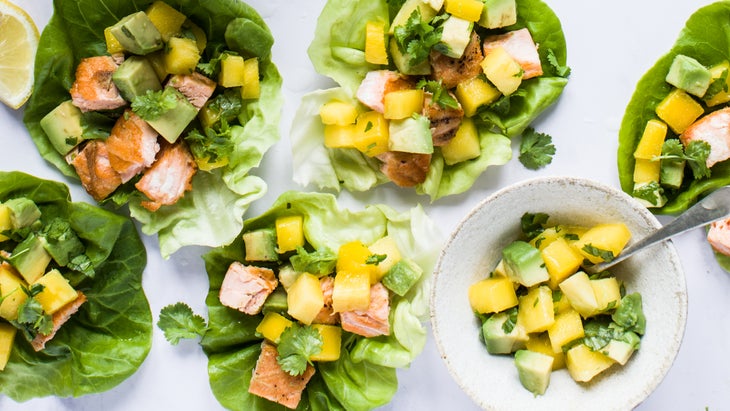 Low-carb salmon lettuce wraps with bright mango salsa. This weeknight dinner comes together in cinch with simple, fresh, and delicious ingredients!
Get the recipe here.
Cedar Plank Maple Dijon Salmon with Hasselback Sweet Potatoes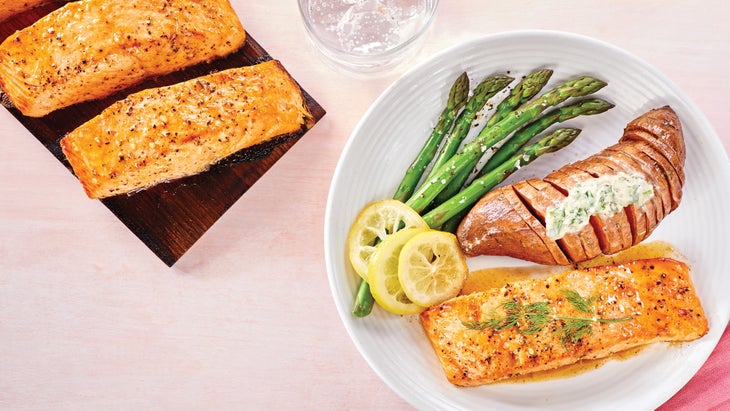 Smoky planked salmon with butter-topped sweet potatoes looks fancy, but this family-style dinner couldn't be easier. Here, we serve it with grilled asparagus to round out the meal.
Get the recipe here.
Maple Baked Salmon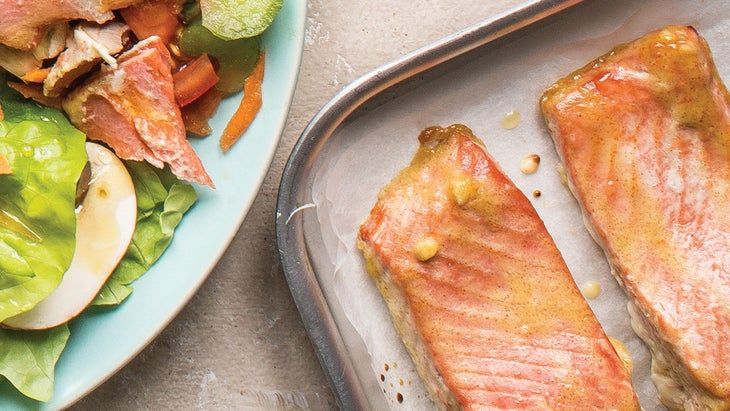 This easy baked salmon recipe allows you to get a healthy dinner on your table in about 20 minutes!
Get the recipe here.
Toast with Smashed Avocado & Smoked Salmon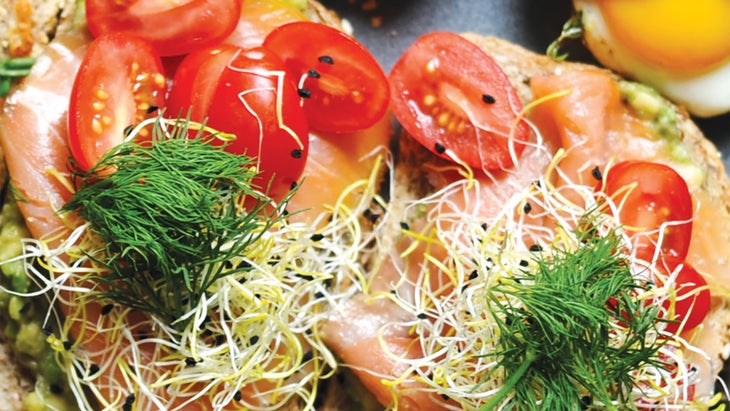 Smashed avocado steps in for cream cheese and is a decadently creamy base for smoked salmon and herbaceous dill.
Get the recipe here.
Salmon Salad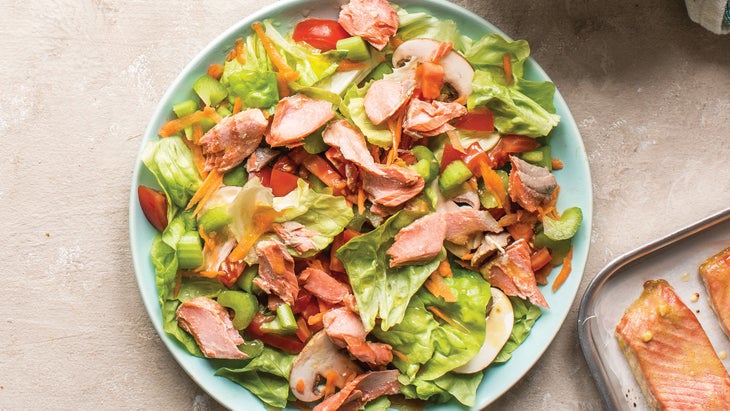 This super easy salmon salad has crunchy celery, fresh mushrooms, carrots, and a zesty dressing.
Get the recipe here.
Salmon & Broccoli with Tangy Lemon Herb Sauce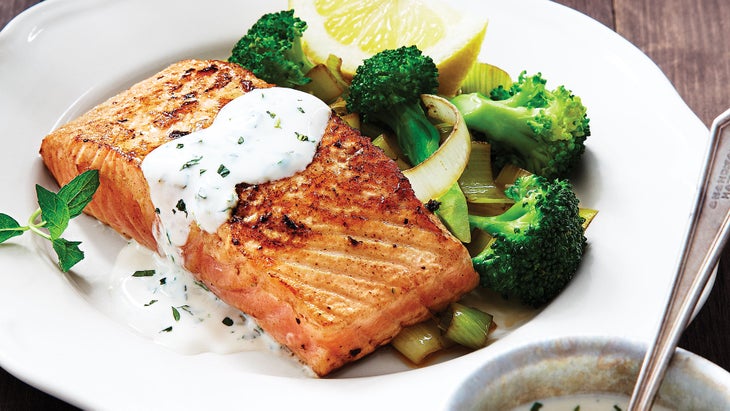 This super-fast fish dish is ideal for entertaining: The colorful combination of vibrant green broccoli and pink salmon topped with silky smooth sauce will wow guests yet won't relegate you to the kitchen, thanks to minimal hands-on time.
Get the recipe here.
Smoky Grilled Salmon with Citrus Jalapeño Butter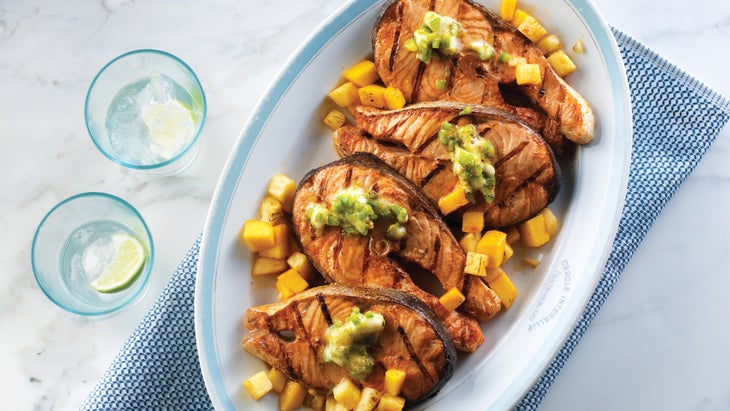 Meaty salmon steaks – be careful of the bones – get extra oomph thanks to a smear of boldly flavored butter, served over paprika-spiked grilled pineapple and mango.
Get the recipe here.
Olive Oil–Poached Salmon with Yogurt Chimichurri & Tomato Corn Salad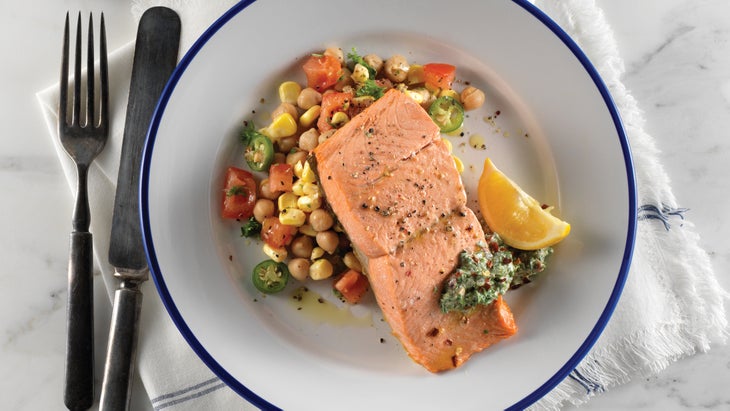 If you think salmon is succulent, wait until you taste silky, sexy olive oil–poached salmon! Here, it's complemented by chimichurri, an Argentinean herb sauce with brightness from vinegar, earthiness from oregano and a hint of heat. Serve with lemon wedges
Get the recipe here.
Smoked Salmon Burger with Lemon Aioli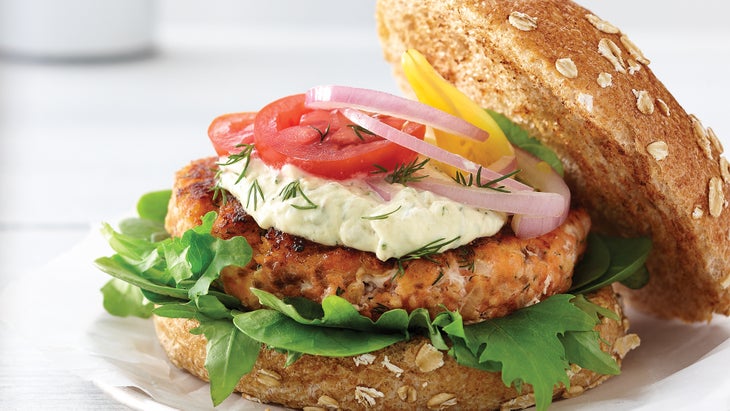 Salmon fillets and smoked salmon are combined with dill and other seasonings to make this clean and lean patty stand out. Lemon and herb aioli give this burger an extra lift of flavor.
Get the recipe here.
Orange Salmon with Asparagus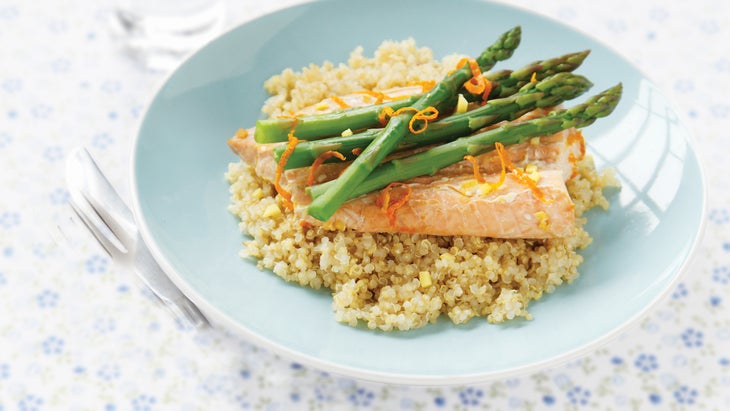 Television host, author and chef Candice Kumai's simple parchment supper uses just six ingredients, three of which – soy sauce, orange zest and ginger – are all about bold flavor with few calories!
Get the recipe here.
Horseradish Salmon & Asparagus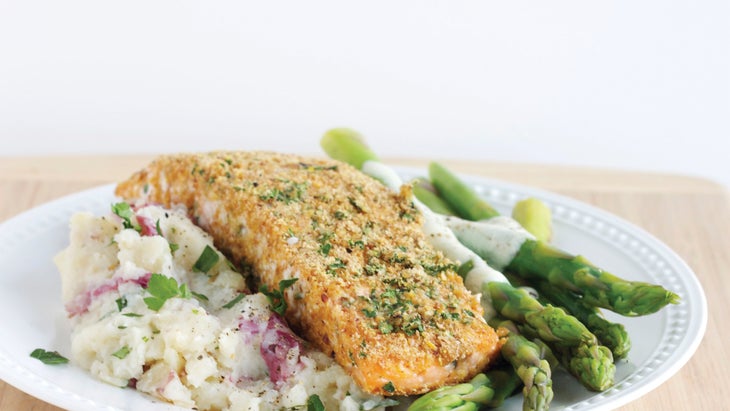 Tender spears of asparagus hug our salmon, and are topped with a tangy, hollandaise-style sauce. We don't mind when some of the creamy condiment runs into our smashed redskins either…
Get the recipe here.
Crispy Citrus Salmon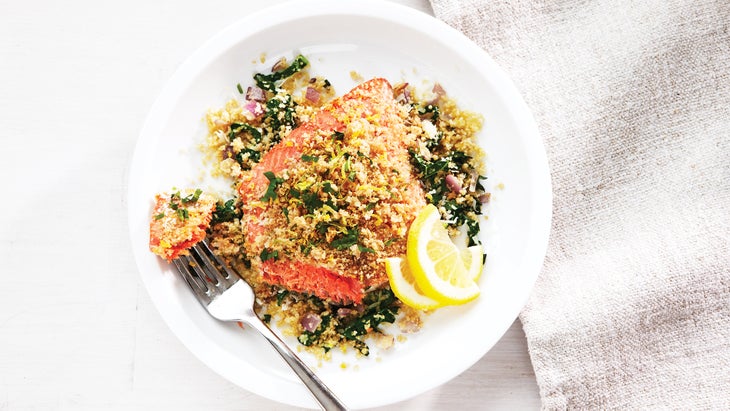 Tangy lemon and lime zest pair beautifully with delicate salmon, creating a delicious entrée that's perfect for any occasion.
Get the recipe here.
Salmon Lettuce Cups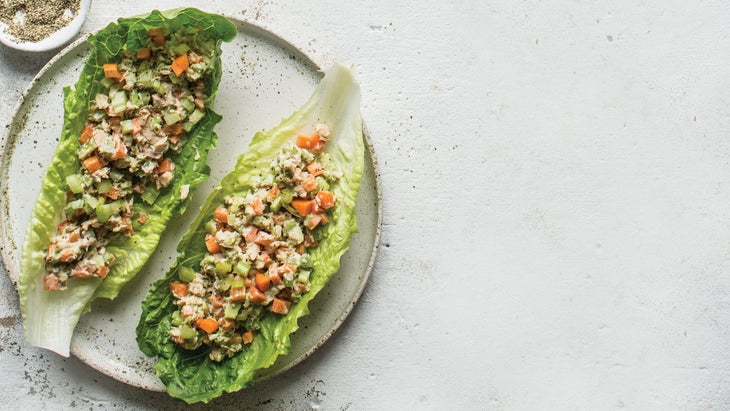 Canned salmon wrapped in fresh lettuce cups makes a super-easy Paleo-friendly lunch or dinner.
Get the recipe here.
Orange Miso Salmon Bowl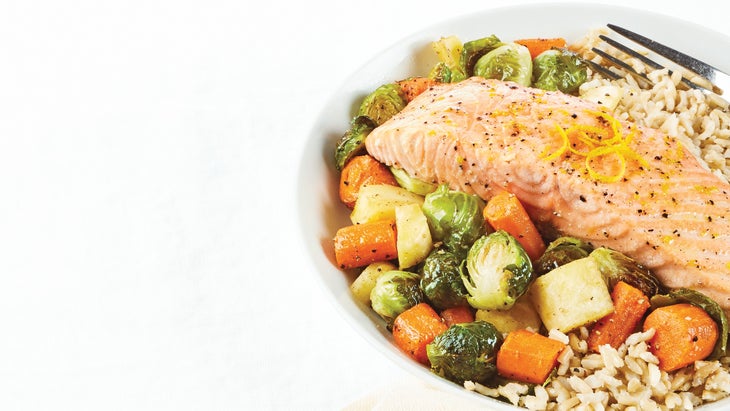 Brown rice is topped with roasted carrots, parsnips and Brussels sprouts for a filling and warming meal in a bowl. The salmon is baked with a zesty miso glaze that doubles as the sauce.
Get the recipe here.
Crispy Quinoa, Arugula & Salmon Salad with Tarragon Vinaigrette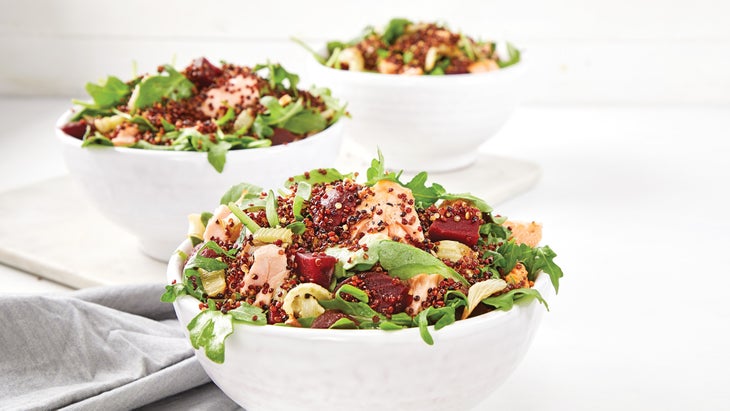 Quinoa doesn't have to be relegated to being a base, it can also be a topper! Here, it's broiled until crisp then sprinkled over the salad.
Get the recipe here.
Greek Salad with Grilled Salmon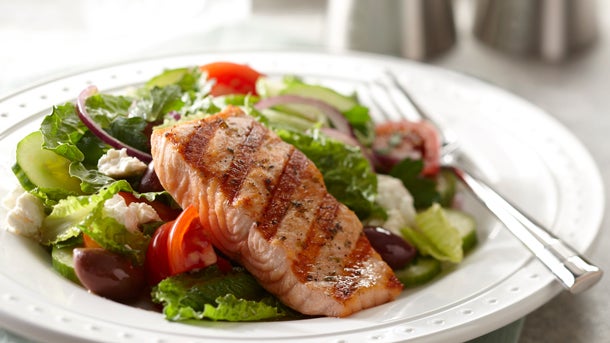 Loaded with vitamin B12, protein and omega-3 fatty acids, this salad from Curtis Stone is the perfect high-energy lunch. For a chilled grilled salmon salad, grill the salmon four hours ahead of time and refrigerate.
Get the recipe here.
Baked Salmon with Horseradish Gremolata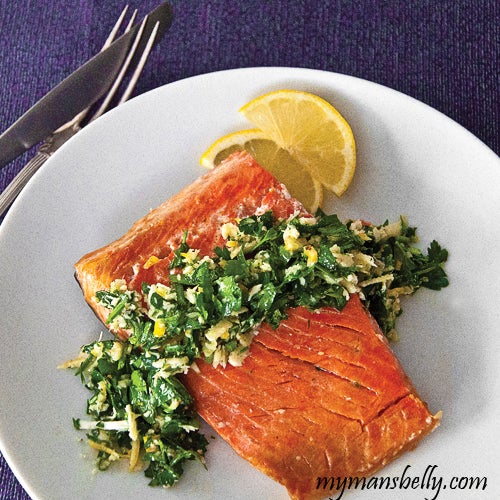 We spotted Pamela Braun's fabulous 20-minute fish recipe as an entry in our Essential Fish Dish contest. We immediately needed to know more…
Get the recipe here.
Fennel-Crusted Side of Salmon with Chive Yogurt Sauce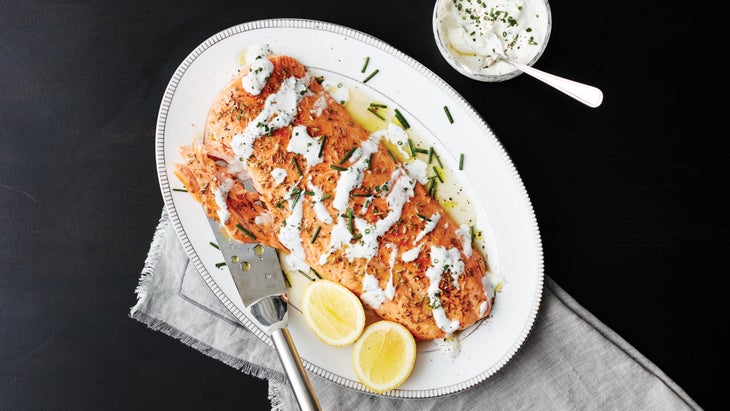 Although perhaps not a usual staple on the holiday table, this deeply flavored salmon made with just a few ingredients is a nice, light complement to the heavier options on the menu. If you don't have a mortar and pestle to lightly crush the fennel seeds, just use them as is. Garnish with additional chives.
Get the recipe here.
Thai Black Rice Salad with Wild Salmon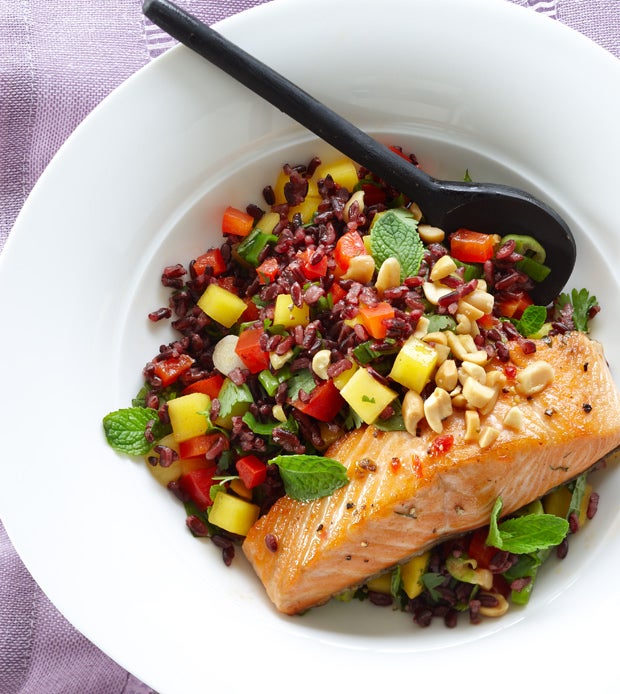 Black Forbidden rice gets its name from ancient China, where the dark-hued grain was banned from commoners and reserved strictly for royalty and nobility. Today, it can be found in local markets and ethnic grocery stores, and is commonly used in Thai cooking and is perfect in this black rice salad!
Get the recipe here.
Salmon Patties with Sautéed Squash & Zucchini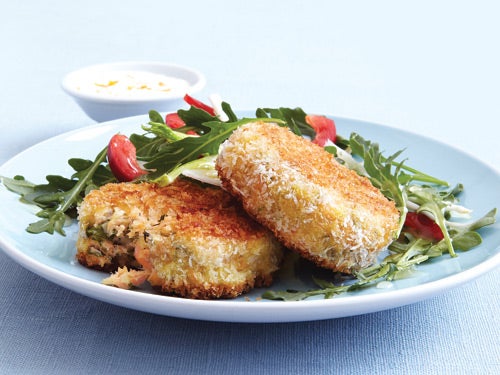 We've given this staple in times of financial hardship a clean, gourmet twist by adding cilantro and grated carrots. Protein-rich egg whites and whole-wheat bread crumbs seal the highly affordable deal.
Get the recipe here.
Moroccan-Style Salmon with Herbed Bulgur Salad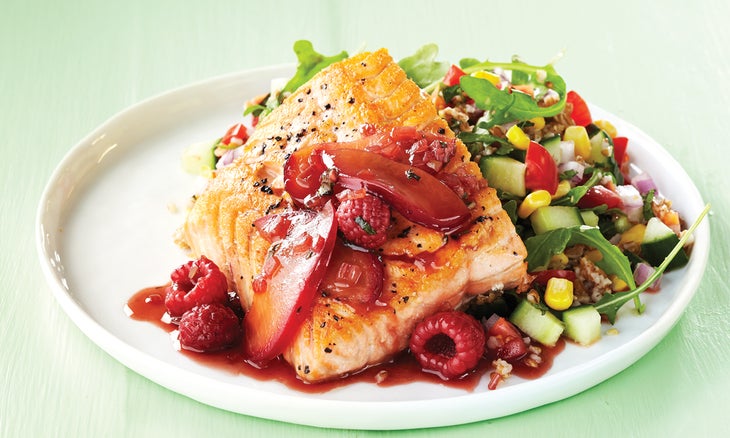 Tender salmon and warm Moroccan spices make for a quick and healthy meal. Bulgur is low in fat and a good source of vitamins, minerals and fiber for a filling side.
Get the recipe here.
Fennel, Mustard & Lemon-Crusted Salmon with Avocado Salsa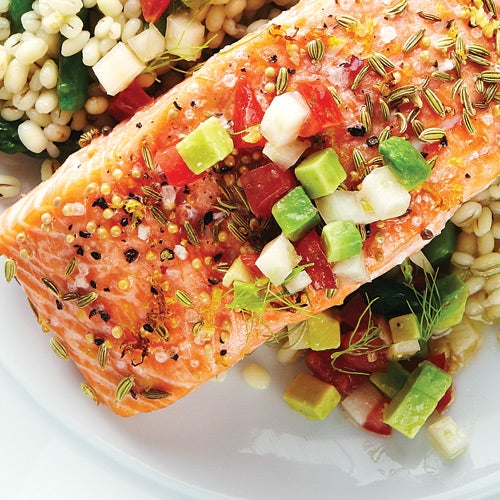 Fresh, fragrant salmon topped with a luscious avocado salsa with tomato and fennel is the way to your loved one's heart (not their waistline).
Get the recipe here.