Prep These Anti-Inflammatory Recipes on Sunday, Eat Them All Week Long
If you're looking to beat inflammation with a week's worth of eating, we've got you covered with these curated recipes, game plan and shopping list.
Heading out the door? Read this article on the new Outside+ app available now on iOS devices for members! Download the app.
While acute inflammation is a natural process that allows your body to heal, when inflammation becomes chronic, it can set you up for a number of health conditions such as arthritis, insulin resistance, heart disease and obesity. A number of lifestyle factors can have a positive impact on reducing inflammation such as stress management, improved sleep and even exercise. Of course, one of the major factors that can positively affect inflammation is the food you eat. 
Eating to combat inflammation means focusing on whole, nutrient-dense foods, healthy fats and reducing sugar and refined grains. You'll want to include an array of colorful vegetables and fruits in your meals along with healthy fats from quality sources like extra-virgin olive oil, salmon, nuts and seeds. There are also key ingredients such as turmeric and ginger, which have antioxidant and anti-inflammatory properties that make a great addition to any inflammation-fighting plan.
We've taken all of these principles into account when we curated this prep-ahead, batch-cooking plan that sets you up with seven recipes that you can eat throughout the week. These recipes are all gluten-free, grain-free and dairy-free to ensure it can accommodate a variety of dietary restrictions.
Section divider
How does this plan work?
We've selected seven of our favorite anti-inflammatory recipes, a combination of breakfast, lunches, dinners and snacks to round out a week of healthy eats.
Some of these recipes are a meal on their own, and for others we've made serving suggestions on how to stretch them into other creative meals. Check out our serving suggestions below in the menu section.
To make this plan uber easy, we've included a shopping list that includes all the ingredients in all seven recipes. Keep in mind that we did not include ingredients for servings suggestions since those are personal preference, so make sure to adjust your shopping list to include the ones you like.
Also keep in mind that the shopping list calls for enough ingredients to make one of each recipe, but take a look and decide if there are recipes you'd like to double up on. For example, you can double and triple batch the Golden Milk Smoothie and make smoothie packs for the whole week. Or, make extra of our Breaded Chicken Strups with Spicy Marinara Sauce: the breaded chicken strips can be frozen (before cooking) so you'll have homemade frozen chicken strips at the ready.
Section divider
Your 7 anti-inflammatory recipes
Golden Milk Smoothie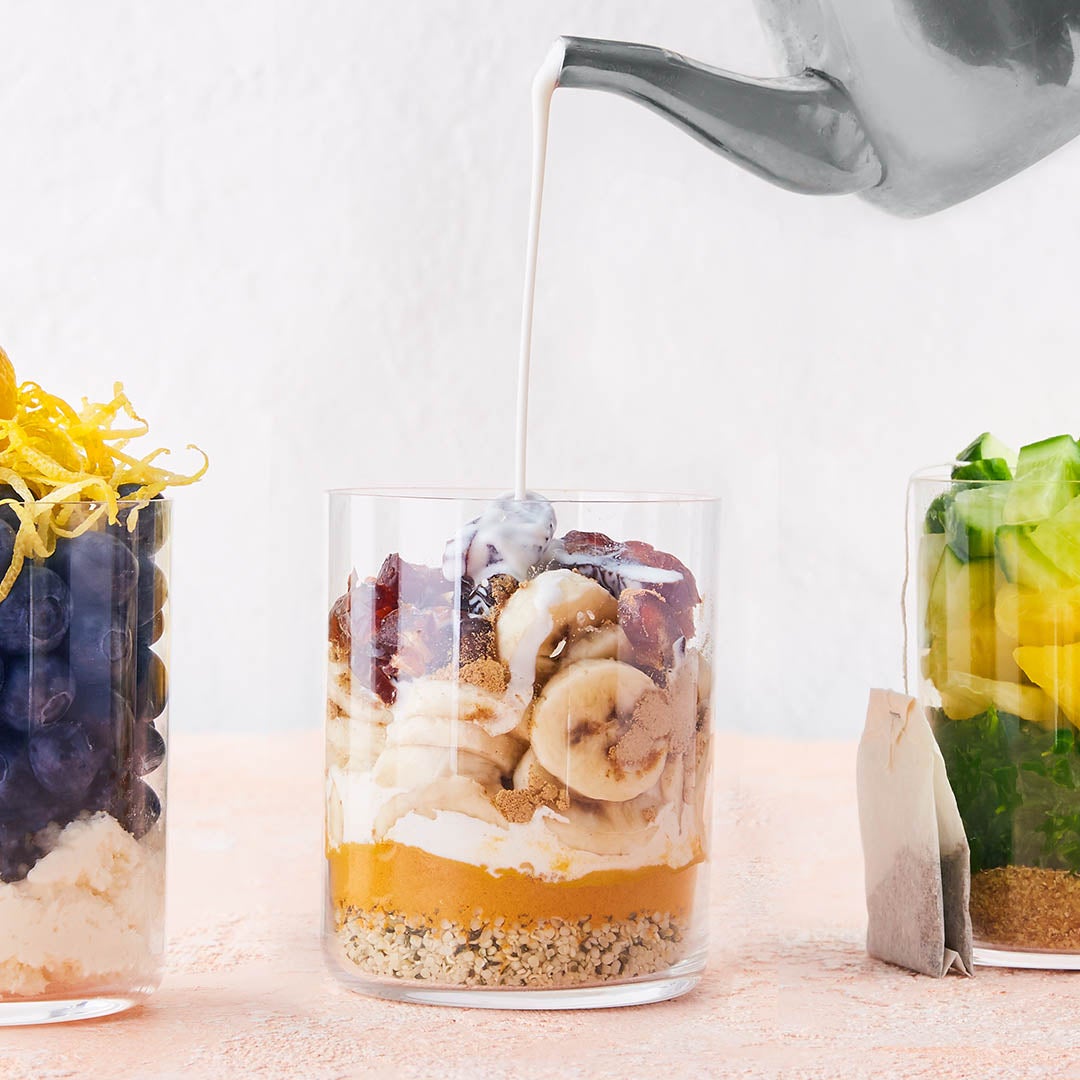 Ground turmeric adds anti-inflammatory power to this vibrant smoothie with coconut milk and warming spices. To make it ahead, we suggest preparing frozen smoothie packs of dry ingredients and adding in liquids when ready to blend. Get the recipe.
Keto Sheet Pan Breakfast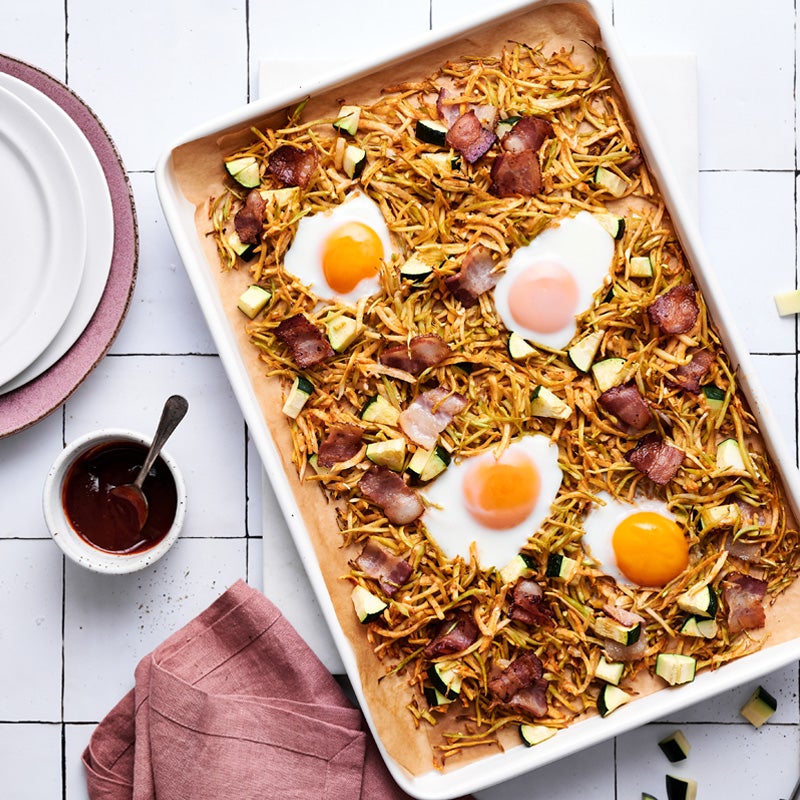 A bag of packaged slaw makes an easy cheat in this roasted vegetable sheet pan topped with hearty bacon and eggs. Get the recipe.
Turmeric-Roasted Vegetables with Parsley Almond Gremolata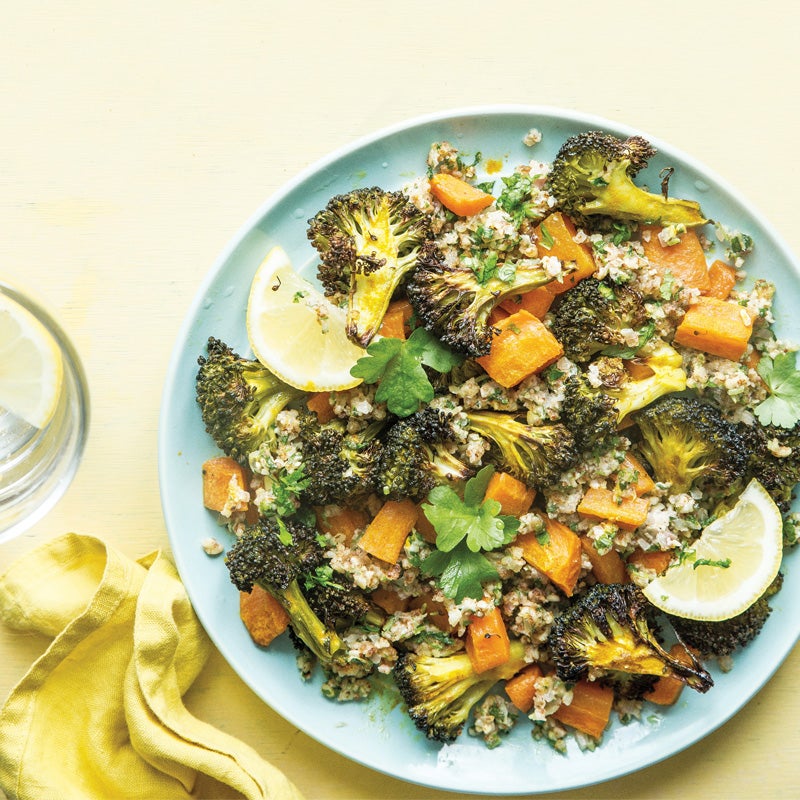 Broccoli and carrots are roasted with ground turmeric in this side dish that can be made completely ahead. Get the recipe.
Citrus Poached Salmon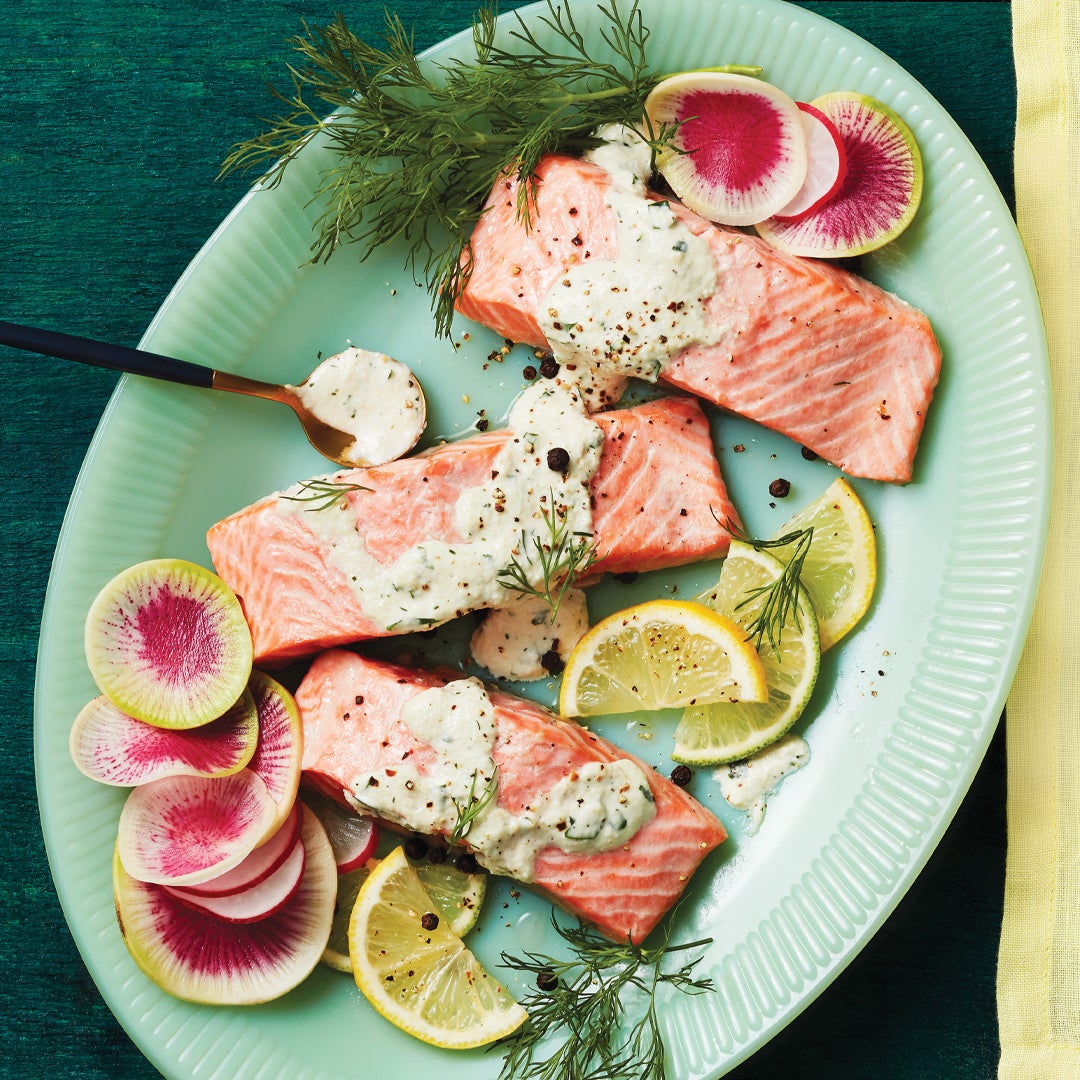 Zesty lemons and limes lend bright flavor to salmon fillets, which then get topped in a creamy herb sauce with dill, parsley and mint. Get the recipe.
Muhammara Dip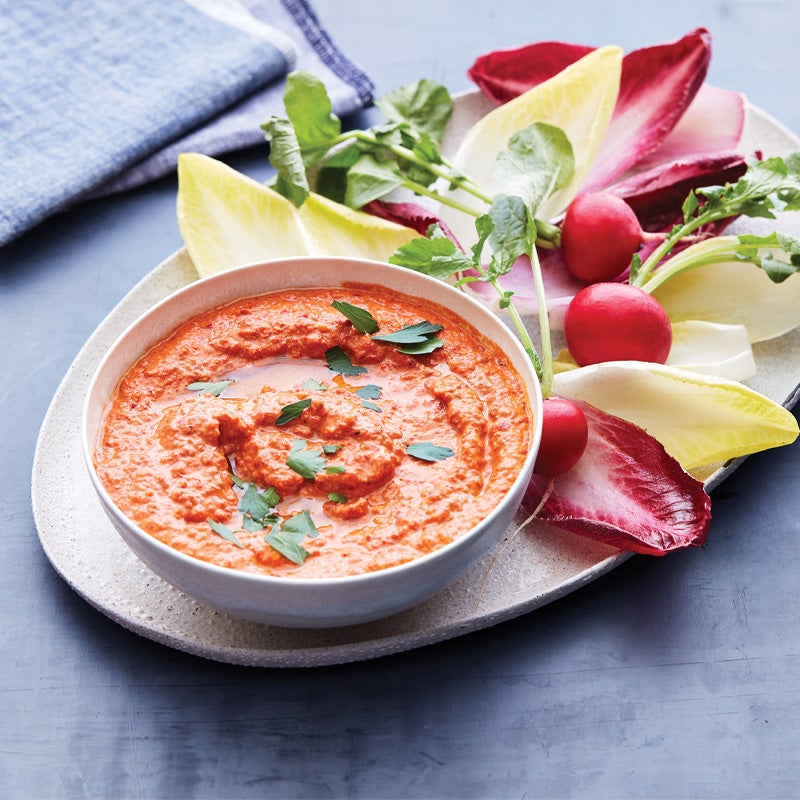 This version of the Syrian roasted red pepper dip is sweetened with a date to avoid refined sugars. Get the recipe.
Breaded Chicken Strips with Spicy Marinara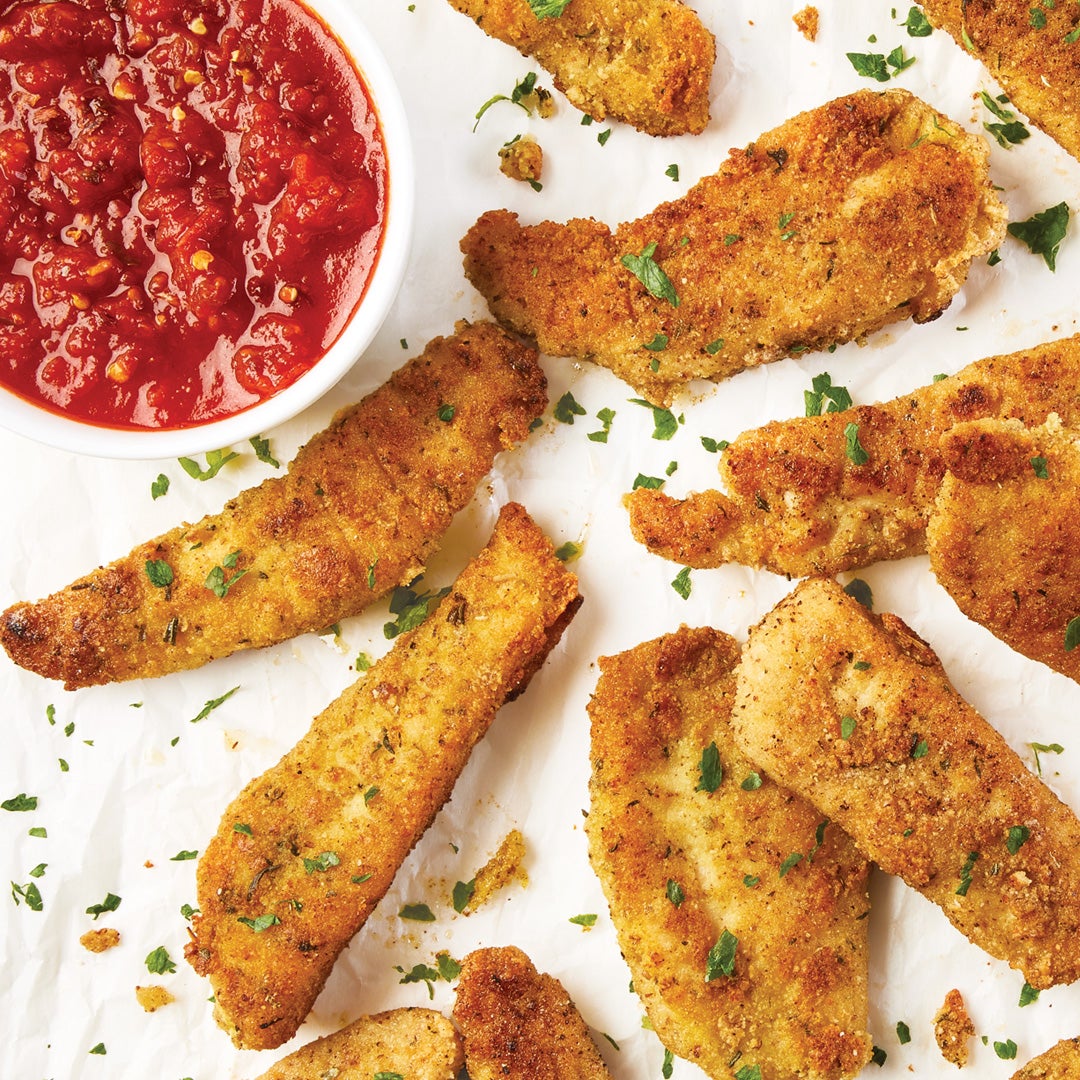 Chicken strips are coated with almond flour, coconut flour and arrowroot in this healthy update of classic chicken strips. Get the recipe.
Rainbow Mango Slaw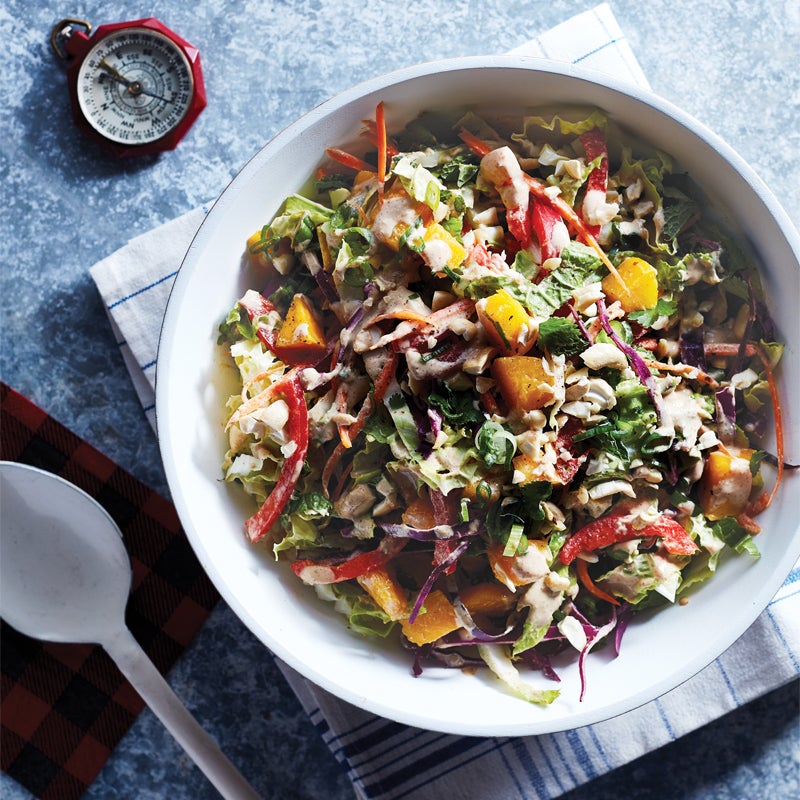 This slaw contains an array of nutrient-rich produce including cabbage, carrots, bell pepper and mango. Get the recipe.
Section divider
This week's menu
Make the seven anti-inflammatory recipes and use them throughout the week as is, or with small additions, to create a week's worth of meals.
Breakfast
Snacks
Lunch/Dinner
Section divider
Your Sunday prep game plan
1. Make individual smoothie packs for Golden Milk Smoothie: pile all dry ingredients into a silicone bag or container and freeze. (When ready to serve, place in blender with liquids and blend.)
2. Prep Keto Sheet Pan Breakfast through Step 1. Cool and refrigerate vegetable-bacon mixture. (When ready to serve, reheat in the oven and crack eggs overtop. Alternatively, reheat in a skillet and crack eggs over top.)
3. Make Turmeric-Roasted Vegetables with Parsley Almond Gremolata through Step 3. Refrigerate vegetable mixture and gremolata separately. (When ready to serve, heat veg, toss with gremolata and drizzle with lemon juice).
4. Make Citrus Poached Salmon with Herb Sauce. Refrigerate separately.
5. Make Muhammara Dip completely and prep vegetables for dipping; refrigerate separately.
6. Bread chicken and make sauce for Breaded Chicken Strips with Spicy Marinara. If eating within a couple of days, cook chicken; if holding for later in the week, freeze before cooking.
7. Prepare Rainbow Mango Slaw with Almond Butter Dressing & Fresh Herbs. Refrigerate slaw and dressing separately and toss just before serving.
Section divider
Shopping list
Protein
½ dozen large eggs 

1 package bacon (no added nitrates or nitrites)

5 5-oz wild-caught salmon fillets 

1 lb boneless skinless chicken breast cutlets
Vegetables/Fruit
12-oz bag broccoli or cauliflower slaw

1 zucchini

1 head garlic

1 lime

2 lemons

1 bunch fresh mint 

1 bunch fresh flat-leaf parsley

½-inch piece fresh ginger

1 bunch green onions

½ head Napa cabbage 

¼ head purple cabbage

2 carrots

1 large mango 

1 banana

1 small bag dates

Vegetables to accompany Muhammara Dip
Nuts, Seeds & Flours
1 bag hemp hearts

1 jar almond butter

½ cup unsalted cashews

½ cup walnuts

1 bag almond flour

1 bag coconut flour

1 bag arrowroot
Pantry Staples/Miscellaneous 
1 15-oz BPA-free can full-fat coconut milk

1 jar avocado or olive oil mayonnaise 

1 bottle extra-virgin olive oil

1 bottle hot sauce (optional)

1 jar marinara sauce (no sugar added)

1 bottle rice vinegar (no sugar added)

1 bottle sesame oil

1 bottle coconut aminos

1 carton plain unsweetened almond milk

1 jar roasted red peppers (12 to 15 oz)

1 container chicken or vegetable broth

Spices: ground ginger, ground turmeric, ground cinnamon, sea salt, ground black pepper, paprika, whole black peppercorns, ground cumin, ground Aleppo or cayenne pepper, onion powder, garlic powder, dried oregano, dried basil and red pepper flakes
Also read Make These 5 Anti-Inflammatory Snacks in Just 1 Hour (We Timed It!).