Your 1-Week Anti-Anxiety Meal Plan
Did you know that what you eat can help relieve anxiety? If you are feeling anxious, try adding more omega-3-rich foods, like salmon, trout and sardines, into your diet. This meal plan is also packed with other foods that help support your nervous system such as avocados, leafy greens, quinoa and berries.
Heading out the door? Read this article on the new Outside+ app available now on iOS devices for members! Download the app.
Feeling anxiety over an upcoming deadline or stressful encounter is common – however, when feelings of anxiety persist for months or when those feelings interfere with your life, then an anxiety disorder may be at play. While some people may be able to see positive change through lifestyle and therapy, others may need to work with a doctor to fully gain control over their symptoms.
Many people are surprised to learn that food can play a role in helping to reduce anxiety. Some key nutritional factors to consider:
Foods high in omega-3 fatty acids such those found in fatty fish help reduce brain cell inflammation while also helping to regulate calm-inducing hormones dopamine and serotonin.
Anxiety has been correlated with reduced antioxidant status so focus on antioxidant-rich foods such as berries and leafy greens.
The mineral magnesium helps regulate brain neurotransmitters so ensure you have enough from sources such as whole grains, avocados and leafy greens.
When eating for anxiety, it's also key to reduce foods that may exacerbate anxiety such as caffeine, alcohol, sugar and unhealthy fats. (For more in-depth information, read How to Eat Well for Anxiety.)
We've put all of these key principles into practice with this tasty, one-week meal plan to help soothe anxiety. Remember to combine this plan with a focus on sleep, movement and proper hydration. And make sure to communicate with your doctor and/or therapist to ensure you have a holistic treatment plan.
Section divider
The recipes
Berry Chia Parfait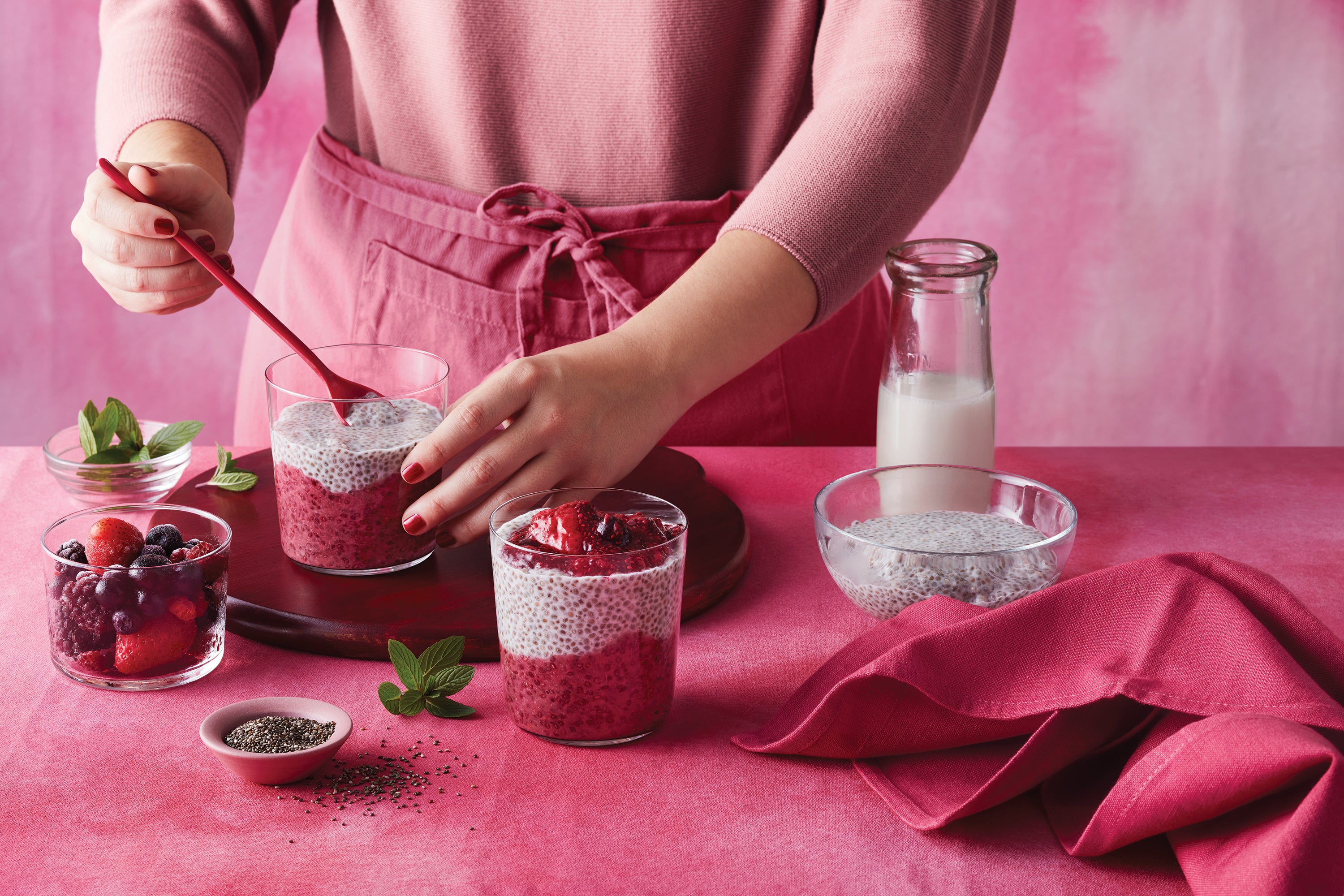 We've elevated your basic chia pudding into this beautiful, three-layer treat sweetened with only liquid monk fruit. The vibrant mixed berries will help you get closer to eating a rainbow of colors each day. Get the recipe.
Veggie Quinoa Patties with Black Bean Salsa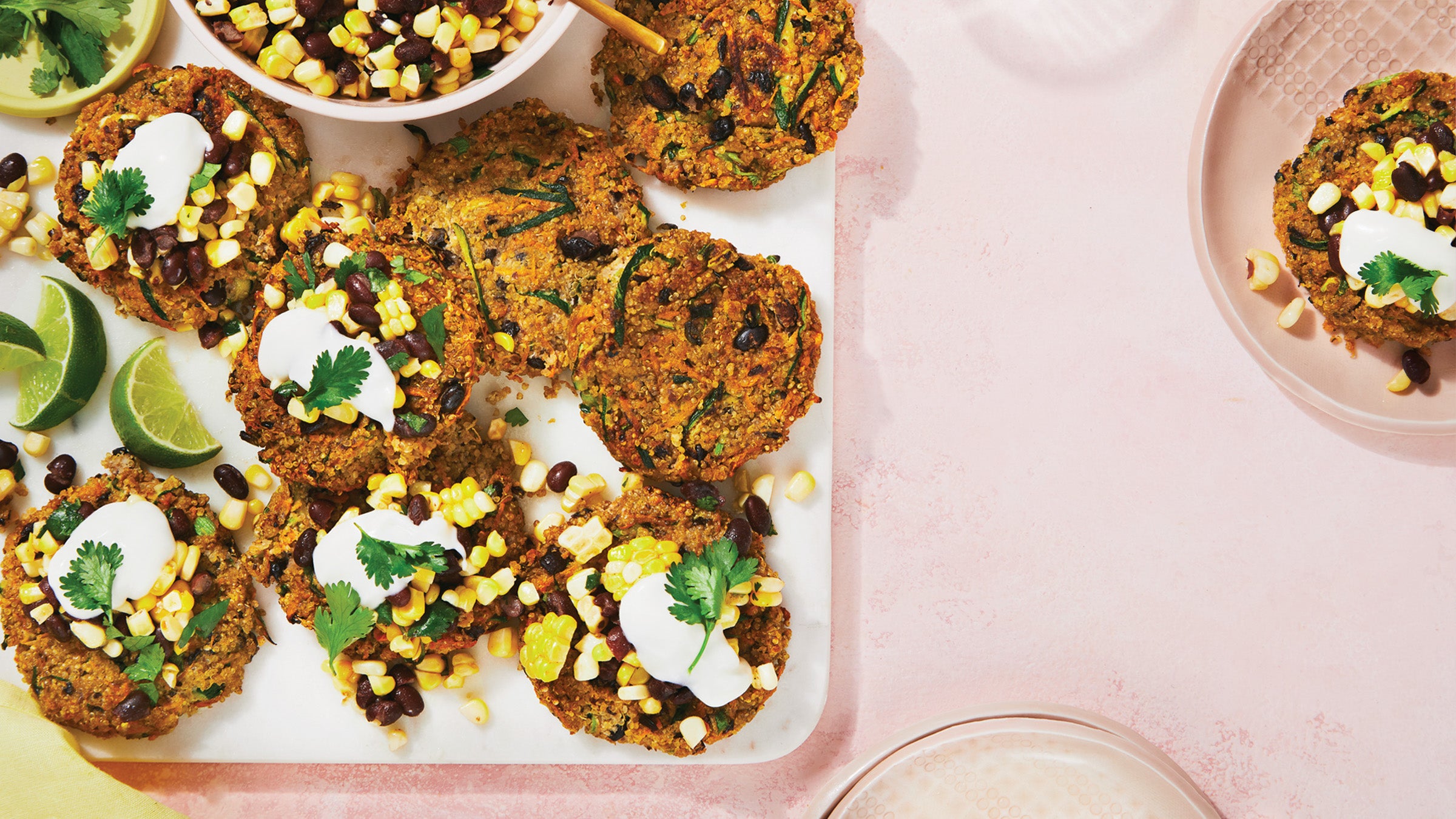 Made with quinoa and black beans, these crispy patties will leave you feeling satisfied for hours. Get the recipe.
Chile-Glazed Salmon with Avocado Salsa & Mexican Cauli-Rice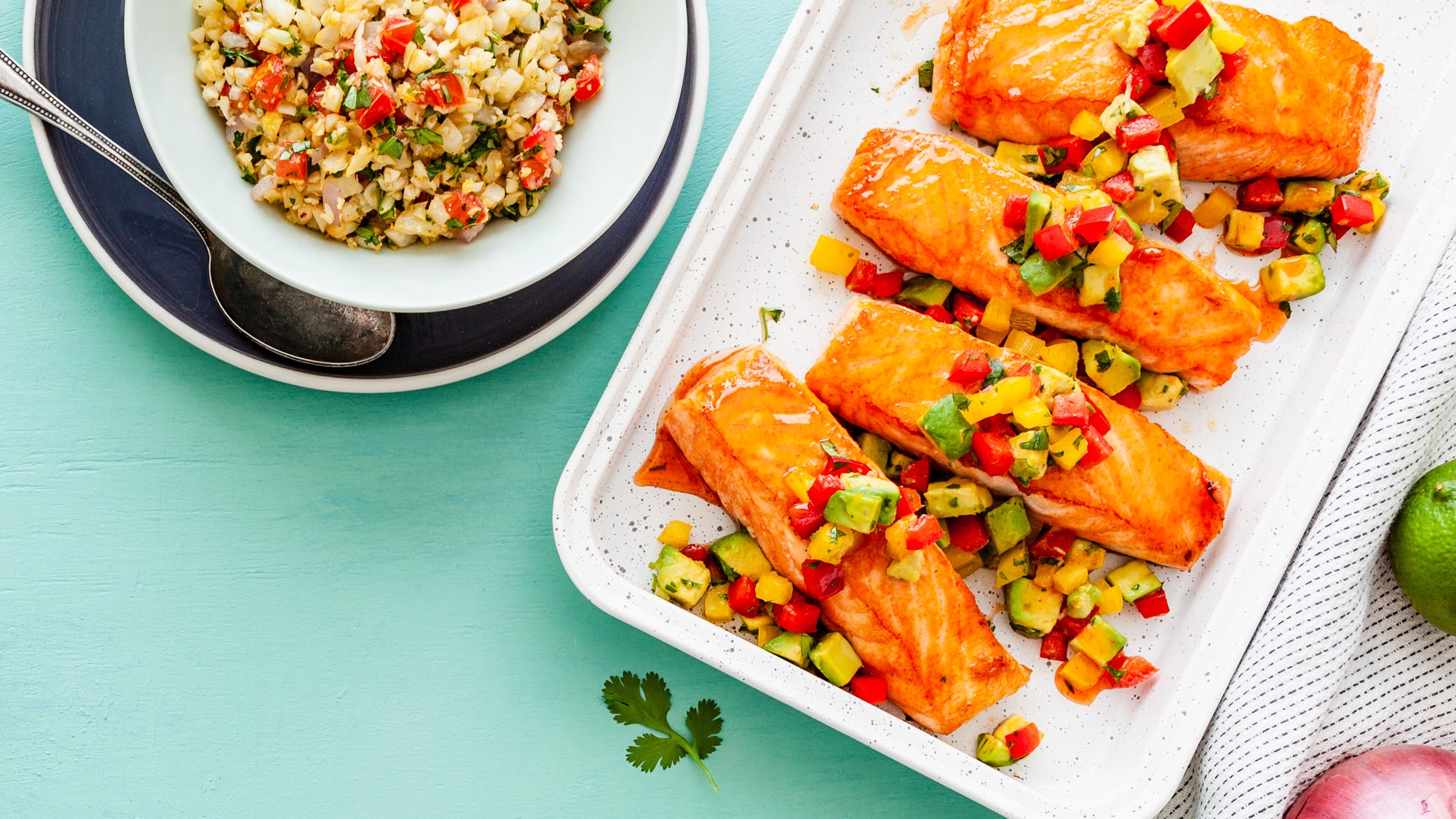 Honey and sriracha glaze gives the salmon an amazing sweet and spicy flavor. The avocado salsa is the perfect finish for this fast and easy dinner. Get the recipe.
Dairy-Free Coconut Lime Ice Cream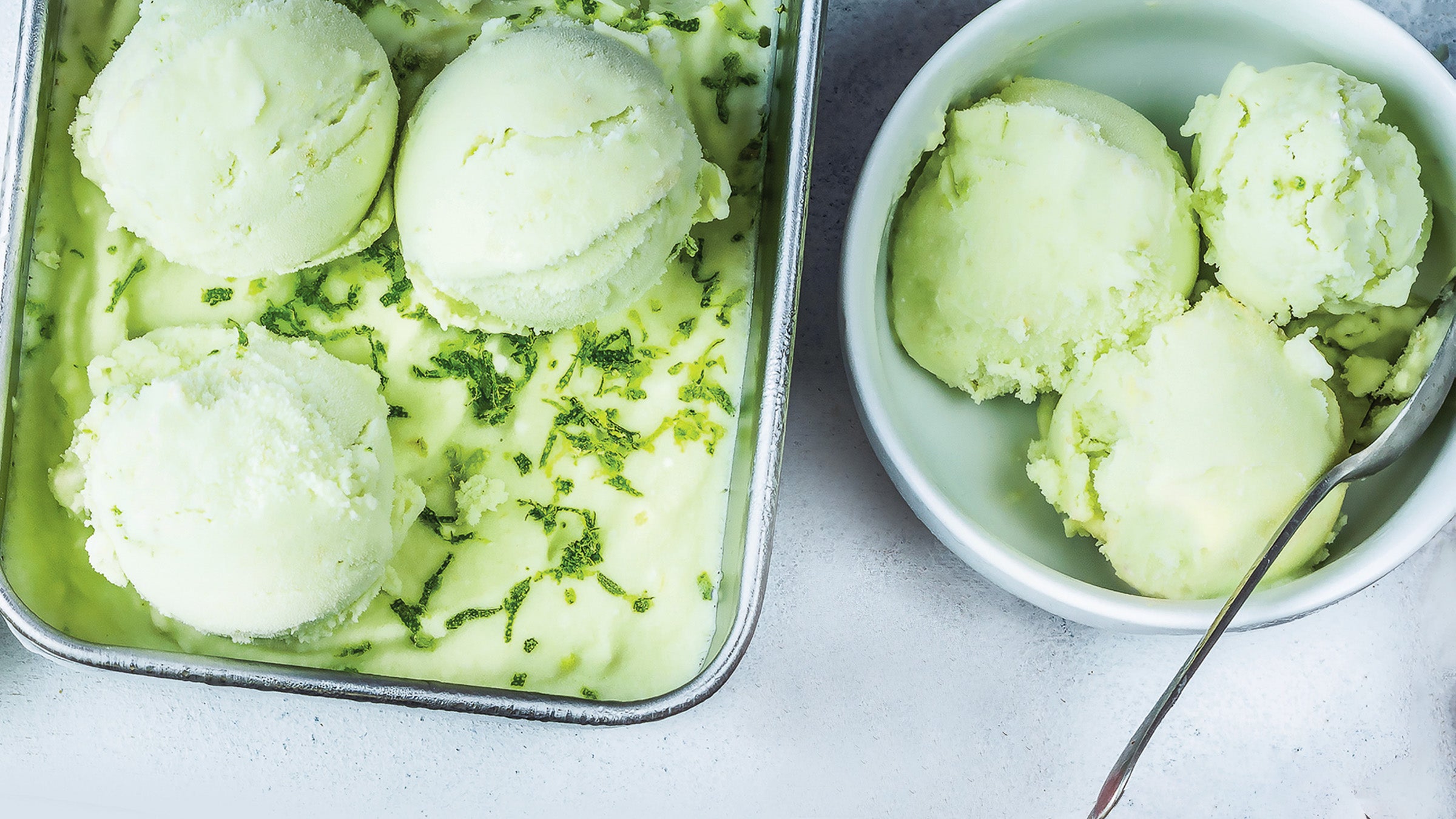 This quintessential dessert gets a healthy makeover in this recipe that relies on whole-food ingredients and natural sweeteners – and there's no ice-cream maker needed! Get the recipe.
Pizza with Sardines and Fennel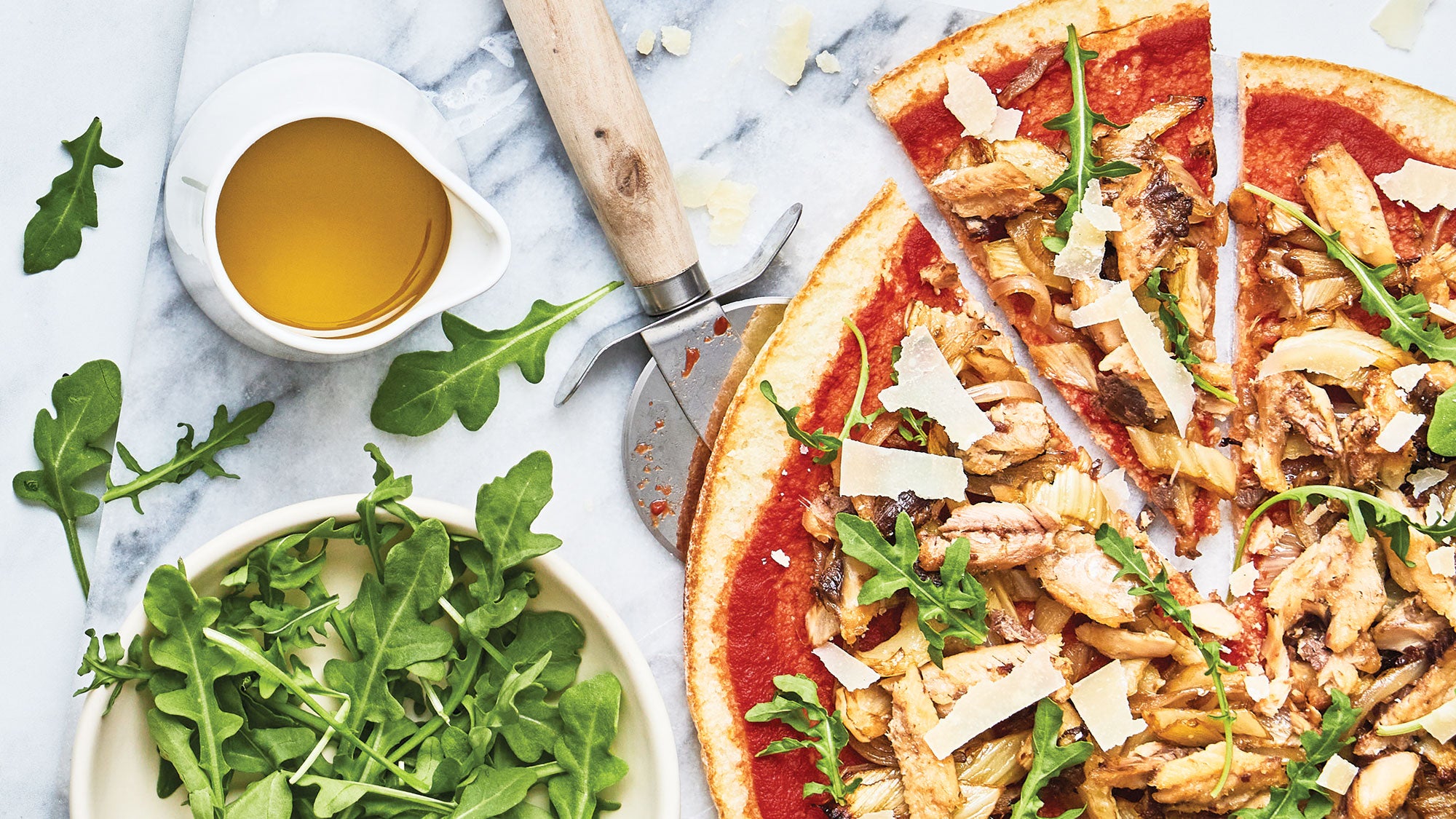 Gluten-free pizza gets a budget-friendly makeover with this seafood rendition featuring canned sardines! Get the recipe.
Smoked Trout Salad with Creamy Dill Dressing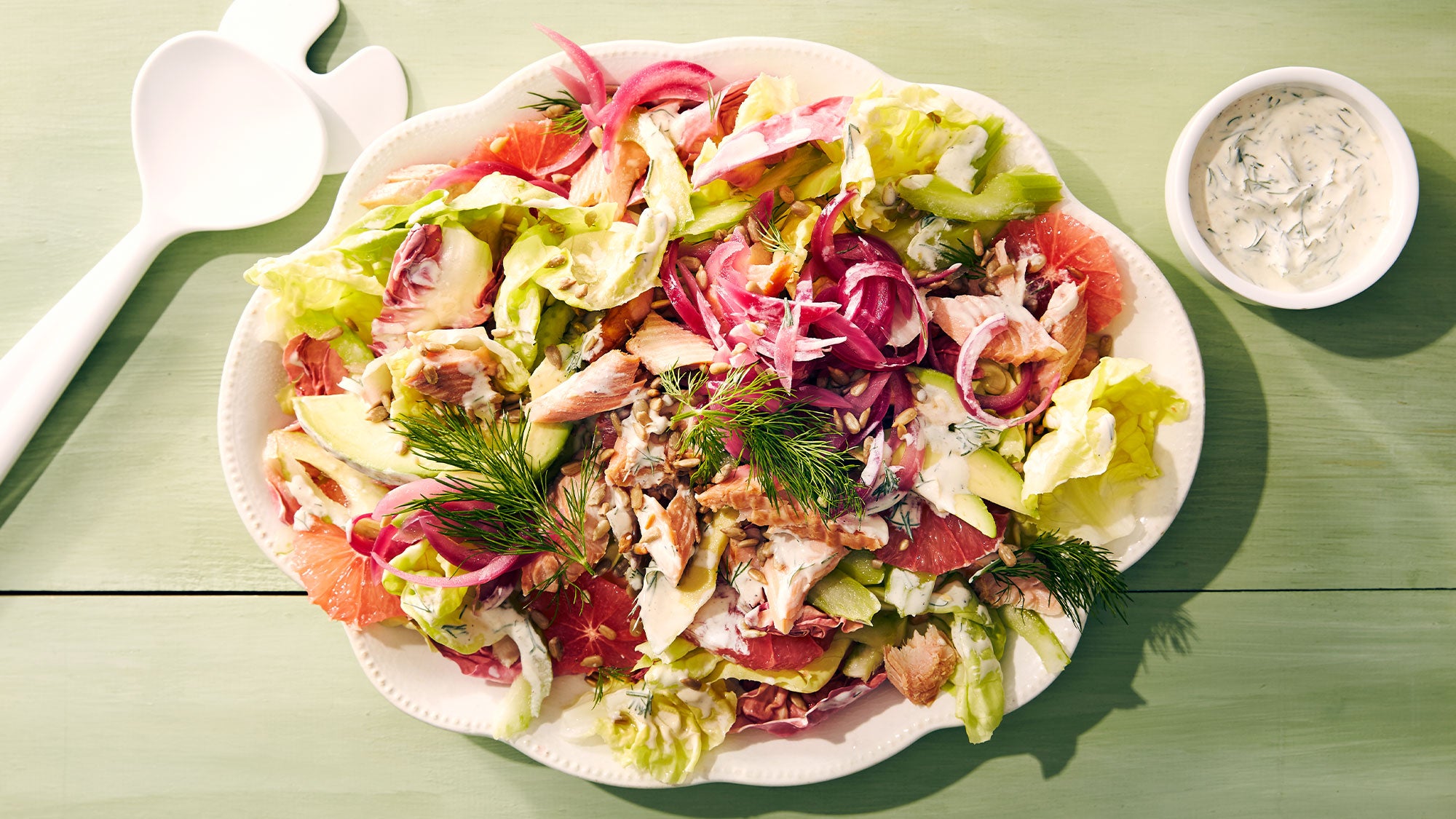 A creamy herb dressing is the perfect complement for soft butter lettuce and avocado. If you don't want to risk onion breath, skip the onion entirely, or pickle it for a sweet-tart flavor without the pungency. Get the recipe.
Arame Avocado Salad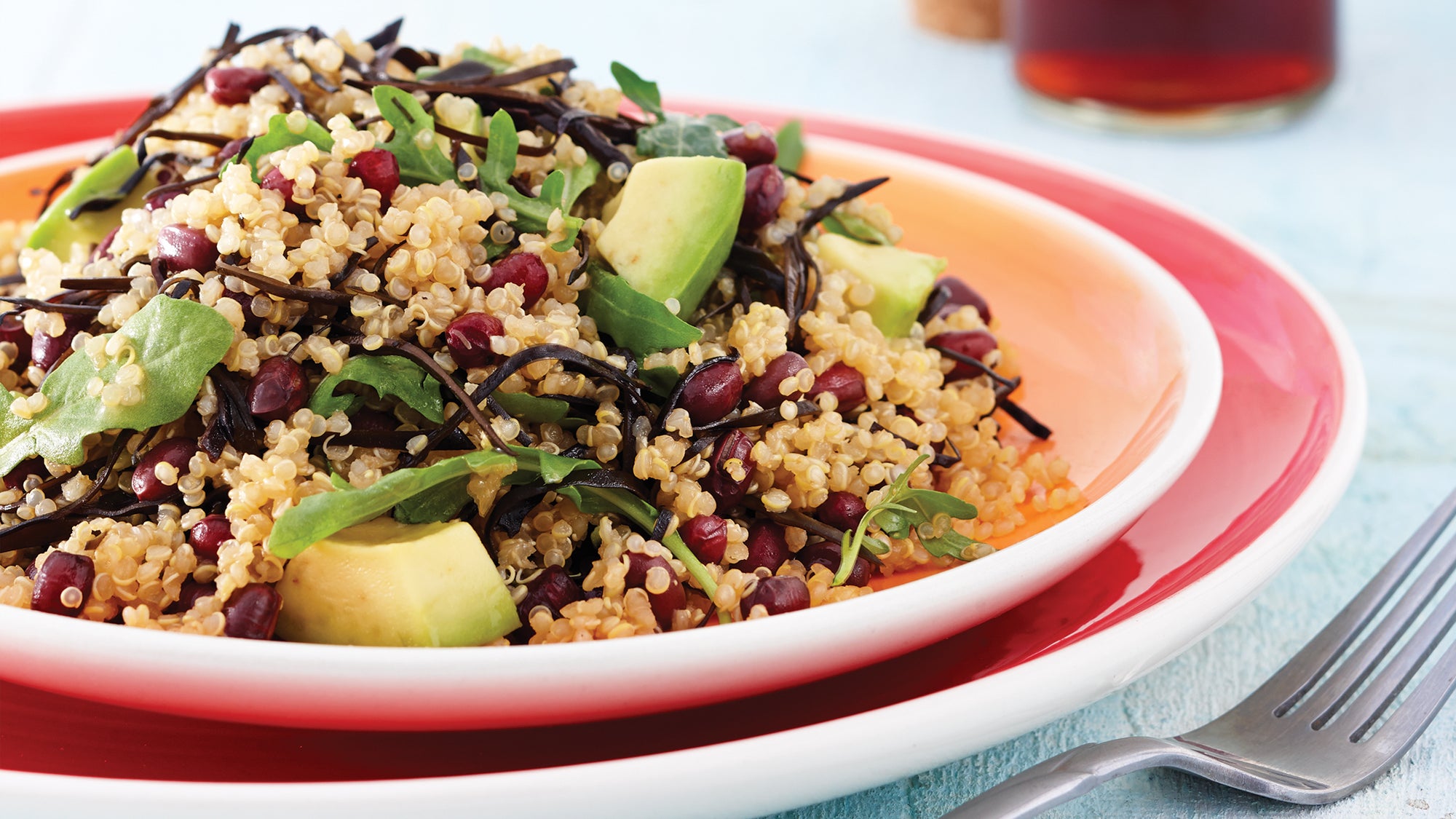 This delicious, plant-based recipe includes sea vegetables, vibrant produce and healthy, filling grains. Naturally full of iodine, vitamin C, manganese and vitamin B2, seaweed is a clean eater's best friend! Get the recipe.
Section divider
This week's menu
| | | | | |
| --- | --- | --- | --- | --- |
| | Breakfast | Lunch | Dinner | Total Nutrients |
| Monday | 1 serving Berry Chia Parfait (refrigerate leftovers) | 1 serving Veggie Quinoa Patties with Black Bean Salsa (freeze 1 serving, refrigerate remaining) | 1 serving Chile-Glazed Salmon with Avocado Salsa & Mexican Cauli-Rice (refrigerate leftovers) | Calories: 1,436 Fat: 83 g Sat. Fat: 26 g Carbs: 131 g Fiber: 43 g Sugars: 34 g Protein: 60 g Sodium: 879 mg Cholesterol: 53 mg |
| Tuesday | 1 serving Berry Chia Parfait (leftovers) | 1 serving Chile-Glazed Salmon with Avocado Salsa & Mexican Cauli-Rice (leftovers) | 1 serving Veggie Quinoa Patties with Black Bean Salsa (leftovers); 1 serving Dairy-Free Coconut Lime Ice Cream (save leftovers) | Calories: 1,773 Fat: 106 g Sat. Fat: 37 g Carbs: 164 g Fiber: 49 g Sugars: 57 g Protein: 63 g Sodium: 899 mg Cholesterol: 53 mg |
| Wednesday | 1 serving Berry Chia Parfait (leftovers) | 1 serving Pizza with Sardines & Fennel (save leftovers) | 1 serving Chile-Glazed Salmon with Avocado Salsa & Mexican Cauli-Rice (leftovers) | Calories: 1,430 Fat: 89 g Sat. Fat: 33 g Carbs: 106 g Fiber: 32 g Sugars: 36 g Protein: 67 g Sodium: 1,300 mg Cholesterol: 100 mg |
| Thursday | 1 serving Smoked Trout Salad with Creamy Dill Dressing (save leftovers) | 1 serving Chile-Glazed Salmon with Avocado Salsa & Mexican Cauli-Rice (leftovers) | 1 serving Veggie Quinoa Patties with Black Bean Salsa (leftovers); 1 serving Dairy-Free Coconut Lime Ice Cream (leftovers) | Calories: 1,726 Fat: 96 g Sat. Fat: 22 g Carbs: 156 g Fiber: 43 g Sugars: 58 g Protein: 80 g Sodium: 1,409 mg Cholesterol: 122 mg |
| Friday | 1 serving Berry Chia Parfait (leftovers) | 1 serving Smoked Trout Salad with Creamy Dill Dressing (leftovers) | 1 serving Arame Avocado Salad (save leftovers); 1 serving Dairy-Free Coconut Lime Ice Cream (leftovers) | Calories: 1,447 Fat: 88 g Sat. Fat: 36 g Carbs: 126 g Fiber: 39 g Sugars: 40 g Protein: 48 g Sodium: 1,208 mg Cholesterol: 69 mg |
| Saturday | 1 serving Smoked Trout Salad with Creamy Dill Dressing (leftovers) | 1 serving Pizza with Sardines & Fennel (leftovers) | 1 serving Arame Avocado Salad (leftovers); 1 serving Dairy-Free Coconut Lime Ice Cream (leftovers) | Calories: 1,607 Fat: 85 g Sat. Fat: 26 g Carbs: 152 g Fiber: 35 g Sugars: 46 g Protein: 71 g Sodium: 1,948 mg Cholesterol: 116 mg |
| Sunday | 1 serving Smoked Trout Salad with Creamy Dill Dressing (leftovers) | 1 serving Arame Avocado Salad (leftovers) | 1 serving Veggie Quinoa Patties with Black Bean Salsa (thawed and heated); 1 serving Dairy-Free Coconut Lime Ice Cream (leftovers) | Calories: 1,613 Fat: 79 g Sat. Fat: 19 g Carbs: 177 g Fiber: 46 g Sugars: 44 g Protein: 64 g Sodium: 1,527 mg Cholesterol: 69 mg |
Section divider
Shopping list
Proteins & Dairy
1 4-oz BPA-free can skinless, boneless wild sardines in olive oil or water
4 4-oz skin-on wild salmon fillets
8 oz smoked trout
1 BPA-free can adzuki beans
1 19-oz BPA-free can black beans
½ oz Parmesan cheese
1 container full-fat sour cream
2 13.5-oz BPA-free cans full-fat coconut milk
Veggies & Fruits
1 10-inch frozen cauliflower pizza crust
20 oz riced cauliflower
1 bulb fennel
1 head celery
1 yellow onion
1 red onion
2 oz baby arugula
1 bag frozen mixed berries
6 avocados
1 bell pepper
1 zucchini
1 sweet potato
1 bunch fresh cilantro
1 bunch fresh dill
1 bunch green onions
4 limes
1 lemon
1 orange
1 large grapefruit
1 garlic clove
3 Roma tomatoes
3 ears corn or 1 bag frozen corn
Whole Grains
Nuts, Seeds & Oils
1 bag chia seeds
1 bag ground flaxseed
1 bag almond flour
1 bag roasted salted sunflower seeds
1 bottle extra-virgin olive oil
1 bottle sesame oil
Pantry Staples
1 bottle liquid monk fruit sweetener
1 bottle pure maple syrup
1 jar raw honey
1 bottle pure vanilla extract
1 bottle balsamic vinegar
1 bottle raw apple cider vinegar
1 bottle Bragg Liquid Aminos or reduced-sodium tamari
1 bottle sriracha
1 bottle Dijon mustard
1 jar tomato sauce
1 bottle sea salt
1 bottle ground black pepper
1 bottle ground cumin
1 bottle chipotle chile powder