Sautéed Fish Sticks with Chips and Slaw
The success of the homemade potato chips in this $2 dish really depends on your knife – sharper knives cut thinner slices for crispier chips! Toss your chips with dill only after they've come out of the oven so the dried herb doesn't burn.
Heading out the door? Read this article on the new Outside+ app available now on iOS devices for members! Download the app.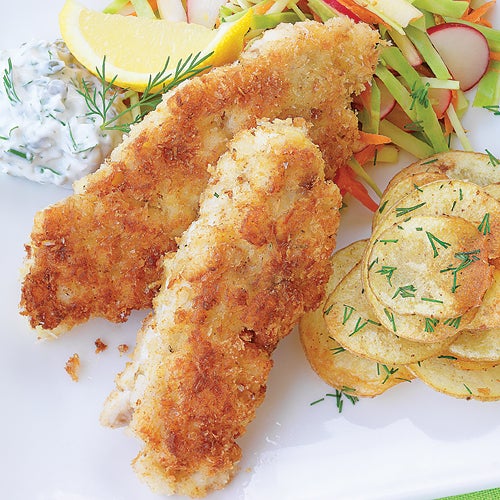 Nutritional Bonus: While you're undoubtedly already aware of the multiple health benefits of vitamin C, you may be surprised to learn that 82% of the immunity-booster in this recipe is thanks to cabbage. The cruciferous vegetable is often overlooked because of its unpleasant cooking odor, but our no-cook slaw makes for a tangy (and mild-smelling) alternative.
Option: If you have a few more ingredients lining your fridge and pantry and you'd like to whip together a 7-minute dip for your fish sticks, we've got that recipe too:
Tartar Sauce
Serves: 4.
In a small food processor, blend 1/2 cup 1% cottage cheese with 2 tsp fresh lemon juice and 1 tbsp water until mixture is mostly smooth. Scoop mixture into a small mixing bowl. Stir in 2 tsp capers, drained, 1/2 tsp dried dill weed, 1/4 cup minced celery and fresh ground black pepper, to taste. Serve immediately.
Full Price: $7.87
Cost Per Serving: $1.97
Ingredients
1 slice whole-grain bread
1/2 lb yellow potatoes, scrubbed
2 tbsp extra-virgin olive oil, divided
1/2 tsp sea salt
1 tsp dried dill
1/4 head of cabbage, thinly sliced
1 large carrot, peeled and grated
4 small radishes, halved and thinly sliced
1 large Braeburn apple (or other firm apple), cut into thin matchsticks
1 1/2 tsp apple cider vinegar
1/2 tsp ground mustard
1 egg
3/4 lb boneless, skinless white fish fillet, rinsed with cold water and patted dry
Preparation
Preheat oven to 350˚F. Line a baking sheet with parchment paper and set aside. In a food processor, process bread into crumbs. Set aside.
Slice potatoes as thinly as possible. Spread slices out evenly on baking sheet and drizzle with 1 1/2 tsp oil. Sprinkle salt over top and use fingertips to rub oil and salt onto each slice. Bake for 20 minutes or until golden brown. As soon as potatoes come out of oven, sprinkle with dill and lightly toss to combine.
Prepare slaw: In a large bowl, mix cabbage, carrot, radishes and apple. In a small bowl, whisk together vinegar, mustard and 1 tbsp oil. Toss with cabbage mixture.
Prepare fish sticks: Crack egg into a medium bowl. Chop fish as finely as possible and add to egg. Add 1/4 cup bread crumbs to fish mixture, then use hands to thoroughly combine.
Divide fish mixture into 8 equal portions, shaping each into a rectangular stick about 2 1/2 inches long. Pour another 1/4 cup bread crumbs into a large or flat-bottomed soup bowl. Dredge each stick in bread crumbs, pressing lightly to coat both sides.
Heat remaining 1 1/2 tsp oil in a large nonstick skillet for 1 minute on medium. Add fish sticks to pan and cook, covered, for 4 minutes or until bottoms are golden brown. Use heatproof tongs to gently flip sticks over and cook for another 3 minutes or until both sides are golden brown. Serve with potato chips and slaw.
Nutrition Information
Serving Size

2 fish sticks, 2 oz potato chips, 3/4 c slaw

Calories

269

Carbohydrate Content

27 g

Cholesterol Content

43 mg

Fat Content

10 g

Fiber Content

5 g

Protein Content

21 g

Saturated Fat Content

2 g

Sodium Content

373 mg

Sugar Content

10 g

Monounsaturated Fat Content

0 g

Polyunsaturated Fat Content

1.5 g