5 Superfood Smoothie Bowls + Bonus Bowls from Backyard Bowls Kitchen
Meet the next big health-food craze that's garnering loads of attention. Frosty, layered and overflowing with nutrients, these impossibly delicious smoothie bowls let you get creative with a plethora of vibrant and textured toppings for the most 
stunning breakfast you've ever woken up to.
Heading out the door? Read this article on the new Outside+ app available now on iOS devices for members! Download the app.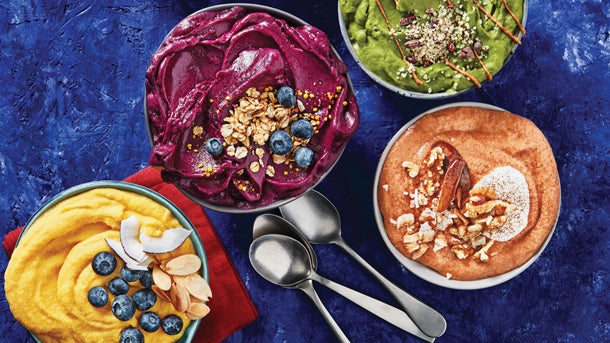 It seems like everyone is on a smoothie bowl kick lately, and for good reason. They're delicious, infinitely customizable and, depending on how you make them, packed with nutrition.
Smoothie bowls are perfect for breakfast, lunch or a post-workout meal. But what makes them different from a classic smoothie is the thicker consistency and that they are, of course, eaten from a bowl rather than sipped through a straw. As long as the consistency is thick enough to support your toppings without sinking, you've got a smoothie bowl! And that's where the fun really starts since smoothie bowls are as much about the toppings as they are about the base.
The smoothie bowl craze started to take off with acai bowls, a soft-serve-like blend of frozen acai and other fruits like bananas or strawberries, plus enough juice to get the blender going. Acai bowls are traditionally covered in granola, fresh fruit and perhaps a drizzle of honey, providing a delicious contrast in texture to the smooth purée.
But these days, smoothie bowls come in every color of the rainbow with the most creative flavor combinations and beyond-beautiful arrangements of toppings. These bowls can also pack a nutritional punch when they include superfood boosts such as spirulina, matcha powders or high-quality protein. Like drinkable smoothies, all these smoothie bowl recipes are incredibly versatile and can be seasonally adapted, which adds to the fun and creative possibilities!
Pamela Salzman is a Los Angeles–based cooking instructor and certified holistic health counselor. Find her at pamelasalzman.com.
See also 5 Juices & Smoothies To Try Now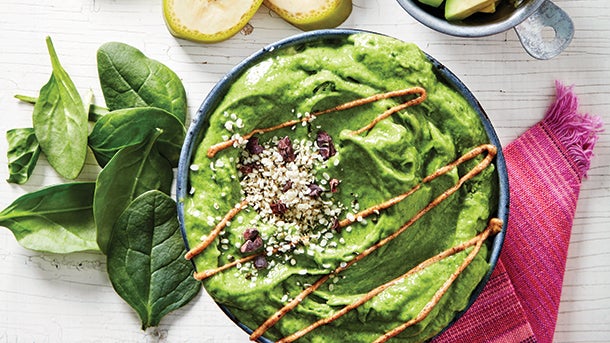 The Mint Chip
Each of our smoothie bowls is designed to serve one hungry person – and each recipe takes less than 15 minutes to assemble!
Get the recipe.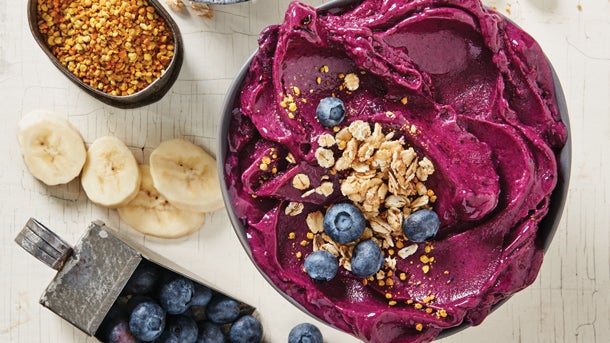 The Pink Pitaya
The bright color of pink pitaya (aka dragon fruit) gives this bowl its distinctive hue. We love the ease of using a packet of the frozen purée, but if you can find the fresh fruit, you can always purée and freeze it yourself.
Get the recipe.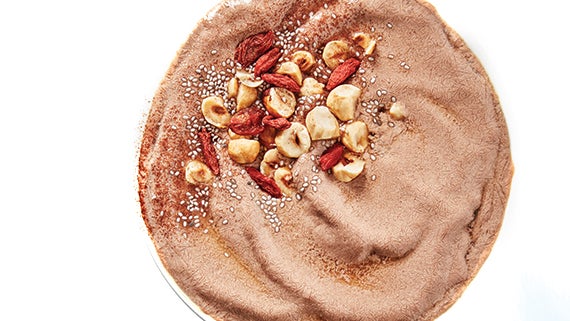 The Mocha
No need for that mocha latte today – we've got all that delicious chocolaty coffee flavor in this bowl. If you enjoy the caffeine fix, use regular coffee granules; if not, use decaf.
Get the recipe.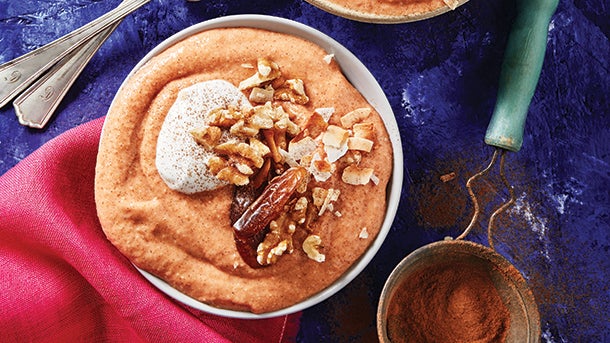 The Carrot Cake
Carrot cake for breakfast, anyone? We've infused this bowl with all the delicious flavor you'd expect from an indulgent carrot cake – but in a frosty, layered bowl.
Get the recipe.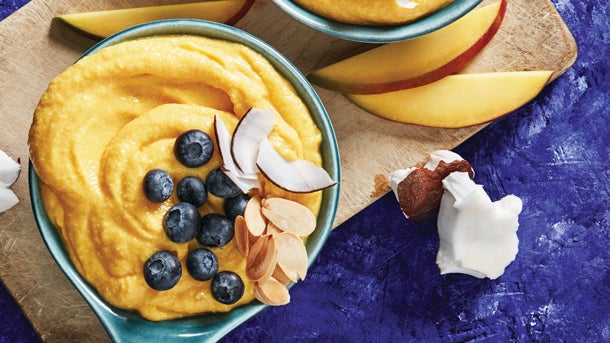 The Mango Sunshine
Sweet mango and coconut butter bring a taste of the tropics to your morning. Here, we use cold cauliflower to add fiber and antioxidant value -– but don't worry, the mango is the flavor that shines in this gorgeous bowl.
Get the recipe.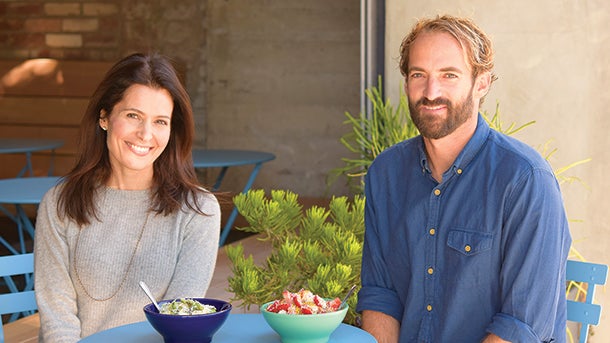 Q&A with Backyard Bowls
What inspired the first Backyard Bowls location in Santa Barbara?
My partner, Pete Heth, and I were living in Hawaii at the time and were introduced to a few great acai bowls at various cafés and juice bars around Oahu. We ate them for breakfast or lunch constantly and fell in love with them as a delicious meal that didn't weigh us down and gave us tons of energy. Our idea was to create a restaurant concept that put the spotlight on the bowl, and at the time in 2008, it had literally not been done before (outside of Brazil, at least).
Smoothie bowls and breakfast porridge bowls are all the rage. To what do you attribute their popularity?
Well, the obvious answer is that they are in line with the current trends toward healthful and ethical foods. And what's not to like, really? It doesn't matter who you are – they are just plain delicious when done well, and provide a much-needed alternative for a healthy, quick and tasty breakfast or lunch.
What is Backyard Bowl's most popular warm bowl? Cold bowl?
The warm bowl would currently be our Mama's Oatmeal – steel-cut oats cooked with our homemade steamed cashew milk, topped with crushed almonds, a local berry jam and bananas. As for cold bowls, the Power Bowl is the current biggest hit; it's a frozen blend of acai with banana, blueberry, Sacha Inchi protein powder, peanut butter and our homemade hemp milk, topped with granola, crushed almonds, banana, blueberry and hemp seeds.
Any advice for readers who want to make their own bowls at home?
Get a good blender – and use the tamper, along with only a very small amount of liquid, in order to get a nice, thick consistency.
What's the weirdest ingredient you've ever put in your bowls?
Weird is a relative word, and I'm sure many of the things you see on our menu are weird to some folks! I find them all perfectly normal though, haha.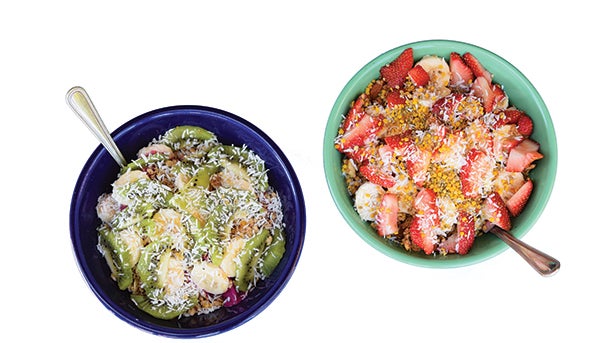 Bonus Bowls
Try these two creations straight from the Backyard Bowls kitchen.