19 Recipes That Will Make Your 4th of July
Start that grill and get your drinks on ice—it's time to get your crowd fed and happy with these clean holiday favorites.
Heading out the door? Read this article on the new Outside+ app available now on iOS devices for members! Download the app.
Smoky and Stuffed Jalapeño Peppers
Jalapeños tend to grow like mad once they get going, so here's an easy (and delicious!) way to use up 10 peppers at once. Grilling brings out corn's inherent sweetness and gives the rich stuffing a smoky flavor you'll love. Serve as a fun party appetizer, or as a side with grilled chicken or pork.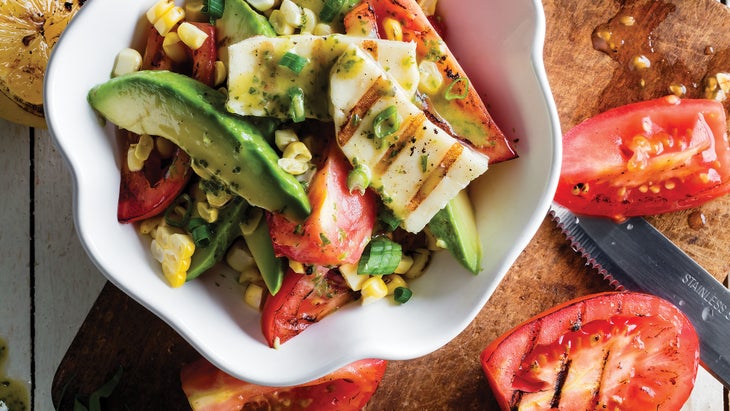 Charred Corn and Tomato Salad with Halloumi Cheese
Sweet summer corn and tomatoes are elevated with a fragrant tarragon dressing and flavor-packed halloumi cheese. The firm Mediterranean cheese holds up well to heat, making it ideal for grilling. Look for halloumi in the deli section of your supermarket – it's often sold alongside feta and bocconcini.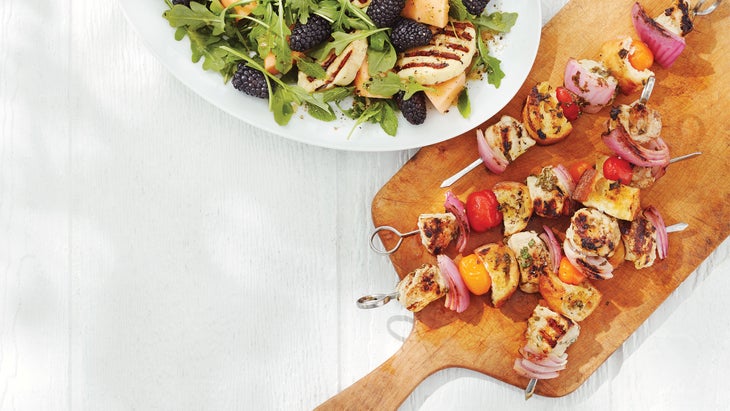 Grilled Chicken Panzanella Skewers
This recipe turns a traditional Tuscan side dish into a summery main course with marinated chicken, red onions and fresh baguette – all threaded on a skewer and perfectly cooked on the grill.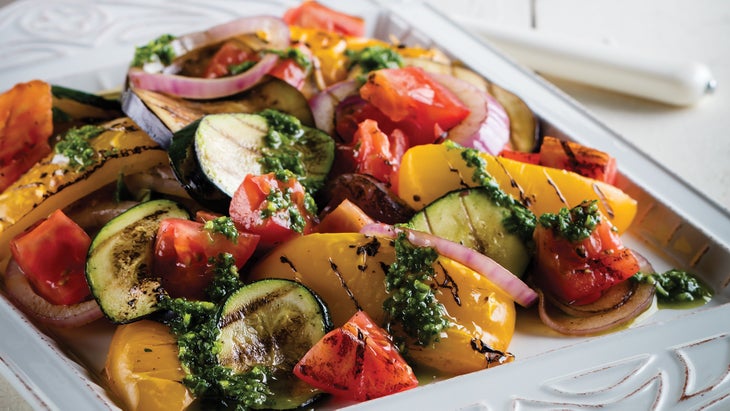 Grilled Ratatouille with Fresh Basil Sauce
This easy take on the classic French vegetable stew is one of our favorite ways to enjoy a bundle of freshly picked veggies at once. A simple herb sauce is a perfect finishing touch – bonus points if the basil comes from your garden, too!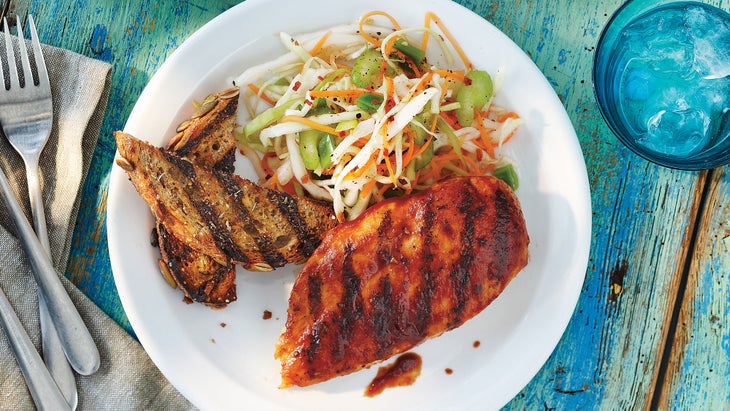 Sweet Tomato Barbecue Chicken
DIY barbecue sauce to save on fat and preservatives? Yes, please! Tomato paste, balsamic, maple syrup, Worcestershire, garlic and red pepper flakes give big flavor to this chicken dish – it's a sauce that's sure to become a staple!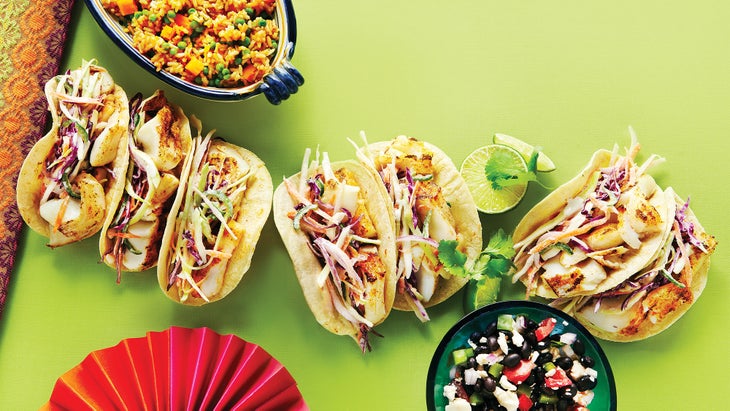 Grilled Fish Tacos with Jalapeño Slaw
Have a siesta with our grilled tacos, where chile-rubbed sea bass and crisp cabbage tango with a buttermilk-yogurt dressing!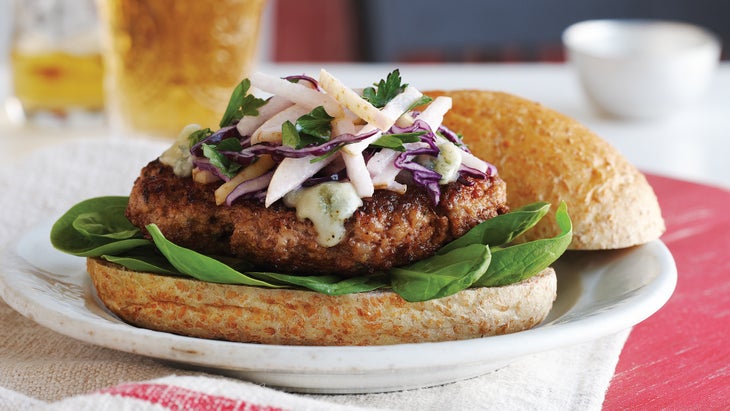 Pork Burgers with Asian Pear Slaw & Gorgonzola
We flavor the pork in our burgers with chile powder, thyme and pepper for a flavorful patty that's taken to the next level by its Asian pear and gorgonzola toppers!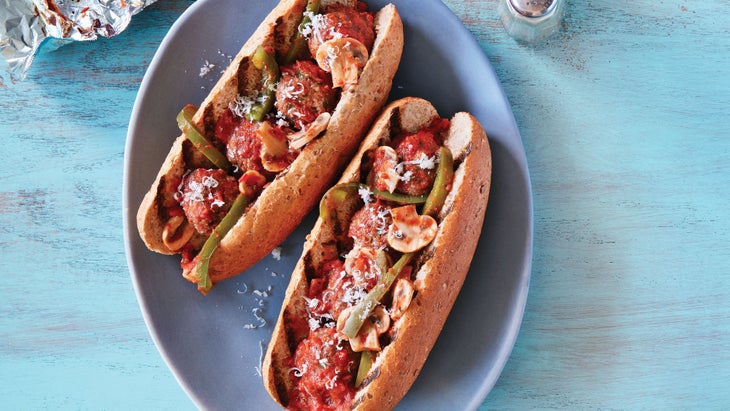 Foil-Packed Meatball Subs
Jarred tomato sauce is a shortcut that helps get these meaty subs on the table fast. For evenly sized meatballs, divide mixture into thirds, then divide each third into 6 equal balls – this will ensure they cook through at the same time.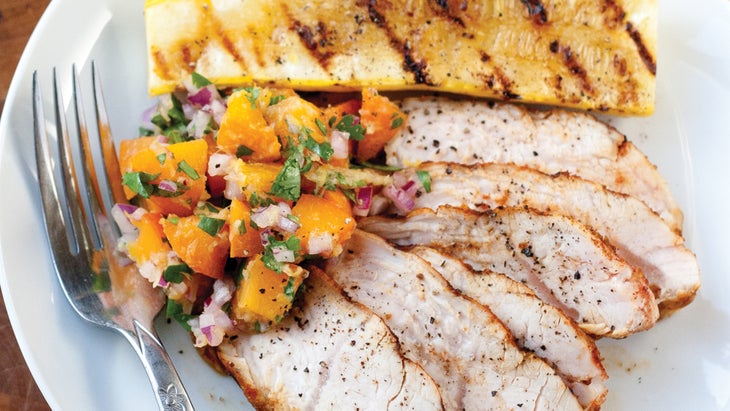 Turkey Tenderloin with Apricot-Ginger Relish
Offer a healthier option than the usual burgers and dogs by taking this smoky turkey tenderloin to the barbecue. The Apricot-Ginger Relish doubles as a unique topping for sausages and other grilled fare!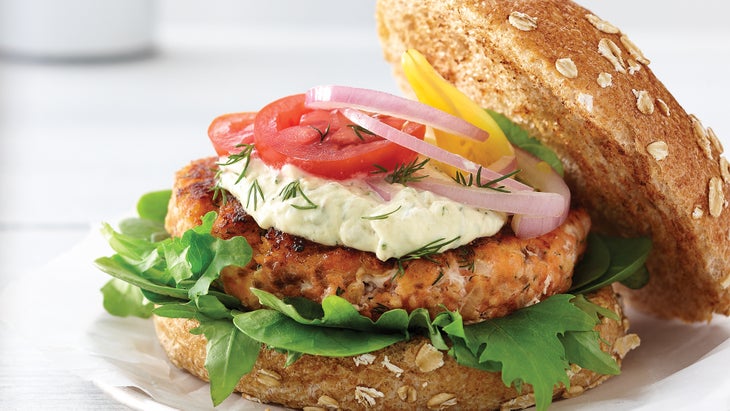 Smoked Salmon Burger with Lemon Aioli
Ditch the meat and try out the last salmon burger recipe you'll ever need! We take the flavors that typically accompany smoked salmon – red onion, lemon, cream, tomato, lettuce, dill – and turn them into a summer favorite!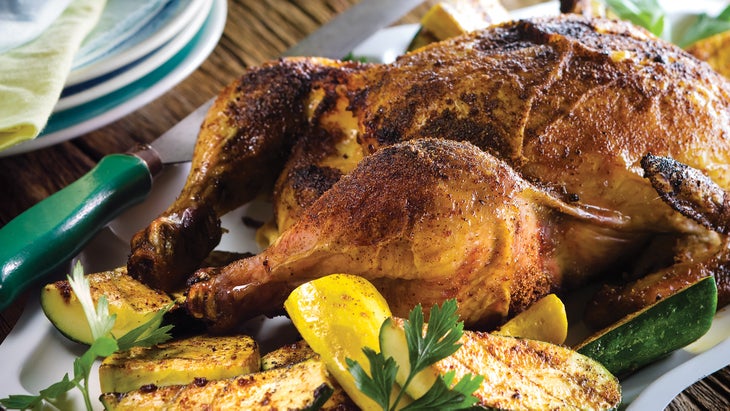 Smoky-Sweet Beer Can Chicken with Grilled Veggies
If you've never made a beer can chicken, don't be daunted – it's an easy, tasty and fun way to roast a chicken. We've added a maple-chile rub, plus a pile of summery grilled zucchini. Use any leftovers to make chicken and zucchini soft tacos.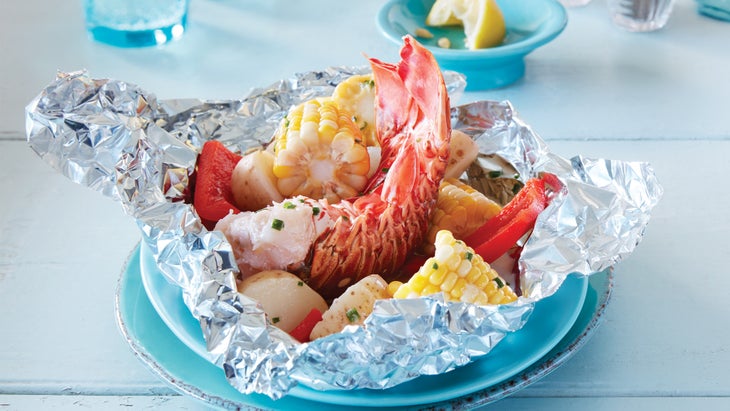 Lobster Tail Foil Packs with Lemon Chive Butter
These individual meal-in-one packets are great for camping, weekends at the cottage or entertaining on the patio.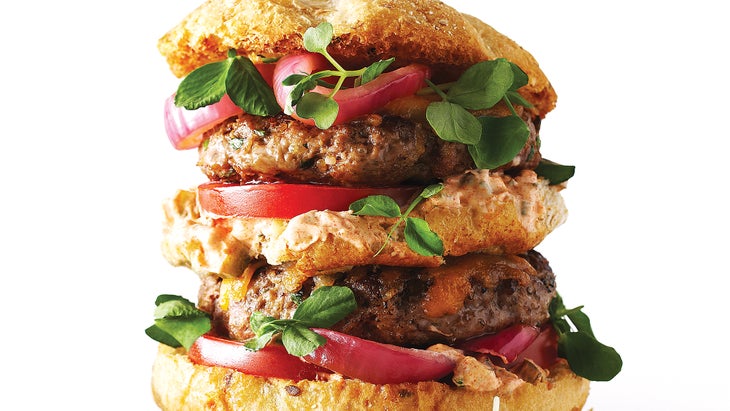 Big Stack Burger
You know what they say: go big or go home! But don't be wary of this big stack – it's actually made from a single bun and two 1/4-inch patties, ringing in at less than 500 calories!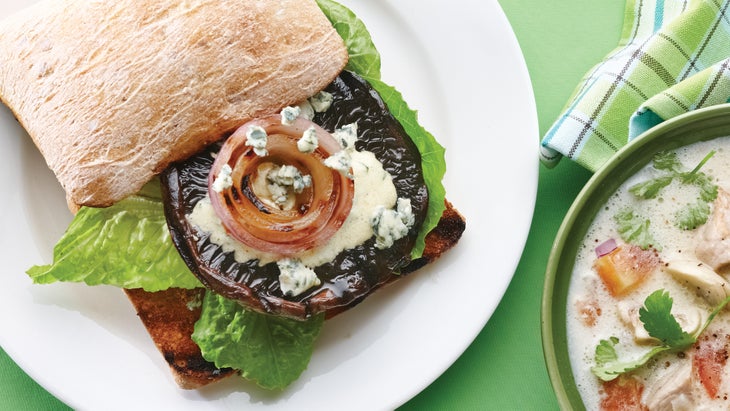 Grilled Portobello Burgers with Blue Cheese & Creamy Dijon
Offer the vegetarians at your barbecue something different. Whole portobello mushroom caps are meaty and satisfying, especially when paired with our creamy Dijon sauce (and a 14-minute count from start to finish doesn't hurt, either!).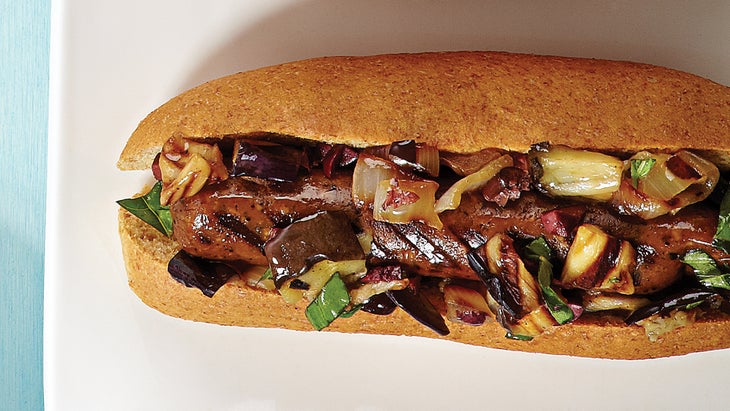 Chicken Sausages with Eggplant Caponata
Clean Sicilian caponata (a blend of eggplant, olives, basil, onion, garlic and vinegar) makes a great topper for chicken dogs or sausages – it's bound to become your go-to condiment!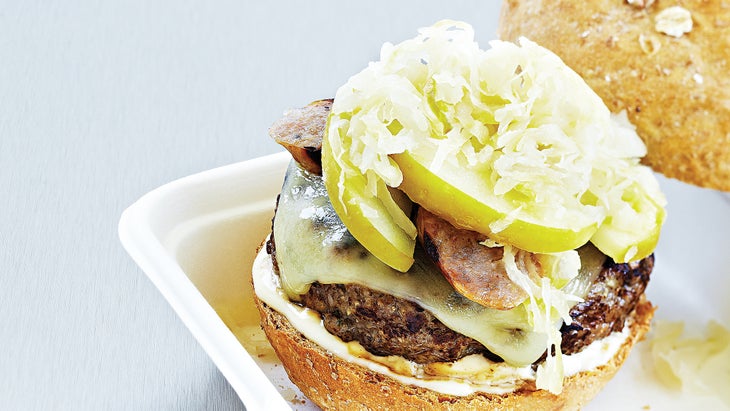 Kreator Burger
All hail this decadent beast, a food truck–inspired creation that brings together a chia-laced beef patty, creamy aioli, apple, sauerkraut, turkey sausage and Swiss cheese!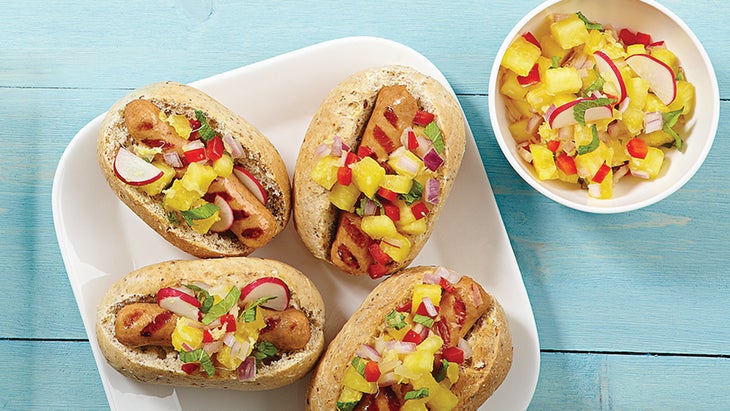 Little Link Sliders with Pineapple-Ginger Relish
Whether you're using chicken breakfast links or full-size chicken dogs, our Pineapple-Ginger Relish with radish and mint is sure to take these sliders to the next level!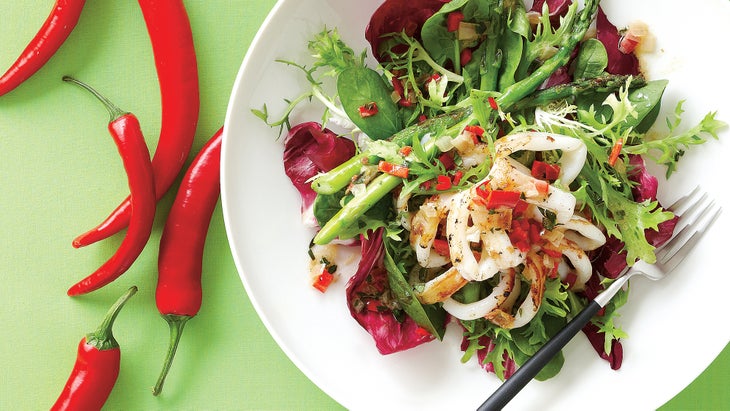 Grilled Calamari Salad with Red Chile Vinaigrette
Tender, fresh calamari makes for a lighter grilled dish, a salad that gets a dose of spice from our chile-laced vinaigrette! With so much flavor, it's hard to believe all it'll cost you is 246 calories.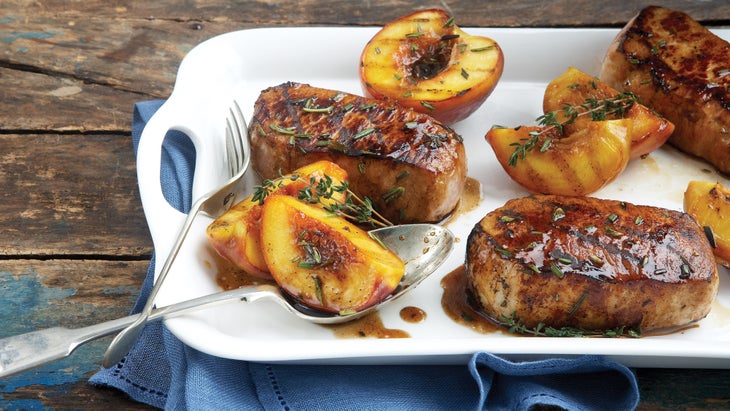 Balsamic Marinated Pork Chops and Grilled Peaches
Most of the EVOO used for these marinated pork chops is discarded after use, so you won't be paying a fatty price for the greater taste.