15 Chicken Breast Recipes That Are Anything But Basic
Winner winner, chicken dinner! Forego the basic salt-and-pepper oven-baked white meat. These chicken breast recipes will have you falling in love with this bird all over again.
Heading out the door? Read this article on the new Outside+ app available now on iOS devices for members! Download the app.
Chicken breast recipes get a bad rap for being basic and boring. This comes as no surprise, with the standard recipe calling for salt, pepper, a touch of oil and an oven. Not to mention getting cook time wrong with chicken breast can result in disaster. On one end of the spectrum, undercooking this cut breast can give you salmonella poisoning and turn you off of this commonplace dish. On the other hand, overcook chicken breast a little too long and you're dealing with tough, gamey meat that nobody wants to eat.
No more! We're here to show you that chicken doesn't have to be basic if you're clever with your ingredients. From marinating in miso to pairing with pineapple to cozy casseroles, read on for 15 recipes that prove how versatile this everyday bird can be.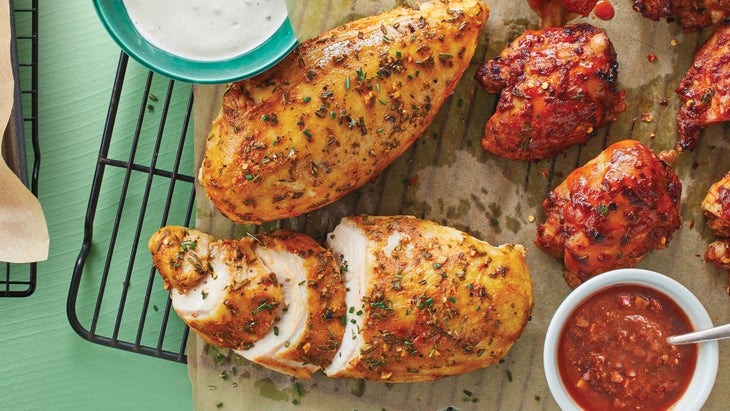 This one's for the busy chef. In this beautiful buttermilk-infused recipe, we share a clever freezer hack for smooth weekday cooking. Fresh herbs retain much of their flavor in the freezer, making them great tools for infusing chicken breasts with vibrancy after a deep freeze.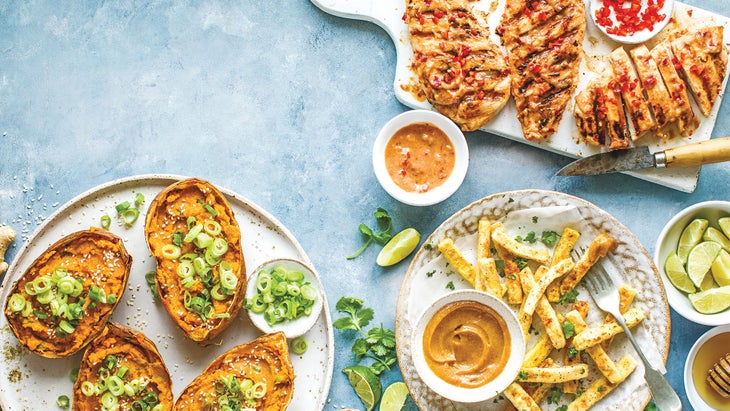 If you're not yet marinating your chicken breasts in miso, today's the day to start. We promise you'll fall in love with the salty, earthy flavor and the probiotic punch miso imparts on these grilled chicken cuts.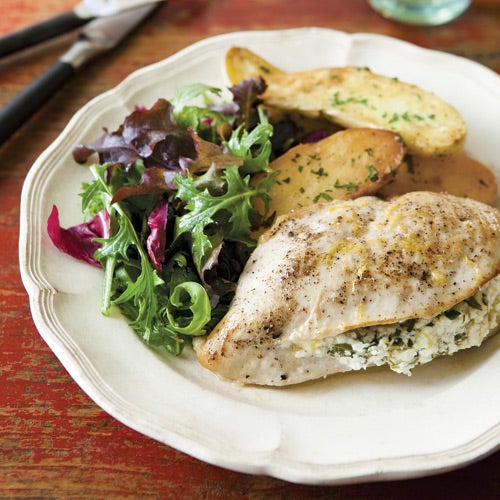 This one's a bit of a throwback, dating all the way from 2013. What hasn't changed about our recipes since then is that they're all made to flavorful, juicy perfection, exemplified in this unique creamy chicken recipe. The breasts are stuffed with a mixture of tangy goat cheese, peppery arugula and fresh-tasting lemon zest.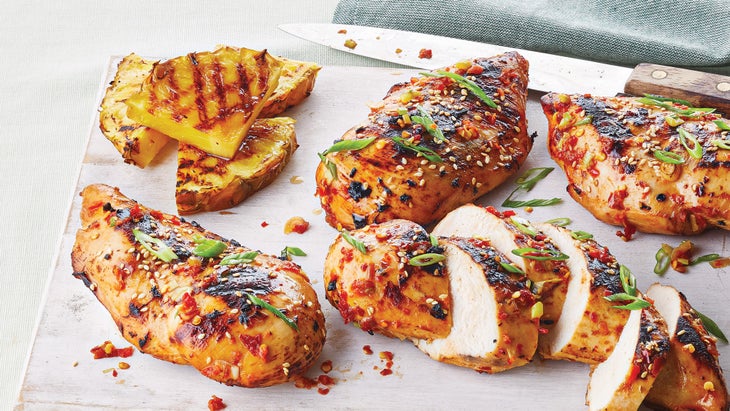 Dear pineapple-on-pizza people, we see you. This recipe is for you. The pineapple gives this chicken marinade a sweet kick, while a finish on the grill brings out even more fiery-fruity flavors. Chicken? Basic? We think not.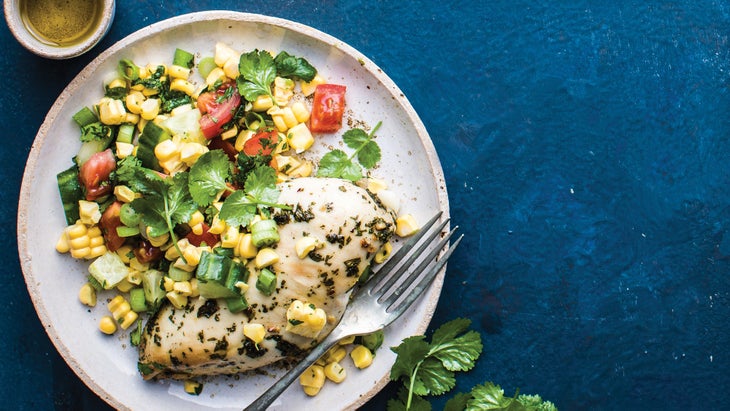 This one's for the beginner cook, or the cook in a hurry. One of the shortest recipes on our site, this simple, fresh recipe takes your basic salt-and-pepper chicken up a notch. We're adding vinegar, garlic and cilantro to add depth and immense flavor to this chicken dinner.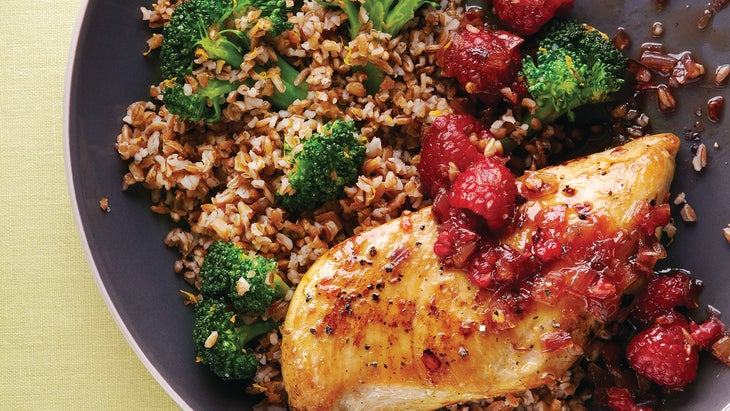 If you're a lover of cranberry sauce over turkey, you'll rave for this spicy raspberry chicken dish thanks to its similar flavor pairing and profile. Plus, this elegant dish is as beautiful as it is delicious. Meaning, not only can you enjoy it on a typical weeknight, you can also serve this up for a fancy dinner party with confidence that it'll be a hit with your guests.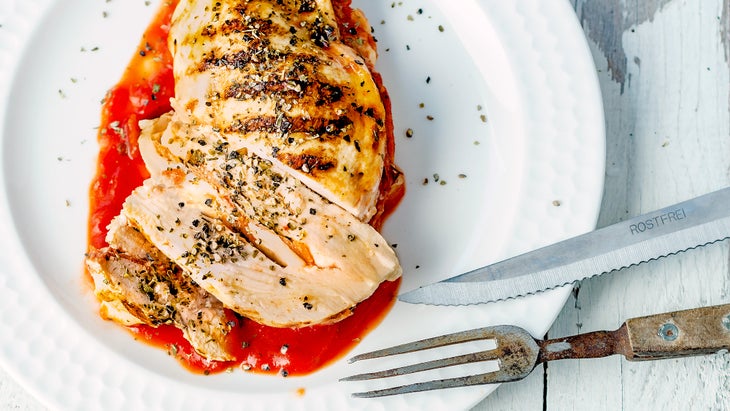 All your favorite pizza flavors — marinara, cheese and pepperoni — stuffed into a chicken breast for lots of flavor with fewer carbs. Stuff the chicken on your Sunday prep day and then simply grill it when you are ready to eat! Toss some extra veg on the grill to make it a complete meal.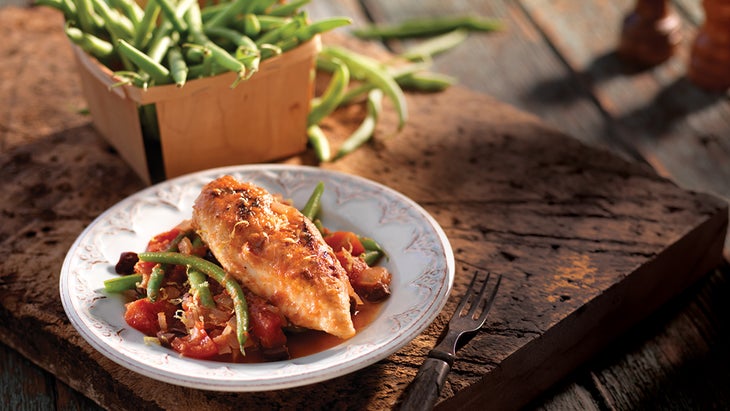 A medley of classic herbs and spices, a burst of umami from juicy tomatoes, the zesty punch of olives and lemon juice… this dish really proves that chicken breasts recipes don't have to be basic. The green beans provide a crunchy side to this flavorful meal.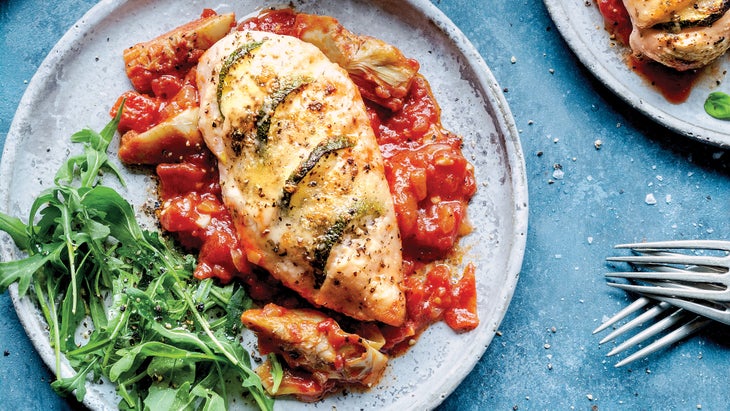 A trick to keeping chicken breast juicy and flavorful? Brine it in salt water as we do in this easy recipe. This makes for a complete meal, thanks to a vibrant side of tomatoes and artichokes.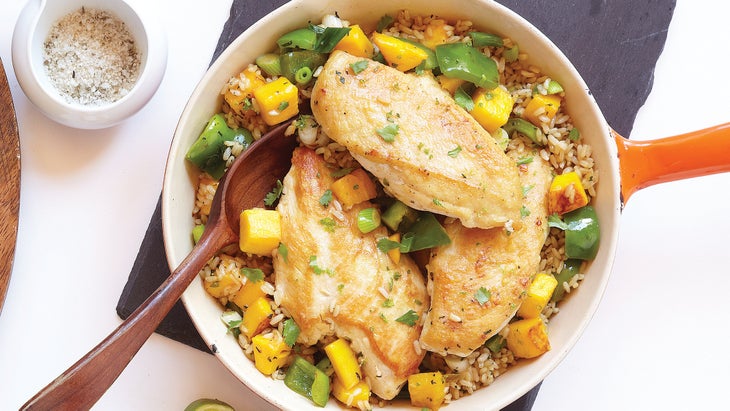 With this tropical dish, it's summertime anytime. Blow everyone away with this satisfying (and deceptively simple) dinner. If the mangoes don't pack enough of a vitamin C punch for you (though we assure you they will), the addition of green bell peppers should do the trick.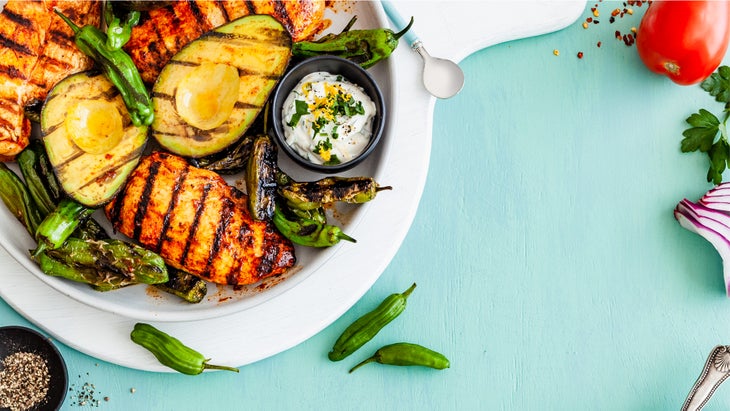 Once you begin grilling your avocados, there's no going back. Grilling these green beauties makes them creamy and smokey. Serve them alongside equally beautifully grilled chicken breasts and Shishito peppers for a vibrant, filling meal that'll satiate both your stomach and your eyes. Plus, once you try your hand at this simple lemon crema, you'll be whipping it up all the time.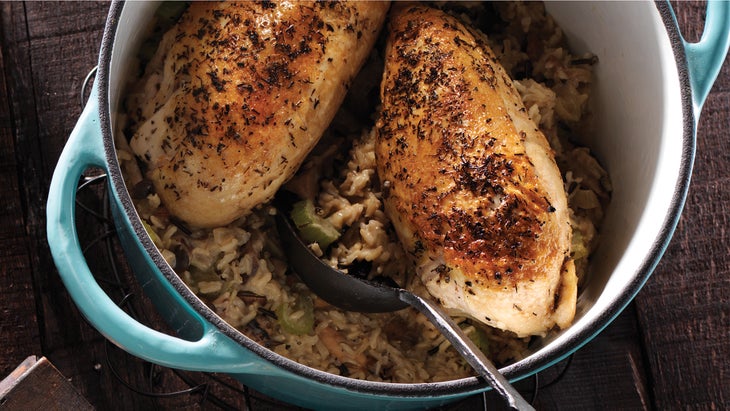 Simple salt-and-pepper baked chicken is bumped up in flavor with sage and thyme. This comforting casserole pairs the well-seasoned chicken with a comforting, creamy rice made with mushrooms and veggies. Enjoy on its own or with steamed broccoli or green salad for a nutritious dinner.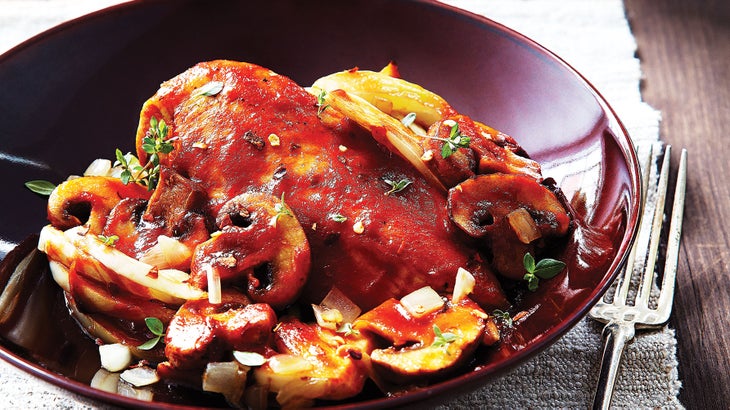 If your family's main complaint about boneless, skinless chicken is that it's dry, then braising may be your answer! The slow-and-low technique keeps meat moist and allows the juicy bird to retain more flavor.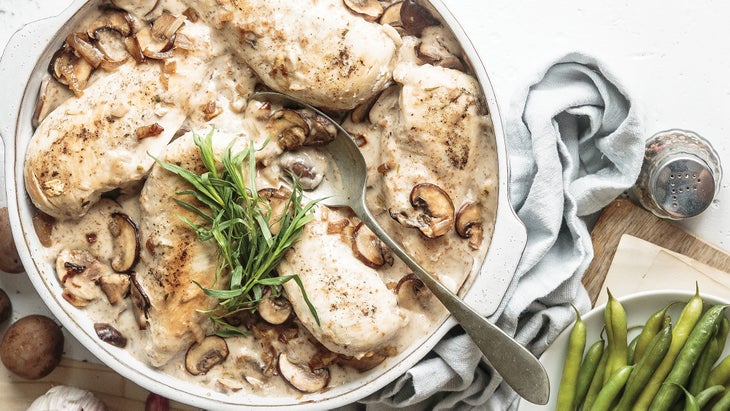 Tarragon is the starring herb in this creamy mushroom-based chicken dish. Sherry adds a rich nutty note to this mushroom sauce, which we've made extra-creamy by stirring in tangy cream cheese.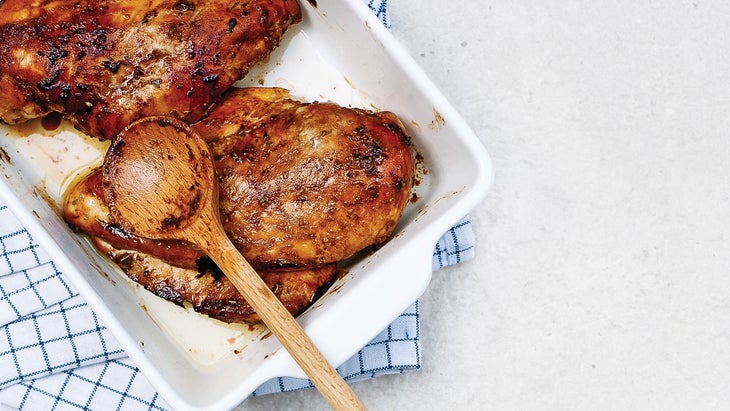 We thought we'd end this list with a classic. Juicy and tender, this balsamic chicken recipe is a quick and easy meal you should master ASAP. So delicious yet so simple, we promise you it'll quickly become a weeknight staple.
Related: